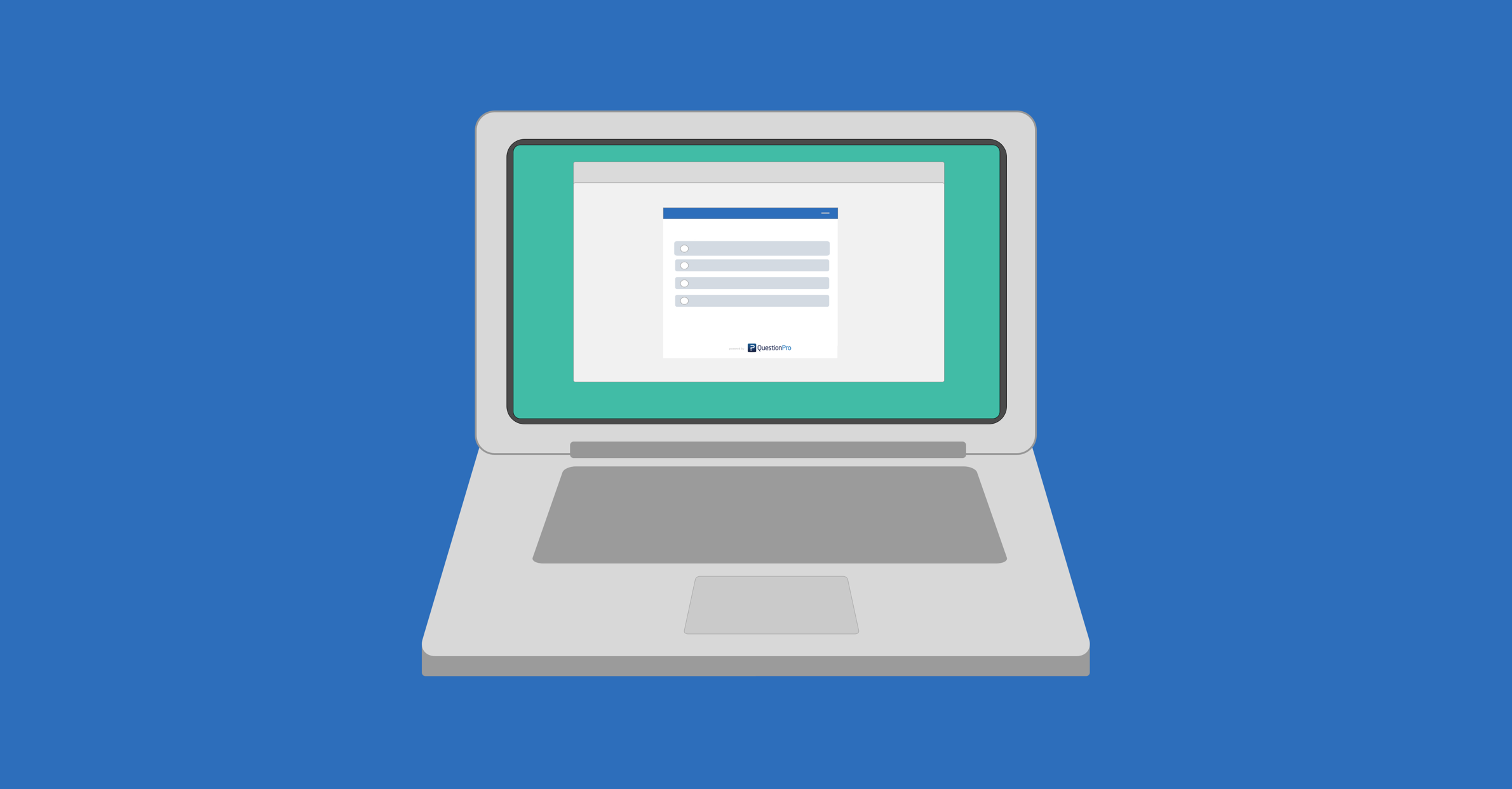 Website intercept surveys can increase your feedback response rates by upwards of 60%. Collecting customer feedback is critical because it's the cornerstone of a successful online business. Without customers, there is no business. It is already tough to draw customers into your company in the first place, so it's critical that you work to keep them more satisfied. But how do you get them to become loyal customers? In other words, how do you get them to love your business?
The short answer is to listen to them. Your online business has many opportunities to interact with your visitors and customers, for example, after they have started a search or after they have made a purchase. Although measuring and collecting customer feedback alone isn't enough, it's the first step to building a long-lasting customer relationship.
What is a Website Intercept Survey?
A Website Intercept Survey is an online survey that allows you to target visitors to understand their intent and collect feedback to evaluate your visitor's online experience.
There are several goals of an online intercept survey:
1. Understand visitor intention and behavior path
2. Satisfaction with overall website experience
3. Research and website usability testing
Traditionally, pop-ups are seen as inconvenient and even a friction point for website visitors. But, modern intercept surveys are less disruptive and more robust. When configured properly using triggering best practices, you can be more effective in improving your website experience. Because website intercept surveys are best implemented to maximize responses from your web visitors, the feedback you gather is critical to your business.
Types of Website Intercepts
Depending on your goals, you can leverage multiple forms of website intercept surveys to gain responses. Popular methods of collecting website feedback are:
Pop-ups (or Modal Boxes)
Pop-up surveys can be configured to appear anywhere throughout the website experience.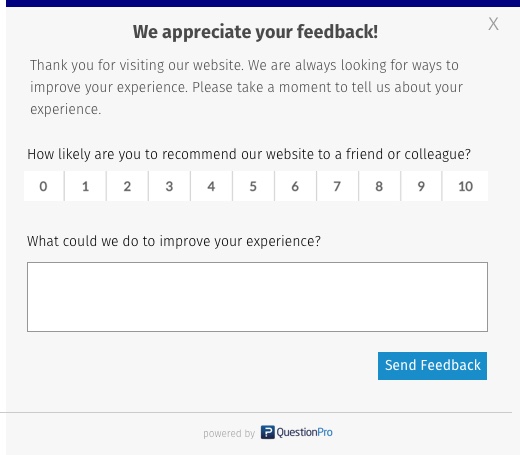 2. On-page surveys
On-page surveys are widget-like surveys that are unobtrusive, allowing the visitors to initiate and provide feedback. These surveys usually appear in the corner of the website.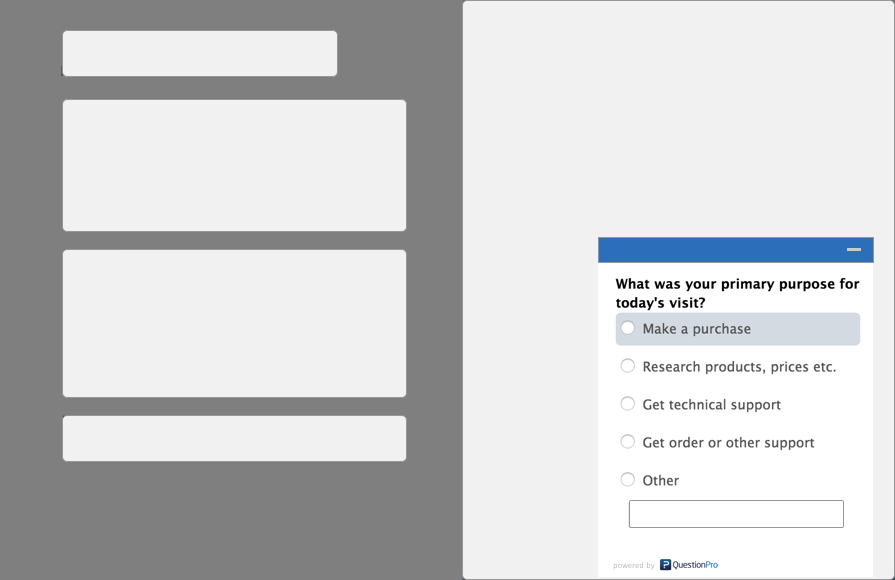 Why Use Intercept Surveys?
Intercept surveys help you understand your visitors' behavior and intent. While you may have a website analytics tool like Google Analytics to explain what users do, it doesn't explain the why behind the numbers. Website intercept surveys are a powerful tool that fills the gap and helps you learn about your visitors, users, or customers.
For example, you can use Google Analytics to identify web pages with the highest bounce rate. The next actionable step is to figure out how to decrease the bounce rate. Without the appropriate understanding of why your visitors are leaving the web page, you may spend time making ineffective changes.
Unlike old-fashioned pop-up surveys, our intercept surveys are less obtrusive and enable a line of communication for your visitors. If you have a healthy stream of traffic to your website, Intercept surveys are an ideal tool for you to collect feedback to improve your customer experience.
One huge advantage of website intercepts is that they provide feedback in real time. The most typical way to collect feedback is through email surveys, but response rates are often low because it is not sent in real-time, thus losing its context.
Benefits of Website Intercept Surveys
1. Higher response rates
When you fully utilize the targeting options, response rates can be as high as over 50%. You will typically see higher response rates using website intercept surveys because you can engage users at the right time and place using targeting and trigger options. Because you are also able to set up different intercepts at different touch points of visitor's web experience, you can ask better questions with more relevant calls to action.
2. Real-time feedback
When asking for feedback, asking immediately after the interaction is necessary for respondents to provide more accurate and detailed information on their experiences and feelings related to their interactions. For example, if you launch a new feature on your website, you could trigger the intercept survey after the feature has been used to get a better understanding of how it is being used.
You can also respond and act immediately to negative experiences or negative feedback visitor or customer has had, so you can rectify the issue. This is especially important for websites that involve checkout transactions to reduce the cart abandonment rate.
3. Reach all demographics
Many times, you won't have all your visitors' email addresses. Implementing Intercept surveys will provide you the opportunity to request feedback from all your visitors, even if you don't have their private information. This eliminates a certain bias from the collected responses since the feedback is open to everyone coming to your website.
You can also ask for feedback from certain groups of users whom you wish to target. Using our sophisticated targeting, you can cut your data by segments based on activity, demographics, device usage, or location.
Common Uses for a Website Intercept Survey
1. Visitors on your website leaving before a purchase
If you run an e-commerce website, you can find out why a customer leaves before a purchase by implementing an exit survey. An exit survey will prompt a question to the user right before they leave the page. This kind of feedback provides you with the data needed to improve and decrease the cart abandonment rate.
2. User Research and Testing
You can ask visitors about their overall website experience, including the type of content and product features available. This valuable feedback can then be used to guide changes.
Rather than sending an email feedback to measure customer loyalty, you can set up a web intercept within your environment to ask the question, "On a scale of 0-10, how likely are you to recommend our service/product?" right after using your product. The more timely you prompt your users, the more accurate feedback they will provide you.
4. Customer Satisfaction
If periodic customer satisfaction is important to you, then you could easily set up web intercepts to streamline the feedback process. If you sell products or services on your website, you can discover what your potential customers want you to offer. You can know exactly how to diversify your offerings.
5. Post-purchase survey
You can easily discover friction points in your purchase path and fix them to increase conversation rates and sales.
6. Newsletter signups
Our website intercept surveys are robust enough so that you can set them up to collect emails and add users to a subscriber list. You can trigger a newsletter signup form for your users 30-60 seconds while they read your content.
7. Promotion or discount offers
Display a promotion or discount code to your returning visitors to your site. Targeting your returning users to your website will dramatically increase the chance of a purchase.
Collect more feedback with QuestionPro's Website Intercept Survey today
QuestionPro's Intercept tool offers many ways for you to share your surveys and collect the feedback necessary to improve your customer experience. QuestionPro CX is integrated with the major analytics and CRM platforms so you can collect and analyze data and close the loop with visitors and customers.
Interested in a live tour? Click here.