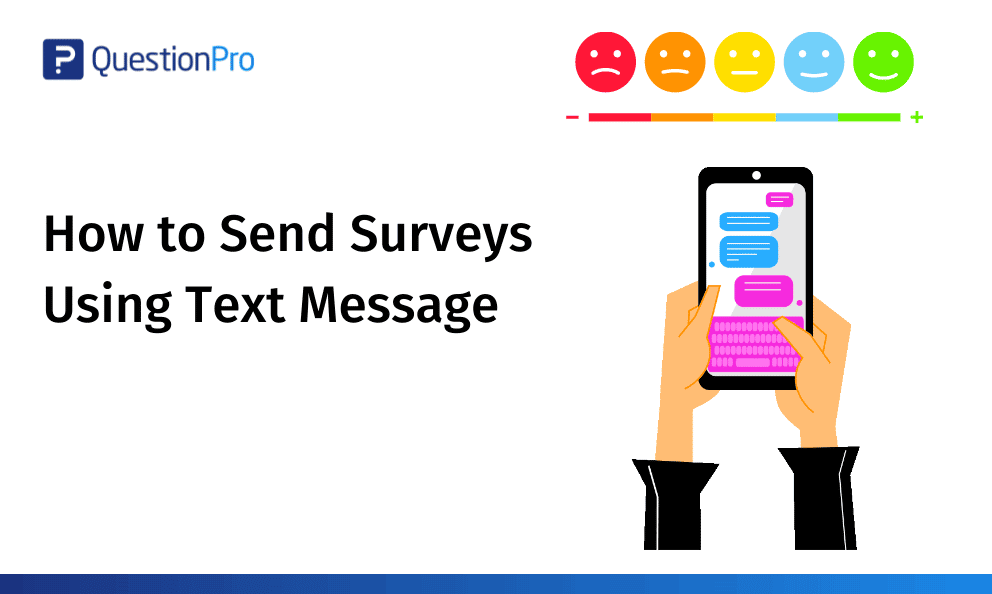 Surveys provide an excellent way to collect feedback from customers, students, or employees. While emailing surveys is a popular method of distribution, you might be surprised to learn there's another useful option.
Text message surveys allow you to connect with participants instantly on a device they probably have close at hand. It's no secret that most people spend a lot of time on their phones. As a result, when you send a text survey, your respondents are going to see it right away.
In this article, we'll look at how to send a questionnaire through text using SMS survey software and how it can help increase your survey results.
Index
How does a text message survey work?
An SMS questionnaire collects fast, simple data from respondents. Many text surveys are only one or two questions long, as shorter questionnaires are easier to answer on your phone.
Here is an example of how an automated SMS is sent to your customer's phone:
LEARN ABOUT: telephone survey
How to conduct an SMS survey or Text survey?
Much like email surveys, your customers need to opt in and provide their phone numbers to receive texts from your company.
For example, you can ask for a customer's phone number as they make a purchase online. You can add a checkbox the customer can click, which then permits you to reach out via text.
Once you have permission to contact customers through SMS, you can set up your survey. The easiest way to create an SMS survey is by using a text survey app or website. These platforms give you powerful tools to analyze the results you receive.
Each platform has its own method of creating a survey, inputting customer phone numbers, and sending texts. QuestionPro SMS surveys, for example, take only a couple of minutes to set up. After creating your survey, you can input customer data, including their email, name, and phone number. You can create SMS templates with a short message inviting participants to follow your link. Once you write your greeting, you can simply select "SMS" from the sending options when distributing surveys.
Advantages of a text message survey
Text messages provide plenty of benefits to help you get the information you need, including:
When should you not use a text survey?
Sending feedback requests through texts provides immediate insights from customers. For example, you can send out a Net Promoter Score (NPS) question through a text message survey. You'll gather the most robust data by using different types of surveys throughout the customer journey, such as emails or social media polls.
Here are a few situations where text surveys aren't the best choice:
In such cases, we recommend using paper surveys. They are simple and anybody can answer, even those who are technologically challenged or do not use a smartphone. This methodology is particularly useful in remote areas in developing nations.
Text survey tips
You hope to get a large number of responses every time you send a survey, as that will give you more data to analyze.
Text surveys face unique challenges. Although you still want to follow proper survey design in SMS surveys, you need to consider the strengths and limitations of the medium.
Use these tips to help you increase response rates and collect accurate answers from customers through text:
Finding the right text survey app
Writing a great text message and survey won't do much good if the program you use to create and send your surveys is lacking. Look for a survey platform that gives you the tools you need to not only create a survey and send it via text but also analyze the information you collect.
The best text survey app and online platforms give you access to powerful tools to organize your data. The most important features of a text survey tool include:
QuestionPro is a powerful online platform that allows you to create, distribute, and analyze text surveys. Our software gives you the tools you need, such as SMS survey templates, to collect the information you need. Sign up for a free account today to see how the QuestionPro system can help you use text message surveys to improve your business.