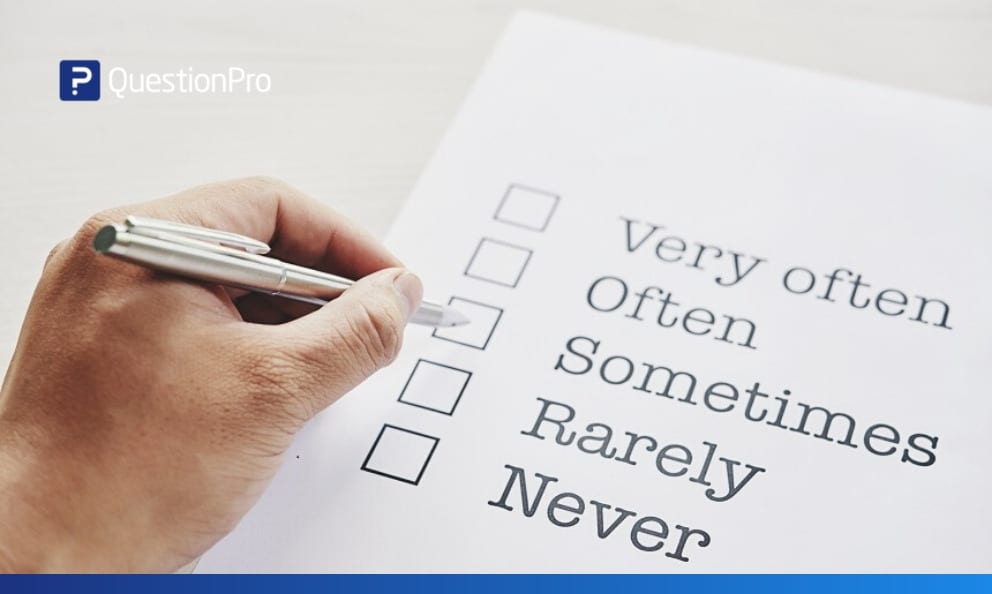 What is a Pulse survey?
An employee pulse survey is a quick questionnaire that's sent out frequently to the workforce to gather insights into the organization's health. The survey is named 'pulse' since it is simple, fast, and conducted every week or few weeks. It provides insights into aspects such as employee engagement, employee satisfaction, employee communication, work environment, etc.
LEARN ABOUT: Survey Mistakes And How to Avoid
What are the qualities of a workforce pulse survey?
A pulse survey, by definition, bears the following qualities:
Is conducted regularly. The frequency of it can be defined by organizations, weekly, bi-weekly, monthly, etc.

Is conducted frequently as compared to other traditional staff surveys.

Is short, quick, and easy to answer as opposed to other employee surveys.

Tracks and measures the same aspect over a period.
How can you make your pulse surveys effective?
To make the most out of your workforce pulse surveys, you can do the following:
Define purpose

: It is crucial to define the scope of your study; without that, the data you gather will be meaningless. You clearly need to know what you want to track or measure.

Define frequency

: This really depends on the things that you want to track and measure. You must take into consideration things such as what aspects are being measured, how they will be affected over time, etc. You may conduct a few ones and then figure out the right survey cadence for your organization.

Include the rIght questions

: This is necessary and imperative to solicit appropriate employee feedback. Use the templates, customize what you must to get actionable insights.

Limit survey length

: Pulse surveys, by nature, are meant to be short and simple. You need to be mindful of that and not prepare long surveys such as your annual or bi-annual employee satisfaction surveys. Another reason to keep them short is to encourage employee participation.

Analytics

: Make sure to use analytics on your data. With in-depth analytics, uncover gap areas, discover trends, and figure out patterns. Your feedback data is of no use if you do not make use of it to bring about necessary changes.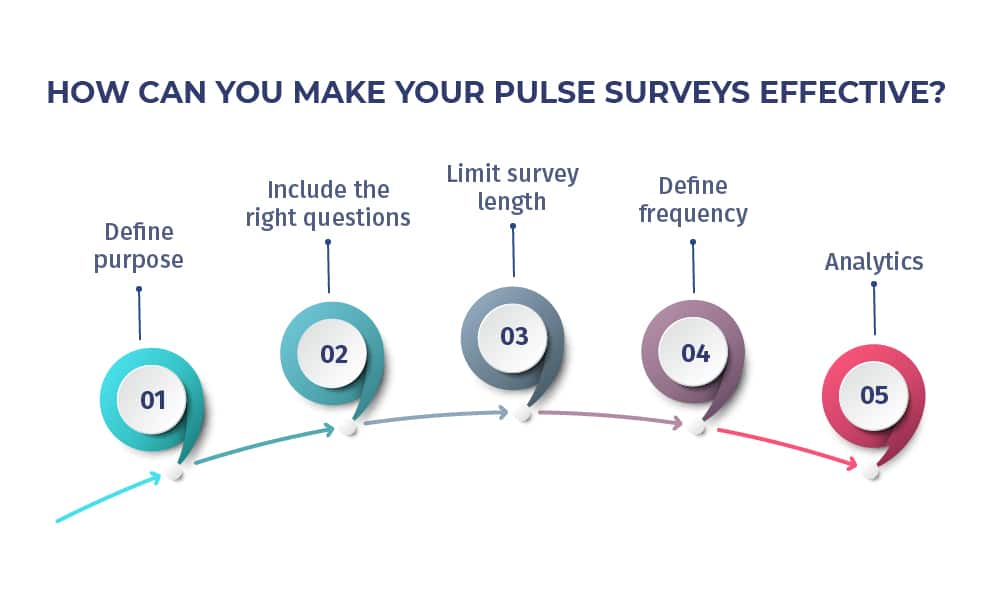 What are the benefits of conducting pulse surveys?
Effective pulse surveys can be conducted once you understand the benefits it provides. Let's look at some of the key benefits below.
Quick responses

:

Since pulse surveys are light on questions, they ensure you get quick, accurate, and a lot of responses.

Good survey response rate

ensures larger and better data.

Because employees can answer pulse surveys directly from their email inboxes, you'll likely see results immediately — no more waiting weeks for responses. Pulse surveys counter the problem of survey fatigue.
Agility:

Unlike traditional surveys, you do not have to wait one full year for pulse surveys. This helps in addressing concerns as and when they arise, making organizations more agile.

Actionable data:

Since pulse surveys focus on one aspect, you get clear and concise feedback that you can act on right away. It makes it easy to devise new action plans and initiatives.

Track changes over time:

Pulse surveys are instrumental in learning how staff sentiment about one thing or aspect changes over a period. They are short and hence easy to deploy frequently.

Micro observations:

With staff pulse studies, you can look into and understand the basics and micro aspects of your organization that affect employee experiences and

workplace culture

.

Better employee engagement

: Since you have frequent and current information from employees themselves, you can act to improve upon your people processes. When employees notice this, it improves their engagement, which translates into better staff productivity, morale, satisfaction, and retention. Annual engagement surveys help in measuring employee engagement or engagement levels, but the frequency of one every year can be a problem. Organizations should know how employees feel on a regular basis. Conduct periodic assessments, measure engagement using

employee engagement surveys

to ensure improved employee engagement. Increased employee engagement boosts staff productivity significantly.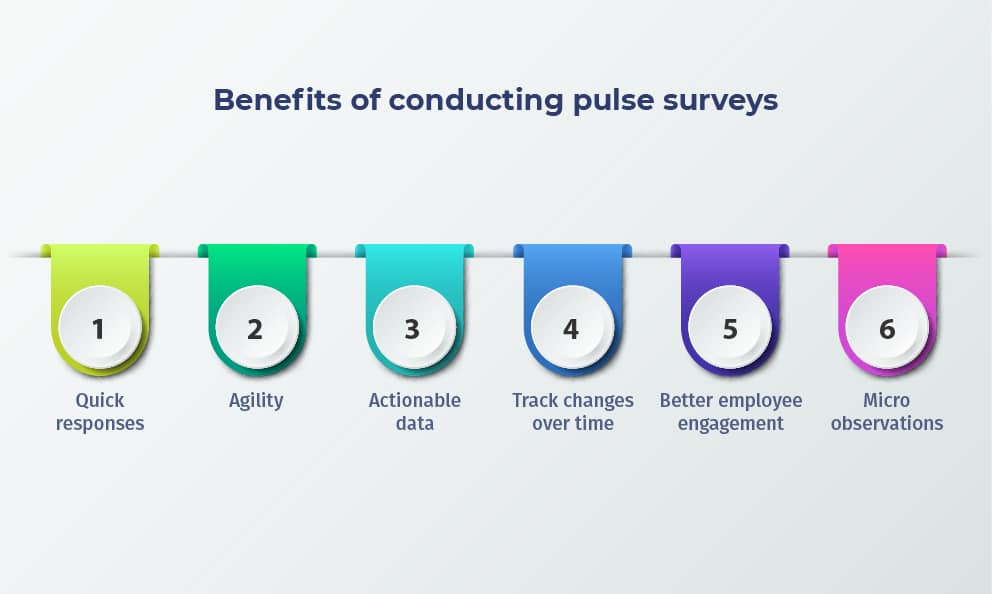 Considerations for buying an employee pulse survey software or tool
Using an online survey software or tool like QuestionPro Workforce is important to conduct company pulse surveys effectively. They have a host of benefits and can be customized to suit the needs of organizations as necessary. Some things that you need to consider before buying an employee pulse survey software or tool are as follows:
Custom modifications

:

Many of the tools available in the market are one-size-fits-all, which can pose problems for many organizations. Ensure before buying a platform that it supports custom development or modifications to suit your needs and requirements.

Ease of operation

: Possibly the most important, this software may be used by many of your employees, from HR managers to senior management. If it is not easy to understand, navigate, and operate, it is going to create problems and possibly delay your survey timelines. Make sure the software is user-friendly and provides good customer support.

Robust reports

:

The main idea behind conducting surveys is to gather information and use it to make informed decisions. You need good in-depth analytics support, and reports that are robust, easy to understand and share.

Security

: Employee surveys are sensitive; they contain information that you may want to shield from select employees. Your surveys also need to be anonymous, have settings such as role-based access so that only select employees can view it. Make sure the security provided by the platform is sound.

Usability

:

You need to consider some questions before committing to a platform. Will the surveys work offline? Is the mobile app as robust as the web version? Do the surveys provide a seamless experience across platforms? Will it integrate with our current systems? These need to be yes to move on to bigger and complex questions.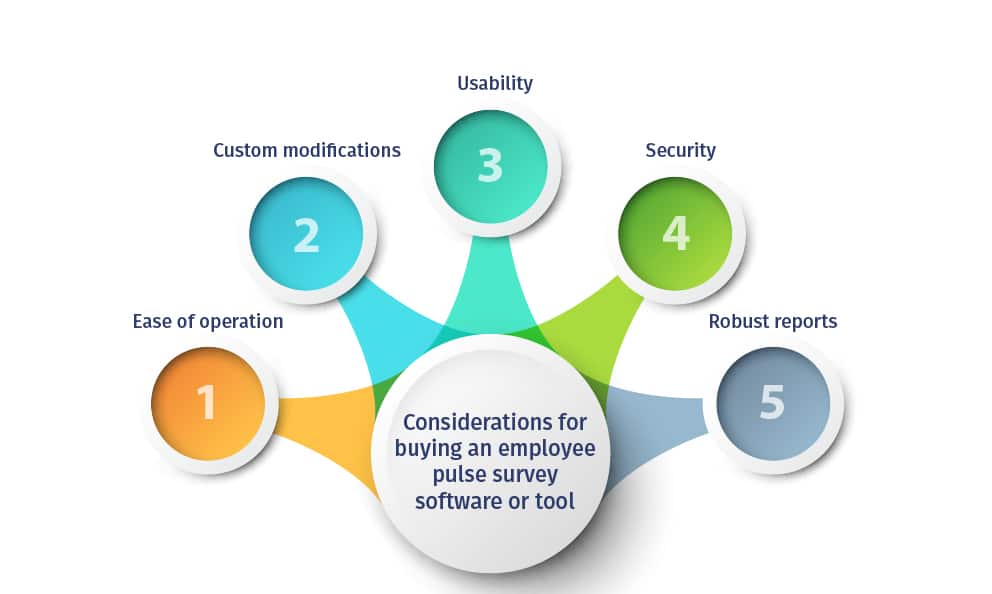 What are the essential pulse survey questions?
Now that we know the necessary elements that an employee pulse survey should have let's look at the questions that you need to craft. These questions are suggestions or a template, and you may or may not have it in your survey, depending on what the focus is.
On a scale of 1-10, 10 being the highest, based on your experience with the organization, how likely are you to recommend your loved ones here?

How happy are you to work here?

I have the right tools to do my job effectively

I receive recognition from my managers on a job well done

You are satisfied with the work-life balance

I am happy with job role and responsibilities

My company values are clear to me

My organization promotes free and transparent communication
Benefits of a company pulse survey platform or tool
While the above points are sufficient to understand and warrant the decision to buy a company pulse survey software or tool, we are listing below some benefits that will come in handy for a swift decision.
Cost-efficient:

The tools or platforms available in the market are quite cost-effective, and more importantly, they have various license levels. You may select a license based on your needs and requirements and pay accordingly. You need not spend a lot or buy the most expensive tool.

Convenient and accessible:

Company pulse survey software or tools are easy to use and navigate. Any online surveys that you prepare and deploy can be taken online and offline and on various devices. It supports web and app versions. Once a survey is deployed, respondents can take it anytime and anywhere as per their convenience.

Reach:

With online tools, you can reach a much greater number of employees as opposed to offline surveys or meetings. This helps in gathering more responses, which is always better to get more data and accurate

survey results

.

Fast results:

As soon as you send surveys, you start getting responses from your employees. You deploy a survey, and you can have actual data that you can refer to and use right away. This helps in putting together data to work on your people processes.

Custom surveys: While these employee pulse survey platforms come with ready-to-send templates, you can always modify them or create new surveys to suit your agenda. For quick and urgent studies, you can use standard templates, whereas, for long or annual surveys, you can use customized surveys. Also, for different teams, you can tweak your templates or questions a bit, which is quite handy considering the diverse nature of teams today.