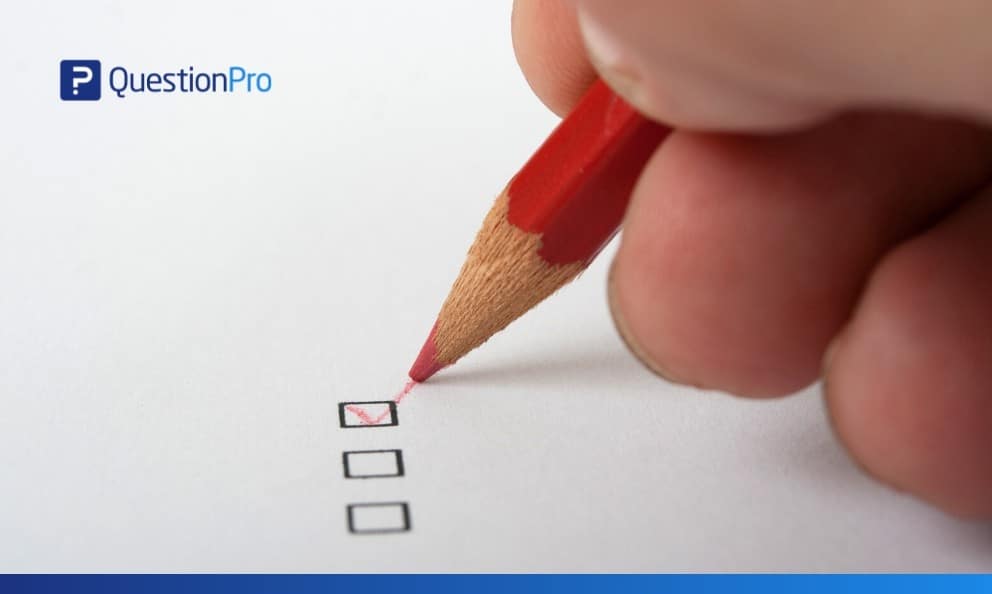 What are staff surveys?
A staff survey is a questionnaire sent out to all the employees in an organization to check up on them and bring forth any issues, ideas, or concerns that they may have. Based on the type of study you conduct, surveys can be classified as staff engagement, staff morale, staff productivity, etc.
Gone are the days when managers would speak to their teams or subordinates only when needed or during performance appraisals. The workforce is rapidly changing, and so are the people dynamics. You need to check-in on them frequently, understand their needs, address any challenges they may have, etc. There are many ways you can do that. You can have team meetings, one-on-ones, outings, etc. One way that definitely works is by conducting online staff surveys.
LEARN ABOUT: Candidate Experience Survey
Staff survey example
A staff survey can enquire about your work environment, your people processes, or something specific, such as checking the effectiveness of a new initiative. It really depends on the scope of your study, what you hope to achieve from the results. If done properly and included the right questions, your survey can provide data that will improve your people processes vastly. Below is an example of a employee satisfaction survey; you can view the entire template below.

Download free staff survey template
Why conduct online staff surveys?
There are several reasons why in-person meetings may not happen – remote workforce, emergency situations, delivery deadlines, etc. While all these reasons are genuine and true, it takes a toll on the meetings that you should have with your team members. With online staff surveys, you can get all the information you may need from your staff. Based on their responses, you can then schedule one-on-ones as and when needed and possible.
According to a survey conducted by Forbes, employees that are heard are four times more likely to perform better than their peers.
Here are some reasons why you should consider conducting online staff surveys:
Easy and quick

: Many tools available in the market for conducting online staff surveys; these platforms are quick and easy to learn, simple to navigate, and there's 24×7 support available with almost all of them. You do not need to go through any formal training and use many of the available templates. With ready to use templates, all you have to do is hit the deploy button, and you are ready for the next phase. The next step is to gather all the data and look carefully to make informed decisions in improving your people processes.

In-depth data analytics

: Once you have deployed the surveys, you will start getting responses directly from the employees. This data is crucial and will give you great insight into what they feel about the organization, its policies, values, etc.

The data analytics provided by these tools will help you make informed decisions. You will have access to reports and analysis, such as sentiment analysis, heat maps, text analysis, etc.

Multi-lingual surveys

: With many organizations having global operations today, you get a good mix of regional offices all over. With these tools, you can conduct simultaneous surveys in different languages. They come with a set of pre-loaded languages, and you can always update the language library. With this, you can have a host of similar questions across the entire organization.

Templates, existing and new

: These tools have readily available templates that you can use the way they are or any necessary modifications that you may need or want. You can also create your own templates to suit your organization. You may assign and send different templates to different departments, teams, etc.

Performance evaluations

: Organizations follow their own appraisal cycles, annual, bi-annual, etc.

Either way, data conducted through online surveys is always available with you, and you can refer to the tool anytime you want. This way, you do not miss any points, concerns, ideas, or accomplishments of the employee.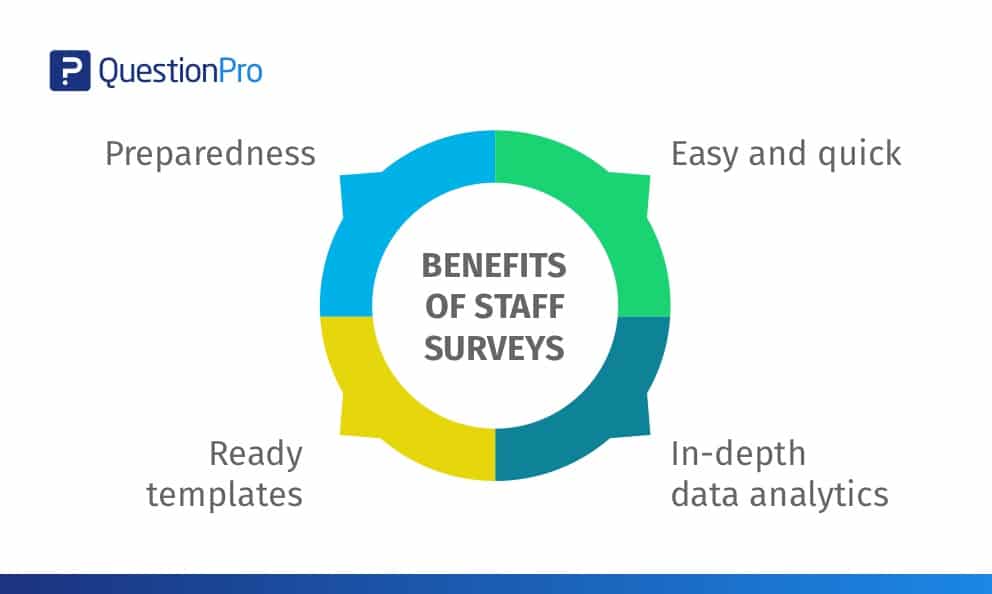 Types of staff surveys
Surveys that you conduct will have a theme and questions based on the objective you have in mind. It can be gauging how satisfied your employees are with the office infrastructure, how good is the employee experience, etc. Here are some important types of staff questionnaires that you should consider and run.
Staff engagement survey

: Ensuring high staff engagement is crucial for organizations. It directly impacts the

Employee Net Promoter Score (eNPS)

and employees' intent to stay with the organization. With this type of staff questionnaire, you can understand how engaged or disengaged your staff is and what can be done to improve the engagement levels. Some typical questions that you would see in a staff engagement survey are:




Do you regularly receive feedback from your manager?

Do you feel there is a strong sense of teamwork in the organization?

Do you see your career growing positively in this organization?

Are you able to strike a work-life balance?
Organizations that have high employee engagement rates are 21% more profitable.
Learn more: employee engagement survey examples
Staff satisfaction survey: Satisfied employees tend to stay longer with organizations than dissatisfied ones. There could be several reasons for dissatisfaction, which will be unique to every employee. These can be their manager, unhappiness with performance evaluations, lack of employee benefits, etc. To get to the root of the issue, you may need to conduct staff satisfaction questionnaires. Some questions you may ask in such a survey are:



Do you feel you have ample career growth opportunities in the organization?

Do you see yourself still working in this organization 2 years from now?

Does the organization provide you with all the resources and tools needed to perform your duties?

Do you feel rewarded for your dedication and commitment to your work?

Staff experience survey: An employee goes through several experiences in an organization, right from onboarding to their exit. In fact, the experience starts at the first recruiter contact. Was all the information provided accurately? Was the coordination smooth between the recruiter and the candidate? So many things can go right or wrong across HR functions such as hiring, training, appraisals, exits, etc. To truly understand what your employees feel, staff experience surveys come handy. You may include questions such as:



Were you happy with your hiring experience?

Were you satisfied with the induction process?

Do you feel the performance evaluation process was fair and transparent?

Do you feel the benefits are on par with other organizations?

Staff morale survey

:

Low staff morale is a concern for all organizations. If staff morale is low, staff attrition will be high. It is essential to understand the reasons behind that to take necessary corrective actions. Some questions that you should ask in staff morale online survey

are:

Do you feel you get recognized for your work?

How do you feel is staff morale in the organization?

Do you feel you are respected in the organization?

How is your communication with superiors and the executive team?

Work culture survey

:

A healthy, strong, and positive workplace culture is necessary for any organization to function smoothly. An organization is not only about serving its customers or turning profit, but also about its employees. Are they treated fairly, do they get recognition for their work, are the employees engaged, etc. All these points come together to form the organization's culture. A culture that's not healthy or positive will see a lot of employee attrition, low staff morale, productivity, and satisfaction.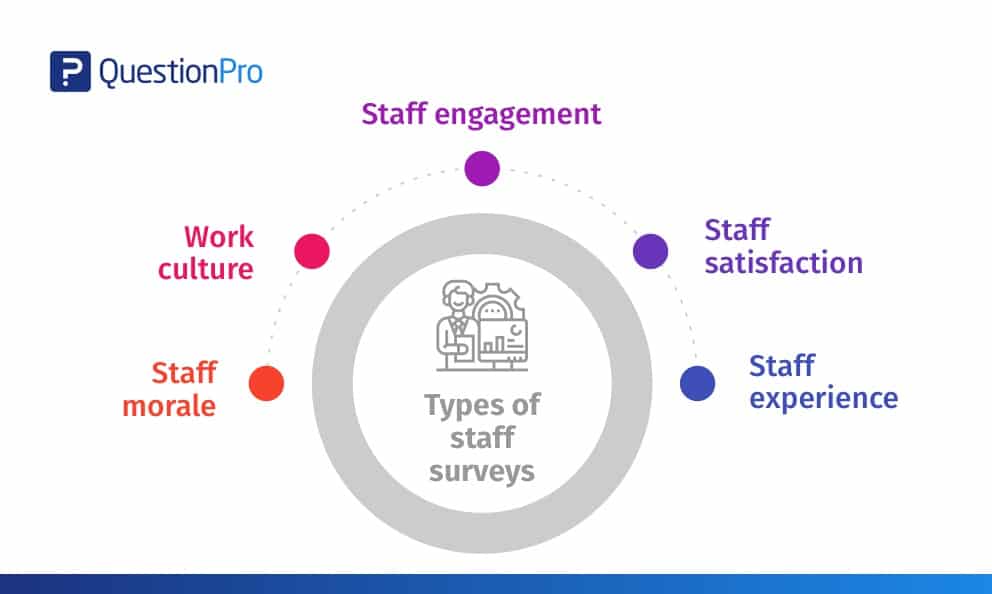 According to a recent survey, about 15% of job seekers decline job offers for organizations with poor or weak company culture.
An ideal work culture survey would have the following questions:
According to you, which areas can be improved to make the organization a better place to work?

Do you receive timely feedback about your work?

How dedicated is your organization to diversity and inclusion (D&I)?

Would you agree the organization operates in a manner that is socially responsible?
According to a survey by Deloitte, a staggering 94% of executives believe a positive and distinct work culture is imperative for success.
There are several other aspects where you can conduct surveys; these are exit surveys, pulse surveys, etc. The benefits are clear and evident from the statistics. Before you set out to buy an online survey software or platform, have an internal discussion, gauge your needs, align your processes, and then go for it. Conducting surveys is easy; gathering data and using it to bring about positive changes is what's crucial.
QuestionPro Workforce is trusted by several global organizations of all sizes and various domains. We've helped conduct all of the above-mentioned surveys for our clients and helped make significant improvements in their HR practices. Our experts can act as consultants and help in monitoring progress and weigh in on measures that will help improve current and future people initiatives.
LEARN ABOUT: Performance Appraisal Survey
If you would like to see how the tool can help improve your organization's employee experience (EX) and work culture, write to us. We are always happy to help.
You can also create a free account and check out our hundreds of ready-to-use survey templates from the library. It's absolutely free, and the free account never expires.