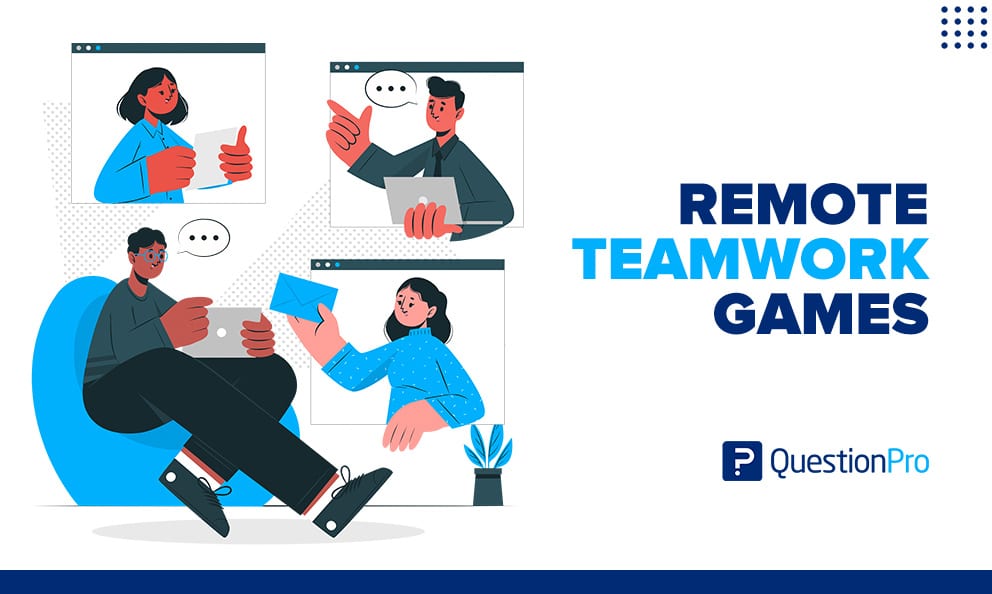 Fun work and productive work don't necessarily have to be opposites. In fact, conducting fun activities and interactive games might be one of the best strategies for teambuilding. The incentive is no different when it comes to remote work. In recent years we have noticed an increase in the use of online communication tools to improve productivity and work culture. They are essential to work life, from software to connect in real-time with customers and team members to remote teamwork games. Let's talk about it.
What are Remote Teamwork Games?
Remote Teamwork Games are fun online activities for a company's employees that work remotely. These activities aim to promote a better workplace culture, improve the employee experience, and create a pleasant work environment for everyone involved. Better relationships between employees suggest a considerable productivity increase.
Some remote teamwork games include the implementation of virtual team-building activities such as live polling, trivia games, this or that questions, and interactive games.
Why are Remote Teamwork Games Important
On the one hand, digital teambuilding activities create a connection between co-workers, improving camaraderie and, consequently, communication. On the other hand, leaders who successfully lead teambuilding activities also gain excellent leadership skills and genuine respect from their subordinates.
These circumstances happen because the sense of belonging to a community is an essential incentive for the comprehensive development of workers. It's a win-win.
Sharing experiences, anecdotes, inside jokes, and internal communication dynamics eventually translate into solid relationships and genuine friendships between the company members. Undoubtedly, the increase in trust improves productivity and reduces risk factors in a company, promoting a constant positive work culture.

Virtual activities creation efforts consist of several carefully designed strategies, games, and activities that are intended to bring more human interaction to virtual work. This will help your team connect with others, making them feel like they really are part of a community.
Icebreaking Remote Teamwork Games
Some of the main activities to improve the quality of the work environment are icebreakers or "conversation starters." These activities achieve improvement when the company makes sure the dynamic is entertaining and, at the same time, entitles employees to get to know each other.
Knowing each team member individually humanizes the company's overall team. One of the best online ice breakers is QuestionPro's Livepolls since it allows you to configure the game's information to your liking, simultaneously making the activity fun and informative. It's also an excellent option for introverted employees, as they can choose to interact passively.
Remote Teamwork Games Ideas
Remote teamwork games can consist of online games through a shared screen or unique offline experiences that can be used to create common ground for future online conversations. Let's discuss some ideas.
Virtual escape rooms exploded in 2020 as it was impossible to visit those in the real world due to the pandemic. In these, the teams have to go through a series of rooms, solve each puzzle to find the answer to a mysterious murder, and escape in time. It can be done through Zoom in an average time of 70 minutes.
A dynamic that can be very fun is a virtual visit to a city in the world by a collaborator of the organization, who is in charge of visiting various points of interest and sharing it through a video call. You can even hire virtual guides now.
The tour can be recorded with a cell phone and transmitted live if the collaborator's internet connection allows it, or recorded and retransmitted later. For instance, you can find examples of these types of activities worldwide on Airbnb online experiences.
Live Polling or Trivia Online.
If your team likes trivia, they will love LivePolls. This platform allows you to create a session for the team, and the host is in charge of guiding the live online trivia game.
Livepolls allow you to create fun and dynamic trivia with questions of any genre, from genre movies to topics related to the participants, such as inside jokes or common work topics.
As you can see, there are multiple ways and tools to carry out successful virtual dynamics that help promote interaction between members of an organization, so you have to spend a little time preparing them and letting them flow correctly.
If you want to start with an online quiz, trivia, or poll, we invite you to watch the following video to do it practically and utterly free with QuestionPro LivePolls. You will love it!