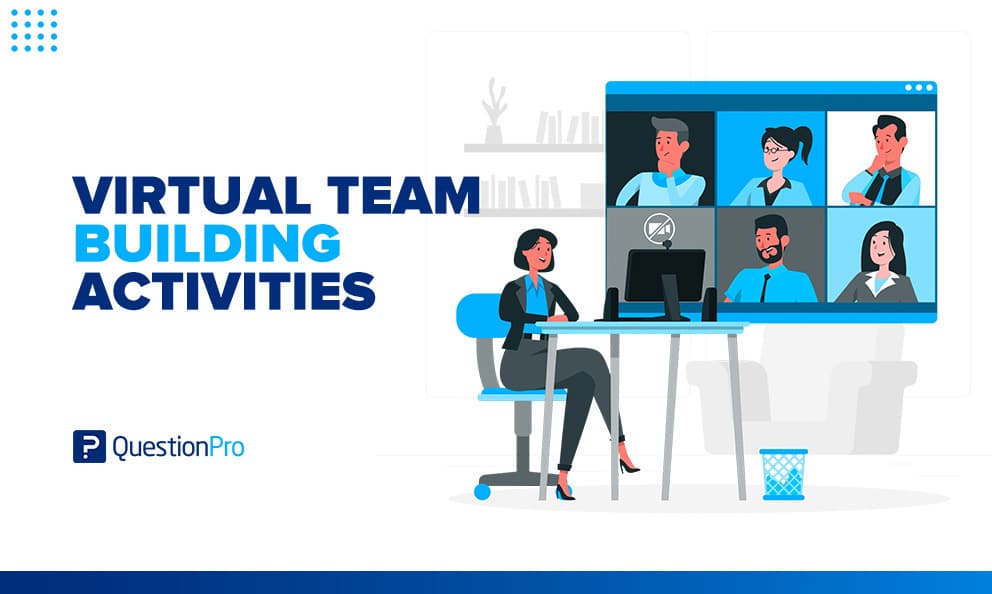 Virtual team building activities became highly relevant after the impact of the Covid-19 pandemic, which boosted remote work and distance education globally.
However, it is still a challenge for many leaders of organizations, human resources, and teachers to implement successful virtual team-building activities. This article has prepared some of the most effective recommendations, tools, and strategies to develop them effectively and without friction.
What are virtual team-building activities?
Virtual team building activities are developed to drive the continuous process of bringing together teams working remotely. These dynamics help teams establish deeper bonds by creating an office-like collaborative workplace culture.
Using strategic insights, virtual team-building activities can help manage virtual teams through more fluid communication, while reinforcing a shared team identity.
These online team games and activities can also mitigate the challenges of a remote or distributed workforce, which may risk reducing employee engagement.
Why is creating virtual teams important?
The physical distance from work from home can quickly turn into emotional distance, which in turn leads to isolation. And when your employees feel isolated, they won't feel comfortable working with their teammates.
That's why it's important to create a comfortable environment that remote workers can trust.
Virtual activities creation efforts consist of several carefully designed strategies, games, and activities that are intended to bring more human interaction to virtual work. This will help your team connect with others, making them feel like they really are part of a community.
Advantages of performing virtual team building activities online
A virtual dynamic works when emotional connections between participants are facilitated. Activities that allow members of a team or organization to learn new things about each other and foster a type of bond that removes the limitations of physical distance.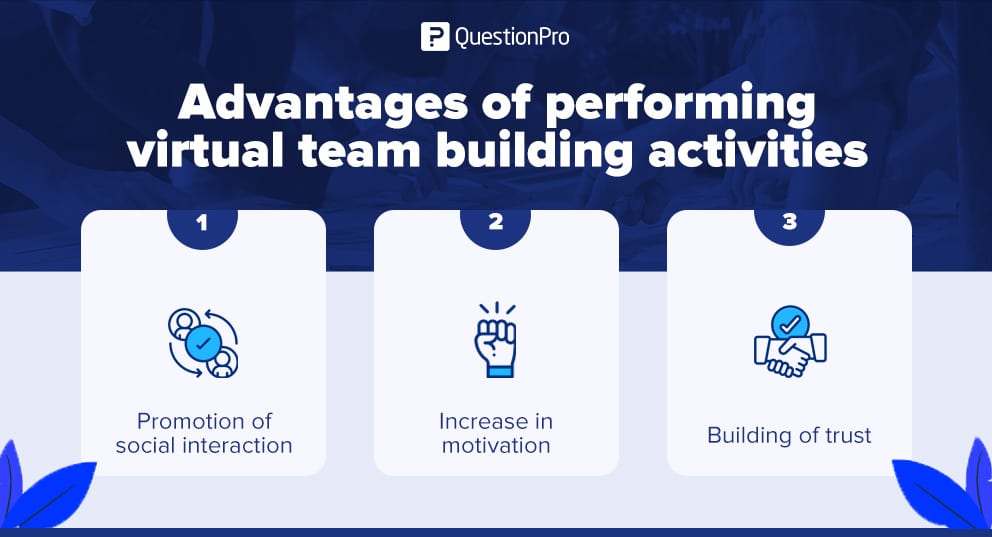 Some of the advantages of conducting fun virtual team building activities among the members of an organization are:
Virtual team building activities promote social interaction
When remote workers feel lonely, isolated, or unsupported, a virtual dynamic can remind them of all the amazing people behind them.
When remote workers feel their work motivation diminishing, a virtual activity can help rekindle their passion by being in contact with enthusiastic coworkers.
When employees working remotely crave more autonomy, a virtual activity can help them gain the trust of their bosses and colleagues.
LEARN ABOUT: Employee Trust
Types of virtual team building activities
Now that you know some of the benefits of virtual team building activities, we will present some of the types of virtual team building activities that you can implement to improve the organizational climate of your company:
Virtual team building activities to break the ice
Remote Team Icebreakers are activities you can do at the beginning of a virtual meeting to create quick and personal connections with your coworkers.
Virtual meetings can sometimes start with a few minutes of stiffness or discomfort. Therefore, exercises can be performed to overcome this discomfort and conduct effective remote meetings.
These can be classified into 3 levels according to the cohesion of the group:
1. "Easy" icebreakers
They are for groups with new members or with low levels of familiarity. At the green level, the response does not reveal much personal information and anyone should be able to respond quickly.
Example: "do you like cats or dogs more?" or "Do you prefer coffee with or without sugar?"
2. Icebreakers "medium"
They are for groups that have been together for a considerable amount of time. Yellow questions reveal more personal ideas or opinions on relatively straightforward topics, although most people will be able to quickly answer these questions.
Example: "What is your dream place to work?" or "Have you rated a place you visited with a single star?"
3. "Difficult" icebreakers
They are for groups that are already very comfortable with each other. This level requires vulnerability, but that vulnerability results in strong bonds between co-workers.
Example: "What is your most popular tweet?" or "What is the last book you read?"
Top 5 Best Virtual Team Building Activities
Virtual team building activities can consist of online games through a shared screen or unique offline experiences that can be used to create common ground for future online conversations.
Either through an online team game or an offline activity, these activities will help a team live experiences that they can share no matter how far away they are. Some examples are:
1. Virtual escape room
Virtual escape rooms exploded in 2020 as it was impossible to visit those in the real world due to the pandemic. In these, the teams have to go through a series of rooms, solve the puzzles in each one to find the answer to a mysterious murder and escape in time. It can be done through Zoom in an average time of 70 minutes.
2. Online personality test
This type of test allows you to understand the unique work styles of the people who are part of an organization. The number of participants is unlimited, lasts approximately 60 minutes and can be easily self-administered.
For example, you can create a team-building activity in which each person gets a profile to take various types of online personality tests and add them to a report. They can also fill out sections about their optimal job preferences and show how they work best.
3. Live virtual trivia
If your team likes trivia, they will love LivePolls. This platform allows you to create a session for the team and the host is in charge of guiding the live online trivia game.
Livepolls allow you to create fun and dynamic trivia with questions of any genre, from genre movies to topics related to the participants (local jokes, common work topics, etc).
4. Virtual visit to a city
A dynamic that can be very fun is a virtual visit to the city by a collaborator of the organization, who is in charge of visiting various points of interest and sharing it through a video call.
The tour can be recorded both with a cell phone and transmitted live if the collaborator's internet connection allows it, or recorded and retransmitted later. You can find examples of these types of activities around the world on Airbnb Experiences.
5. Virtual treasure hunt
This is an entertaining activity that gets organized quickly. When everyone is on Zoom's call, launch the challenge of collecting a list of different everyday objects from around the house. Whoever gets to the webcam first and shows that he has collected all the items wins.
Tips for making virtual team building activities fun
Coordinating a virtual dynamic, summoning the team, being the host, and taking care of the awards can be difficult. Therefore, we recommend that you follow these tips so that you can do it successfully:
Choose a topic for your presentation
This tip is for presentation-based meetings. The best internal presentations have an interwoven theme, ideally, one that highlights the point.
Fill awkward space before meetings.
Generally, all online meetings start with a couple of minutes where everyone goes online and tries not to say anything.
It's very uncomfortable, and if left unchecked, that awkward feeling can make the whole meeting feel bad. The suggestion is that you do not get carried away by discomfort and fill the void with jokes.
One way to break the ice is with a thoughtful question, for example: "What is the best advice you have ever received?" enchanting you? " or "If you had a time machine, would you go back to the past or the future, and why?"
These types of questions that are out of the ordinary (at least for a work meeting) tend to provoke a better conversation than the usual openness of the type "what are you going to do this weekend?".
Being a good co-worker with your pet is essential, and including your best friend in meetings is crucial. Never apologize when he tries to participate, but actively include him.
Tools for managing virtual team building activities
Some tools that you can use to manage your virtual team building activities are:
Livepolls is a platform that allows you to create an online quiz, polls, and trivia for free to interact and involve your organization live, showing the results of each question through a board that makes it a fun and very dynamic competition.
Using it is extremely easy. You have to share a 4-digit code so that participants can enter the session and start the virtual dynamic. The tool is entirely free, you have to create a free QuestionPro account, and you will have access to this tool.
Kahoot is an online educational tool for creating fun quizzes for students or running quick quizzes, where administrators can make a learning game or trivia quiz on any topic.
Bonusly is a virtual platform that helps companies make their recognition programs fun and organic.
Klaxoon is another tool that offers features to make sure virtual meetings and other communication touchpoints engage employees and meet their intended goals.
Conclusion
As you can see, there are multiple ways and tools to carry out successful virtual dynamics that help promote interaction between members of an organization, so you have to spend a little time preparing them and letting them flow correctly.
If you would like to start with an online quiz, trivia, or poll, we invite you to watch the following video to do it practically and utterly free with QuestionPro LivePolls. You will love it!