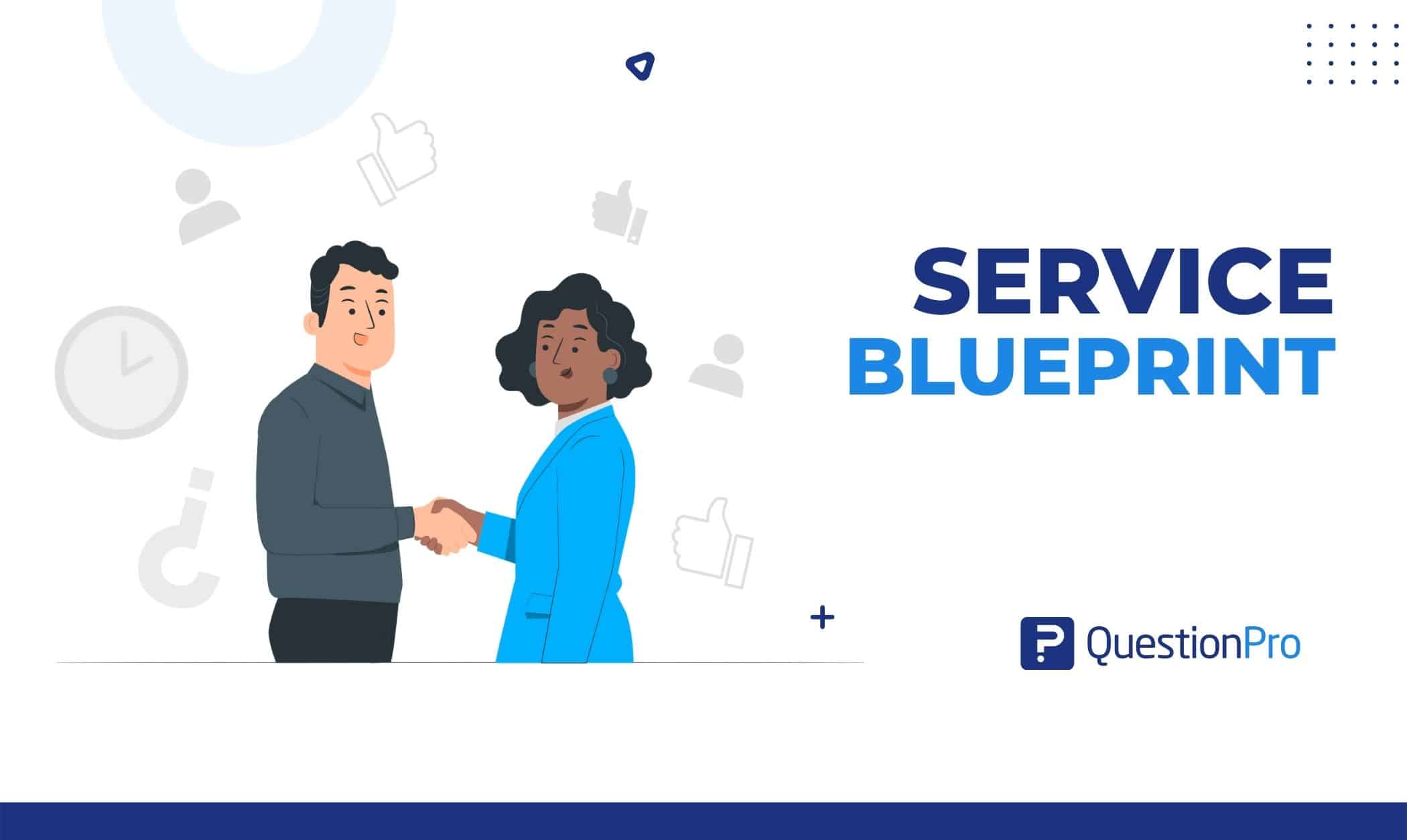 When you're providing a service to a customer, it can be hard to figure out what could be done better or where things need to be fixed. A service blueprint has become a helpful way to deal with the many problems when designing and improving services.
The service blueprint is valuable because services are multi-layered, complex processes involving many people and technologies that may or may not cooperate. One of the goals of this diagram is to serve as a guide for developing a plan for service delivery.
Continue reading to find out more about the service blueprint and its importance.
What is a service blueprint?
A service blueprint is a diagram showing the connections between various service elements specifically connected to customer journey touchpoints. It helps service managers and improvers understand the service delivery process from the customers' perspective.
It is used to divide a service into logical components in the design stage of service development, such as customer contacts, physical evidence, etc. An in-depth examination of the service process is another function of this tool.
Essential elements of the service blueprint
The service blueprint's major components represent onstage and backstage workforce actions. No matter how it looks or how much it covers, every service blueprint has some essential parts:
Customer actions:

This element is displayed at the top of the map since it is crucial to developing the service plan. The steps, activities, decisions, and interactions a consumer makes when considering, purchasing, or utilizing a service are included.
Physical Evidence:

It stands for the actual evidence of the service and is situated at the top of the diagram. The information is usually clearly displayed above each contact point.
Frontage / Visible Employee Contact:

These actions include what frontline contact employees perform when interacting directly with clients.
Backstage / Invisible Employee Actions:

The actions made by contact employees are not visible to the customer. All non-displayed customer contact efforts include phone calls and other actions that help the frontline.

Support processes:

This covers all operations, interactions, and internal services carried out by people who don't contact employees to assist the contact employees who deliver the service. They are hidden from the view of the consumers.
The following are some optional elements that you can add to a service blueprint:
Time:

If you provide a service where time is crucial, you may use a timeline to show how long you anticipate each stage of the process will take.

Emotions:

Similar to how a customer journey map shows customer emotions at each step, you may highlight employee feelings at each service delivery phase.

Metrics:

To monitor your progress toward your objectives, you can include success metrics in your service blueprint.
How to understand a service blueprint?
There are multiple approaches to understanding a blueprint service. Keep reading to learn how to understand this method:
To understand the customer's experience
Read the service blueprint from left to right while tracking the customer action category. You may understand customer feedback by focusing on where they arrive, their decisions, how involved they are in developing the service, and the physical proof of the service from their point of view.
Understanding the function of contact employees
Examine the diagram horizontally, paying particular attention to the actions that are taking place directly above and below the line of sight. Here you can see how effective and efficient the process is, who interacts with the customer and how often, and if one or numerous individuals handle a customer.
To understand how service elements integrate
Here, you must perform a vertical analysis of the blueprint. It will help you determine which individuals and tasks are crucial for customer service. Focus on backstage actions that support customer encounter points, supporting actions, and employee efficient workflow.
Why is a service blueprint important?
The service blueprint can better understand an organization's services, resources, and processes. There are a few reasons why a service blueprint is important.
A service blueprint assists in evaluating the process's logical flow, which aids in locating any mistakes or roadblocks in the process and evaluating how efficient and effective it is.

It helps understand what customers need and what they want as well as how they feel when a service doesn't work.

It can be used to identify and remove client-facing actions that are resource-intensive, resource-wasting, time-consuming, and harmful to the customer.

It helps find ways to improve the service delivery system and determine how much it costs to deliver services.

It can also be used to coordinate front- and back-stage activities inside your organization and understand cross-functional interactions.
Conclusion
Service blueprints detail service procedures. It simplifies creating a new service delivery system or improving an existing one by mapping out each step and role. This guide explains its value to your business.
A service blueprint develops a clear roadmap for achieving operational objectives. Its cross-functionality improves the company's communication among customers, employees, and management. It helps companies understand their customers and adapt to their requirements while keeping service delivery simple and redundant.
Customer experience data is made available in real-time through QuestionPro CX. You can learn every detail regarding your customer service by completing a survey.
Using our CX management tool, you may view the customer experience from all angles. You can identify your weaknesses and adjust your service blueprint as necessary.