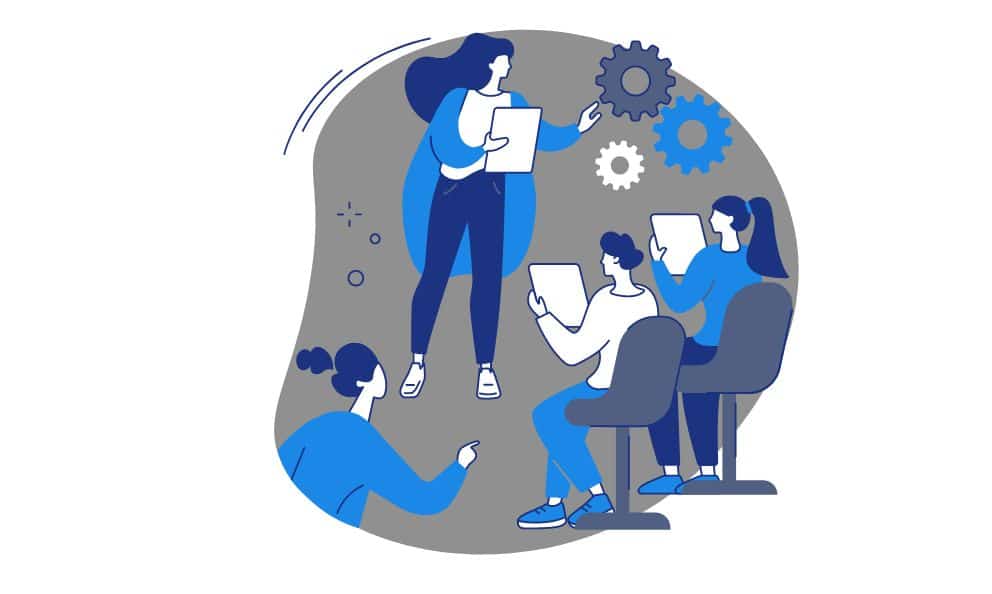 To advance the world of experience and surveys, we are continuously working on creating the best-in-class products. Below are some enhancements we are working on that will be released for our users in July.
Plan your research with these features and collect better insights to make smarter decisions.
Survey
We will be adding another survey display mode similar to the focus mode. The visual mode will display one question at a time and will have a separate background image for each question. Also, we will add the ability to set horizontal/vertical alignment for the questions on the screen.
We will revamp my accounts page. We will also be organizing information and streamlining some actions.
The current footer feels outdated, has information that is not very relevant, and takes up real estate on the screen that could be put to better use. We will be updating it with the best possible footer that meets all of the criteria for QuestionPro products.
We will revamp the question UI/UX which are embedded in the Email to help improve the efficiency and effectiveness of email communication, making it easier to find the information one needs and respond to emails more quickly and accurately.
We will be adding different options to customize how raw data is displayed. We will also change the look and feel of the data being displayed in the raw data report.
Communities
We are providing a mechanism to users where they can click on the carousels on the screen and they will land on the respective pages.
Admins on the other hand can add the URLs on the Admin portal where they wish the users to land on.
Workforce
Revamping the UX of the eNPS widget aims to enhance the user experience by providing a visually appealing and intuitive interface that presents key information, such as the Net Promoter Score and number of respondents, in a concise and easily understandable format. Users will also have the ability to export it as PDF.
CX
Notifications feature revamp
Previously, only 5 custom variables were available for notifications. Now, you have access to over 100 custom variables in the CX platform. The notifications screen will be redesigned to provide a clean and intuitive experience.
With these enhancements, there will be more flexibility and a smoother user experience when it comes to notifications.
Word cloud widget
By transforming the text widget into a word cloud, users can easily visualize the most prominent words and phrases from their dataset. This dynamic representation brings a new level of insight and clarity to the user's dashboard, allowing for quick identification of key themes and trends.
NPS trend widget enhancements
With this new feature, users can toggle on an additional setting in the widget settings to unlock a comprehensive view of the score breakdown. This breakdown provides valuable insights into the distribution of scores across different segments, enabling users to understand the nuances and patterns within the NPS data.
Custom mean widget enhancements
Introducing the Custom Mean Widget, a powerful tool that enables dashboard users to tailor the scoring system according to their clients' specific standards of measurement. With this feature, users have the flexibility to define and customize the scoring criteria to align with their clients' unique requirements.
Cross Tab widget
A cross-tab widget enables users to analyze and visualize the relationship between different categorical variables, facilitating a deeper understanding of customer preferences, behaviors, and satisfaction levels.
CX Reputation
Smart Reply
With Smart Reply, AI will be used to analyze customer feedback, sentiment, and context to generate intelligent and personalized responses. This feature automates the process of crafting timely and relevant replies, saving valuable time for customer service teams and ensuring consistent and efficient communication.
Discover integration for Sentiment Analysis
With Discover, clients will have the ability to tailor sentiment analysis based on their industry, ensuring accurate and relevant categorization and topic identification.
Other bug fixes and enhancements
Communities
CM-3137 – Fixing the issue with community filters.
CM-3145 – Fixing the issue where Admins/Moderators were unable to access the Schedulers.
CM-3048 – Fixing the Send Button position on the Mobile App.
Workforce
WF-3116 Auto Translation functionality issue for 360 surveys.
WF-3250 – Fixing the issue with duplicate dashboard names not in the portal.
WF-3264 – Fixing the issue with the raw data in the analytics tab.
CX
CX-2547 – API to get batch of survey urls
CX-2607 – Survey URL in Disposition Metrics download
CX-2688 – Ability to select all the managers in the push metrics schedule
CX-2714 – Email Engagement API performance improvement.
CX-2713 – Import functionality performance improvement.
CX Reputation
85ztb8ge2 – Fix the issue with sentiment analysis features not working as expected with a large volume of data.
861mwe6mq – Fix the issue with Facebook locations when page access is not provided.
861muzmwv – Reviews performance improvement.
85ztavu6n – Fix the issue with clear filters not working properly with extra filters.
We're as excited as you are to see how our products offer a better experience to your respondents, customers, and employees!
As always, we'd love to hear your experiences and suggestions at [email protected].