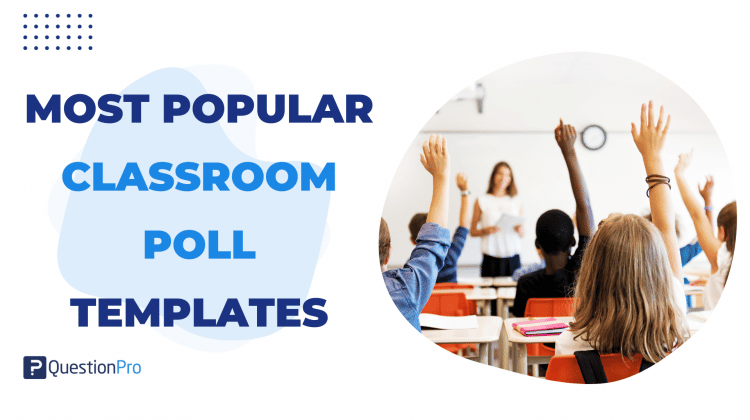 Engaging students in the classroom has always been a priority for educators. In today's digital age, technology provides a valuable tool to enhance student participation and interaction. Classroom polls are a fantastic way to achieve this. They allow educators to collect instant feedback, gauge student understanding, and foster a more inclusive learning environment.
Here, we present four popular classroom poll templates that can breathe life into your teaching sessions and create an active learning atmosphere.
Lecture Feedback Poll Template: Gathering feedback after a lecture is crucial for continuous improvement. The Lecture Feedback Poll Template lets you instantly assess how well your class comprehended the material and if your teaching methods hit the mark. Use this template to fine-tune your future lessons and ensure your students get the most out of each class. Explore Lecture Feedback Poll Template
Back to School Poll Template: The beginning of the school year sets the tone for the months ahead. The Back to School Poll Template helps you understand your students' expectations, worries, and excitement. Use it to create a more personalized learning experience, build rapport, and foster a positive classroom atmosphere. Explore Back to School Poll Template
Summer Break Poll Template: As the school year winds down, reflecting on what went well and what could be improved is essential. The Summer Break Poll Template lets you collect valuable insights from your students about their summer plans and reflections on the past academic year. Use this template to stay connected during the break and prepare for a fresh start in the next semester. Explore Summer Break Poll Template
Student Expectations Poll Template: Understanding your students' expectations is key to tailoring your teaching approach. The Student Expectations Poll Template helps you uncover what your students hope to achieve in your class, their preferred communication channels, and any specific needs they may have. Use this template to create a student-centered learning environment that supports individual growth. Explore Student Expectations Poll Template
With these versatile classroom poll templates, you can connect with your students, foster engagement, and create a dynamic learning experience that leaves a lasting impact. Whether you're a seasoned educator or just starting your teaching journey, these polls will be valuable additions to your classroom arsenal.


Why Do You Need Student Feedback and Engagement Polls:
Student feedback and engagement polls are invaluable tools for educators. They serve several critical purposes:
Enhanced Understanding: These polls help you understand your students' thoughts, concerns, and expectations. This insight is essential for tailoring your teaching methods and content to meet their needs effectively.
Feedback Loop: A continuous feedback loop allows you to adapt and improve your teaching as the academic year progresses. You can identify areas that may need more attention or clarification.
Student-Centered Learning: Engaging students in the feedback process empowers them to actively participate in their education. It fosters a sense of ownership and encourages students to voice their opinions.
Inclusivity: Polls provide a platform for all students to participate, including those hesitant to speak up in a traditional classroom setting. This inclusivity promotes a more diverse range of perspectives.
Positive Classroom Environment: By addressing students' concerns and expectations, you create a positive classroom environment where students feel valued and heard.
Benefits of Using QuestionPro LivePolls to Conduct Student Engagement Polls:
QuestionPro LivePolls offer a range of advantages for educators conducting student engagement polls:
User-Friendly: QuestionPro LivePolls are easy to create, administer, and participate in. You don't need advanced technical skills to get started.
Real-Time Results: These polls provide instant feedback, enabling educators to adjust their teaching strategies promptly.
Versatility: With a variety of pre-designed templates, like the ones mentioned above, you can quickly choose the most suitable poll for your specific needs.
Data Analysis: The platform offers robust analytics tools, making it easy to interpret the poll results and gain actionable insights.
Engagement: The interactive nature of LivePolls engages students in a way that traditional surveys or evaluations may not. This leads to more meaningful responses.
Customization: Educators can customize their polls to align with specific learning objectives or areas of focus.
Cost-Effective: QuestionPro LivePolls are a cost-effective solution for educators, especially when compared to traditional survey methods.
Security: The platform ensures data security and privacy, complying with all necessary regulations.
Incorporating QuestionPro LivePolls and the templates highlighted in this blog into your teaching toolkit can transform your classroom into an engaging and dynamic learning environment. These tools not only improve your teaching but also enhance the overall educational experience for your students.

Explore our popular LivePolls trivia templates here:
TV and Movie Trivia Questions Templates
Food and Drink Trivia Questions Templates

Explore our 1250+ Trivia and Poll Templates