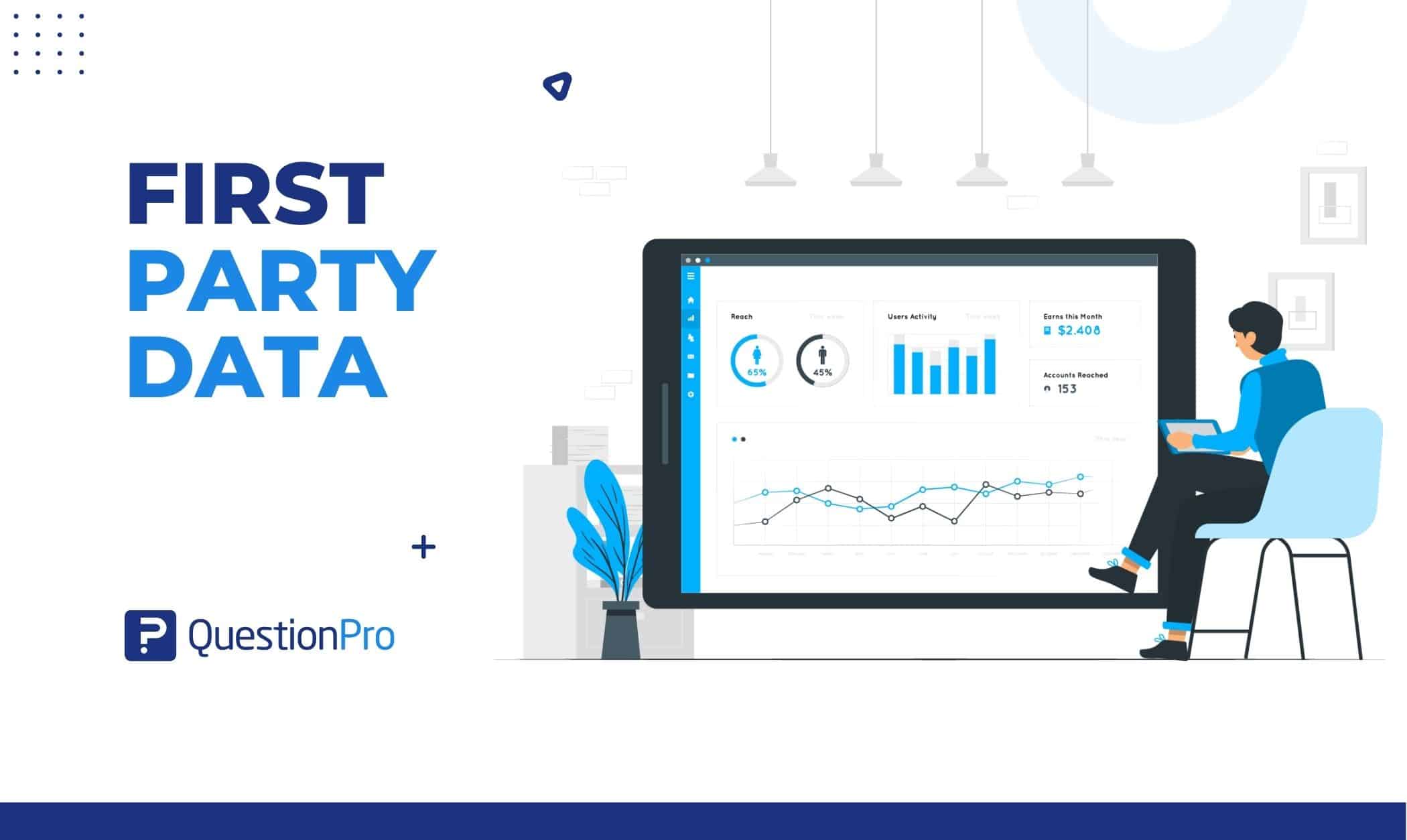 Today, one of the main forces behind productive research is data. But it all depends on where you are now and what you want to achieve in terms of data. Data can be divided into three (and occasionally four) categories. The four types of data are:
First party data;
Second party data,
Third party data, and
Most recent zero party data.
First party data is information you get from your customers, subscribers, and site visitors while they interact with your site or marketing or make a purchase.
Each form of data offers a unique mix of advantages and disadvantages. Let's start with the most significant one right away: first party data, its importance, and how it is used in this blog.
What is first party data?
First party data is information your business has acquired directly from customers, site visitors, or followers on social media.
In other words, this refers to all information about customers from online and offline sources, including the company's website, app, CRM, social media platforms, or surveys.
This data is valuable because it comes straight from your customers, just like zero-party data. This means that it is valid, reliable, and gives good information. In essence, you or your company are the first to have obtained specific data directly from your audience.
Some examples of data are:
Population statistics
Use of your website, app, or product by user's actions or behaviors
Data from your CRM
Discussions on social media
Products or emails using a subscription model
Information from surveys Consumer comments Buying behavior
Online chat transcripts
Importance of first party data
First party data is important since it comes from the audience you know best and have the most to learn from. There is only you and your audiences gathering the data; there is no outside entity interfering with the collection.
Although it has traditionally been the most useful form of data a corporation has, it has recently become even more crucial. This information also makes it easier to retarget and care for your audiences based on what you've learned about them.
Additionally, it enables you to base judgments and adjustments to your business procedures or products on what your target markets say they like or dislike rather than educated assumptions.
Data-Driven Personalization
Consumers trade data for personalized experiences. This data provides reliable, relevant data to develop the customer experience. Poor customer service typically drives customers away with their data and business.
Privacy and Data Collection
Consumers now expect firms to respect their data and only disclose it if they trust you to keep and transparently use it safely. As a result, many consumers are more careful about who and what data they reveal.
First party data companies benefit. Even if the consumer doesn't want information shared, you can market with it because your company obtained data. But you must utilize it carefully.
How to use first party data?
Websites and apps can collect all consents. First party data lets you give current visitors a customized experience and send them expected messages. You also acquire high-quality data and follow privacy laws.
It has three advantages for businesses.
Make the experience personalized
Knowing your users and classifying them into distinct groups is simple with the help of first party data collection.
By looking at your website traffic, you can identify audiences that are interested in a particular type of product or subject, like sports or cars. You can do this to improve the success of your marketing campaigns and develop highly tailored communications.
Observe GDPR
First party data, as we previously stated, might be the most transparent since you own it and are in charge of obtaining all necessary consent. The most remarkable advice on what information to provide users so you can treat personal data by privacy laws can be found in your law department.
Users prefer that your business process their data because it is typically required for a transaction. This is among the most reliable and valuable user data. Therefore, it is crucial to acquire data correctly in the era of GDPR.
Learn more about your audience
By gathering first party data, you can examine your users' profiles in great detail in addition to storing data.
You can combine information about your users from several sources (websites, surveys, apps, games) using technology platforms, such as DMP, to generate a complete image of your consumers.
What the person enjoys or dislikes?
Which goods do your customers desire to purchase?
After leaving your page, which websites do people visit?
How can QuestionPro help to collect first party data?
QuestionPro Research Suite provides tools and capabilities to gather first-party data from clients and stakeholders. A company can use QuestionPro research Suite to, among other things, collect first-party data in the following ways:
Surveys and questionnaires: The QuestionPro research Suite provides a variety of survey and questionnaire templates that may be altered and sent to customers and stakeholders through email, SMS, or in person. This enables companies to collect insightful feedback on their goods, services, and clientele.
Web analytics: QuestionPro research Suite offers tools that allow organizations to watch client behavior on their website and spot trends and patterns in that behavior. The website's user experience can be enhanced with this data, increasing conversion rates.
Social media listening: QuestionPro research Suite provides solutions that enable firms to track and examine client interactions on social media platforms. This information can offer valuable insights into the attitudes and preferences of customers, allowing the firms to enhance their marketing plans and interact with clients more successfully.
Customer feedback in-store: The QuestionPro research Suite provides tools, such as kiosks and feedback forms, for gathering customer feedback in-store. This enables companies to acquire insightful information about client preferences and satisfaction and enhance the in-store experience.
Conclusion
First party data describes the information that a business has independently gathered from sources such as its website or consumer interactions.
This information can be helpful for several things, such as customizing the customer experience, enhancing goods and services, and learning more about consumer behavior. The precise conditions and objectives of the organization will determine the potential applications and advantages of first party data.
QuestionPro Research Suite's survey builder lets you develop surveys and questionnaires to obtain first party data. You can email, embed data, or post the surveys to your desired audience. After your audience completes the survey, the platform will store and analyze the results.