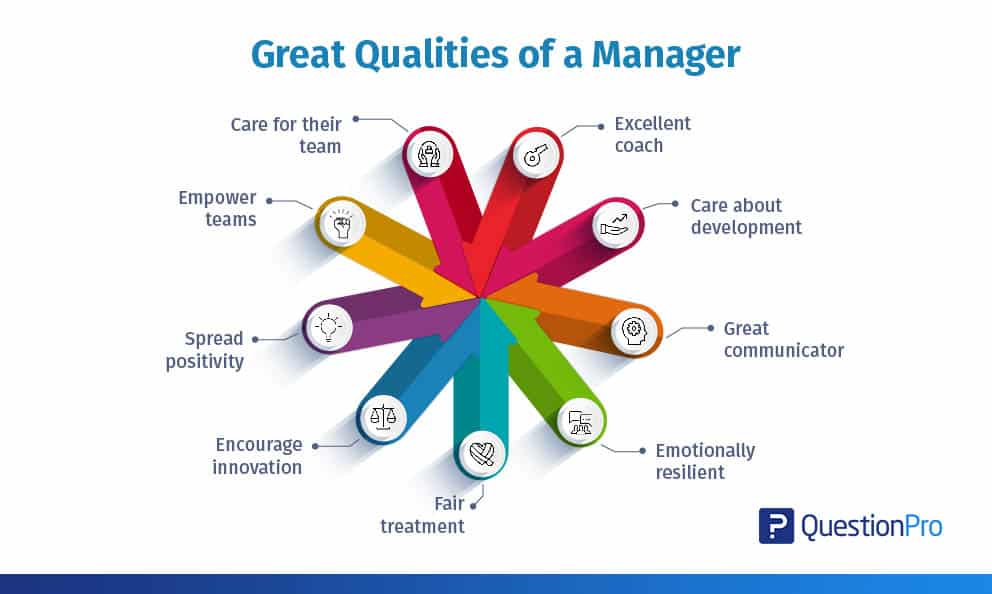 Managers are a lot of things to a lot of people in an organization. For subordinates, they are mentors and leaders. For colleagues, they are someone to compete with (in a healthy manner), strategize on new initiatives, discuss new challenges, and come up with solutions. For management teams, they are team managers, leaders who contribute to revenue, role-models for employees, leaders of tomorrow, etc.
How does one define a good manager?
That's a tough one, isn't it? A good manager's definition can vary from organization to organization. A good manager is defined as a leader who can bring out the best performance from his team, train the team to attain new heights, help everyone align with company goals, treat people with respect, and help achieve new goals every day. A good manager ensures great employee experience, a journey that every employee goes through from hire to exit.
Many employees leave organizations on account of bad or ill-suited managers. Having the right person for the role is paramount for an organization's success. They help arrest employee retention and boost employee engagement, workforce productivity, staff morale, etc. positively.
According to a study by Gallup, 50% of employees leave their organizations on account of their boss.
What qualities make managers good or great?
While several traits make a manager good or great, we have highlighted twelve essential qualities below that have time and again popped in our research and our organization.
They care for the team: They care about their team, not only at work but also what affects them outside work. Individuals are unique, and so are their situations, and the problems that they go through. They understand and empathize with their team members, and are ready to help in any way they can.
They are excellent coaches: They are quick to point out that certain tasks were not done the right way. It is crucial to let the doer know what was wrong, make them understand, let them know the right way so that they are ready for next time. Good managers are great coaches, and they take the time and effort to make their team understand the rationale behind every action, assignment, to-do, etc. They frequently meet with their teams, conduct one-on-one meetings, and address any developmental needs of their teammates.
They are great communicators: Effective communication is a two-way street. Good leaders know they need to listen to their teams. Listening to their team's updates ensures they are aware of new developments, challenges being faced by the team, training needs, etc. Effective communicators also need to know that information has to flow down to get work done effectively. Employees should be aware of things happening in an organization, any updates from the management team, new developments, changes in policies, etc.
A survey that Interact conducted found that 69% of managers were not comfortable communicating with employees, especially when it came to delivering direct feedback about employee performance.
They care about development: They want to see their team members grow and achieve new heights. They understand and support the fact that the growth of team members affects team performance positively. They take efforts to ensure all actions necessary to develop team members are taken.
They are emotionally resilient: In times of intense pressure, significant market changes, or structural modifications, they stay calm, composed, and be the anchor that the team needs. They have high emotional intelligence, do not buckle under pressure, and power through crises.
They treat everyone fairly: They do not have favorites; they treat everyone fairly and equally. An employee must always be judged on their performance. No special treatment, no favors.
They encourage innovation: They encourage their team members to try new things, not letting failure stand in the way of something new and great. Allowing employees to ideate and work on new initiatives and approaches boosts employee engagement and productivity.
Recognize team's effectiveness: Managers understand that their performance is linked with their team's and it's as good as the team's performance. They help their teams excel at their work, help overcome any challenges, and put the team before anything.
They help in goal setting: Employees need help managing their tasks, deadlines, etc. Effective managers always help their team in goal setting and management. They assist in managing individual goals and aligning those with the organization's goals.
They spread positivity: They ensure that employee morale is strong and the team feels positive. Even in crises, successful managers keep the tone positive. Team members trust them more and are likely to stay longer.
They manage teams by trust, not fear: Effective managers trust their teams; they expect the members to do their work on time and with utmost dedication and sincerity. They do not govern the team by fear but by trusting them to do their work.

They empower teams: They are not micro-managers; they trust and empower their team members. They trust the team to deliver on a task, providing guidance where needed, and not micro-managing every minute details.
How to hire a good manager?
While we are all aware of the qualities that we need, finding someone that fits the bill is a daunting task. There are some things that you can do to aid your search in finding the right one.
Have a standard process: Define a process and stick to it. It helps to have a standard set of questions that you can use to assess candidates. Ensure that you judge them objectively.
Stick to your guns: No matter how urgent your requirement is, do not give in till you find a good or a desirable candidate. The candidate does not have to check off all the boxes, but at least most. You need somebody who not only fits in well, but performs well, adds value to processes, teams, and the organization.
Try not to outsource: As far as possible, source and recruit your candidates. While outsourcing the task may be convenient and cost-effective, it may not always be effective.
Entice the candidates: The candidates need to be excited to join your organization, be it the work, benefits, or compensation. Unless the candidates believe in the role and the organization, you will not be able to hire the right manager.
Hiring and training: Hiring managers laterally is a good way to find the right person. They have experience in the role, know their responsibilities, challenges, and the right approaches. Meeting the training and development needs of employees has become a big priority for all organizations. They realize that most employees will move into managerial and management roles soon, and it's ideal to start training them accordingly.
How to develop your managers?
Organizations should never forget that all managers were individual contributors at one point in time. Becoming a manager is quite tough and scary; your responsibilities, scope of work, etc. change quite a lot. It may take months and years for employees to become a good one.
Organizations need to understand what qualities may be missing for an employee, what additional qualities may make them good, etc. This data can be gathered from 360-degree surveys, employee performance surveys, or manager assessment surveys.
Conducting these assessment surveys is a great idea. It highlights both positive qualities and areas of improvement. Based on this information and other feedback gathered, training programs can be developed, and performance improved.
You may want to view: Manager Effectiveness Evaluation Survey Template
Helpful tips and hints for new managers
We know how overwhelming being a new manager can be. Here are four tips that will help put their mind at ease and do their job effectively.
Get to know your team: Getting to know your team is paramount for the smooth functioning of the team. You need to know their strengths, interests, capabilities, for the team to function as a single, capable unit.
Be open-minded and accepting: Teams are going to be diverse when it comes to people, their experience, abilities, age, skill-sets, temperament, etc. New managers should focus on using this diversity to enhance productivity and bringing the team closer.
Communicate with the team regularly: Open and constant dialogue with the team is crucial for smooth functioning. It's essential to uncover any issues or grievances early on and address them. Communication also highlights any needs for training, new ideas, process improvements, etc.
Trust your team: Trusting your team to do their job and doing it well is essential. Without trust, managers may tend to gravitate towards micromanagement. Teams that are trusted usually perform better than other teams.
You may want to view this: 15 Company Communications Evaluation Survey Questions + Sample Questionnaire Template
Performance evaluation of a good manager
Performance evaluation is crucial for all organizations, it provides performance updates for all employees at all levels. When conducting performance evaluation for managers, here are some of the things you need to keep in mind:
Keep it confidential: No team members will give their feedback if it's not in confidence. It is necessary to ensure honest and open feedback. Employees are often worried about their job, negative consequences, etc. A survey platform or tool is perfect in this scenario. You can ensure the survey and the data is kept confidential. You can do this by limiting personnel access to the survey. With online survey software, you can clearly and easily assign role-based access. Your information is safe and secure. Also, with online survey software, you can schedule your surveys, limit the number of people who get it, customize the questions and flow, etc.
Get clarity: When gathering feedback, make sure you get clear answers, you need to dig deep. Only then will you be able to unearth issues, grievances, violations, training needs, etc. A survey tool can help you do that. You can clearly define various sections, gather responses to that, and if need be, you can always branch out questions in a section to get to the root of a problem. With survey platforms, you can look at and compare past employee data. This brings to the fore trends and persistent issues that can be fixed.
Act on the feedback: Once you have received the feedback, make sure you act on it. Now that you know which areas need attention, it's easier to devise a plan and implement it. Gathering feedback is fine, but it's a blunder if you fail to act on it.
QuestionPro Workforce helps conduct, collect, and analyze employee surveys, sign-up for a free account to start exploring.