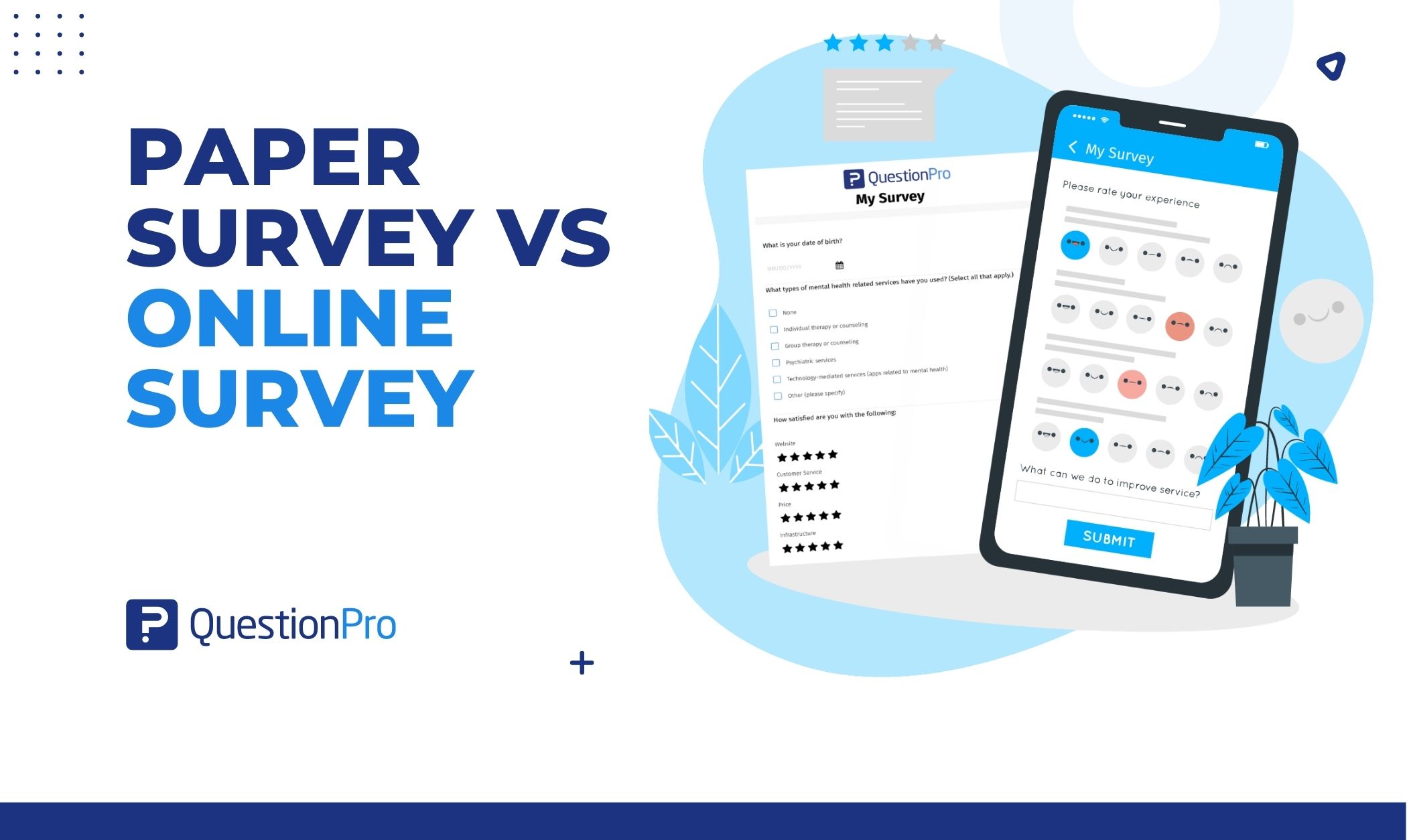 Market research requires continual operations in numerous market segments. Thus it is no simple task. Using surveys, you can learn more about your target market's demographics and delve deeply into your customers' thoughts. Understanding the differences between paper survey vs online survey will help you decide which is best for your purposes.
While conducting market research, how effective are different types of surveys? Do you trust your findings will hold up if you only use one of these survey research methods? To understand the differences, let's first define paper survey and online survey.
LEARN ABOUT: How to create online surveys
What is Paper Survey?
A paper survey is a online questionnaire that is printed on paper. Even though they might appear old, many market researchers still utilize paper surveys.
A paper survey offers a useful method of collecting feedback from survey respondents who need access to a phone, web services, or mobile devices or choose not to participate in other surveys. It offers each participant who is being targeted an equal chance to answer.
LEARN ABOUT: Candidate Experience Survey
Uses of paper survey
Paper surveys give respondents a physical record of their responses, which is beneficial for analysis and reporting. It can be applied in several cases when a physical record is necessary or where internet connectivity is not assured. Yet, administering surveys on paper could take longer and cost more money than online surveys. Here are some examples:
Community outreach: Paper surveys can be used to determine community needs or collect people's feedback on local issues.
Regulations that require printed documents: Even though most government organizations have converted to digital operations, a few compliances occasionally demand paper documents. Companies must publish a list of questions or surveys in these situations to collect data.
Limited internet connectivity: Respondents who don't have access to the internet can still respond to surveys on paper. As a result, they seek to connect with as many members of the sample audience as possible.
Non-technical respondents: Non-technical people prefer paper surveys. For instance, senior citizens might choose to complete a customer survey on paper.
What is Online Survey?
An online survey is a set of survey questions sent to a target sample, and the members of this sample can answer the questions over the internet. It is one of the most popular ways to collect data.
Online surveys are sent to respondents through many different channels, such as email, embedded websites, social media, etc. Organizations use online surveys to get feedback and information about upcoming products or services, changes to marketing strategies, improvements to current features, etc.
Uses of online survey
Online surveys have become popular in recent years due to their ease, low cost, and capacity to collect data from a wide sample size. Following are some typical uses of internet surveys:
Market research: Online surveys can be used to get customer feedback on new products or services, market trends, and customer satisfaction.
Customer satisfaction surveys: Online surveys can be used to get customer feedback about their experiences with a company or product, which helps companies find ways to improve and improve the customer experience.
Employee surveys: Online surveys can be used to get employee feedback about job satisfaction, work conditions, training and development, and other workplace issues.
Academic research: Online surveys can be used to gather data from a large and diverse group of participants.
Nonprofit surveys: Online surveys can get feedback from donor surveys, volunteers, and community members to determine how well nonprofit programs work and where they can be improved.
Political polling: Online surveys can be used to find out what the public thinks about political issues and how much support there is for political candidates or parties.
Healthcare surveys: Online surveys can be used in healthcare research to get information from patients about their health habits, medical history, and treatment outcomes.
Online surveys are a convenient and inexpensive way to collect data from a large and varied group of respondents. This makes them a valuable tool for a wide range of research and business uses.
Comparative difference between paper survey vs online survey
Though both are surveys, they indeed have some differences. Here are some of the main differences between paper survey vs online survey:
Administration: Paper surveys are run by handing out paper forms, and online surveys are run online.
Cost: Paper surveys are usually more expensive than online surveys because there are costs for printing, mailing, and entering data. On the other hand, online surveys are cheaper because they don't need physical materials and can be sent to more people for less money.
Response rate: People are more likely to fill out online surveys than paper surveys because they are easier for them to do. In a paper survey, respondents have to be in a certain place to fill it out. Respondents can fill it out in an online survey at their own pace and from anywhere with internet access.
Data quality: Online surveys can give better data because they can have skip patterns, branching, and other features that make the survey more interactive and interesting for the people who fill it out. Also, online surveys can have rules for validating answers that make sure people answer each question correctly. Paper surveys are more likely to have mistakes and need to be corrected.
Timing: Online surveys can be sent out and filled out faster than paper surveys, which can be important for research that needs to be done quickly.
Flexibility: Online surveys give you more freedom because they are easy to change and keep up to date. Once paper surveys have been sent out, they are harder to change.
Sample size: Online surveys can reach more people and collect data from a larger sample size than paper surveys, which can improve the statistical validity of the results.
Both paper survey vs online survey have their own pros and cons, and which one to use will depend on the needs and goals of the research project.
How QuestionPro can help in paper survey vs online survey
QuestionPro is a comprehensive survey platform that can help with both paper surveys vs online surveys. Here are some ways that QuestionPro can help with each mode of survey administration:
For Paper Survey:
Design: QuestionPro offers survey templates that can be changed to fit your needs. You can also make your own survey questions and choose from multiple-choice, open-ended, matrix, and more options.
Printing: Once the survey is designed, you can print as many copies as you need. QuestionPro lets you download the survey in PDF format or print it directly from the platform.
Data Entry: After collecting paper surveys, you can either type the data into QuestionPro by hand or upload a scanned version of the survey using the platform's Optical Character Recognition (OCR) technology.
Analysis: QuestionPro has advanced analytics tools that can help analyze data from paper surveys. You can create reports, charts, and graphs to see the data and learn more about your survey results.
For Online Surveys:
Distribution: QuestionPro makes it easy to send out your survey via email, social media, SMS, or by embedding it on your website or mobile app.
Response Management: QuestionPro tracks responses in real-time and sends alerts when new ones come in. You can also set up reminders and send follow-up emails to boost response rates.
Analysis: QuestionPro offers real-time data analysis and reporting, so you can track responses and see results in real-time. The platform also has more advanced analytics tools, like sentiment analysis, text analysis, and predictive analytics.
LEARN ABOUT: best time to send out surveys
QuestionPro can help with both paper survey vs online survey by making the survey process easier, getting more people to answer, and giving advanced analytics tools to analyze the results. So try QuestionPro Now!