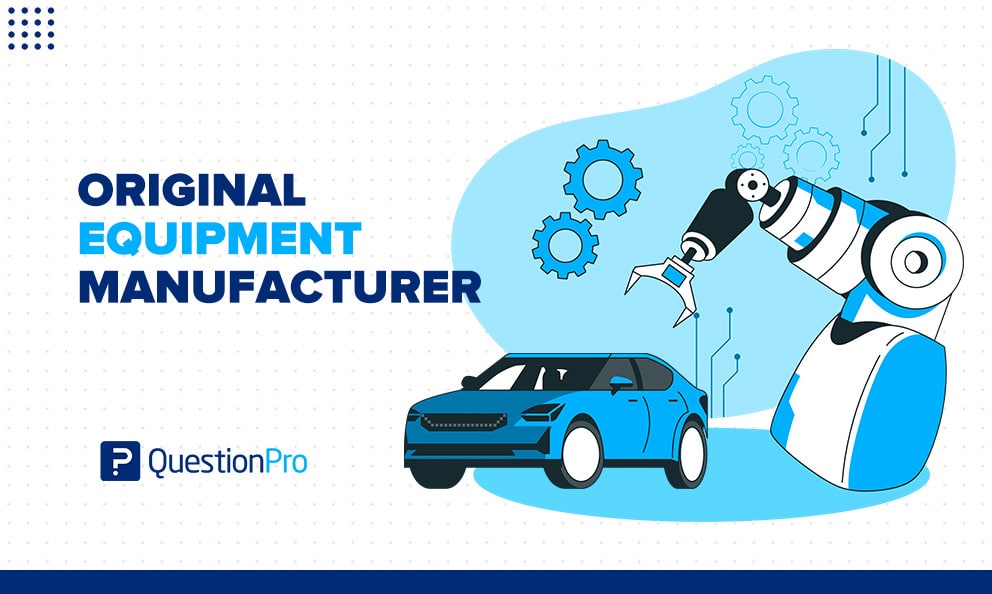 In the automotive and mobility industry, Original Equipment Manufacturer (OEM) play a significant role in reducing costs without compromising quality and meeting the needs of end-users.
In this article, we want to talk to you about everything related to this important link in the industry, its benefits, and how it should be something very present for anyone associated with this industry, such as car dealerships, service providers, or consumers.
LEARN ABOUT: Dealership Marketing Strategies & Tips
What is an Original Equipment Manufacturer (OEM)?
Any company in charge of producing the necessary components for other companies to manufacture their own products is called an Original Equipment Manufacturer (OEM).
These components are usually simple parts that together can integrate more complex machines or devices that are marketed under the brand to which the OEMs have sold their products.
The industries in which OEMs play a fundamental role are computers and automobiles since to produce a laptop or a car. Parts are usually purchased from one or several OEMs under specific guidelines and standards agreed upon by both parties.
For example, a car maquiladora like Toyota does not produce its own tires but works together with Bridgestone Americas to obtain this type of product and assemble its cars.
This collaboration has many benefits for both parties, and here are some of them.
Importance and Benefits of an Original Equipment Manufacturer
The relationship between big brands and OEMs is a common part of an economy where increasing profit margins and meeting customer needs are the primary motivators when manufacturing a product, especially when discussing complex products such as automobiles.
Some of the benefits of working with OEMs are:
Cost reduction: Working with an Original Equipment Manufacturer saves companies a lot of money since they do not have to set up plants to produce each part and component necessary to assemble each of the models they want.
Higher Quality: OEMs usually use the economy of scale principle to grow. That is, they focus on producing a specific product and marketing it in volume. This allows them to focus on a single component, specializing in it and reaching a high quality in its design and production that can hardly be matched by an aftermarket manufacturer or a new company.
Know-how: Instead of building a team from scratch and developing the technology, experience, and infrastructure needed to produce a single component by collaborating with an OEM, all of those elements are already fully functional and ready to collaborate to create a quality product and value for the end customer.
Focus: This relationship favors both parties to focus on what they are better skilled. OEMs will always be focused on producing quality parts at an adequate speed to meet their customer's needs. In contrast, brands can focus on marketing and design of the final product without completely worrying about each component and its production.
These are just some of the benefits that will help you understand the importance of OEMs in an industry as important as the automotive industry in the supply chain.
Original Equipment Manufacturer (OEM) vs. Aftermarket Manufacturer
As we have seen in the previous section, OEMs are not the only option since other companies play a similar role to OEMs, especially in the aftermarket. However, there are essential differences that any stakeholder in the industry must keep in mind.
The main differences between the components created by an OEM and an Aftermarket Manufacturer are focused on quality. In general, OEMs follow concrete guidelines and standards to guarantee the quality of the parts produced and delivered, which are validated by both quality teams (their own and those of the company that acquires them). The parts made by an OEM are usually known as "Original Parts," while those produced by an aftermarket manufacturer as "Generic" or "Non-original."
In addition to quality, another differentiated point is the guarantees behind each component. While the elements of an OEM have the support of the brand that acquires them to produce their cars or products and guarantees to meet the expectations of final consumers, the parts created by an aftermarket manufacturer do not offer any guarantee.
Even the brands with which they can be compatible usually make their own guarantees invalid because using these types of parts can cause malfunctions due to their low-quality control or relationship to the guidelines of the brand that assembles the final product.
The great strength of the components created by an Aftermarket Manufacturer is the price, being a great alternative to solve problems, especially when you have a limited budget.
OEMs and their role in customer satisfaction
As you can read, in industries such as the automotive industry, OEMs play a crucial role in offering quality products and meeting the needs and expectations of end-users.
Year after year, new technologies are integrated that can influence consumer satisfaction. The most recent case is eMobility, in which multiple new and relatively "experimental" components emerged, such as integrating software and electronic components instead of mechanical ones. for the correct operation of electric vehicles.
This is something that car dealership owners should remember since, for new and second-hand cars, these types of components could affect the entire experience related to the vehicle or the purchase process itself.
That is why it is important to maintain constant monitoring throughout the car buyer's journey. You can easily do this thanks to implementing CEM software such as QuestionPro CX or QuestionPro Autox.
With QuestionPro Autox, you can deploy a series of studies to evaluate your customers' perception of the components or the vehicle itself and the level of satisfaction experienced before, during, and after purchasing a car from your lot.
Some of the functions that you can use are:
Real-time analysis & insights
Machine learning
Satisfaction loss and relative score
Sales weighting analysis
Are you interested in learning more about this platform? Then we invite you to visit our website and schedule a demo with one of our experts to clarify all your doubts and start measuring your customer satisfaction.