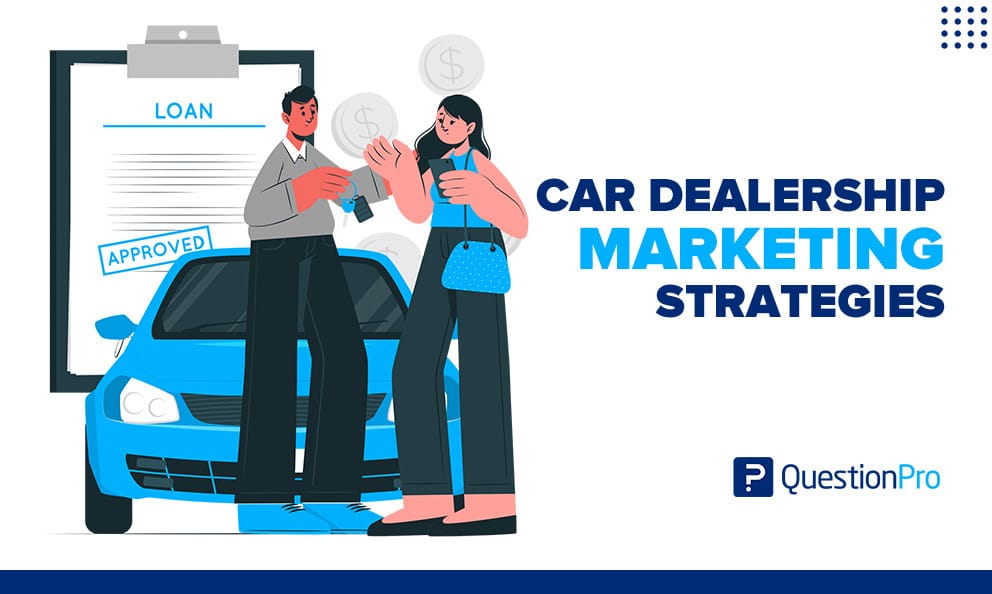 The mobility and automotive industry are always some of the most affected by certain phenomena. Some examples are economic crises or pandemics. This is because people's priorities change in such adverse situations. However, being well-positioned will allow us to make the most of the opportunities that arise. For this reason, today we want to share with you our best dealership marketing strategies and ideas.
In today's world, there are new ways to promote yourself that did not exist before. Unfortunately, most owners or managers of car rental establishments or car buyer dealership owners are missing out on these possibilities.
If you are looking for ideas and strategies, we have created this list to inspire you and execute them as soon as possible. But first let's start with the basics: What are dealership marketing strategies and what are their benefits?
What is Dealership Marketing?
Dealership marketing is the series of strategies that seek to attract and promote products and services related to the automobile marketing or buying and selling industry.
The use of marketing within the car dealership industry usually has its particularities, so not all manual strategies are effective or recommended. However, if you find the ideal ones, the benefits you can obtain are many.
Some of the benefits of a good dealership marketing strategy are:
Increase in sales: One of the most noticeable benefits is undoubtedly the increase in people interested in your offer, so it is possible to easily increase your sales.
Brand positioning: Getting your brand awareness in point to be recognized locally and a little beyond your physical borders has many benefits in itself.
Resource optimization: Implementing marketing strategies often involve the adoption of new technologies and channels that will allow you to make better use of your resources, both human and financial.
Discover new KPIs: With new strategies always come new areas of opportunity. By implementing you will discover new metrics which you can constantly monitor to have an even greater impact.
6 Dealership Marketing Tips & Strategies
SEO & SEM
In today's world, having a digital presence is paramount. Having a website is just the beginning of that long journey. However, it is the most important part of your entire internet marketing strategy.
In order to start attracting new customers, it is important that people can find you. Especially when they are looking to solve a need such as, in this specific case, the acquisition of a new car.
Two of the most used methodologies in the world of digital marketing are SEO (Search Engine Optimization) and SEM (Search Engine Marketing). Both aim to position-specific terms in search engines to appear among the options that the user can choose to answer their questions and needs.
The SEO process involves a series of actions within the website to increase the chances of appearing among the first places in a specific search. For example, if a user wants to find a car lot nearby, they will surely go to search engines like Google and make that query to choose their best option, which usually tends to be those who appear in the first positions of the results page.
Being in this position is not a matter of luck and, although it is true that the algorithm that these platforms use is a mystery, there are some recommendations that you can follow to increase the visibility and prospects of your website.
Write relevant content for your market niche: People usually do other types of searches when they are interested in something, "the best-used car of 2022" or "how to choose a good used car" could be examples of queries that someone could do before making the decision to look for your ideal car, that is where it is possible to hook the user if we create articles on these topics and give answers.
Google My Business: There is no better alternative than Google My business to position yourself locally as a benchmark in your industry, all you have to do is sign up, create a file for your business and add all the necessary data so that the Interested people contact you.
User experience: Make sure that your website provides an optimal experience to those who visit it. Basic things such as being mobile-friendly, having accessibility options, and being well designed, can influence the positioning of your page and above all, the conversion and comfort of your users.
The SEM strategy also aims to appear in search engines, the main difference with SEO is the methods used to achieve it, in SEO good practices are usually used to achieve organic positioning, while SEM it is usually used advertisements to appear in privileged positions within the search engines.
The key to a good SEM strategy lies in correct segmentation and the creation of copy, as well as the creation of a landing page that guarantees the conversion of the highest percentage of possible visitors. Google Ads is one of the main platforms in this type of methodology.
2. Events and Brand Activations
Organizing events where your establishment and your products are the protagonists can have a high return on investment. This type of dealership marketing strategy works very well since the point of attention is usually the establishment, which guarantees an increase in visitors and the chances of making a sale.
The most common ideas in this type of marketing are:
Special offers are limited to a special date (Father's Day, Black Friday, Christmas time)
Offer simple services: from a car wash to a minor check-up, these types of small actions can guarantee your position in the local market as an important point among car owners.
Car Parades: They are usually very striking and you could include your community to support a specific cause to add even more.
3. Content Marketing
A great way to attract a larger market is to generate content that is interesting to your target audience. For car lot owners, one of the most effective forms of content is video.
Producing video pieces will allow you to reach new audiences, attract the attention of potential customers and position your brand as a benchmark in the market.
You can go from a classic idea like showing the cars on your lot and their benefits or go a little further and offer a valuable data collection for your audiences such as maintenance tips for their vehicles or things to consider when buying or selling their vehicle.
4. Keep in touch with your current customers
Your most satisfied customers can become great promoters of your brand, for this, it is essential to know the level of satisfaction and identify them as satisfied customers.
A very easy way is by conducting a follow-up survey. This consists of a questionnaire that can contain questions such as NPS and open text to assess your level of satisfaction. With this information, you can find areas for improvement and encourage them to share their experience with others.
At QuestionPro we have developed a whole system designed specifically for this type of need. If you are interested in learning more about our platform to measure customer satisfaction and evaluate each touchpoint in your customer journey, we invite you to consult our page to clarify all your questions.
5. Referral Marketing
As we mentioned in the previous point, a satisfied customer can become a great ally for your business. Many times receiving a great deal and meeting expectations is enough for these people to share their opinions with their acquaintances. However, through a referral program, it is possible to increase the number of referrals.
The easiest way to implement this type of program is to invite people to recommend your dealership car as the best option in exchange for a bonus or reward. These incentives can be of different types. Some of the most common ideas can be discounts, gift cards, free services, or even cash.
6. Monitor and Improve the Customer Experience in your dealership car.
What is not measured cannot be improved, which is why measuring the level of satisfaction of your customers and people who visit your dealership car is very important. The best way to maintain systematic and effective monitoring of this important metric is through the use of a customer experience management platform.
How QuestionPro AutoX can improve Dealership Marketing
With QuestionPro Autox you will be able to collect all the necessary data to evaluate the strong and weak points of your business, you will also be able to visualize them in an attractive way and take action on it.
We invite you to schedule a meeting with one of our experts and start offering experiences that impact the perception of your potential clients.