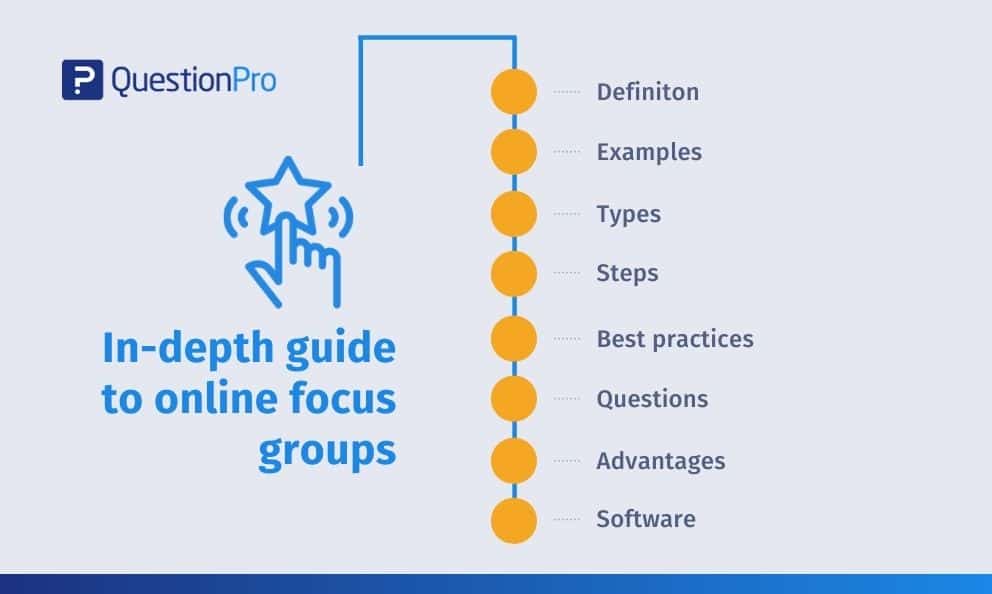 The online focus group software has become very popular with organizations looking to conduct market research, thanks to the great results that can be obtained from this small segment of people.
The information obtained when using a smaller number of participants in the focus groups is more robust and allows exploring the unconscious or often unexpressed preferences of consumers.
Participants in focus groups have also become more diverse to reflect a globalized and interconnected audience. This requires greater awareness on the part of the participants, which makes them feel welcome to share their true opinions during the research process.
What is an online focus group?
An online focus group is defined as a focus group conducted via the internet with the help of an online focus group software. An online focus group is one of the newer online research methods used primarily to conduct business research, consumer research, and other research that needs online qualitative research. 
Online focus group research is now widely used by brands, organizations, and researchers alike that cannot conduct offline focus groups or would better like to manage qualitative insights. To conduct an online focus group efficiently, you need to leverage a tool like online communities that best helps you manage your online qualitative research. 
Examples of online focus groups 
An example is an apparel brand that managed consumer research to test consumer sentiments during new product launches. Moving focus groups online with the help of an online focus group software allows them to continue collecting insights from their audience and consumers and making sense of purchase decisions and purchase intent.
Another example of an organization that actively uses online qualitative research methods for in-depth monitoring is an airline that wants to make a better product. Using interactive groups with a close set of customers and brand promoters, the airline can collect and analyze sentiments and purchase decisions to better their product and services.
Every brand, researcher, and organization that conducts offline focus groups can be an example of online focus groups by making the switch with online focus group software. 
Steps and best practices to conduct and manage an online focus group
An online focus group is a wealth of research insights for researchers, brands, and organizations. However, managing them requires you to follow some fundamental steps to get the most out of your participant group. 
Steps to conduct online focus group research
To create an interactive focus group, it is essential to follow some necessary steps. The steps are as follows:
Define the research objective – For the success of online qualitative research, it is essential to define the research aim to not deviate from the central theme of the study. Defining the objective also helps to ensure that the qualitative data collected fulfills the researcher's basic needs and the organization. 

Schedule the study – Bringing together people for online qualitative discussions is more accessible as it mitigates the need for a physical location. Since the discussions are online, respondents can be brought together without geographical boundaries. It is essential to schedule the study in advance so that the participants, observers, and other stakeholders make it to the research on time.

Research questions – It is important to get insights on your basic research questions to need responses. These could be leading questions, qualitative questions, co-creating questions, and more. Getting your questions together offer structure to the online discussion and ensure you collect the insights you are looking for from the research study.

Data collection & analysis – Since online focus groups are qualitative, collecting, and analyzing your online qualitative data is very important. Drawing insights, trends, and sentiments from this study help to meet your research objectives and goals.
Best practices of managing online focus groups
To conduct online qualitative research, you need to have the right tools to derive the right insights. Some best practices of managing an online focus group are:
Preparation – Since online focus groups are remote, plan, and prepare well. Right from time, tool, participants, questions, data analysis, have all of it tracked to attain your research goals.

Sampling – Sampling and getting the right people to an online focus group is essential. Use the proper sampling techniques and bring in a mix of customers and promoters to have a high data collection quality.

Size – Like offline focus groups, the size of online focus groups needs to be between 7-10 participants to derive the best insights and are easy to manage. 

Moderation – As a moderator, decide the role you want to use in the research study to bring the best out of the respondents and drive conversations in a way that offers the best insights.

Online focus group platform – The most critical aspect of online focus groups is the tool you use. Ensure you use the right research platform that serves your research objectives and offers the flexibility to analyze and report data. 
Types of online focus groups
Due to the nature of qualitatively oriented research, they are highly interactive. Even when external factors are detrimental to study, you can conduct no-pause research insights by moving your focus groups online. There are two types of online focus groups. They are:
Synchronous or real-time online focus groups
As the name suggests, synchronous online focus groups happen in real-time at a predefined time. Such focus groups span between 30-90 mins and consist of between 6-10 participants. A moderator curates these focus groups, and the qualitative data collection is only for the duration of the online discussion.
Such studies take place with software, tools, and platforms. Since this is in real-time, participants can interact with each and the moderator in real-time.  
Synchronous online focus groups find most use during concept testing and product or user research. An example of a synchronous or real-time focus group is a retail store looking to launch a new product on supermarket shelves and is looking for feedback on the product's packaging.
Asynchronous or bulletin board online focus groups
Asynchronous or bulletin board online focus groups are not in real-time and help with longitudinal tracking in the form of online customer communities. This variant runs for weeks, days, and even years.
Users can respond to surveys and questionnaires, offer video feedback, and even post pictures, videos, and other rich media forms online. Users can interact with other users and moderators and help with insightful discussions in text, audio, and video.  
Asynchronous or bulletin board online focus groups are mostly used by brands for co-creation with select audiences and brand promoters. An example of these type of focus groups is an apparel brand that launches a new clothing line and then takes long-term feedback on various aspects, including pricing, store and purchase behavior, competitor benchmarking, product trends, etc. With the help of a market research online community, the apparel brand can tailor its products in the short, medium, and long-term. 
Online focus group questions
To conduct efficient online qualitative market research, it is essential to ask the right set of questions. The most common types of online focus group questions, with examples, are:
Recruitment questions
To target the right respondents, it is vital to ask the right demographic questions. Using online community software, the previously profiled respondents can join an online discussion. However, it is still best to ask the right questions to ensure you have the optimal respondents that add value to the online focus group study. An example of an online focus group recruitment question is – Please state your employment type. This question helps to filter optimal research respondents for a video focus group.
Engagement questions
The role of the community administrator or the online focus group manager is critical. Asking the right questions that elicit the insights that matter to the brand is an essential aspect of the online focus group. Following the plan and line of research, questioning is imperative to deriving optimal results. An example of an online focus group engagement question is – How recently have you used your organization's product and please state your complete experience while using the product. 
Exploratory questions
Since online focus groups are virtual and not in person, it is crucial to make up for the lack of visual cues with exploratory questions. In this scenario, the online focus group moderator's role is essential to ask the right probing questions. Most exploratory questions are open-ended, and it is the administrator's responsibility to ensure that the correct items are put forth to the audience. An example of an online focus group exploratory question is – What do you love about our organization or brand?
Conclusion questions
To ensure that the brand collects the most important insights – if any research tracks get missed during the online focus group, the administrator must ask the right conclusion questions to collect answers that require answering. In most cases, these are open-ended questions. An example of a conclusion question is: Is there anything else you would like to add about your experience with this product?
Advantages of online focus group research
There are multiple advantages to conducting online focus group research. Some of the most notable benefits are:
No-pause insights: They are conducted anytime, anywhere, and even if in-person focus groups are on hold. Hence you can continuously monitor qualitative insights from members that are most important to your insights collection. 

Offers another dimension to qualitative research: While focus groups have their advantage, due to the ease of management of online focus groups, there are tangible benefits and hence offer another dimension to qualitative research.

Efficient and high ROI: A significant advantage of online focus groups is that they are conducted without physical barriers. There are no restrictions on time or place, and the costs are negligible. To top that, there are no geographical and demographic restrictions with online focus group research.

Ease of analysis: With the help of online focus group tools, it is easier to transcribe focus groups, take notes, convert to different languages, analyze sentiments, watch reruns, etc. The analysis of online focus groups offers better reporting to all the relevant research stakeholders too. 

Paid online focus groups: Brands are increasingly conducting a paid online focus group to recruit and get insights from the people they can most likely co-create with. Due to the bonus of paid online focus groups, respondents are more likely to join and offer opinions, thoughts, and add value to the research process.
The most prominent advantages of moving your offline focus groups online are tangible and hence becoming a choice of conducting online qualitative research for brands and researchers alike. 
Conduct an online focus group with software – QuestionPro Communities
Managing an online focus group is easy if you use a powerful online focus group platform and tool like QuestionPro Communities. By using a comprehensive community management tool, you get access to run high-frequency studies and manage longitudinal studies. Not just that, get easy access to quantitative data and qualitative data and make informed decisions for your brand. 
QuestionPro Communities is made up of multiple modules to manage your online qualitative and quantitative research better. With powerful qualitative modules like IdeaBoard, discussion platform, panel management, and rewards and incentives management, it offers the most out of it.
We recently conducted an online webinar on how to best manage online focus groups by using the right software. 
Conducting focus groups online is, no doubt, the future of research. It is easy to manage, extremely powerful, and offers a high ROI. Move your focus groups online and harness the true potential of online qualitative research.