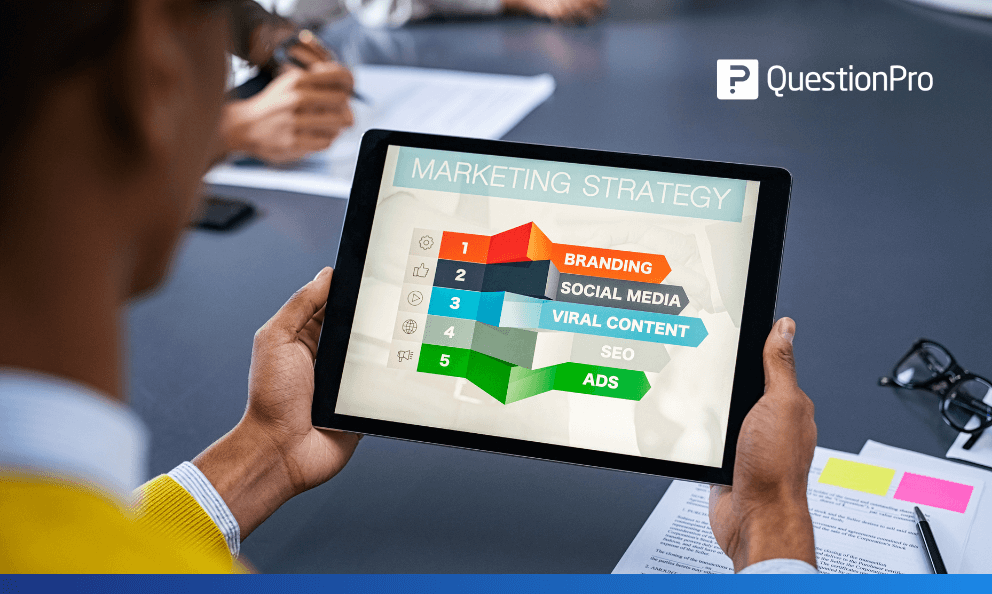 What is marketing research?
Marketing research is defined as any technique or a set of practices that companies use to collect information to understand their target market better. Organizations use this data to improve their products, enhance their UX, and offer a better product to their customers. Marketing research is used to determine what the customers want, and how they react to products or features of a product.
Four standard marketing research methods
The four most common marketing research methods are surveys, interviews, customer observations, and focus groups. You can research various ways without limiting yourself to just one way. Let's dive deeper into each of these marketing research techniques.
1. Surveys
Researchers collect responses by deploying surveys and managing data via online questionnaires or on-screen surveys at the POS. These surveys contain closed-ended and open-ended questions. They are popular and are the most widely used research techniques.
Why are online surveys popular?
Surveys are inexpensive, simple to set-up, deploy, and gather responses. It gets easy to collect multiple answers from a tailored audience group using surveys. Researchers rely on quantitative data, and online surveys provide quick responses compared to the more traditional offline methods. You can collect large amounts of data within minutes from anywhere in the world.
2. Interviews
Face-to-face or personal interviews are a more traditional way of doing marketing research. It is a slow and more expensive way of collecting responses. Researchers doing large scale marketing research do not prefer this method to collect a large number of responses. Interviews are conducted both in-person and on the telephone (CATI). 
Why are interviews important?
Personal interviews may not be widely used but play a significant role in understanding precisely what the respondent feels. You can record more than just verbal responses and understand the customer better. Often, when two humans interact with each other, more information is shared because of the dialogue. Personal interviews are useful in small-scale studies, where the researcher wants to interview a specific group of local respondents. CATI's are helpful when the respondent base is more expansive.
3. Focus groups
Focus groups or online focus groups involve several respondents who participate in discussions about a particular topic. A researcher conducts focus groups to obtain richer information. The main reason for a focus group is to hold a dialogue between various people on a particular topic of interest. Unlike interviews, focus group members are allowed to interact with each other and influence one another.
Why are focus groups impactful?
It is no secret that focus groups are hugely impactful in decision making. Researchers gain a lot of information by organizing focus groups. Often, focus groups bring up issues not foreseen by researchers. Online or video focus groups have a broad reach, and many organizations have now started creating and nurturing research communities for better respondent handling and data gathering. Direct interaction of business groups and customers positively impacts users because they feel that their voices are heard.
4. Observation
Observation, though not popular and widely used, gives intuitive feedback. Research companies organize customer observation sessions to gather information on how they engage with the product or service (or a similar competitor product or service). Feedback from people's behavioral attitudes is a powerful tool for researchers looking to improve their products and services.
What makes observation so powerful?
Observational market research is an excellent alternative to focus groups. It's not only an inexpensive research tool, but you will also witness people interacting with and using your product in a natural environment. The downside is that you will have to make inferences about their feelings and reactions.
LEARN ABOUT: market research trends
How to conduct marketing research
Follow these four marketing research steps to help you understand what your users think and feel about your product, service, or business.
LEARN ABOUT: Behavioral Research
1. Create simple user personas
A user persona is nothing more than a fictional character that represents a user or a customer. Understanding user personas will help you gauge how different persons react to other products and services to understand their needs. To create a persona, your questions must answer these types questions about the user or customer:
Who are they?

What's their primary goal?

What stops them from achieving that goal?
2. Conduct observational research
Use both overt and covert observation methods to observe and take notes while users use your products or a similar one.
Overt vs. covert observation
Overt observation asks users if they will allow you to watch them use your product. 

Covert observation studies users in a natural environment without them knowing. This type of observation generally works only if you sell a product that consumers buy and use regularly. It brings in the purest observational research data as people act naturally while using the products. 
3. Conduct personal interviews
One-on-one conversations with your target population allow you to explore and dig deep into their concerns, revealing answers to many questions. Here are a few tips for conducting personal interviews.
Be a journalist and not a salesperson. Ask users about their frustrations, needs, and areas where they think they need an improvement in the product. 

Pose the 'why' question to dig deeper. Dive into the details to know more about their past behavior.

Recording the conversation helps you focus on it rather than take notes simultaneously.
4. Analyze the data
The idea of conducting lean marketing research is to receive quick, actionable insight data. Analyze the information you have collected using various techniques to draw patterns into what customers like and dislike, what they want, and what they do not need. Create a simple visual representation of how people will interact with each other and the product to assess their needs in a better way.
LEARN ABOUT: Marketing Insight
Why is research so valuable?
Without research, it is impossible to gauge and understand your customers. Of course, you will have an idea of what they need and who they are and, but you must dive deeper to win their loyalty. Here is why marketing research matters: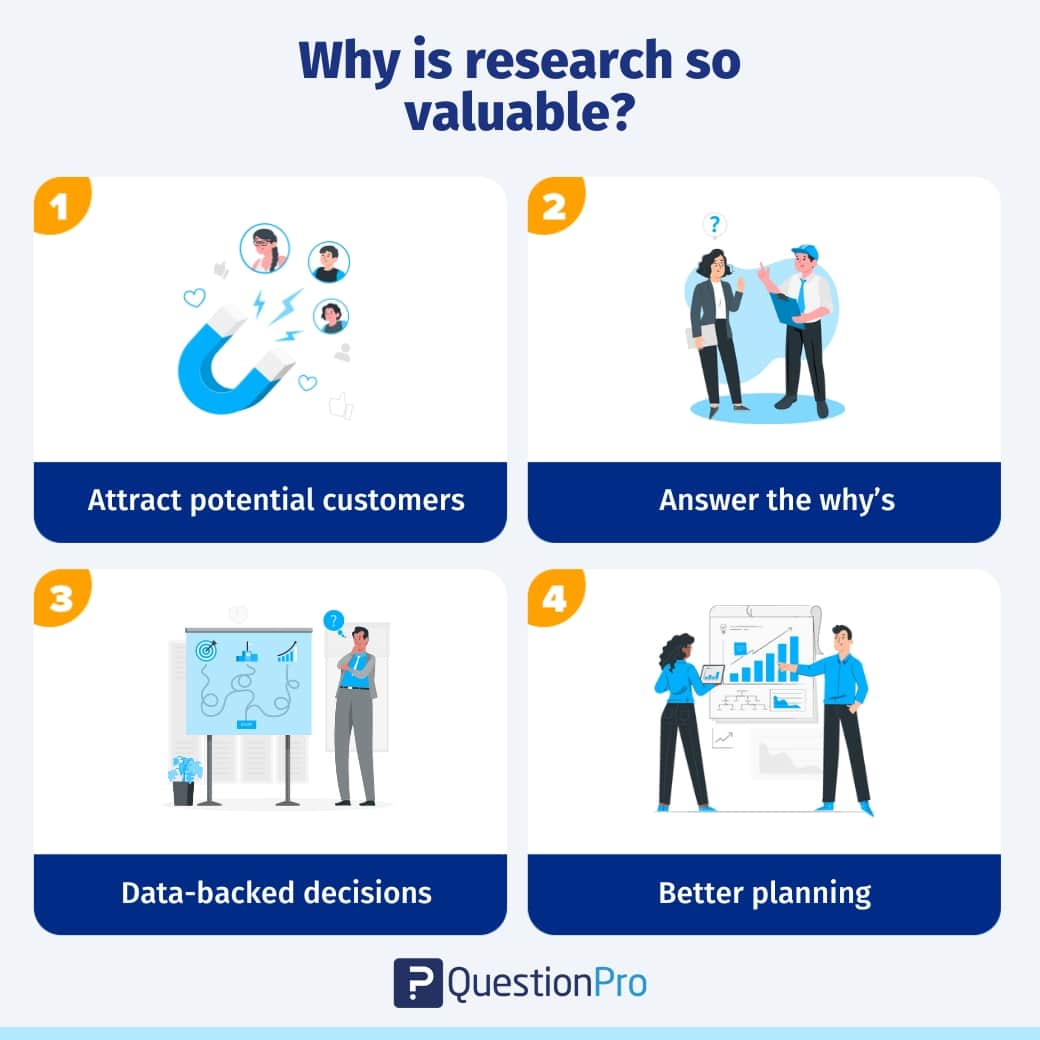 Attract potential customers:

The primary aim of marketing research is to find ways to attract potential customers. It also helps to keep current happy and coming back for more. Understanding your customers entirely is the only way to progress. You'll lose potential customers if you stop caring about improving your user experience.

Answer the why's:

Marketing research gives you the answer to the 'why.' Make use of user analytics, big data, and reporting dashboards in marketing research to tell you what your users are thinking and why they think and act that way. For example, only marketing research can explain why customers leave you.

Data-backed decisions:

Research beats trends, assumptions, and so-called best business practices. Bad decisions are often taken due to emotional reasoning and guesswork. Focusing on customer experience by listening to your customers directs you in the right direction.

Better planning: Research keeps you from making absurd decisions by planning in a vacuum. You might not fully gauge what your customers experience and feel while using your product. Customers may use products in a way that surprises you, and they may get confused by features that seem obvious to you. Conducting too much planning but not testing your assumptions will waste your money, time, efforts, and resources. Research helps you save up on all these factors.
LEARN ABOUT: 12 Best Tools for Researchers
Advantages of MKT research
Marketing research and user experience (UX) design help you continuously improve your product by acting on your feedback. Here are the advantages of conducting marketing research: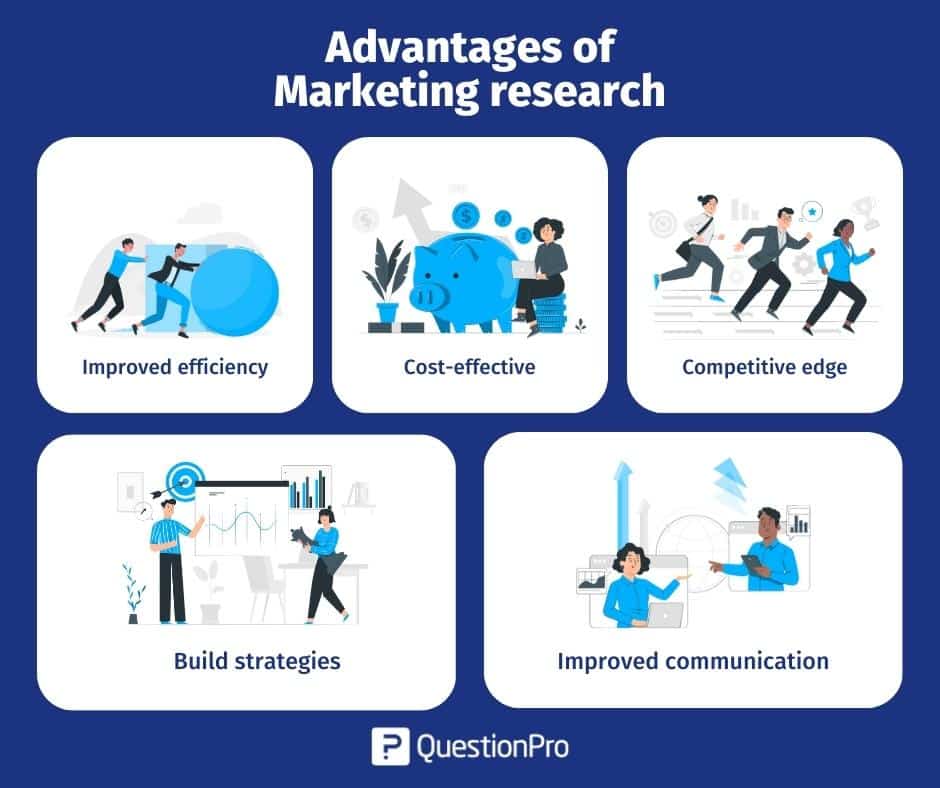 Improved efficiency:

Efficiency draws you closer to your users. You can improve the efficiency of delivering the product to the market and also increase its usability.

Cost-effective:

Marketing research helps you make the right decisions based on consumer demand, thus saving you costs in creating something that customers do not like or want.
LEARN ABOUT: Test Market Demand
Competitive edge: Quicker, more robust insights can help you place your services and products strategically, gaining a competitive advantage over others.
Build strategies:

You can quickly build, alter, or design new approaches to attract your users and consumers.

Improved communication: Bridge the communication gap by interacting with consumers and hearing them out. This helps consumers feel wanted and special.
LEARN ABOUT: Market research vs marketing research