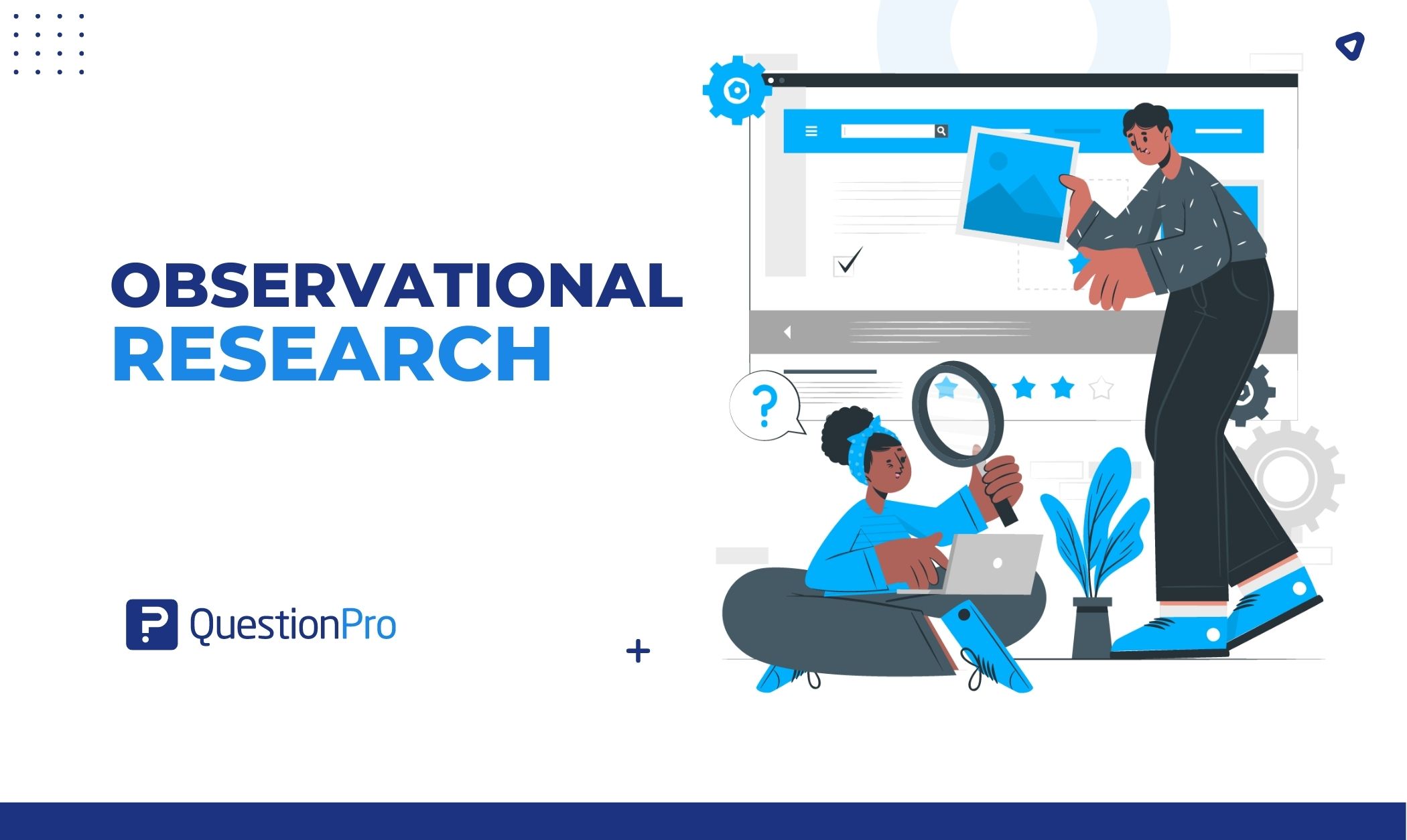 Researchers can gather customer data in a variety of ways, including surveys, interviews, and research. But not all data can be collected by asking questions because customers might not be conscious of their behaviors.
It is when observational research comes in. This research is a way to learn about people by observing them in their natural environment. This kind of research helps researchers figure out how people act in different situations and what things in the environment affect their actions.
This blog will teach you about observational research, including types and observation methods. Let's get started.
What is observational research?
Observational research is a broad term for various non-experimental studies in which behavior is carefully watched and recorded.
The goal of this research is to describe a variable or a set of variables. More broadly, the goal is to capture specific individual, group, or setting characteristics.
Since it is non-experimental and uncontrolled, we cannot draw causal research conclusions from it. The observational data collected in research studies is frequently qualitative observation, but it can also be quantitative or both (mixed methods).
Types of observational research
Conducting observational research can take many different forms. There are various types of this research. These types are classified below according to how much a researcher interferes with or controls the environment.
Taking notes on what is seen is the simplest form of observational research. A researcher makes no interference in naturalistic observation. It's just watching how people act in their natural environments.
Importantly, there is no attempt to modify factors in naturalistic observation, as there would be when comparing data between a control group and an experimental group.
A case study is a sort of observational research that focuses on a single phenomenon. It is a naturalistic observation because it captures data in the field. But case studies focus on a specific point of reference, like a person or event, while other studies may have a wider scope and try to record everything that happens in the researcher's eyes.
For example, a case study of a single businessman might try to find out how that person deals with a certain disease's ups and down or loss.
Participant observation is similar to naturalistic observation, except that the researcher is a part of the natural environment they are studying. In such research, the researcher is also interested in rituals or cultural practices that can only be evaluated by sharing experiences.
For example, anyone can learn the basic rules of table Tennis by going to a game or following a team. Participant observation, on the other hand, lets people take part directly to learn more about how the team works and how the players relate to each other.
It usually includes the researcher joining a group to watch behavior they couldn't see from afar. Participant observation can gather much information, from the interactions with the people being observed to the researchers' thoughts.
A more systematic structured observation entails recording the behaviors of research participants in a remote place. Case-control studies are more like experiments than other types of research, but they still use observational research methods. When researchers want to find out what caused a certain event, they might use a case-control study.
This observational research is one of the most difficult and time-consuming because it requires watching people or events for a long time. Researchers should consider longitudinal observations when their research involves variables that can only be seen over time.
After all, you can't get a complete picture of things like learning to read or losing weight in a single observation. Longitudinal studies keep an eye on the same people or events over a long period of time and look for changes or patterns in behavior.
Observational research methods
When doing this research, there are a few observational methods to remember to ensure that the research is done correctly. Along with other research methods, let's learn some key research methods of it: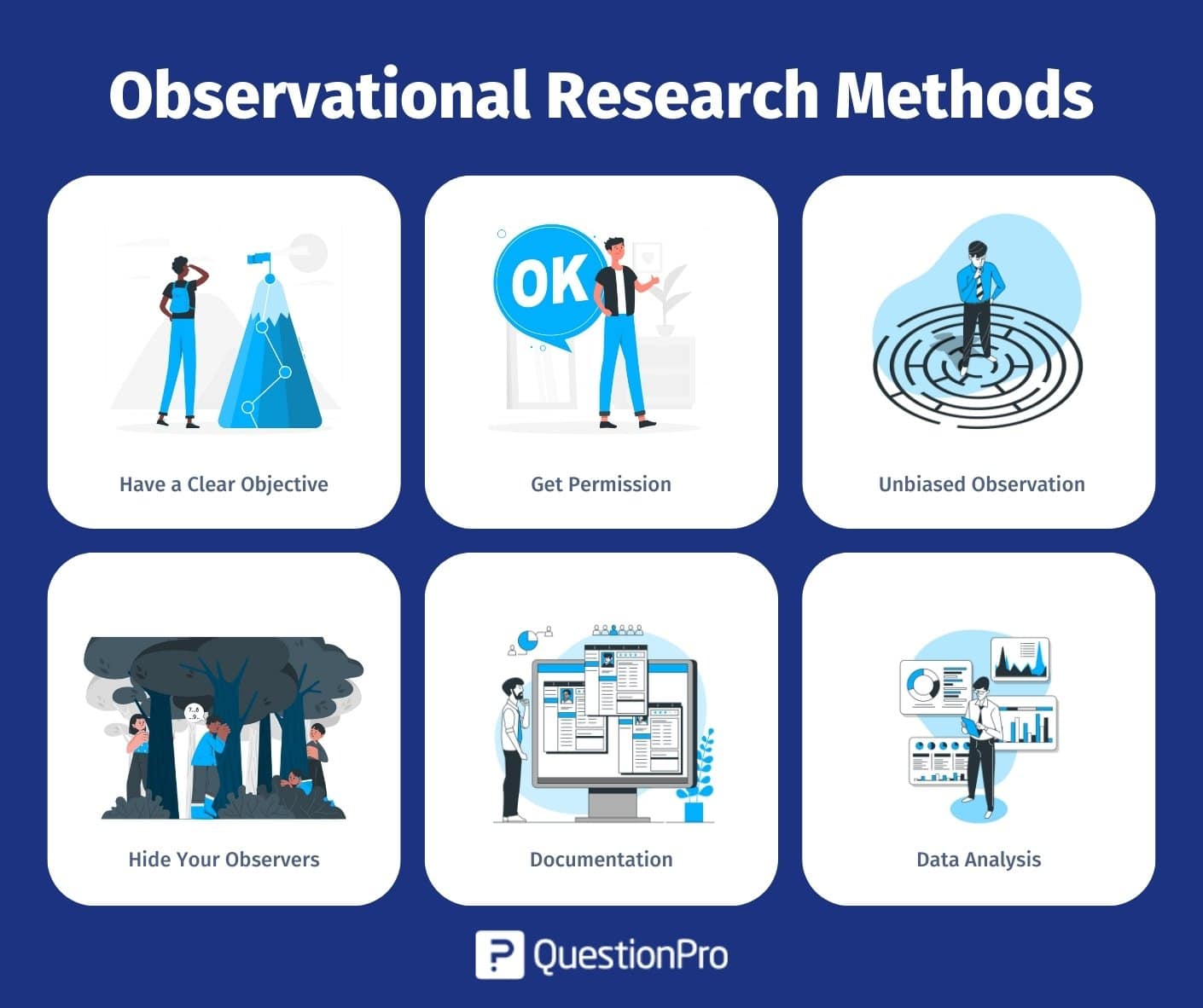 For an observational study to be helpful, it needs to have a clear goal. It will help guide the observations and ensure they focus on the right things.
Get permission from your participants. Getting explicit permission from the people you will be watching is essential. It means letting them know that they will be watched, the observation's goal, and how their data will be used.
It is important to make sure the observations are fair and unbiased. It can be done by keeping detailed notes of what is seen and not putting any personal meaning on the data.
In the observation method, keep your observers hidden. The participants should be unaware of the observers to avoid potential bias in their actions.
It is important to document the observations clearly and straightforwardly. It will allow others to examine the information and confirm the observational research findings.
Data analysis is the last method. The researcher will analyze the collected data to draw conclusions or confirm a hypothesis.
Pros and cons of observational research
Observational studies are a great way to learn more about how your customers use different parts of your business. There are so many pros and cons of observational research. Let's have a look at them.
Pros
It provides a practical application for a hypothesis. In other words, it can help make research more complete.
You can see people acting alone or in groups, such as customers. So, you can answer a number of questions about how people act as customers.
Cons
There is a chance of researcher bias in observational research. Experts say that this can be a very big problem.
Some human activities and behaviors can be difficult to understand. We are unable to see memories or attitudes. In other words, there are numerous situations in which observation alone is inadequate.
Example of observational research
The researcher observes customers buying products in a mall. Assuming the product is soap, the researcher will observe how long the customer takes to decide whether he likes the packaging or comes to the mall with his decision already made based on advertisements.
If the customer takes their time making a decision, the researcher will conclude that packaging and information on the package affect purchase behavior. If a customer makes a quick decision, the decision is likely predetermined.
As a result, the researcher will recommend more and better advertisements in this case. All of these findings were obtained through simple observational research.
How to conduct observational research with QuestionPro?
QuestionPro can help with observational research by providing tools to collect and analyze data. It can help in the following ways:
Define the research goals and question types you want to answer with your observational study. Use QuestionPro's customizable survey templates and questions to do a survey that fits your research goals and gets the necessary information.
You can distribute the survey to your target audience using QuestionPro's online platform or by sending a link to the survey.
With QuestionPro's real-time data analysis and reporting features, you can collect and look at the data as people fill out the survey. Use the advanced analytics tools in QuestionPro to see and understand the data and find insights and trends.
If you need to, you can export the data from QuestionPro into the analysis tools you like to use. Draw conclusions from the collected and analyzed data and answer the research questions that were asked at the beginning of the research.
For a deeper understanding of human behaviors and decision-making processes, explore the realm of Behavioral Research.
Conclusion
To summarize, observational research is an effective strategy for collecting data and getting insights into real-world phenomena. When done right, this research can give helpful information and help people make decisions.
QuestionPro is a valuable tool that can help with observational research by letting you create online surveys, analyze data in real time, make surveys your own, keep your data safe, and use advanced analytics tools.
To do this research with QuestionPro, researchers need to define their research goals, do a survey that matches their goals, send the survey to participants, collect and analyze the data, visualize and explain the results, export data if needed, and draw conclusions from the data collected.
By keeping in mind what has been said above, researchers can use QuestionPro to help with their observational research and gain valuable data. Try out QuestionPro today!
Frequently Asked Questions (FAQ)
What is observational research?
Observational research is a method in which researchers observe and systematically record behaviors, events, or phenomena without directly manipulating them.
What are the types of observational research?
There are three main types of observational research: naturalistic observation, participant observation, and structured observation.
What is naturalistic observation?
Naturalistic observation involves observing subjects in their natural environment without any interference.