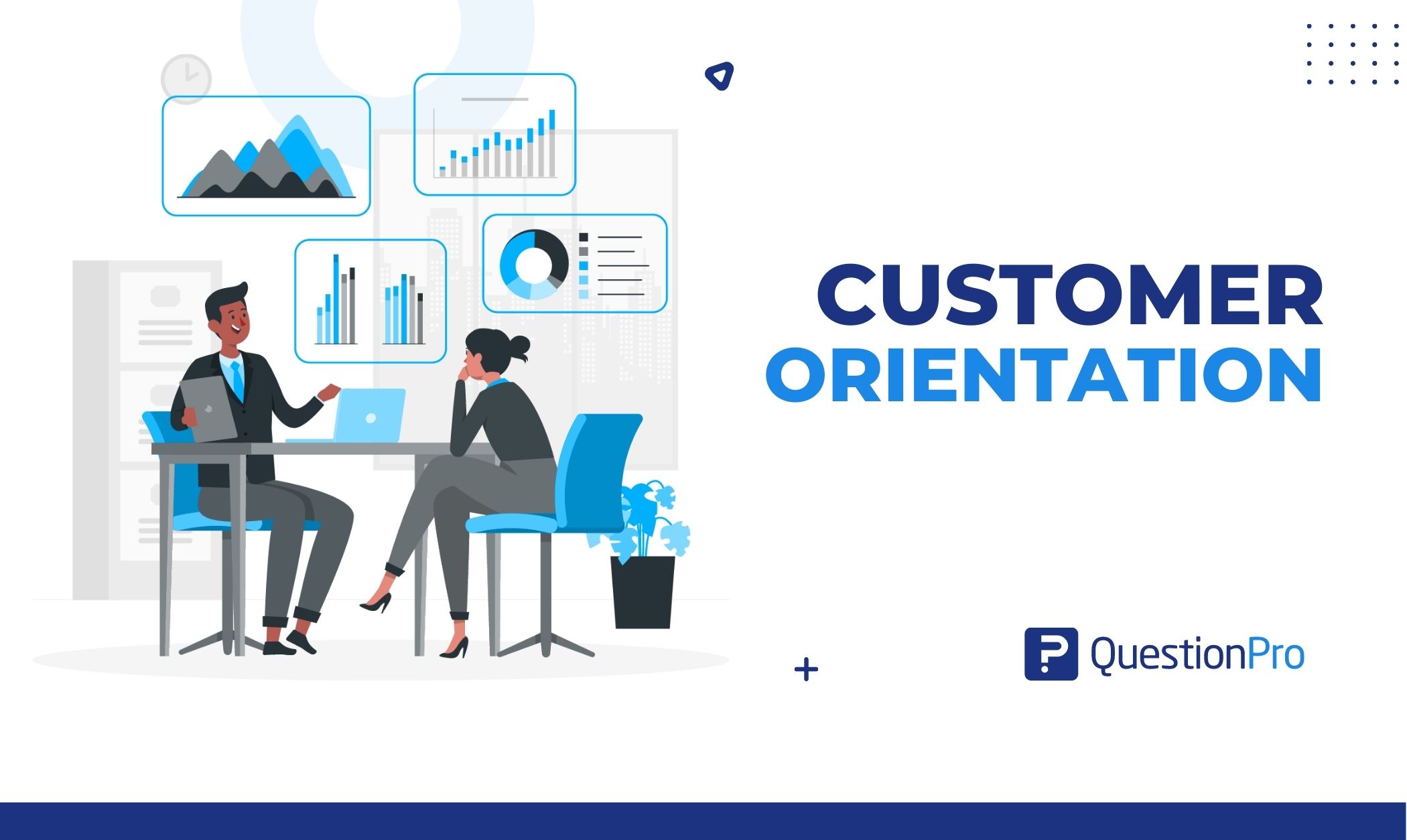 The success of a business is determined by its customer. Without customers, there would be no sales or revenue, and the company would shut down. This means prioritizing your customers is common sense and a good business strategy. This is the time when customer orientation comes.
Building a customer-focused culture throughout your organization entails making your customer's experience (or CX) positive and incorporating it into your company's principles, strategies, and goals.
In this blog, we will discuss customer orientation and give you a complete guide for better understanding. 
What is customer orientation?
Customer orientation is a business strategy that recognizes that customers are the business. You cannot create anything of value unless you can successfully recognize and meet your customers' needs.
A customer-oriented business is more than just providing excellent customer service. It is about putting the customer's needs at the center of every business decision.
From the smallest details of product or service design to after-sales support, the goal is unrivaled customer satisfaction. Businesses that map their customers' needs to their goals are more likely to succeed.
Importance of customer orientation
Customer service is critical for any company that wants to succeed in the long run. It refers to a company emphasizing understanding and meeting its customers' needs and expectations. Here are some of the reasons why customer orientation is important for your business:
A customer-centric attitude promotes trust and loyalty among customers, which helps in long-term retention. Customers who are loyal to your company are more likely to refer it to others, which can help you attract new customers.
You can create products and services that exceed your customers' expectations by listening to them and understanding their needs. This results in increased customer satisfaction, which is essential to developing a positive reputation for your company.
Happy customers are more likely to buy from you again, which can help you increase your revenue. Furthermore, satisfied customers are more likely to recommend your company to others, which can help you attract new customers and increase your revenue.
By focusing on your customers' needs, you can identify new opportunities for innovation and growth. You can stay ahead of the curve and competitive in your industry by constantly improving your products and services based on customer feedback.
Customer orientation is essential for any business's success. Prioritizing your customers' needs and expectations will help you build long-term loyalty, improve customer satisfaction, increase sales, strengthen your competitive advantage, and drive innovation.
Implementing customer orientation in your business
Customer orientation in business requires careful planning involving top management and frontline employees. Here are five ways to begin putting your customers first:
Develop a detailed customer persona
Your business can serve customers much better if it focuses on a particular type of customer rather than a large market. Creating detailed customer personas allows you to understand better your customers' wants, interests, and pain points.
You can create more meaningful solutions by gathering demographic information, behavioral practices and attitudes, motivations, needs, and goals from your target users.
Recruit empathetic people
Hiring the right people for your company is easier than training them from scratch. While they can be groomed to fit better into your company, certain characteristics are inherent.
For example, if you hire an empath to work as a frontline employee in your company, such as a salesperson or a customer service executive, they will help customers intuitively. To be customer-focused from the start, pay close attention to the team you're building with each employee you hire, making sure they're an excellent cultural fit from the start.
Give employees the proper tools and training
Your employees' tools and training must also foster positive customer relationships and experiences. Customers, for example, may find single-channel customer service frustrating.
A customer who prefers live chat services is likely to be dissatisfied with phone service, regardless of how polite or well-intentioned your agent is on the phone. A company that cares about its customers will equip its employees with everything they need to provide an exceptional experience.
Engage your customers proactively
If there is one thing that businesses must be prepared for, it is their changing preferences. They are constantly evolving. Keeping up with these changes is what customer orientation is all about.
A company that is committed to providing the highest level of customer satisfaction will actively engage its customers to understand this shifting curve. Whether through feedback surveys or tracking website hits, analyzing chats, and engaging with customers to stay on top of their changing needs.
Pay attention to company employees
When you are customer-focused, it is easy to overlook the people who are in charge of providing the customer experience: your employees. Customer satisfaction depends on employee happiness. Treat your employees well and set a good example for how you want your customers to be treated.
How To implement customer orientation with the help of QuestionPro CX?
QuestionPro CX is a powerful tool that can assist you in implementing customer orientation in your business by gathering and analyzing customer feedback. Here are some steps you can take with QuestionPro CX to implement customer orientation:
Create a customer feedback program: Start by developing a program that will enable you to gather customer feedback. This might take the form of a customer survey, a feedback form on your website, or a chatbot that customers can use to give feedback.
Define your customer personas: Before you begin collecting feedback, you must first define your customer personas. These are the various types of customers you serve, each with its own set of needs, preferences, and pain points.
Collect feedback: To get feedback from your customers, use QuestionPro CX. To collect customer insights, you can create surveys, feedback forms, or other types of feedback mechanisms.
Analyze feedback: Using QuestionPro CX to analyze the data after collecting feedback. You can use various data analysis techniques to uncover patterns, trends, and insights.
Take action: Take action based on the insights you gain from customer feedback. This could include things like improving your products or services, changing your marketing messaging, or dealing with customer service issues.
Monitor progress: QuestionPro CX can be used to track your progress over time. This will assist you in identifying areas in which you need to improve and areas in which you are succeeding.
By implementing these steps with the help of QuestionPro CX, you can establish a customer-oriented culture in your company that prioritizes your customers' needs and preferences.