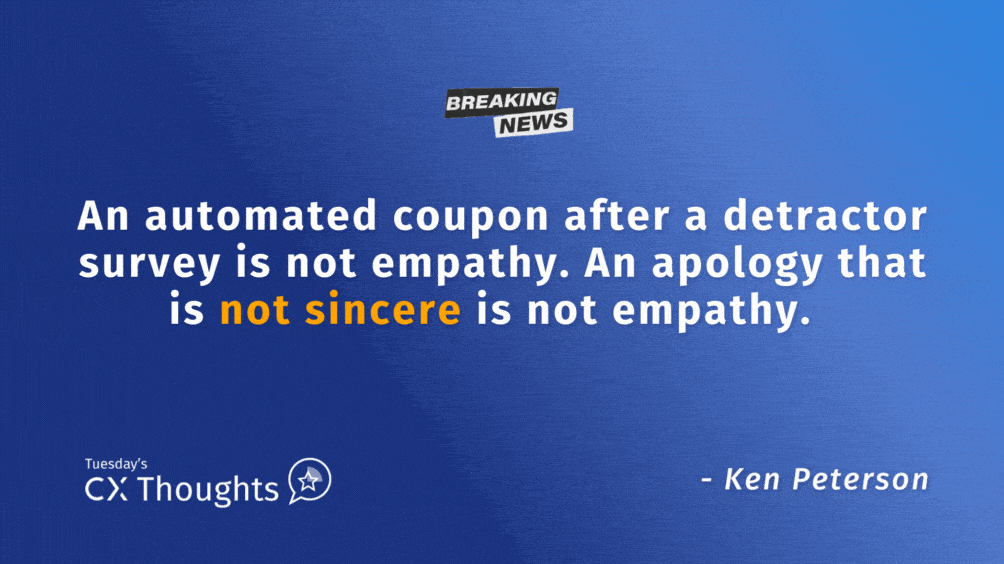 Last week, I wrote about the baseball strike zone and what players, managers and fans demand most from the league and umpires.
Leaving the "fun" world of sports for a moment and looking at our everyday lives, I spoke about "definition" and "consistency," and that is what most expect in their jobs, their experiences (not just limited to customer experiences, but also reaching out into activities and events) and even their friends. 
Faster, better, and less expensive
When it comes to our lives, we also expect to have some "empathy."  
All three of these ideas seem fair and straightforward, but as I discussed last week, the execution of these ideas and the variation of the human element complicates matters. We try to simplify it by asking our customer experience software platform to automate feedback and even responses in a closed-loop feedback system, but that can often backfire.  
Someone I once worked with said there are three things demanded by clients: faster, better and less expensive. He said that clients could only have two:
Faster and better will be more expensive

Less costly and quicker will diminish the quality

Better and less expensive will take time
All fair points on his part (and as an operation individual, I certainly understand the sentiment), but it still doesn't provide everything the customer wants (or sometimes needs).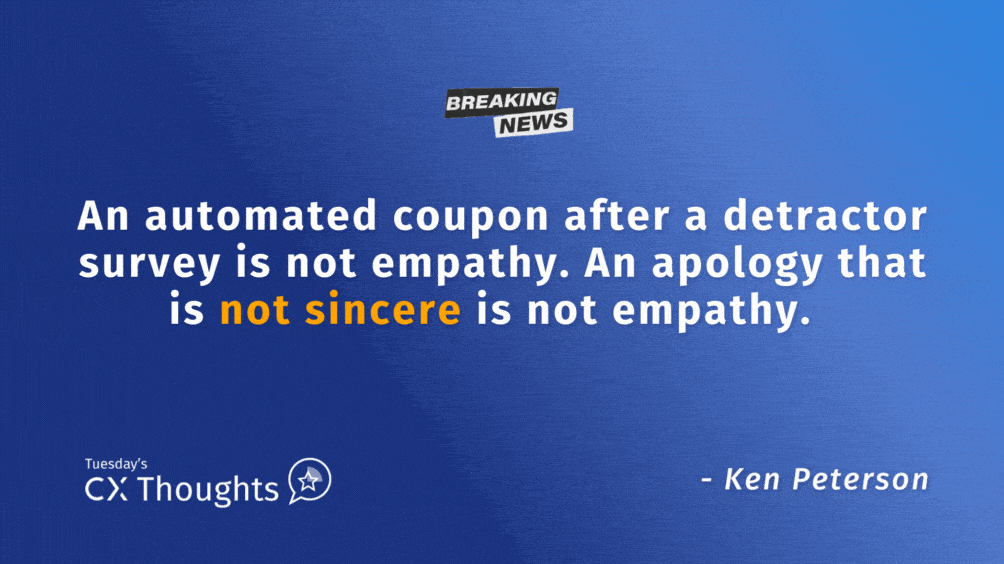 3 non-tangible elements that NEED to be part of your CX strategy
Having some parameters to begin a discussion is great, but also recognize that the emphasis on each will change. That is also true in these three non-tangible elements that should be a part of a customer experience strategy.
Just like those ideas above, they are not always easily measured or understood – by both the customers and the company. Regardless, you should always strive to have these embedded in your customer journey and your customer experience touchpoints measurement across the entire journey map.  
1. Definition – Quite simply, define expectations for customers. 
As mentioned last week, that is much easier said than done.  I'm probably as guilty as anyone in that I will create a definition, but I'm defining it in terms I understand.  Then I'll leave out "assumed" parts, which is one of the worst mistakes. 
When creating a customer journey template, you will undoubtedly know that you must look at the internal and external perspectives. You'll likely list two columns for it. You'll ask the user to break down the journey into "micro-journeys" so it shows specific actions and/or reactions that the customer must take to complete the process. 
I've seen some highly detailed examples, yet many times it doesn't say the most important thing up front: "Why are we doing this?" We need to view the journey map from the perspective of our goals in taking on this work, not just doing it. 
2. Consistency – Once you define expectations for your customers, you have to meet those expectations. 
Suppose your Voice-of-the-Customer program is based on simply managing detractors. In that case, you may be providing consistency, but likely not against the definition that you have put together to define expectations.  If you just respond to detractors, your consistency is terrible. 
We provide Outer Loop tools as part of our QuestionPro CX platform so companies can improve on those issues that recur repeatedly. Our QuestionPro exclusive NPS+ allows for identifying root causes that can drive changes to have consistency for the betterment of the customer experience. 
3. Empathy – This is always tricky, as it is one of the most overused words in customer experience research – yet the most underutilized. 
When you have definition, it is easy to say that we want consistency which will be in the absence of empathy.  Then we attempt to use sentiment and social media analyses to make an empathetic appeal.
Still, ultimately we are looking to just turn our opportunity for empathy into statistics that we can evaluate and measure. An apology that is not sincere is not empathy. An automated coupon after a detractor survey is not empathy.  What makes empathy difficult is that it almost runs contrary to definition and consistency, though Jonathan Hawkins is correct in asserting that you can have empathy, and at scale.  
It comes in how you define your customers' expectations that you can find a way to have empathy, consistency and definition that works for everyone.  It also means that you will occasionally fail at all three at one time or another, but if you consistently try to do all three, you will succeed in your customers' eyes. 
Remember, perfection is not a requirement.  Now you just have to put it all together across all your X's, departments and journeys.
We are excited to meet you in person!
Did you know that QuestionPro XDay will be live and in-person this fall?  Join us for a great lineup of speakers and panelists in the AT&T Conference Hotel in Austin, TX, on October 27th.  I'd be moderating the live discussion: Linear, Lucky or Lies: the stories we tell with data, with our guest speakers from MGM Resorts, Google, and Research Narrative. Learn all about it here.  This is also a great time to speak with our CX and EX consultants and understand the ways you can bring empathy to your customers on a consistent basis.