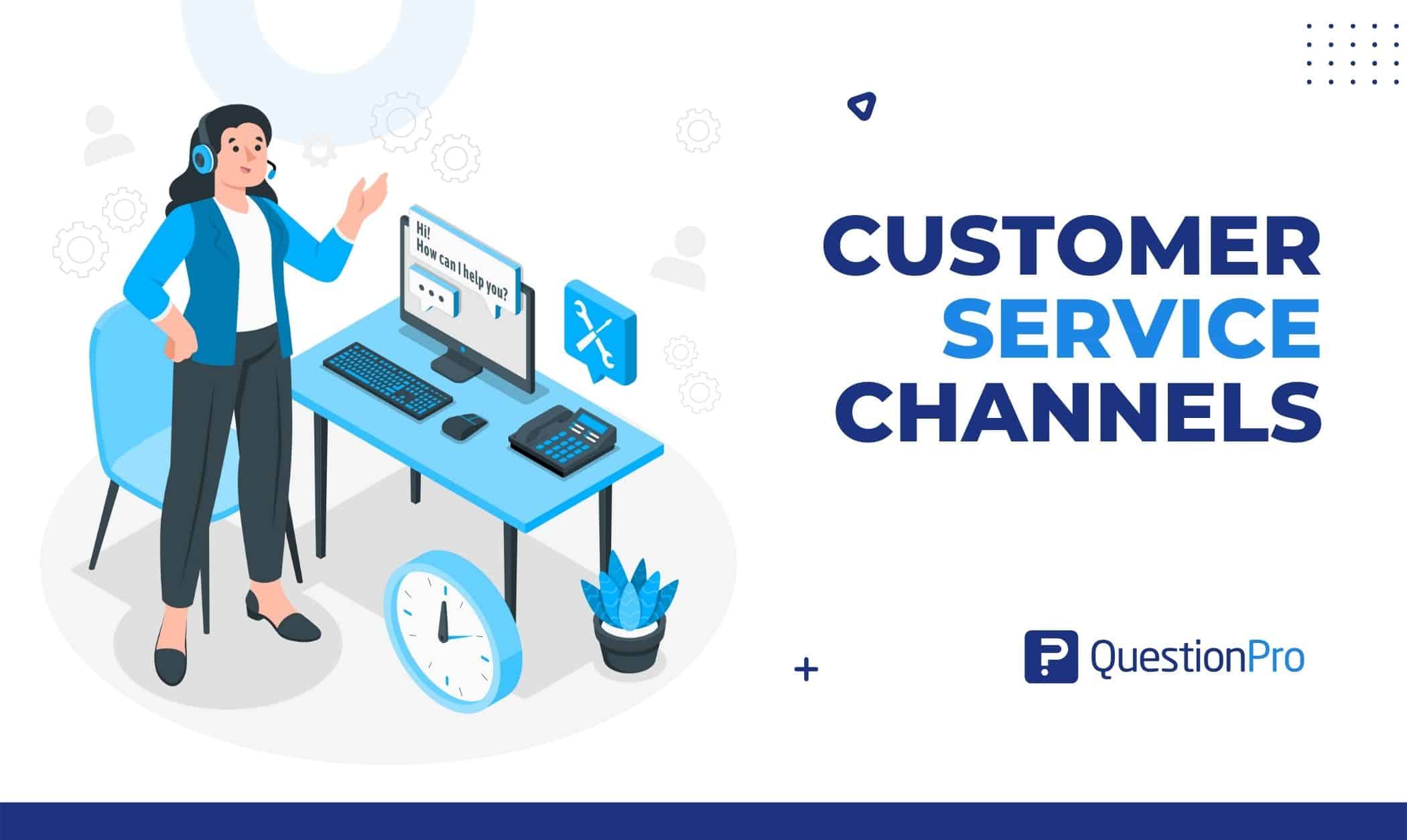 Customer service used to be nearly entirely provided through call centers. Still, as it has developed over time, it is offered through various platforms and channels. Each customer service channel appeals to customers' needs differently.
When deciding which channels you'll offer support on, it's essential to consider how your customers currently communicate with you and where there might be communication gaps you'd like to fill with one or more new channels.
Which channels do you offer for customer service? Many people think that having more channels equals greater customer service. This blog will define the types, describe, and provide examples of customer service channels.
What are the customer service channels?
A customer service channel is a platform you utilize to communicate with your customers.
Single-channel customer support is relatively simple. The majority of businesses begin there. There is only one way for clients to get in touch with the company with issues or inquiries. Frequently, that entails email or phone support. But as your company expands, you'll undoubtedly find that you quickly outgrow a single channel.
Many people will soon be looking for your contact information, including your phone number, email address, and online FAQs or live chat help. Naturally, you'll need to expand into multi-channel customer assistance at this stage. For example, clients will probably contact you for support if you establish a presence on Facebook, Twitter, or Instagram.
Thanks to your multi-channel service, you are now communicating with clients in more areas. The advantage is that you have more opportunities to assist your customers because you meet them where they are. You're able to react more rapidly. By removing the need for customers to look up customer service contacts, you are saving them time and making getting in touch with your business easier.
More and more businesses realize how important it is to provide their clients with multichannel assistance. According to Hiver's recent Customer Service Benchmark report, 60% of businesses provide customer support across more than three channels.
Types of customer service channels
When making your support strategy, start with the most basic channel types. These are some of the most common ways to get help. Customers will go to them first, expecting you to be there.
The advantages of phone help are extensive. A specific group is less likely to feel comfortable sending an email or chatting with a chatbot. Hence, they are more likely to call.
For example, according to the Customer Communications Review, 36% of respondents over the age of 56 choose phone conversations as their preferred method of contact, while respondents between the ages of 40 and 55 place it close behind. The phone is a close third at 22%, even among younger populations.
Inquiries about billing, bank transactions, and chats with healthcare professionals are all examples of more secure support interactions that can be handled over the phone.
Globally, there are billions of email users. None of them are quite as commonplace compared to the regular use of other customer service channel possibilities.
Email is suitable for various support needs, such as those that are more technical or require some back-and-forth communication, possibly better suited to other channels. Email is excellent since it enables asynchronous communication. Frequently, a single customer support agent may handle several conversations at once.
Clients don't have to navigate a phone tree or endure holding music while using live chat, which gives the benefits of both email and phone assistance. Additionally, customers can receive a response much more rapidly than they could through email support.
Support for online chat is significant if you can offer it. A live person answering questions while a customer is in the middle of a transaction was recognized by 44% of online shoppers as one of the most important aspects a company could provide as early as 2010.
According to a study, 47% of participants have a more favorable opinion of firms that respond to customer care inquiries on social media.
There are several social media platforms to pick from. Identify the social media platforms where your audience is already most active and engaged. Establish a presence rather than spread yourself too thin across numerous platforms.
Then, you'll be able to display positive things like:
Clients have to say about you,

Respond to queries from other users in public and

Offer top-notch client service.
The best customer service occasionally involves having no touch at all.
Up to 74% of customers prefer to handle problems themselves whenever possible. A recent survey found that 65% of respondents had a more favorable opinion of businesses that offered a mobile-responsive self-service online portal, even though 90% expected corporations to provide one.
A way to please your clients! There are numerous advantages to this. Your customer service staff can work more efficiently. A knowledge base reduces frequent and repetitive requests, freeing your team to assist clients with more challenging problems. It can also resolve common consumer problems around-the-clock, even if your service representatives aren't available.
There are numerous advantages to this. Your customer service staff can work more efficiently. A knowledge base reduces frequent and repetitive requests, freeing your team to assist clients with more challenging problems. It can also resolve common consumer problems around-the-clock, even if your service representatives aren't available. A way to please your clients!
An FAQ section may be ideal if your product is not complex or technically sophisticated enough to call for a comprehensive knowledge base. As you build a more extensive knowledge base, FAQs might also be a great place to start.
Social networks and forums:
A recent survey found that 71% of online product forums are made to help customers. The benefits of employing communities for customer service are outlined in the State of Community Management Report:
"Participation enhances each member's success by giving them access to the knowledge and worth of the community. Helping people with their work fosters loyalty. It introduces individuals to new concepts, promotes the use of goods and services, and quickly highlights changing needs. "
Therefore, providing community support allows consumers to learn more about the product and share it with others, potentially relieving some of the demands placed on your support staff.
It addresses issues and workarounds more immediately than an employee could and promotes a sense of loyalty and community among users.
Conclusion
Customer care channels are not a one-size-fits-all component of your customer service strategy. You may prefer one channel over another depending on the type of consumer you have, your product, and even the level of service your staff provides.
If you decide to expand your offerings, consider what your customers desire and what your competitors provide. With this knowledge, you should have a solid idea of how to proceed.
QuestionPro provides some of the most sophisticated customer experience technologies on the market. Using QuestionPro CX software, you can now gain vital insights into your consumers' ideas and sentiments.