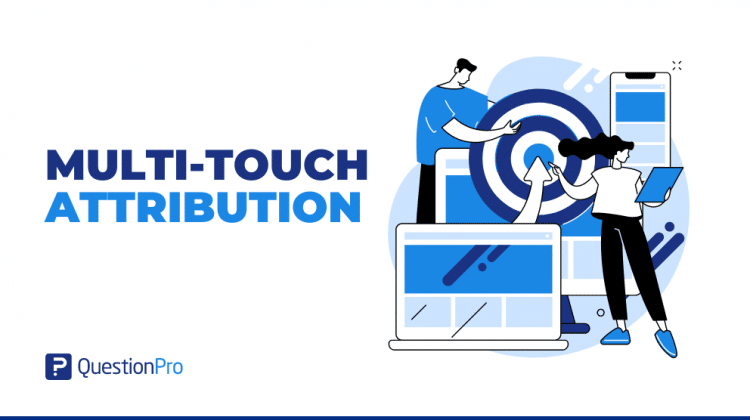 There's a famous quote from the turn of the 20th century by an American businessman named John Wanamaker that still rings true for many marketers today:
"Half of the money I spend on advertising is wasted; the problem is I don't know which half."
A lot has changed in the last 100 years, but the question of which advertising efforts really help the bottom line and which still needs to worry many modern marketers. Fortunately, multi-touch attribution may be the answer.
The problems that marketers face now are very different from the ones that Mr. Wanamaker faces. Digital marketing uses a data-driven approach that was not even possible a century ago. Outlets and platforms develop more sophisticated ways to understand and improve performance every week.
Even with these improvements, it's hard to understand how all these channels and sites work together. Each site has its own goals (i.e., they want you to spend more money with them), so they can only give you a partial picture of how your marketing is doing.
This full picture is important because every customer interaction with your brand can affect their choice to convert. Multi-touch attribution establishes the contribution of each touchpoint to acquiring prospective customers and generating revenue.
What is multi-touch attribution?
Multi-touch attribution is a way to measure how successful marketing is. It takes into account all of the points where a customer interacts with a business and gives each one a certain amount of credit so that a marketer can see how much each channel affects a sale.
This is a more sophisticated alternative to traditional, rule-based attribution methods like first- and last-touch, which credit the first or last marketing touchpoint before the customer converts by purchasing, downloading, or doing something else.
By making rules up on the spot, these methods need to correctly measure the value of each touchpoint in the customer journey. This means that marketers have to make decisions based on skewed data.
It gets rid of biases by giving credit to every part of every touchpoint in the customer's journey, across all marketing and advertising platforms and tactics, based on how much each one affected a conversion event.
Multi-touch attribution calculates and gives credit for a key performance indicator (KPI) event to the marketing touchpoints that affected a desired business outcome for each individual user across addressable platforms, such as direct mail, online display, and paid search.
These insights into how campaigns have been done in the past can also be used to help plan and improve future campaigns and those that are already running.
Importance of multi-touch attribution
Multi-touch tracking is important in the mobile advertising world for several reasons. Many marketers think that Multi-Touch Attribution better matches how users usually interact with ads.
First touch or last touch gives all the credit for an installation to one time. It is based on the idea that users will likely see multiple ads in different places before clicking the download button.
Multi-Touch Attribution also ensures credit is given to authors from across the ecosystem. This attribution approach helps spread advertising budgets in a more fair way by sharing credit with more than one partner for their part in getting the installation instead of just paying one partner.
In addition, this tells marketers what gets users to their app. This helps advertisers determine where value is created along the customer journey.
Smaller publishers might need help getting enough credit in simpler attribution models, but companies using multi-touch methods are likelier to notice them. This helps an advertiser figure out the value in the long run.
Don't miss out on our blog if you're on the hunt for AI marketing tools. It's a comprehensive resource for actionable ideas and activities that can make a real impact.
Types of multi-touch attribution
Multi-touch attribution is a way used in marketing to give credit to different touchpoints or interactions that lead to a conversion or sale. There are various types of multi-touch crediting models, and each one has its own way of figuring out who should get the credit. Here are some types of multi-touch attribution methods that are often used:
First-Touch Attribution
This model gives 100% of the credit for a conversion or sale to the first touchpoint or contact that started the customer journey. It puts the most weight on the first point of contact.
Last-Touch Attribution
This model, which is also called "Last-Click Attribution," gives all of the credit for a conversion or sale to the last interaction or touchpoint that went directly to the conversion. It stresses that the last point of contact is the most important.
Linear Attribution
In this model, each touchpoint along the customer journey gets the same amount of points. It recognizes that each interaction adds to the conversion and that each touchpoint is just as important as the others.
Time Decay Attribution
This model gives more credit to touchpoints that happen closer to the time when a customer makes a purchase. It thinks that exchanges that happen closer to the conversion are more important and give them more weight.
U-Shaped Attribution
This model, which is also called "Position-Based Attribution," gives 40% of the credit to the first and last touchpoints and divides the other 20% fairly among the touchpoints in between. It shows that the first contact and the last interaction are both important parts of the customer journey.
W-Shaped Attribution
This one expands upon the U-Shaped Attribution model. The first touchpoint is the point at which the customer expresses interest or consideration, and the last touchpoint is given credit. The remaining credit is equally split amongst each of the intermediate touchpoints.
Custom Attribution
Using this technique, marketers may design their own attribution criteria based on their business objectives and priorities. It entails giving various touchpoints varying weights according to how significant the user perceives them to be.
Implementation of multi-touch attribution
Determine the impact of each touchpoint or interaction a customer has with a marketing campaign or sales funnel using the multi-touch attribution method. It aids marketers in comprehending how well various marketing strategies and channels perform in generating leads or revenue.
Multi-touch attribution implementation is broken down into multiple steps. Here is a general description of what happens:
The objectives and key performance indicators (KPIs) that you wish to track and assign to various touchpoints should be clearly stated.
For example, you might wish to track conversion rates, sales, or customer lifetime value.
Assemble information on customer interactions with your marketing channels from a variety of sources. Website analytics, CRM programs, ad networks, email marketing tools, social networking websites, and other things fall under this category. Make sure you have complete data from all relevant touchpoints.
Integrate and compile data from several sources into a common database or platform for marketing attribution. This makes sure that you can trace interactions across channels and have a consistent view of the customer experience.
Define attribution models
Choose the attribution models that you want to employ. First touch, last touch, linear, temporal decay, and position-based models (such as U- or W-shaped) are typical examples. Each model gives certain touchpoints a varied weight based on how they are thought to affect conversions.
Utilize your marketing attribution platform or analytics tool to implement the attribution models. The platform will provide credit to each touchpoint in accordance with the attribution model's established criteria and weights.
Investigate the attributed data to learn more about the efficiency of various touchpoints and marketing avenues. You can adjust your marketing efforts in light of the results of this study to determine which channels or methods are producing the most conversions or income.
Based on the knowledge you gain, continuously review and improve your attribution models. Experiment with various models and criteria to find the best representation of how your marketing activities affect conversions.
Benefits of multi-touch attribution
During the period of the forecast, from 2021 to 2026, the multi-touch attribution market is projected to grow at a CAGR of about 15%. The reasons have to do with the following:
A full understanding of how each touchpoint affects results.
Allocating the marketing funds correctly to make the best use of resources.
Decisions based on reliable attribution data that are led by data.
Planned campaigns better by learning from how they worked in the past.
Personalized experiences for customers that are made for each touchpoint.
Better cooperation and coordination between teams.
Touchpoints that contribute to long-term business value need to be found.
Customer happiness and loyalty have gone up.
Better marketing tactics lead to more sales and conversions.
Conclusion
Multi-touch attribution is a potent tool for marketers to comprehend the effect of numerous touchpoints on customer conversions and improve their marketing tactics.
Businesses may allocate resources more effectively by deploying multi-touch attribution since it gives them useful information about the efficacy of various channels and methods.
QuestionPro, a top survey and research platform, can be crucial in multi-touch attribution by offering tools for data collection and customer insights. With its extensive capabilities, QuestionPro can assist companies in collecting and integrating data from many touchpoints, enabling them to make data-driven decisions and maximize the return on their marketing investments.