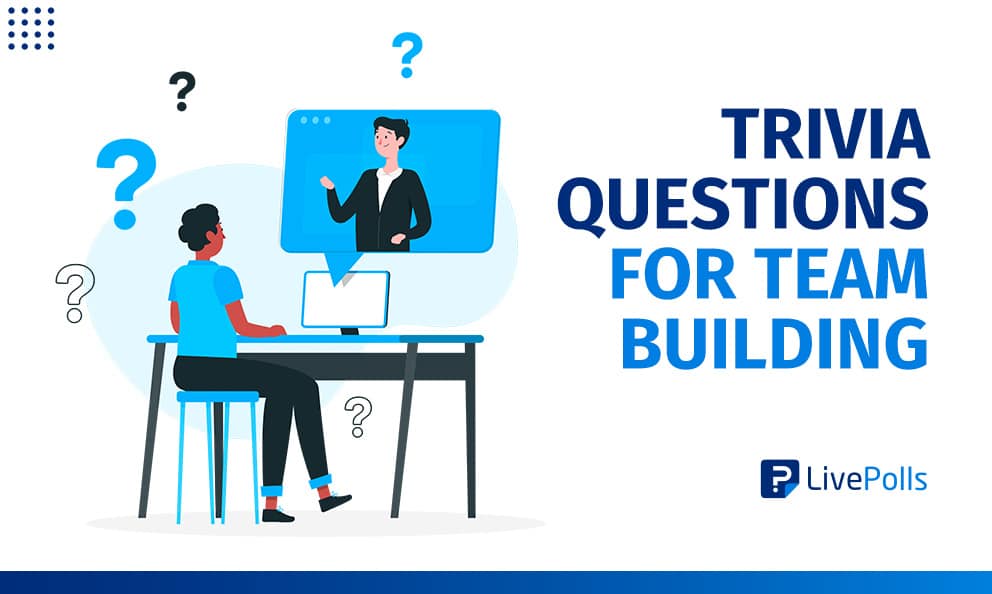 One of the best options to keep an audience interested is to make them part of it. We've gathered some trivia questions for team-building using QuestionPro's LivePolls.
The great challenge in most presentations is to convey the message clearly to the audience, which is only possible if we genuinely retain their attention. We must consider the different moments in the presentation to give attendees space to refresh their minds after a certain amount of information.
The attendants are bored when they begin to lose their attention at the slightest external stimulus, such as their cell phone or the conversation with the colleague next door.
What are trivia questions for team-building?
Trivia or poll questions for team-building are the questions we present in a online trivia game for better audience engagement in presentations, classes, or any gathering involving teams to build collaborative team skills and concentration, which should result in better work environments.
Trivia is a popular game-style set of questions about particular topics to challenge its participants into proving who's got more knowledge about the subject. It promotes fun and healthy coexistence among its participants.
The word "trivia" could be translated as "common," which explains why the game aims to reflect the common knowledge on specific topics. In this case, the goal is to promote work culture trivia and have fun with it while keeping audience engagement.
The benefits trivia questions for team-building
Difficulty connecting with your team members is common. Many teams, particularly those that are remote or work apart, struggle day in and day out to balance work, maintain morale, and strengthen bonds. Using relatable questions using facts about the work culture will enhance team spirit and improve the work environment.
The exciting thing about ice-breaking dynamics (such as trivia questions for team-building) to strengthen team spirit is that they increase productivity since team members work much better together. Team-building activities are great for fostering employee commitment to the company and fellowship in everyday work.
Icebreaker questions can be essential for virtual teams. If your team doesn't see each other in person regularly, use the start of meetings as a time to connect with virtual team members.
Trivia questions for team-building examples
Specific questions about the work culture can be created using inside jokes or anecdotes from the team or team members.
On the other hand, hypothetical situations can be created. Scenario questions ask about situations that will probably never actually happen but can be fun and very helpful in sparking new ideas.
To deeply strengthen team bonds, play a game of having the answers explained in detail. The team member who participates with the most passion will be the winner.
Icebreaker trivia questions about hypothetical situations examples:
If you could have a superpower, what would it be?
If you could take one word out of the dictionary, what would it be?
If you could be an animal, what would you be?
If you could control one element (air, water, earth, or fire), which one would you choose and why?
If you could watch only one movie for the rest of your life, which one would you choose?
If you could listen to just one music album for the rest of your life, which one would you choose?
If you were a potato, how would you like to be cooked?
The main factor to achieve great results in 2022 is that work is interesting and fun. Building team spirit is perfect for doing just that. Build lasting relationships and encourage team collaboration with icebreaker questions and activities to improve teamwork. And if the members of your team are encouraged, try to invent something yourselves.
LEARN ABOUT: This or that questions
Using QuestionPro's LivePolls for Team-Building
The best way to implement trivia questions for team-building is with LivePolls by QuestionPro, a user-friendly online polling tool that lets you conduct quick online quizzes, timed trivia, gather instant feedback, and show the results to participants in real-time at no cost.
LivePolls 2.0 is completely FREE and we have tons of new features coming your way. Claim your Free account now!