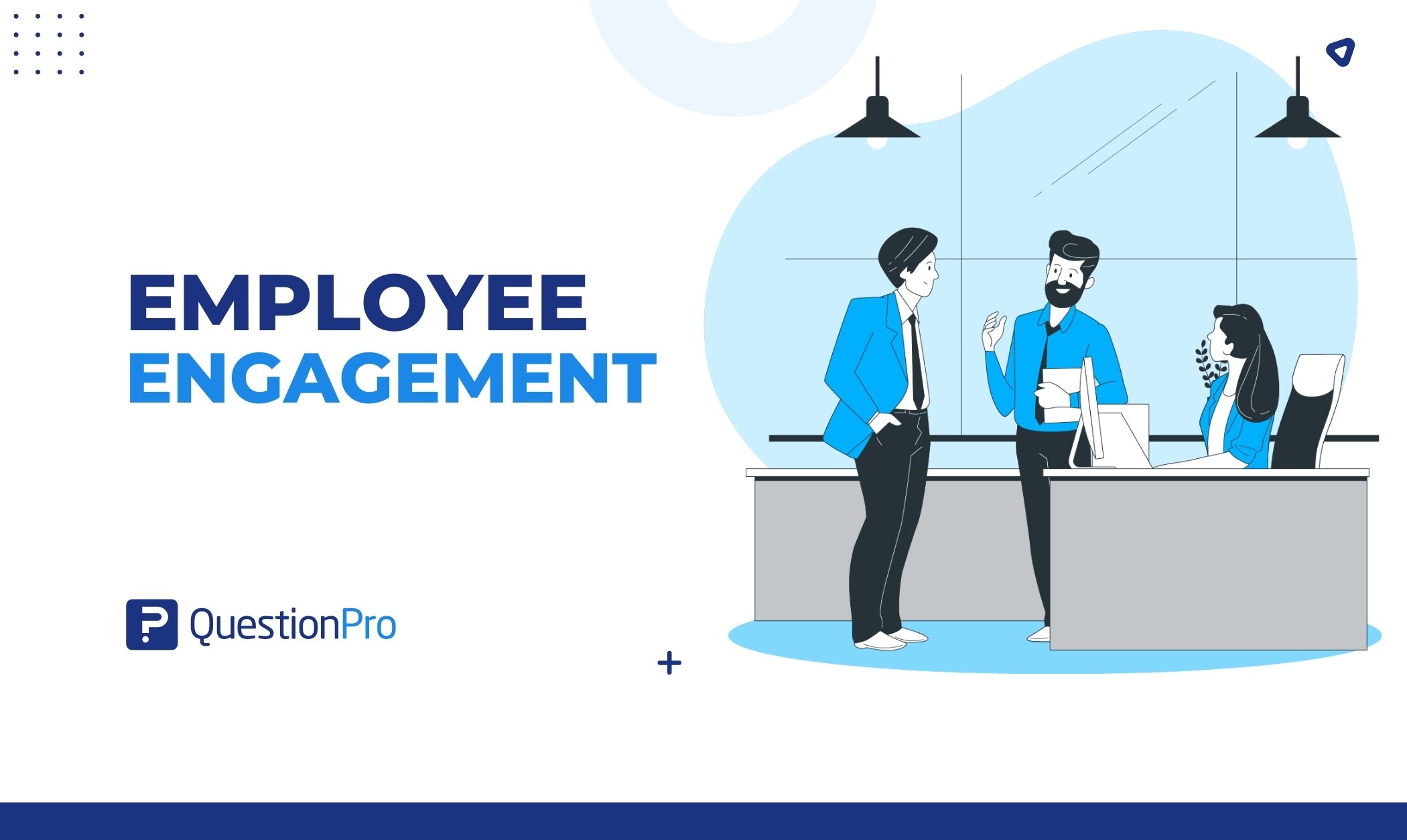 Employee engagement goes beyond being a buzzword; it's a strategic method that empowers you to forge a deep bond with your work. This connection brings numerous benefits to both you and the organization you're part of.
From elevated employee satisfaction to enhanced performance and a vibrant work environment, the influence of your engagement permeates every facet of your professional journey. As you delve into the realm of employee engagement, you unlock a space where you thrive, your team flourishes, and your organization achieves its objectives with newfound vitality.
In this comprehensive guide, you'll learn about employee engagement, its importance, measurement, strategy, and how QuestionPro Workforce helps improve it. Keep reading.
What is employee engagement?
Employee engagement is defined as the level of enthusiasm and emotional connection an employee has towards the organization. This means that the employee is eager and ecstatic to get up every morning and come to work.
Work becomes more than a routine when you're engaged. It's an opportunity to work with your coworkers, contribute to the company's goals, take on new challenges, achieve your own milestones, and assist your coworkers as they achieve theirs. In a nutshell, employee engagement measures how motivated you are to go above and beyond and how committed you are to staying with the company you work for.
Employee engagement isn't a program. Instead, it results from all the experiences you gather from the very first time you interact with your organization to when you decide to leave. It is shaped by the words you hear, the behaviors you witness, the actions you take, and the values and beliefs you come across (or don't).
The level of engagement you experience is closely tied to how leaders, managers, and supervisors facilitate those experiences. Every employee and function within the company contributes to employee engagement, making it clear that it cannot be something that HR managers only run by or look after.
Importance of employee engagement
Employee engagement is essential to the success of both employees and organizations. Here are some important characteristics that highlight its significance:
Enhanced Productivity and Performance
Engaged employees are fueled by a deep commitment and motivation. This strong dedication results in heightened productivity and exceptional task completion.
Their focus and enthusiasm, driven by engagement, lead to elevated performance levels that not only contribute to their personal development but also significantly enhance overall organizational success.
Improved Job Satisfaction and Retention
Employee engagement is directly related to work satisfaction. Highly engaged employees discover more fulfillment in their roles, which leads to increased happiness at work.
This sense of contentment directly influences the rate at which they choose to stay with the organization. As a result, turnover decreases, benefiting both employees and the organization by saving on expenses related to hiring and training new team members.
Fostered Culture of Innovation and Creativity
Engaged employees are more likely to offer innovative and creative solutions. Their increased interest and investment in their work encourage them to look outside the box. This innovative culture not only develops the careers of engaged employees but also contributes to the organization's growth and competitiveness.
Positive Work Environment and Collaborative Dynamics
Engaged employees contribute significantly to creating a positive work environment. Their enthusiasm and commitment are contagious, inspiring colleagues to invest in their tasks similarly.
Engaged employees tend to collaborate more effectively, support their team members, and collectively achieve goals. This dynamic enhances team morale and performance.
Alignment with the Organization's Mission and Values
Employee engagement builds up employees' connection with the organization's values and mission. Engaged employees understand the greater relevance of their contributions, which leads to a stronger sense of purpose.
This alignment promotes a harmonious interaction between personal and organizational goals, driving individual progress and the organization's impact.
Leadership Skills Development
Engaged employees frequently develop qualities of leadership. Their proactive participation, commitment, and readiness to take responsibility set a good example for their peers. This helps to establish a pool of future leaders within the organization, which aids in leadership development and succession planning.
How can you measure your organization's employee engagement?
Using an employee engagement survey is a great way to understand what employee experiences impact it. It helps you determine what employees think about your work culture, their intent to stay, and overall factors affecting their productivity.
HR managers and senior leaders can use this data to improve on existing processes and propose new ones. People engagement measurement tools are easy to use and come with a host of options to conduct, deploy, measure, and analyze.
Ready to create your own employee engagement survey? Here are the five things to keep in mind during the development process:
01. You can't just ask about engagement
While it might be appealing to ask, 'How engaged are you?' that approach won't be enough. You should incorporate queries that delve into the fundamental components of employee engagement—like the intention to stay, the willingness to exert extra effort, the feeling of connection, and the sense of affiliation.
By the way, we consider the employee Net Promoter Score (eNPS) a fantastic gauge for this. And it's as simple as one question: 'How likely are you to recommend someone you respect to join this organization?' How an employee responds speaks volumes about their level of engagement.
Engaged employees aren't solely productive; they're also your biggest advocates. A genuinely engaged employee always wants to endorse your organization to their close ones. Employee engagement isn't solely about performing well, having job opportunities, or enjoying a superb work environment. It encompasses so much more.
02. Don't do it alone
You'll find countless employee survey providers available. Some have stood the test of time, proving their reliability and validity. Your task is to conduct thorough research and choose the platform that aligns best with your organization's requirements. Take advantage of trial versions, familiarize yourself with the tool, conduct surveys, analyze reports, and then make your decision.
Engaging a reputable third party to measure staff engagement offers distinct advantages. Your employees will feel more comfortable knowing their responses are handled confidentially. When they sense anonymity, they're more likely to share candid feedback. While anyone can run a survey, opting for one rooted in scientific and statistical validity yields actionable insights. It's an investment that holds significant value.
The data you collect can be shared with management and various team leaders to refine employee engagement strategies and introduce innovative initiatives. This data will serve as a reference point for all future enhancements. Harnessing this information will simplify the assessment of the effectiveness of your new and improved endeavors.
03. Study drivers, not just outcomes
If you utilize employee surveys created by QuestionPro Workforce, you can employ their Driver Analysis to assess the factors directly impacting your engagement levels, whether positively or negatively. This analysis focuses mainly on understanding how your most engaged employees perceive their work compared to the rest of the workforce.
The outcome is a ranked compilation, ranging from most to least impactful, of the behaviors that are likely to improve employee engagement within your organization. While it might be tempting to attribute engagement solely to a particular event or process, it's important to keep in mind that employee engagement is influenced by a combination of factors rather than just one single element.
04. Benchmark, but not to a fault
Understanding how you compare to other companies holds significant importance. Your internal benchmarks hold even greater significance in this context. It would be best if you establish your own benchmarks and closely monitor your progress in relation to them. Your focus should be on identifying any positive momentum, regardless of how minor it may seem.
05. Prioritize
Your journey to engage employees begins when you, as recruiters, connect with potential employees. Have you reached out to candidates? Have you provided comprehensive details about the job? Did you schedule interviews? Who will be conducting the interviews? At this point, employees begin observing various aspects of your organization.
Even though you might not realize it, right from that moment, prospective employees start assessing your company and deciding whether they would want to join if they're selected. Their subsequent experiences play a significant role in onboarding, interactions with management, performance reviews, and more. It's crucial for you to identify where employee engagement might be declining or increasing. Only then can you take the necessary actions.
Assess whether it's during the pre-hiring phase, onboarding, or elsewhere, and prioritize your engagement efforts accordingly. This approach also allows you to understand what strategies are effective and which ones aren't and pinpoint the timing of their implementation.
Tailor your surveys accordingly; this will give structure and direction to your survey and engagement initiatives. It's better to start small and in batches than do it all together.
How can you ensure employee engagement is positively high?
As a leader or manager, your role is crucial in effectively promoting organizational engagement. Consider the following aspects to ensure your team's staff engagement remains high.
Goals and plans for employee engagement
It's crucial for you to establish and oversee your own goals while also ensuring they align with the organization's goals. Your goals should be both ambitious and attainable, and it's important to effectively communicate the significance of aligning your individual goals with those of the organization.
As a leader or manager, you possess your own visions and strategies; it's essential to be open about these and welcome input and suggestions.
Crystal clear expectations
You need to ensure that whatever expectations you or the management team hold are effectively communicated to the entire team. This step is essential to prevent any potential discrepancies, problems, or feelings of discontent from arising later on. In your journey of maintaining employee engagement, remember that keeping communication clear and open is absolutely essential.
Allow your employees to share their ideas and suggestions openly. Grant them the autonomy to explore projects of their choice and develop the skills they seek. Encourage them to lead important meetings and discussions, recognizing that mistakes can be valuable learning experiences.
Employee churn impacts every company, regardless of the industry you operate in. Numerous factors lead to employees departing from your organization. It's essential for you to engage in conversations with them to grasp these reasons.
By doing so, you have the chance to retain these valuable team members. Even if employee retention isn't feasible, you can still take steps to prevent future attrition effectively.
Why should you conduct employee engagement surveys?
Surveys are an effective tool for measuring employee engagement in your company. To create and conduct surveys, you can use online survey generator tools. These tools also provide detailed reports, allowing you to make well-informed and timely decisions.
Here are the reasons why you should conduct employee engagement surveys:
01. Determine the level of employee engagement.
You can effectively assess the engagement levels of your staff by directly collecting responses from them. The feedback you receive is genuine, and when you act on it, your employees will be passionate about participating in surveys.
02. Acting on feedback increases employee engagement.
Be open to your employees. Simply conducting surveys isn't sufficient; you must genuinely listen to them and take action based on their feedback. When they observe that their suggestions, ideas, and concerns are being addressed, they will become more willing to express their thoughts
03. Get results, take corrective action
After you gather the data you require from your surveys, it's important to take corrective action wherever it's needed. You should also initiate new employee engagement programs and conclude old ones as necessary. It's crucial that any actions you take after the surveys are visible to all of your employees.
04. Track organizational changes and growth
While many companies conduct surveys only once or twice a year, we recommend that you consider conducting them more frequently. Regular surveys will assist you in staying updated on new developments, which are crucial for your understanding of the organization, your employees, and more.
Would you like to check out our recent blog about employee engagement survey questions? It covers the areas to address, question types, how to formulate these questions, and much additional information.
Employee engagement strategy
Your employee engagement levels directly impact your workforce's productivity, experience, and retention. It's essential for you to monitor these standards consistently. Here are five quick ways you can employ to improve employee engagement levels:
01. Use an actionable survey
When your company runs an employee engagement survey and asks for your opinion, you hope that your responses will result in significant actions and improvements. However, many organizations collect data that isn't useful or meaningful, resulting in frustration. The issue often lies with the survey itself.
With QuestionPro Workforce, you have access to pre-designed questions that not only ensure the capture of relevant data but also allow for year-on-year benchmarking. You can choose from a number of premade surveys and questions that suit your specific requirements.
02. Bring the change locally
Significant changes happen in your local environment. Many businesses fail to recognize that genuine employee engagement is built into the very essence of their organization. You and your colleagues collectively possess it.
Making minor modifications on a smaller scale is also more manageable, allowing you to replicate your business outcomes on a larger scale. The successful tactics in your local environment can be extended to other branches or offices of your company.
03. Start building engagement during the recruitment process
The experiences you go through during the recruitment process leave a lasting impact on your future level of engagement. Remember, these experiences stick with you. Ensure that you provide them with the appropriate experiences right from the start.
As the saying goes, you only get the opportunity to create a first impression once.
04. Empower your managers to increase employee engagement
Allow your managers the freedom to foster employee engagement most effectively. As they are the ones closest to the employees, they have the most profound understanding of their experiences. If the process of making decisions or obtaining approvals becomes a source of stress for them, they will struggle to bring about substantial or lasting change.
Consistently communicate with your managers, gather their insights, and inform them about the feedback that is being gathered. Collaboratively addressing these matters will significantly enhance workforce engagement.
05. Stay on the path
Be realistic about the levels of employee engagement you aim to achieve in your organization. Don't anticipate immediate results. It requires time, intention, and persistence on your part.
Consider your staff engagement, workplace culture, and employee experience strategies integral to your business operations. If you truly prioritize this aspect, as you claim, then your organization should maintain a consistent focus on it —each and every day.
We recently published a blog that talks about staff engagement ideas and activities; why don't you check it out for more ideas?
Top tips to improve employee engagement
Here are some actionable tips you can use to improve employee engagement and create a more engaged and productive workforce:
Effective Leadership: Be a supportive, empathetic leader for trust and commitment among your employees.
Clear Communication: Allow your employees to share their thoughts and feedback through open communication. It builds transparency and trust.
Recognition and Rewards: Recognize your employees' accomplishments with a robust program. Recognizing their efforts often boosts morale.
Professional Development: Offer growth opportunities through training. It shows you care about your employees' careers.
Meaningful Work: Help your employees understand how their work contributes to your organization's purpose. Align tasks with their abilities and interests wherever possible.
Feedback Mechanisms: Create a feedback culture by encouraging regular performance discussions. Constructive feedback improves and values employees.
Work-Life Balance: Respect your employees' personal time to promote work-life balance. Avoid giving them too much work or impractical deadlines.
Inclusive Environment: Create an inclusive environment where all employees feel respected and valued for their unique contributions.
Wellness Initiatives: Prioritize employee wellness programs that address physical, mental, and emotional well-being. Provide stress management and work-related support.
Empowerment and Autonomy: Trust your employees to make decisions within their roles. Empowering them fosters ownership and a sense of accountability.
Using QuestionPro Workforce to Enhance Your Employee Engagement
QuestionPro Workforce – The Employee Engagement Platform is the most comprehensive employee engagement software, packed with a suite of employee engagement survey analytics.
This platform lets you measure employee engagement in your organization by using different employee engagement measures, such as Weekly Pulse to measure employee mood and morale, Organization Health Index (OHI) to compare employee engagement measurements with other companies in your domain or work environment, and more.
Using QuestionPro Workforce to increase employee engagement can be a successful technique. Consider the following measures to utilize its potential fully:
Exploring Survey Design and Distribution
When you start using QuestionPro Workforce, you'll discover tools that enable you to create compelling surveys. These surveys are designed to assist you in understanding employee sentiment and satisfaction levels and pinpointing areas where improvements can be made.
Developing Meaningful and Relevant Questions
With QuestionPro Workforce at your fingertips, you may generate questions with true meaning. You can customize your inquiries to gather information on various aspects of the workplace that directly impact employee engagement.
Tailoring Surveys to Specific Employee Groups
As you explore QuestionPro Workforce, you'll discover its capability to segment your workforce effectively. You can customize surveys to match various departments, roles, or experience levels. This ensures that the feedback you receive is directly relevant and actionable to each distinct group within your organization.
Gathering Actionable Feedback
When you're collecting feedback, take advantage of the analytics available on the platform. Utilize them to interpret the feedback you've received. This enables you to spot trends, pinpoint areas of concern, and discover chances to improve organizational engagement.
Implementing Strategic Changes
As you use QuestionPro Workforce analytics, you can develop strategies that directly address employee concerns and increase engagement levels. Making data-driven decisions allows you to implement improvements that truly connect with your employees and promote positive transformation.
Recognizing the importance of employee engagement and improving it not only shapes your professional journey but also contributes to the collective success of your team and the entire organization.
If you want to explore how QuestionPro Workforce can transform your employee engagement initiatives, book a demo.