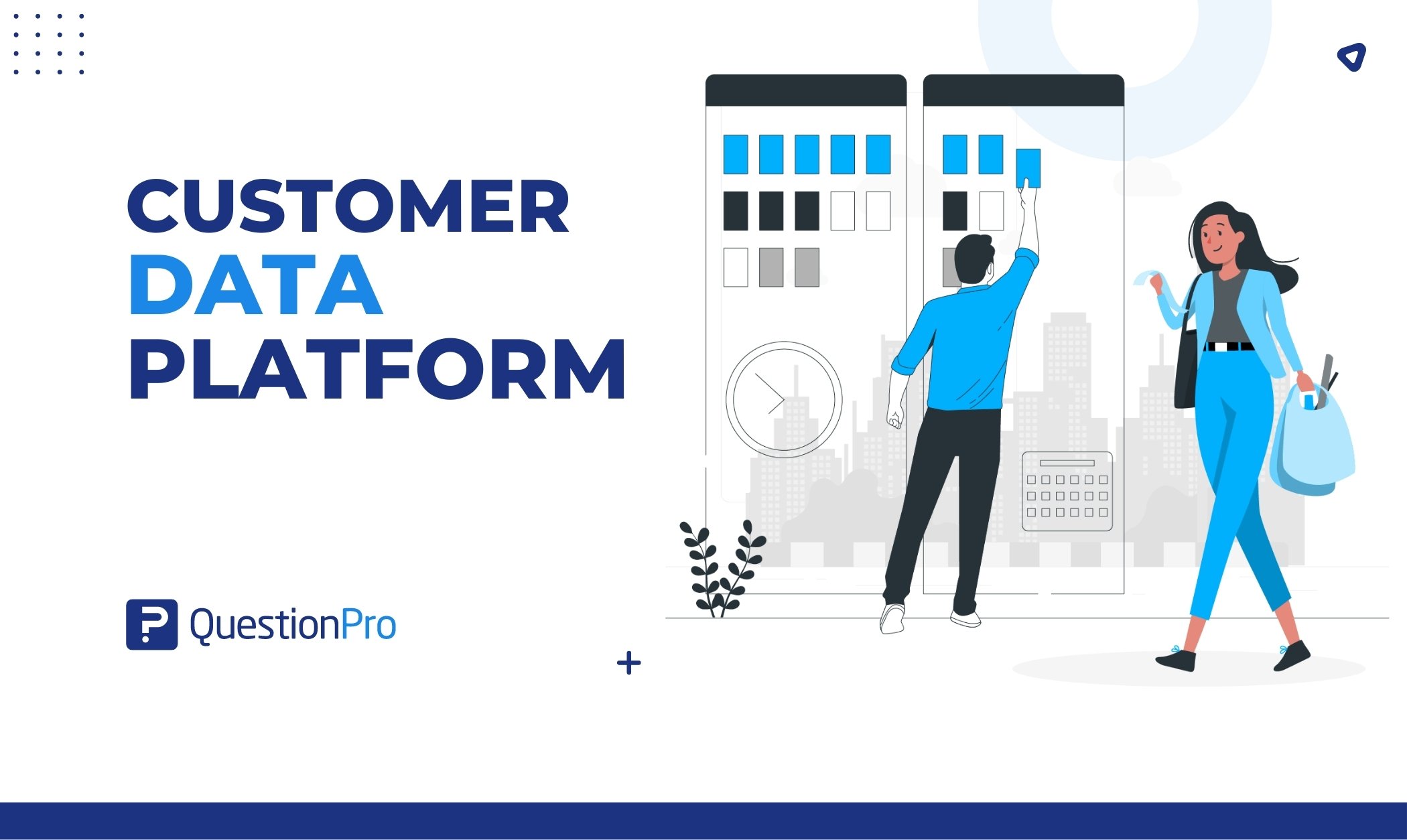 In today's digital age, organizations acquire massive volumes of data from various sources, including websites, social media, email campaigns, and more. This data can help companies understand customer behavior, tastes, and needs. However, maintaining and making sense of this data can be difficult. This can be facilitated via a customer data platform (CDP).
In this blog post, we will discuss what a Customer Data Platform is, its benefits, and how it can be used efficiently.
What is a customer data platform?
A Customer data platform (CDP) is a centralized software system that allows businesses to collect, organize, and analyze customer data from numerous sources.
It delivers an organized summary or analysis of customer data, allowing enterprises to acquire a holistic awareness of their customers across multiple touchpoints and interactions. Unlike traditional data management strategies, a CDP is created with marketers in mind, providing easy access to data without the need for technical skills or assistance from IT staff.
LEARN ABOUT: Customer data management
How Does customer data platform Work?
A Customer data platform (CDP) collects, unifies, and activates customer data from several sources. Here is a step-by-step explanation of how a CDP works:
Gather and combine all first-party data
Many of the channels that marketers use, like email, analytics, CRM, shopping, and social sites, work in silos and don't share data. It's hard to see the whole picture and even harder to figure out what it means.
A customer data platform connects various marketing platforms and provides only one point of truth for first-party customer data to solve these issues.
You may also check out this guide to learn how to build your own Customer Journey Map.
CDPs manage data flow between marketing platforms and manage consent to protect first-party data and customer privacy. In the world of GDPR and data privacy, your business needs to actively handle consent and data flows and keep records of how it does so.
After getting approval to collect first-party user data and put it into profiles, you can do something with it. CDPs can help you divide your audience into groups you can use on your other marketing platforms and channels.
CDP vs. CRM vs. DMP
CDP, CRM, and DMP all have to do with managing customer data, but they all do different things and serve different reasons. Here's how CDP, CRM, and DMP compare:
Focus: CDP gives an overview of customer data for customized marketing. CRM is concerned with managing customer relationships and interactions. DMP focuses on anonymous, third-party data aggregation and segmentation for advertising purposes.
Data usage: Customer data platforms use customer data to create targeted marketing campaigns and improve the customer experience. CRMs primarily manage customer contacts, sales processes, and customer support. DMPs use data to segment and target audiences in advertising campaigns.
User audience: CDPs are intended for marketers and non-technical users who require access to customer data. CRMs serve sales, marketing, and customer service teams. DMPs are typically utilized by marketers, media agencies, and publishers participating in digital advertising campaigns.
Learn more about why understanding your Customer Journey transforms your CX program.
Benefits of a customer data platform
A customer data platform (CDP) provides several benefits to businesses that use it successfully. Here are some important benefits of employing a CDP:
This is where a customer data platform truly shines. The CDP usually transforms random, disjointed collections of names, email addresses, and purchase history into valuable, actionable data that updates dynamically in real-time by breaking down data silos.
Enhanced customer segmentation
With a CDP, a business can better divide its customer base into groups. Marketers can build precise customer segments based on demographics, purchase history, engagement patterns, and other relevant factors by using the platform's rich customer data.
This segmentation makes it possible for marketing efforts to be more targeted, messages to be more personal, and tactics to get customers more involved to work better.
Ensuring data protection and privacy
Brands need customer trust more than ever due to data breaches, GDPR, and CCPA enforcement. CDPs centralize data, create complete and up-to-date consumer profiles, and make them available in real-time to help organizations comply with data protection and privacy laws.
This unified method protects you and your customers from dangers and allows businesses to easily do data audits when required.
Improving customer lifetime value
Customer lifetime value (CLV) is a customer's total value to a brand. Since it costs much more to gain new customers than to keep existing ones, brands should take care of their existing customers by providing engaging, loyal experiences.
A CDP uses predictive analytics to identify customers with high value and deliver the most relevant, customized customer experiences that differentiate your business from the competition and boost customer retention, loyalty, and CLV.
Customer data platforms improve customer acquisition and retention by providing personalized omnichannel experiences. According to McKinsey, personalization can lower acquisition costs by 50%, increase revenues by 5% to 15%, and improve marketing spending efficiency by 10% to 30%.
Usage of customer data platform
Modern marketing uses custom data platforms like brains. They collect and process data 24/7 to better customer communication and advertising and marketing results. Below are some CDP advertising and marketing application scenarios.
The financial and qualitative data that a CDP can collect makes it possible to increase sales through cross-selling and upselling. For instance, you can give customers a discount code or suggest goods that fit their lifestyle and interests.
Understanding your brand and offering
Customers who have interacted with your business in the past can get more relevant content. CDPs use identity data (like a person's name) and behavior data (like areas of interest) to personalize content.
Utilizing social media's community
A customer data platform lets you divide the people you want to reach into a lot of different groups or parts. You can use this information to get the attention of potential customers on social media and get them interested in what your brand is doing.
If the number of times a customer interacts with your brand goes down, it could mean that the relationship between your business and the customer is getting weaker. You can find these people using a CDP and send them personalized messages that will help rebuild and improve the relationship.
Customer behavior prediction
You can constantly expand your customer profiles and improve your marketing messages by using predictive data (e.g., the chance of purchase, churn, visit, email open).
Conclusion
A customer data platform collects, segments, and activates audiences. It gathers data from mobile apps, web services, CRMs, e-commerce sites, CSV files, and API connections. A CDP gathers information from a variety of places, including mobile apps, web services, CRMs, e-commerce sites, CSV files, and API integrations.
The software combines all data forms into one and organizes customer information.
Customer Data Platforms provide the speed, precision, and unity required to keep our businesses aligned, our marketing inspired, and our consumers engaged. Consider the top CDP software alternatives to take your marketing to the next level.
QuestionPro CX, a customer experience management platform, can also be used as a CDP. QuestionPro CX collects, manages, and analyzes customer information from many touchpoints. It centralizes customer feedback, survey results, and other data sources, giving businesses valuable insights into customer preferences, behaviors, and sentiment.
QuestionPro CX's rich reporting and analytics tools help businesses understand customers and make data-driven decisions to improve customer experiences and grow. So, contact QuestionPro today for better customer data management software.
Frequently Asking Data
Where can the customer data platform get its data?
Answer: Websites, mobile, social media, marketing and sales platforms, CRM, e-commerce, second and third-party sources, and more. Before saving data, it cleans and enhances it.
What is the purpose of a customer data platform?
Answer: A customer data platform (CDP) is a marketing platform. It collects and combines first-party customer data from several sources to create a single, consistent, and full image of each customer.
Who uses the customer data platform?
Answer: A marketer or advertiser is a common user of a customer data platform.