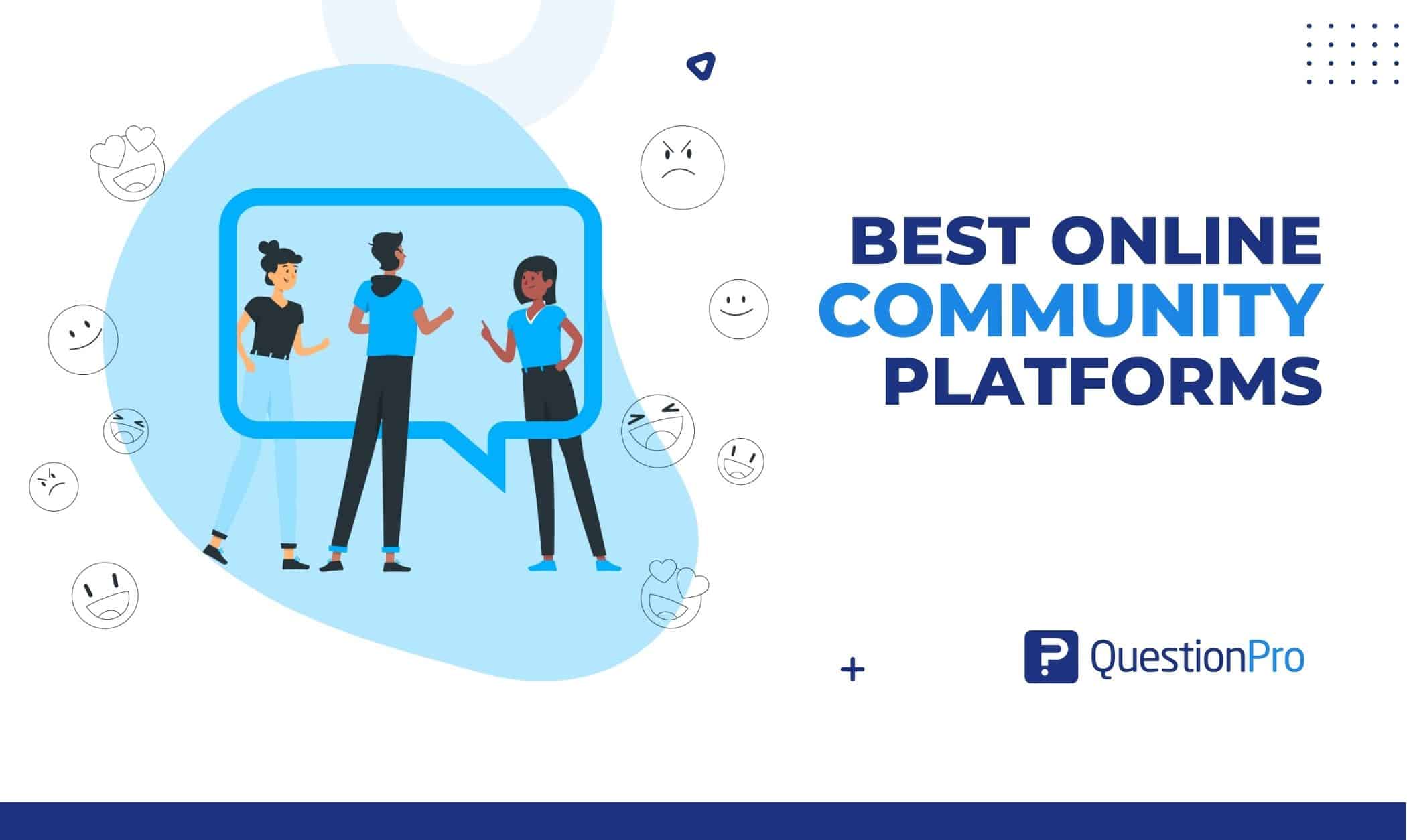 Many businesses have realized the potential of online communities for cultivating client connections, offering varying levels of assistance and support, and increasing engagement with their target markets.
The best online community platforms are adaptable, employ cutting-edge design principles, are simple to use, and have strong gamification and moderating features. By handling hosting, maintenance, and security, it can also scale by expanding the number of members and providing a smooth experience.
This blog will describe the 10 best online community platforms in 2023 and why you need them to make your communication easier.

Content Index
What is a Community Platform?
A community platform is a specialized piece of software that hosts and supports online communities. With its features, you should be able to manage not just the community's creation but also its membership, interactions, and other internal communications.
"Community" in this context refers to an interactive online setting where people with similar interests come together to communicate with you and with one another through tools like messaging and discussion boards.
In particular, around a shared issue or theme, community members get to exchange ideas, resources, feedback, thoughts, and concerns.
For example, the popular WordPress community brings users and developers worldwide to discuss and share viewpoints on various WordPress-related topics. Their efforts over time have been crucial to developing the WordPress platform.
The best online community platforms make providing that kind of value easy. They aid in creating and upkeep communities centered around your knowledge-based enterprise. Consider it a technique to keep prospects and students for your course interested and buzzing.
Importance of online community platforms
Because online community platforms satisfy one of the most fundamental needs of humans, social connection, building, and maintaining online communities will only grow more crucial.
However, creating a membership website or community platform from scratch with your own brand is rarely a good idea. Why not use one of the many online community platforms available instead of exerting the time and effort necessary to establish and maintain your own?
To create the white-label solution you want, frequently without any coding needed, you can use an open-source or for-profit third-party community platform (with a free plan for testing).
The 10 best online community platforms in 2023
There are many suitable platforms, but choosing the best online community platforms depends on what users need and what they prefer. Each choice will be better at some things (like real-time chat) and less effective at others (e.g. higher logic structure).
What are the best online community platforms? Here are 10 suggestions that could be useful to you.
QuestionPro Online Community Platform
You will effectively engage your consumer community with the help of QuestionPro's online research community platform. Handling over 50+ question types, from simple and complicated surveys to logic, branching, and more.
Connect with your passionate customers and gain useful feedback from them. Reward your loyal customers with interactive points, gamification badges, cash, and donations.
Collect data, run reports, and analyze across mobile and desktop platforms to get the "pulse" of your online research community. Create presentations and reports.
Features:
Centralized community web portal
Panel management software
All-in-one dashboard
Qualitative solutions
Mobile integration
Social media integration
Gamification and rewards
Multilingual capabilities
Brand research communities
Price: QuestionPro has more than 80 functions and is free. Starting monthly at $99 are premium plans. There is a trial with premium features available.
Thinkific
You can check out Thinkific if you've considered building an average online course community. It's not easy to define fairly good online community platforms, but this one could be considered one of them.
Thinkific is a platform for developing, planning, and marketing online courses that are also simple. You may start with a well-designed template and alter it using a drag-and-drop editor.
Features:
Communities and courses at one location
Customization using white labels without coding
Start right away
Price: It seems a free plan is offered; paid plans begin at $99 per month.
Tribe
Check out Tribe if you require a white-label platform for an online community. Using this, you may create and a platform for your brand's audience.
It's simple to add and modify aspects of the website to suit your demands, from the design to the domain or additional widgets.
The members of your community can join groups, submit messages, and participate in debates. They can connect to the site with their current social media logins and will have access to their own activity stream for updates.
The user-generated content on Tribe is already optimized for social sharing and search engine optimization (if made public). Additionally, they serve as discussion moderators to keep all conversations relevant.
Features:
No-code editor
All users can log in easily
Clear permissions through member roles
Price: Depending on the number of participants, monthly costs range from $59 to $599.
Mighty Networks
Check out Mighty Networks if you are an online creative creating a community for your brand.
With the help of this community platform, it is simple to invite people to a discussion about any of your offerings, including ebooks and online courses. Adding to the strength of your community, allow members to post and chat together.
A simple-to-use CMS makes it simple to generate new posts, which can contain a variety of media, including pictures, videos, music, and surveys. Through mobile apps or the web, users can interact with your content.

Features:
Your community files can be stored unlimitedly.
Create and market online courses
Direct messaging between participants
Unlimited administrators and members
Price: Depending on whether you require online courses, a monthly cost of $33 to $99 is possible.
Facebook Groups
Facebook groups are another well-liked and difficult-to-resist option for creating an online community. You can consider it one of the best online community platforms out there.
Regardless of their demographics, most people who frequently use the internet have a Facebook profile. Because of this, selecting Facebook Groups as a new community platform is simple.
There aren't many customization options, but you can add a header, and forum rules, let users post, upload multimedia assets, and control how the forum is used.
Groups on Facebook are free. The drawback is that if they go to the group directly, most members will see every group post in the activity feed. As a result, Facebook Group member participation is typically relatively low.
Features:
Easy and simple to begin and moderate
There's no need for users to create several profiles.
Price: Freedom to create and take part
Discourse
Discourse is leading the pack among open-source community platforms. To create the desired features, you can modify the codebase however suitably.
Discourse, on the other hand, is a powerful platform out of the gate. Users can post, message, share content, and perform other functions. Organize topics and conversations, designate moderators, and more to create a community.
Discourse's automatic spam and troll filtering tool is a handy power feature.
Features:
APIs that are versatile and open-source
Available social media logins
Highly effective automated moderating
Price: Discourse self-hosting is free, whereas managed hosting ranges from $100 to $300 per month.
Vanilla Forums
Businesses can link their clients with one another using the community management platform offered by Higher Logic, Vanilla Forums.
With HTML and CSS, you may easily alter the appearance of this forum software. In addition to mentioning one another, users can post comments, questions, and polls.
You can simultaneously manage several sub-communities on Vanilla Forums as a business and designate community admins to oversee moderation. Each forum may be tailored to achieve a particular objective: a knowledge base or a place for Q&A.
Features:
Personalization with HTML and CSS
Features of a flexible community
Price: It starts at roughly $600, although the sales team can provide precise figures.
Circle
The website for Circle exudes a sense of tranquility and organization. However, the platform's straightforward design doesn't diminish the strength of its feature set.
With a unique domain name, Circle makes building your brand-specific community simple. Wikis, forums, FAQs, Q&As, and app connections may all be added rapidly. There is a mobile app to ensure that your community can always stay connected.
Even for small internet enterprises, the Circle membership site is still reasonably priced while not being free.
Features:
Stunning interface
A mobile app
Included are most community features.
Price: Depending on the number of members, administrators, and storage needs, anything between $39 and $399 per month.
Hivebrite
Hivebrite is an alumni network community platform that's expanding into new use cases. It has branded mobile apps, job boards, and student-alumni subgroups. Data and analytics are included in its content management system.
Hivebrite's in-person event management system includes calendars, invitation emails, ticketing, online payments, and social network integration. Finally, donor survey campaigns are possible.
Hivebrite doesn't have a virtual event feature, so you'll need to use separate software to bring alumni together for virtual meetings, coffee hours, or training sessions.
Features:
App for alumni networking
Specialized groups
Custom feeds and a CMS
Management of live events
Statistical analysis
Price: Hivebrite only offers a demo and trial. The base package is $500 per month.
Slack
Slack is a simple way to create any online community and is not just for corporate chats. Probably, one of the online groups you participate in has already invited you to join a Slack group.
You can build channels to keep different topics neatly arranged and send direct messages to other users. The lack of customizing options and the absence of functions besides chat are drawbacks.
Slack is often a decent option for individuals wishing to maintain a dialogue within their community but not much else.
Features:
Unlimited number of participants
An organized channel
Likely, most people already have a Slack login.
Price: A generous free plan and options that start at $6.67 per month per user are available.
How can QuestionPro Online Research Community Platform help you in your business?
QuestionPro Online Research Community Platform is one of the best online community platforms in 2023. It lets you smartly interact with your customer community and increase customer loyalty. The platform supports more than 50 different types of questions, including simple and complex surveys, logic, branching, and more.
With this platform, you can understand your target audience and customer needs. Also, you can strengthen your relationships with customers, uncover critical business drivers, and improve your sales processes.
Increase customer trust, brand loyalty, and customer engagement with the QuestionPro research community platform. Cut through the noise to quickly qualify sales leads, understand your target market, and optimize your messaging. Find out how:
Centralized community web portal: All these things are built into one web portal for a community: a way to communicate, tools for getting people involved, analytics, and dashboards.
Panel management software: Utilizing built-in panel administration tools, create and maintain your research panels. You can send surveys and other emails to selected groups on your panel.
All-in-one dashboard: From a single dashboard that provides quick community insights, get a quick overview and keep track of the community's health.
Qualitative solutions: With the help of a mobile and online community platform, you may attract members and comments from all spheres.
Mobile integration: Allowing mobile users with any device to have real-time access to the discussions, reports, and surveys on your community web portal.
Social media integration: Users of your platform for an online research community can update their status via Facebook, Twitter, and LinkedIn.
Gamification and rewards: Our online research community platform offers a variety of rewards to reward customers and promote on social media.
Multilingual capabilities: Supporting 50+ languages, including Right-To-Left Arabic and Hebrew and double-byte Chinese and Japanese.
Brand research communities: Customize the community web portal's online research community page theme and user experience.
Conclusion
Creating a group to share common interests is challenging, but QuestionPro is here to make all the hard work fun and possible. Taking the time to research platforms and assessing what works best for your research needs is oftentimes imperative and a key step in the research process.
Various excellent options exist for creating and maintaining a top-tier online community platform. Many communities highlighted above are designed for a particular use case or specialized community. QuestionPro Online Research Community Platform is one of the best online community platforms.
Recognize the requirements and expectations of your customers. Make wise business decisions using QuestionPro's online research community platform, always based on precise real-time analytics data.
We believe in maximizing every opportunity to make accurate business decisions. QuestionPro is here to help you via a community platform that provides data insights so you always know which audience group to target based on precise real-time analytics data.