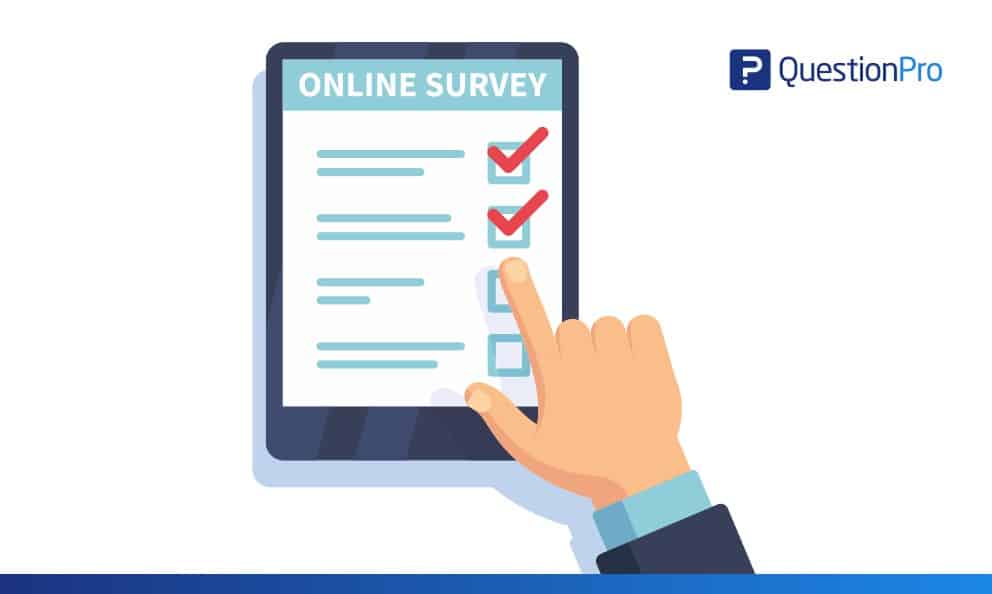 Gathering feedback is a way to know what your audience thinks about you. One of the ways to collect feedback is by conducting a feedback survey. Feedback surveys are used extensively before sales while doing market research and after the sales. The customer feedback survey helps you to listen to the voice of your customer and understand how was the experience while using your products and services. Many market researchers believe that it is an art to write a customer feedback survey.
So let's delve deeper!
Steps to create a customer feedback survey
Creating an online feedback survey consists of three simple steps.
Design the survey
Send the survey
Analyze the survey
Optionally, depending on the kind of feedback you want from customers, there can also be a brainstorming session with various teams to decide upon the list of questions. This step is important when there are multiple stakeholders of the survey results.
Design the survey
Designing an online feedback survey consists of two steps: creating a list of feedback questions and changing the theme.
QuestionPro offers a very easy-to-use UI using which organizations can create a wide range of customer surveys. Users can generate flexible surveys by keeping certain fields mandatory for respondents and the others optional, ensuring that important questions are answered within the survey. Using branch logic, users can customize the flow of customer feedback surveys based on the answers they give. You can also put quotas to limit the number of responses for any question or option.
To create a customer feedback survey, log in to your QuestionPro account.
Click on Create Survey and enter the survey name.
If you don't want to create a customer feedback survey from scratch, you can use a ready-made survey template made by our experienced professionals.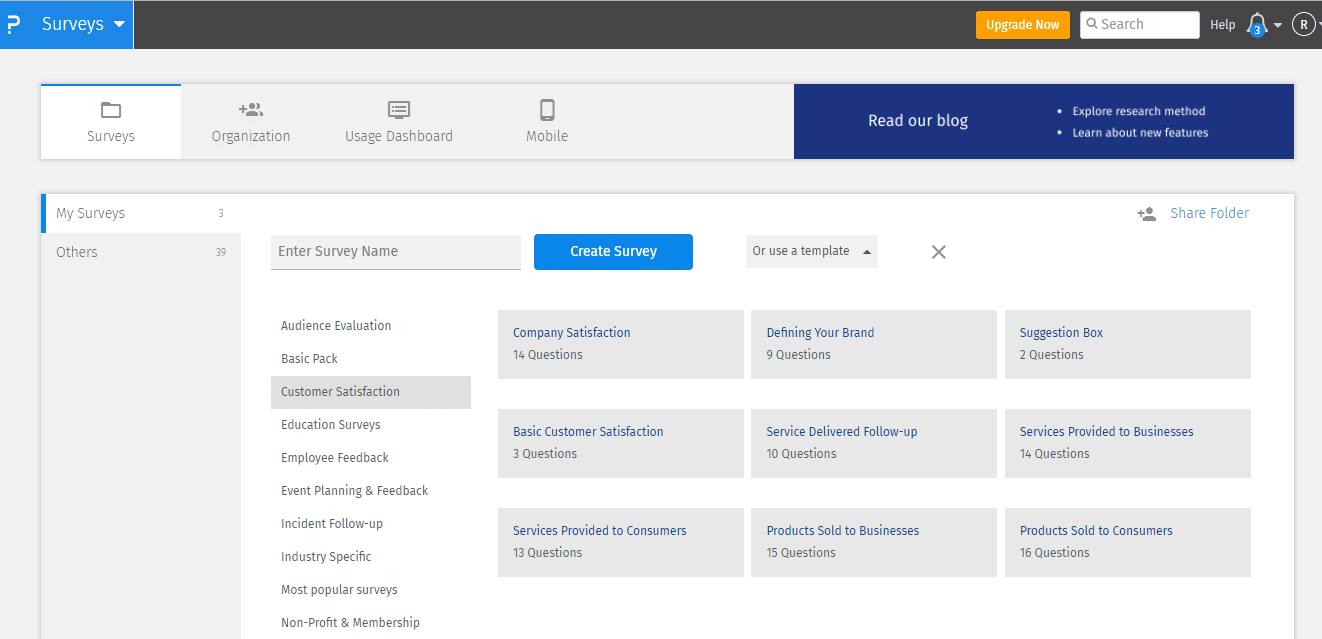 Customer Feedback Survey Templates
Create a list of questions
You can design your own survey questionnaire using various question types provided by the survey software or use free ready-made templates that suit your business requirements. In either case, you will be able to customize its workflow. In  Net Promoter Score (NPS) questions, customers can give a score from 1 to 10 for various features of your products and services. Such questions can help you identify promoters, passives, and detractors. Based on the score they give, you can analyze their feedback to understand the improvement areas, blind spots, and their concerns.
After creating a survey, add the title of the survey. To create a list of questions, click on the Add Question button. Alternatively, you can also import questions from the Microsoft Word file. To add a default introduction, click on Add Intro.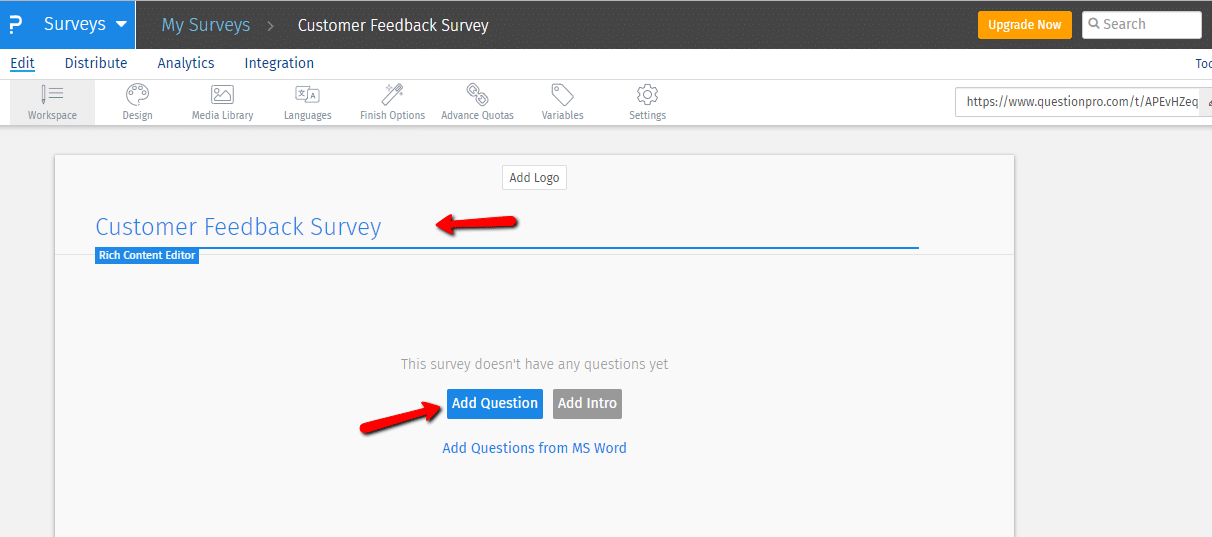 While you add the question, you can see the preview text on the right side of the panel.

To add logic, click on the logic tab of the question. Depending on the logic type, you can set various jump, calculation or display conditions.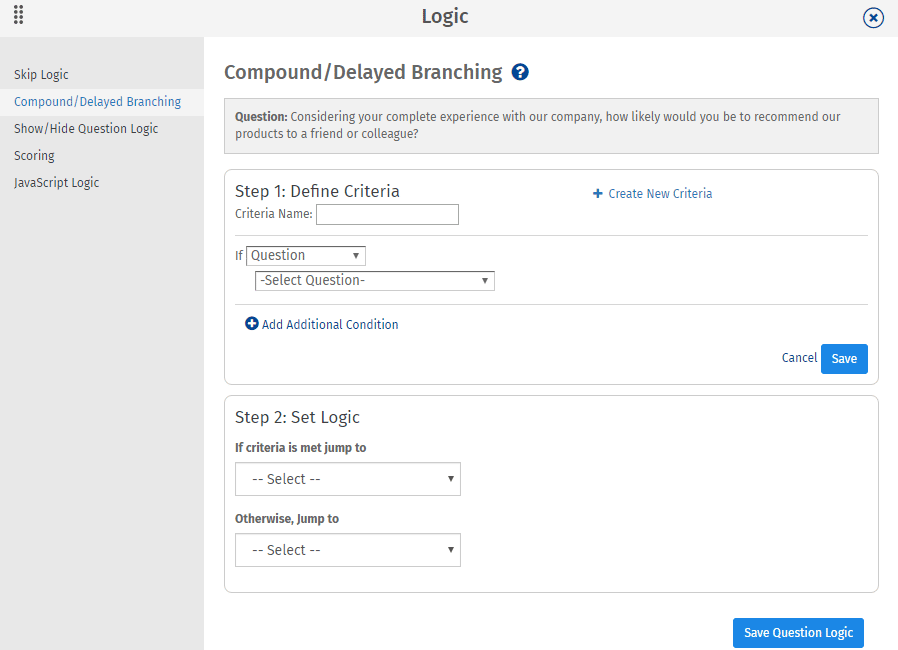 Change the theme
Choose from ready-made professional survey themes and customize it keeping your customers and brand voice in mind.
To edit the theme, click on the 'Design' tab.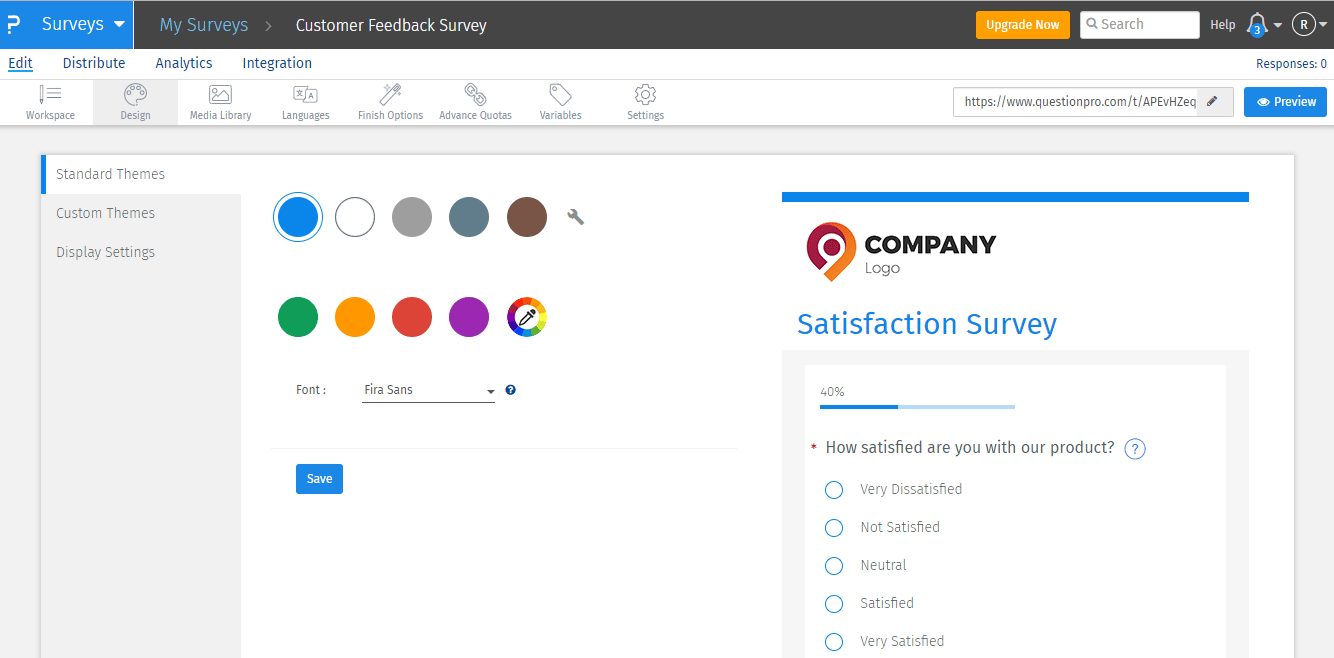 Once you are done creating a list of questions, you can change the language as per your choice.
If you want to reward your respondents for sparing time and answering your online customer feedback survey, select rewards in the finish options.
LEARN ABOUT: Top 12 Tips to Create A Good Survey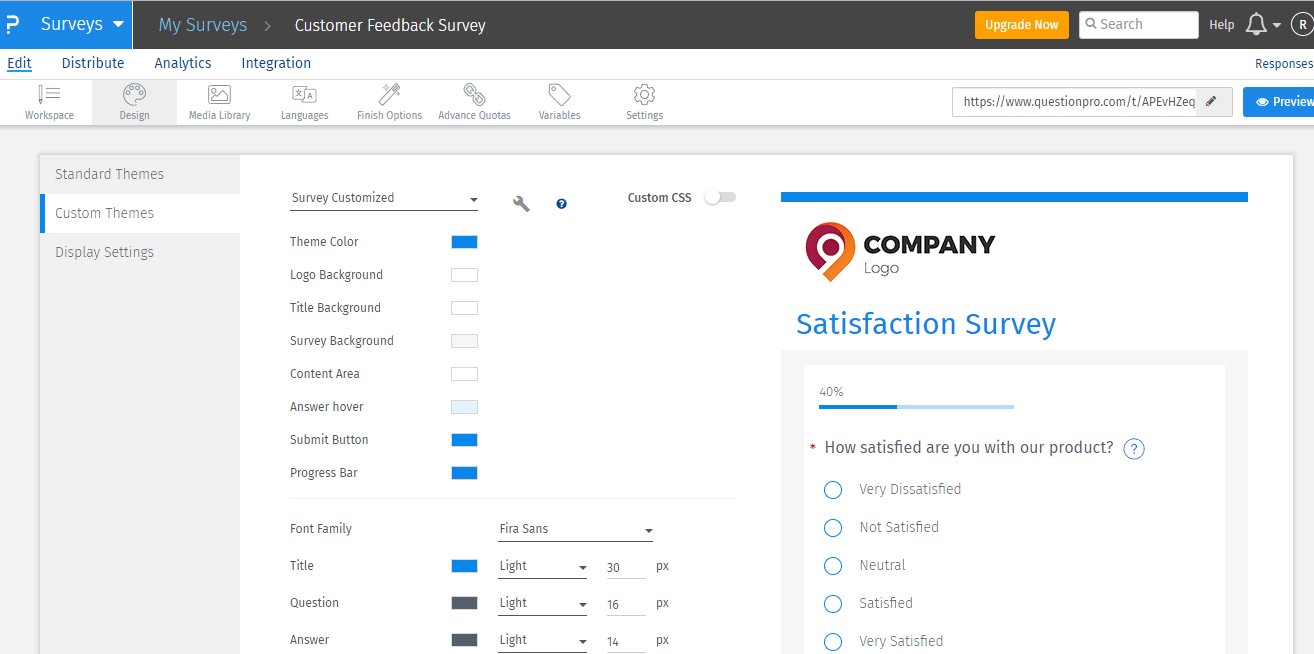 Learn more: How to write a customer feedback survey
Distribute the survey
The customer feedback survey must be distributed to the audience such that they cover various demographics and satisfy different business criteria. QuestionPro surveys can be distributed via email, SMS, website, social media, QR code, or mobile app. Because of such a variety of channels, it becomes easy to reach the audience. With an offline mobile app, respondents can answer feedback surveys even if they aren't connected to the internet. The selection of the distribution channel depends on the target audience and the type of survey.
For instance, if an online apparel company wants to understand what people think about their latest collection, you can run a survey on social media sites.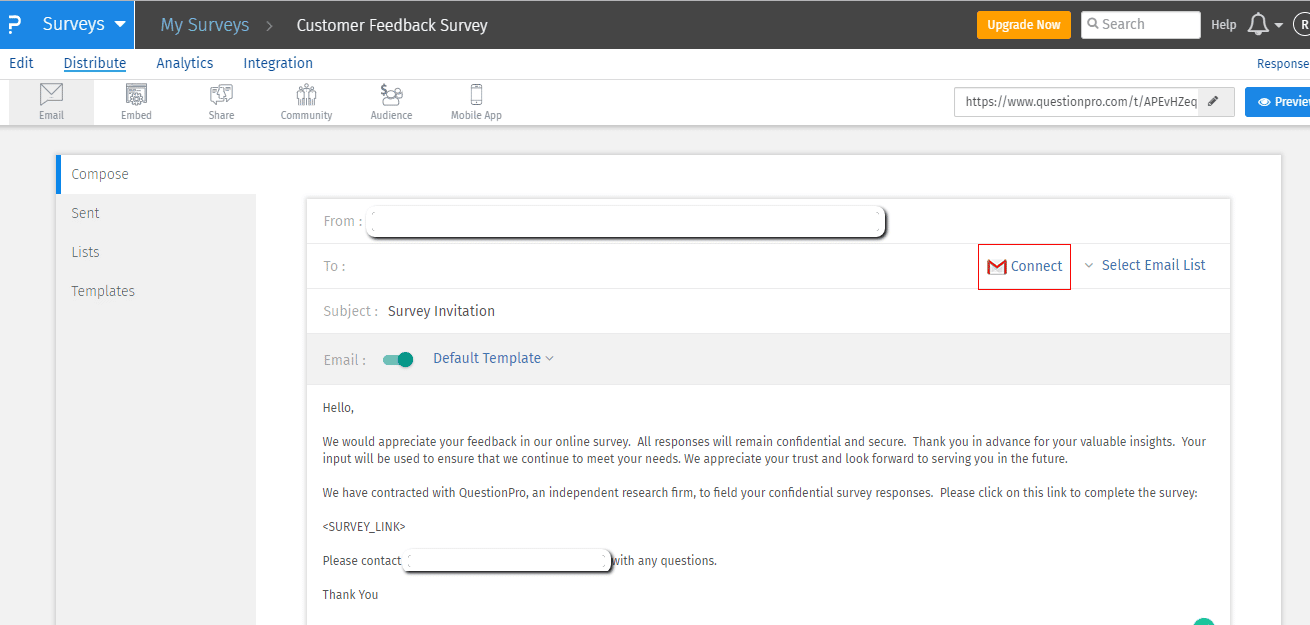 Analyze the results
After all the hard work, it's time to analyze the customer feedback survey data. You can create various reports such as Trend Analysis, TURF report, GAP Analysis, Heatmap Analysis, etc. Filter the results by a wide selection of segments and export reports on a daily, weekly or monthly basis to send to email addresses of your choice.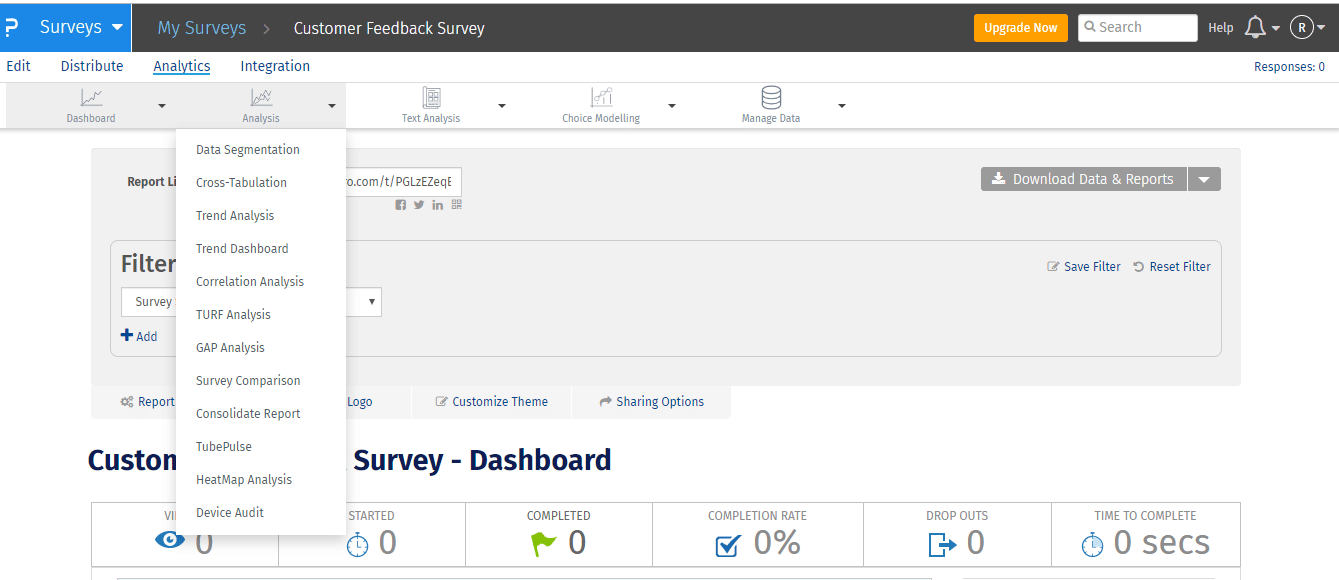 Analytics dashboard gives you a quick view of how many customers viewed, started, completed or dropped out. You can also share these reports with your colleagues or export them into .pdf, .doc or .xls format.