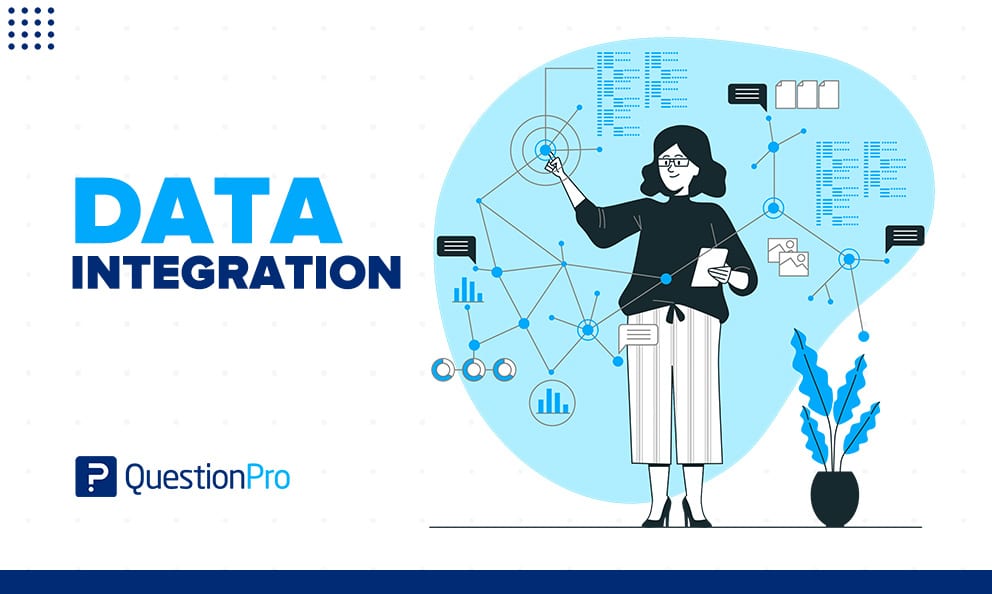 Data integration can be vital to a company's success. A business or organization can gather various data sources, which cant be utilized in the most efficient manner possible. If the company's information isn't integrated with other sources, it's impossible to make smart business decisions based on the data.
With it, you can ensure that your company's information is accessible to everyone who needs it in one convenient location and format.
So knowing what it means and how it works will help you make the most of your efforts to improve corporate processes.
What is data integration?
Data integration is the procedure of obtaining data from different sources to provide users with a unified view. The idea behind it is to make it easier for people and systems to access, understand, and use data. 
Correct implementation of this integration can save IT costs, improve data quality and free up resources while encouraging innovation without needing significant modifications to current applications or data structures.
Importance of data integration
Data integration provides a comprehensive set of information that may be used to derive crucial business insights from a company's historical and present data. It can directly affect the bottom line if executives and managers deeply understand how the company works now and the opportunities and risks it faces in the market.
Additionally, data integration is frequently essential for working with other entities such as suppliers, commercial partners, or government oversight authorities.
Providing access to data kept on legacy systems such as mainframes is an example of an essential application of integrating data in today's IT world. A good solution will bridge that gap, making valuable legacy data from an organization available for use with today's popular business intelligence applications.
Bridging that gap with a good solution will enable the availability of an organization's critical historical data for use with today's popular business intelligence applications.
Data integration in modern business
It is possible to reduce the total cost of ownership (TCO) and increase the return on investment (ROI) by integrating business data. Integration of data is a strategy that the organization must adopt to achieve this. The total cost of ownership will be affected by the actual expenses or the value of the investment (VOI). Even so, the company will gain immediate insights into actions that may be implemented right away to improve ROI or lower TCO.
Today's latest integration strategies understand the importance of data integrations to improve decision-making. It is becoming increasingly popular to employ BI (business intelligence). CRM, marketing, and sales rely on BI solutions that can access a wide range of system data to perform appropriately.
Companies may improve their products and services by ensuring that data is integrated. Machine learning, robotics, and artificial intelligence (AI) are just a few emerging technologies that can be employed with the integration of data (AI).
How does data integration work?
There is no technique for integrating data that is universally applicable and can be used in any situation. They are a group of independent data sources, clients, and a primary server that gives a single view of all the data.
In the typical scenario, the client contacts the primary server with a data request. The server then extracts the required data from both internal and external sources and combines it into a single, cohesive view before being returned to the client. We're talking about customer data integration.
ETL (Extract, Transform, Load)
The ETL process, which includes the phases of extracting, transforming, and loading data, is an essential component of the data integration process. This is accomplished with the help of data warehouses or data marts. Data is fetched from its sources, moved to a staging data repository, where it is subjected to cleansing and conversion, and then loaded into a target source.
ELT (Extract, load, transform)
ELT is a more recent method of integrating data into a single location than other methods. The procedures involved in ELT are the same as those involved in ETL; however, the order in which they are performed is reversed. Rather than beginning with the extraction of raw data from its sources, ELT begins by loading that data into a target source. A data lake or a cloud data warehouse will most likely serve ELT's end goal.
Conclusion
From the above discussion, we learned about the integration of data and how it works broadly. It aims to provide consistency, dependability, and scalability while addressing the business challenge of managing numerous data streams.
We trust that you now grasp the basics of integrating data and how it can keep your company competitive.
Want to automate data integration for your business? Discover how QuestionPro can help you with data integration. QuestionPro provides researchers with all the tools you need. It guides you through the process of using your data.