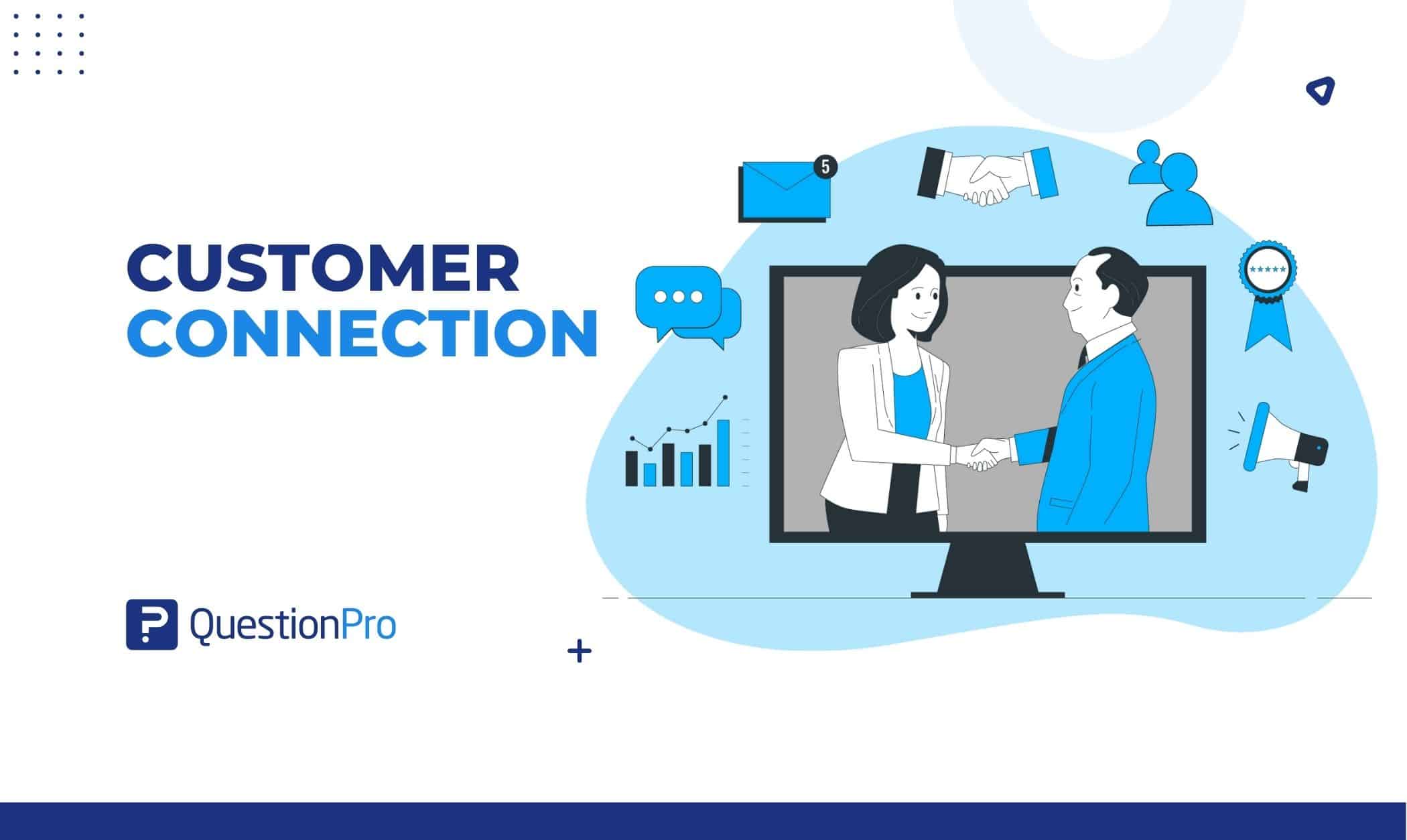 Your customers want more than just the solution your product promises. They also want you and your team to be there for them when things go wrong.
They want your salespeople to give them advice and teach them how to use your products and services in the best way. And all these happen with better customer connection.
This blog will teach us about customer connections and why they are important. And we will also explore some best practices to connect with your customers.
What is customer connection?
The relationship between a business and its customers is often called the customer connection. Throughout the purchasing process, customers' connection creates a solid relationship with the customers.
Having good relationships with customers is the key to running a successful business. If customers feel more secure and connected to the brand, they are more likely to buy from them again, which increases the customer's lifetime value. This connection can be based on several things, including:
The quality of the business's products or services
The level of customer service it offers
The overall customer experience.
A strong customer relationship is one in which the customer feels valued and appreciated by the business and is likelier to keep doing business with the company in the future.
Learn how to build your own customer journey to help you better connect and track your customer's needs.
Importance of customer connection
It's impossible to say enough about how important it is to connect with customers. In today's competitive business world, businesses need to focus on creating strong and lasting customer relationships to keep their business and stay ahead. A strong relationship with customers can help a business in a number of ways, such as:
Connected customers are more likely to repeat purchases and recommend you to others.
Customer connection facilitates customer retention and speeds up the company's growth.
A two-way relationship with the customer is needed. The information must be sent and received between the customer and the business. A positive connection will result in profitable sales, customer loyalty, and referrals for the company. Additionally, you need to provide the customer with quality, support, and value.
Building strong connections with customers can help a business build a loyal customer base and increase its chances of long-term success.
Best practices for customer connection
Businesses require customer data to develop emotional attachments and increase customer connections. Here are some of the best ways to connect with customers.
Shake customers' hands
You have probably heard that first impressions are important. A strong handshake is a perfect way to start if you want to make a good first impression on your customers. Handshakes can be helpful for:
Create and maintain trust with others
Establish a personal connection
Be empathetic
Everyone likes to feel understood and accepted, and so do your customers. Empathy map in every connection will assist you in building a strong foundation of loyal customers. You should express gratitude to each and every one of your customers to build customer connections. 
If there are any problems, issues, or delays, make them feel that you are sorry for that. Try to understand what the customer is going through and put yourself in their place.
Ask for feedback
Successful businesses are always getting better. One of the easiest ways to do this is to get customer feedback. You can gather customer feedback from so many resources. You can collect feedback by:
Surveys
one-on-one conversations with customers
Sending follow-up letters
QuestionPro can help you in building your customer connection. QuestionPro can assist you by providing tools for customer feedback surveys, such as customizable survey templates and real-time reporting and analysis. You can use these tools to quickly and easily collect customer feedback and then use the insights to make informed decisions about how to improve your products or services.
QuestionPro also has the ability to integrate with other software systems, which can help businesses streamline and improve their customer feedback management process.
Never keep customers waiting
You have an important question or problem, but you have to wait. Everyone has experienced this kind of situation. Don't treat your customers this way. It may cause customers to become dissatisfied with your company and brand and seek assistance from a competitor. But if you have to put a customer on hold, here are some ways to do it:
Give them an explanation for why you are keeping them on hold.
Get their number and offer a timely callback.
You will gain insightful feedback when you answer your customers, which can help in the success of your business.
You may also check out this guide to learn how to build your own Customer Journey Map.
Quickly respond to customer inquiries
You want every customer to leave the impression that they received excellent service. So, if you want to build a strong customer connection, you have to respond to your customer quickly. It requires you to quickly answer their queries, comments, and concerns. It might assist you in gaining loyal customers and building trust with them.
When interacting with customers directly, you should be approachable. The more honest you are, the more comfortable your customers will feel. Let them know you appreciate their comments, concerns, and ideas.
It would help if you showed gratitude for even the negative comments. These are lessons you can use to make your small business better.
If you have customers who are upset about delays or other problems, make sure you solve them. You can also follow up to ensure they are happy, as your goal is to develop real relationships with your customers.
Solve their problems
We are currently living in an age of instant gratification. It means that customers want solutions faster than ever. When a customer comes to you with a problem, make sure to:
Listen carefully
Explain the problem
Give a variety of solutions
When your customer leaves feeling heard and cared for, you've done your job well. It boosts the chances that they will work with you again in the future.
Say thank you to customers
We all want to be appreciated. A simple thank you to your customers shows them you appreciate and value their business.
Customers who have a positive experience and feel valued are more likely to recommend your company to others. It promotes the growth of your company.
Reward your loyal customers
Customers who are loyal to a company support it in both good and bad times. Customers who continue to purchase your products or services can be rewarded in a variety of ways:
Points programs
Cashback
Discounts
These serve as a reward system and can increase loyalty and customer connection. For example, several companies provide gift baskets to customers who refer others.
Send holiday cards
The holidays are an ideal time to show your customers your appreciation and holiday spirit. Sending them a holiday card is one method of doing so. These cards help develop, maintain, and retain customer connections.
Conclusion
Customer connection can lead to better interactions, more sales, and a better overall experience for the customer. Companies need to know how important it is to connect with customers.
All you need to do is show your customers that you care about them and try to improve their lives with your offerings. It will put you ahead of the competition and help you get real brand advocates.
QuestionPro can help you build customer connections by offering customer feedback management features. QuestionPro is survey software that allows you to discover customers' pain points by conducting surveys.
It also helps you to collect customer feedback and insights, allowing businesses to improve their customer connections. Get in touch with QuestionPro to request a free demo.