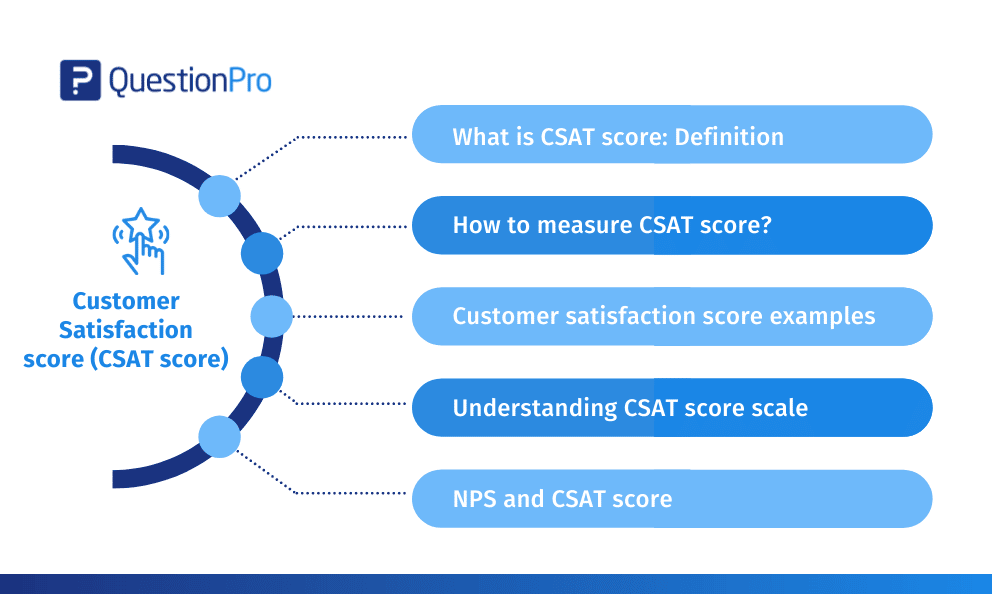 Customer satisfaction score: Definition
A customer satisfaction score (CSAT score) is a measurement of customer satisfaction level through a one-question survey. It ask users to rate their experience with the brand's products or services. Customers answer based on a scale from "extremely dissatisfied" to "extremely satisfied." Businesses can use the score to determine their satisfaction levels at crucial touchpoints like the store visit, point of sale, product use, or digital conversation with customer support staff.
CSAT score is a glimpse of how well your products and services match customer's expectations. It is calculated from the feedback shared as responses to the multiple-choice questions. Though you can collect data in many ways, surveys are the most common form of data collection.
How to measure CSAT score?
The customer satisfaction survey is a preliminary level questionnaire to get feedback. You can follow up with more questions to know the exact reasons behind their opinions. It will help you get precise insights into their experience. 
QuestionPro offers ready-made templates, so you don't have to waste any time creating questionnaires. Once you've set it up, calculating the score is an easy math. Divide the number of satisfied customers, the ones who answered "satisfied" and "extremely satisfied", by the number of respondents. Multiply this number by 100 to get the percentage of satisfied customers.
Related blog:  How to measure customer satisfaction
Customer satisfaction score examples
Let's say you run an e-commerce store. You ask shoppers to rate their checkout experience. Of the 500 people who answer the survey, 250  respond "satisfied" or "extremely satisfied" . By dividing 250 by 500, you get 0.5. Multiply this number by 100, and you have a customer satisfaction score of 50%. 
Customer satisfaction survey example: Starbucks
Starbucks, one of the leading coffee chains, conducts surveys with short and crisp questions, customized look and feel, and the right target audience. Based on the responses, they calculate CSAT score and Customer Effort Score (CES) to gain actionable insights on how they can offer better products and services.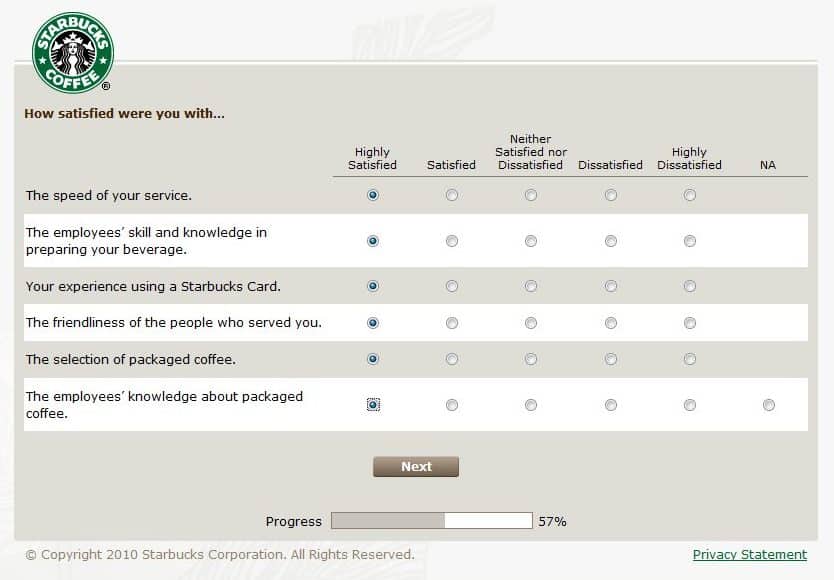 Learn more: 7 Groundbreaking customer satisfaction survey examples
Understanding the CSAT score scale
The CSAT questions are easy to design and simple to understand. Typically, the CSAT score scale consists of below options.
Extremely unsatisfied 

Unsatisfied

Neutral

Satisfied

Extremely satisfied
You can also use a 10-point scale, instead of a 5-point scale as above.
Be wary of using a scale that's too long. Although more options allow for more nuanced responses, you risk pushing customers away. When they see many options, they tend to lose interest. It is especially true for mobile users.
You'll also want to avoid inverting your scale. People are programmed to view low as bad and high as good. By switching the values, with 1 being extremely satisfied and 5 being extremely unsatisfied, you risk respondents choosing the opposite of their real opinion by accident.
NPS vs. CSAT score
A customer satisfaction score isn't the only method you can use to determine satisfaction. Net Promoter Score (NPS) too helps you know more about customer experience and loyalty. 
The most significant difference between the two lies in the focus of the question. CSAT survey questions target specific interactions with customers, whereas NPS questions check for brand loyalty and customer satisfaction.
For example, you might send a CSAT score survey to people who recently spoke with customer service. You tailor the question to find out if they had a pleasant experience. In an NPS survey, you ask users if they'll refer your products to their friends and family, considering their overall experience. Based on their likelihood to recommend your business, they are classified into promoters, passives and detractors.
4 Reasons to create CSAT surveys
Based on the survey results, you can identify your happy and not-so-happy customers. Connect with them to learn how you can better serve them. Such conversations can generate new business opportunities, whereas learning more about the unsatisfied users will aid you in taking quick actions to improve their experience. 
Easy to understand
The survey questions are short and easy to comprehend. Respondents need not overthink or give overly-complex answers; you're asking whether they enjoyed their experience with your brand or not. Since they don't feel like you're speaking down to them, customers are empowered to answer your question.
Identify improvement areas
Customer satisfaction score surveys allow you to monitor the entire customer journey. You can initiate the process at each touchpoint without overwhelming your users. For example, you can ask feedback after a transaction or an interaction with the service department. The responses can help you discover improvement areas of your business. 
Save time
Surveys take just a few minutes to set up as well as answer. You can collect data from a huge audience with significant ROI. As compared to other methods of data collection like focus groups and one-to-interviews, email surveys offer more value.
Easy to analyze
Survey tools can let you generate reports, export data, apply filters and collaborate with the team. You can also integrate them with third-party software to get multi-dimensional view of the data.
When to measure the customer satisfaction score?
You can measure satisfaction at any time you interact with customers. Some of the most critical touchpoints where you must ask questions are:
Beginning of the journey
Ask potential customers to rate their satisfaction with your brand before they make a purchase. They'll enjoy knowing you care about their opinion, irrespective of whether you buy a product or not.
Checkout
The end of the checkout process is a natural point to inquire about experience. Customers are ready to tell you whether or not your brand provided a smooth purchasing process.
Product use
Send a questionnaire once in a quarter or so to know if your users are happy. It helps you keep tabs on their overall experience once they've made their purchase. For example, ask your subscription service members if they're satisfied several months before they need to renew. It allows you enough time to solve issues, if any, before it's too late.
Following product support
Providing excellent service and support is essential for long-term business success. If customers aren't getting their issues resolved, you need to look for better solutions.
To get good score, conduct a survey at regular intervals, and analyze the change in points. Delve into the root cause behind the change and trigger points.
How to increase customer satisfaction scores?
The obvious answer might be – improve your products/services. However, at times, it's not as simple as that. Here are some of the ways to create "customer delight". These methods have been tried and tested by many organizations across various industries. 
Multi-channel communication

Reward loyalty

Send goodies

Build communities

Integrate data from multiple sources

Training and support

Act on reviews
Pros and cons of the customer satisfaction score
Like all customer satisfaction metrics, the satisfaction score too has its advantages and disadvantages. Let's quickly run through them.
Pros
Implementation of online surveys is quick, hassle-free, and cost-effective. Responses from these surveys are easy to interpret and help uncover trends and devise plans to bridge gaps.

The American Customer Satisfaction Index has benchmarked standards going back to 1995. It makes it easy to compare your organization's scores with your competitors.

Customers like and feel good when brands seek their feedback. It allows brands to gather insights and address any concerns improving relations.
Cons
Satisfaction is subjective and can mean different to different people. An average experience for one customer can be a good experience for the other.

Dissatisfied or neutral customers may not actively fill out your feedback surveys, generating skewed survey results.

Satisfaction cannot be the only emotion to take into account. Brands should consider human emotions like anger, frustration, delight, etc. too for concrete results.
Why is measuring customer satisfaction score important?
As we live in an agile world, it becomes increasingly important to measure customer satisfaction and analyze scores regularly. While there can be a few downsides, it can help predict sales and devise marketing strategy.
Increase repeat purchases
A recent study suggests that even a single, positive, and satisfactory customer service experience is enough to drive repeat sales by 86%. If your score is low, you may be potentially losing out on business revenue. You can revisit all your customer touchpoints and try to address any issues. High satisfaction encourages and ensures repeat purchases from your loyal and existing consumers. 
Dissatisfied customers are more likely to talk to their friends and family about their bad experiences. It not only hurts your brand's reputation but also may adversely impact your business revenue. Taking action on improving experience results in a higher number of satisfied customers. It also increases their likelihood of recommending your brand to their friends and colleagues. Thus, measuring customer satisfaction and loyalty leads to improving the NPS of businesses.
A more profitable business
With fewer promoters and repeat business, coupled with bad word-of-mouth and high acquisition costs, your business can take a severe hit. They can seriously impact your operational costs and profitability. Once the customers are satisfied with one product line, you can up-sell and cross-sell your other products and services.
With improved customer satisfaction scores, your service representatives will get fewer queries and complaints. A study suggests that an average service rep receives about ten hostile calls every day. They may handle them well, but if they have to make dire efforts to keep your customers happy, you may need to carefully look at your operations. Your agents can be expected to carry on bravely for only so long. If the trend continues, they will eventually move out of the organization. 
Getting good customer feedback boosts employees' morale and encourages them to offer even better products and services. It also helps organizations keep the employee churn rate low.
What is the customer satisfaction index?
Customer satisfaction index (CSI) works on the assumption that loyal customers will spread positive word of mouth, re-purchase goods, and want the brand to succeed.  The American Customer Satisfaction Index (ACSI), a commercial or economic yardstick based in Ann Arbor, Michigan, measures satisfaction across the United States of America.
A customer satisfaction index sums up scores from various business aspects and creates a single CSAT index that indicates overall satisfaction. For e.g., the CSI for a product will include the product price, quality, aesthetic, usability, etc.
Which companies scored highest on the American Customer Satisfaction Index in the insurance industry?
The CSAT score is an indicator of how well the organizations meet their customers' expectations. While there is no perfect score, it varies from industry to industry. 
Below is the list of insurance companies with their CSAT index. The example comparison highlights how Allstate stands as compared to other organizations in the same industry.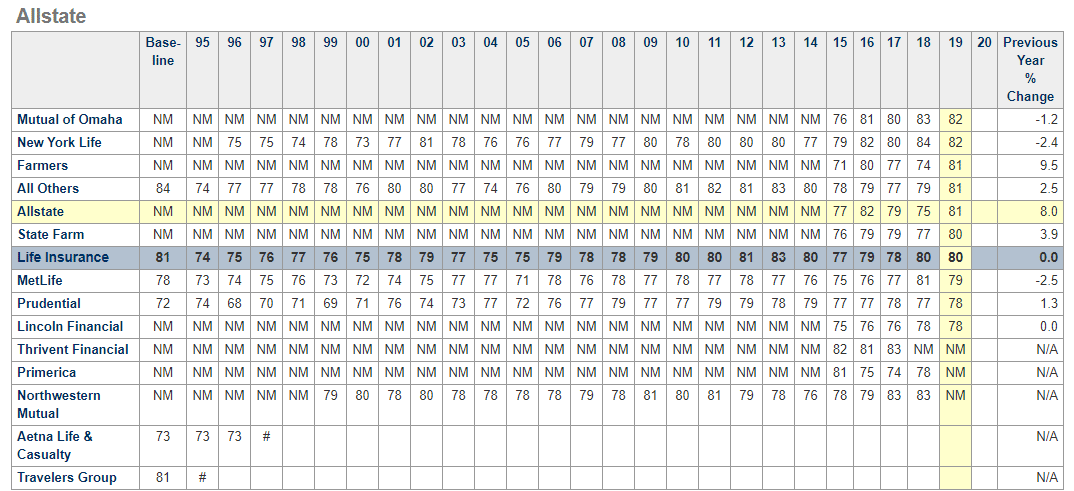 QuestionPro offers some of the most advanced customer experience tools available. Gain valuable insights into your customers' thoughts and feelings using QuestionPro CX software today.
Source: https://www.theacsi.org/
*N/A – Not Available
*NM – Not Measured
*# – Company Merger