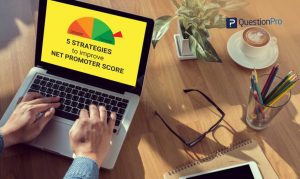 The universal Net Promoter Score (NPS) question is considered to be one of the most powerful and insightful of all survey questions. A NPS survey asks a simple question from organizations to customers – "Considering your complete experience with our company, on a scale of 0-10, how likely would you be to recommend our products to a friend or colleague?". Response to this one question provides strategically critical inputs to businesses on the credibility of their customer satisfaction program and business growth through brand recommendations from their own customers.
The credible insight received from Net Promoter Score has been so powerful that over the last 15 years businesses from most industries, invariant of organizational size or revenue generation, now rely on their scores from this question to gauge customer satisfaction and loyalty towards their brand.


Net Promoter Score is a very powerful survey question to know brand shareability but implementing the feedback received from NPS for the improvement of your product or service is what matters. Though very simple, it is a decisive factor for many organizations to make some groundbreaking changes in their products.
On a scale of 0-10, these are the classification of respondents:
Respondents who rate you a score 0-6 are labeled as detractors. There are high chances of them spreading a negative word about your brand and thus, need to be worked on.

Respondents who rate you a score 7-8 are called passives. They are just satisfied but not necessarily loyal to your brand.

Respondents who rate a score 9-10 are promoters who are extremely loyal to your brand.

A higher NPS indicates that your brand is extremely popular and loved by the customer database. But, it's a job that requires constant work and strategizing.
Here are 5 strategies which can be used for the improvement of Net Promoter Score:
Regular communication with the detractors:

There's a reason for the detractors to feel the way they do about your brand. It's obvious you wouldn't want them to stay in that category forever.

Tap into them and understand what went wrong in their experience with your product or service. Because they feel so strongly about what can be improved, they can definitely be awesome sources of empowering ideas that may change the way your organization works (for good!). This comes with a hidden advantage for you; you can convert these detractors into promoters by working of their suggestions.

Having said that, there'll be some detractors who criticize just for the sake of it. You need to wrap your head around which feedback you want to work on and which can be ignored.
Keep your promoters engaged: While detractors need your immediate attention, even promoters need to be engaged as they are the ones who chose to be faithful to your brand. This faith comes with something amazing that you must have done to make their customer experience memorable. Talk to them regularly to understand what is it that you did right and what can be improved too. Listen to their suggestions and work on them on a continuous basis.
Organization management and employees should be on the same page:

Net Promoter Score is an important tool for the organization. This fact should be communicated to all the teams and the importance of improving customer experience also should be known to them.

A detractor needs special attention from everyone in the team. Each one should contribute in converting the detractors into promoters and also in keeping the promoters engaged.

Make brand promotion easy for the customers:


It's human to share bad experiences easily but laze around when it comes to sharing an amazing experience. Make it extremely quick and easy for the customers to share their awesome experiences on your brand's social media. Encourage them to do so by adding quick links for social media sharing embedded in your surveys or even offering gift coupons and incentives for providing feedback.

Engaged customers are more likely to willingly talk about their experience. So, conduct contests, surveys and polls regularly, and most importantly, be available for all the customer 24*7.

Customer communication consistency is key: 

It may seem like a very obvious point but it's practically one of the most ignored factors. If a user has been experiencing an amazing customer experience, chances of him/her promoting your product will increase. Communication with the customers, whether promoters, distractors or passive, is a definitive factor for them to be attracted to your organization for which, you need to make sure there's consistency in the way you interact with them at every level.