If you are running a business, you must have heard of the term – customer-centricity. But in today's world, it has become so important that the success of an organization no longer depends on just customer-centricity. Companies need to be obsessed with customers and continuously think of how they can improve customer experience. At the heart of this exercise lies customer satisfaction. 
What is customer satisfaction?
Customer satisfaction is the degree of how well customers' expectations are met from a product or service.
While it cannot be touched and seen, it can be measured by collecting data. Companies can ask a series of questions to their customers, and based on their responses, it can be decided whether customers are satisfied or not.
An online survey is one of the most common methods of collecting customer satisfaction data. While there are several basic and advanced question types, the data collected by them can be primarily divided into two categories.
Quantitative data: This type of data can be quantified and used to generate statistical reports.

Qualitative data: This type of data is related to abstract concepts like emotions, expressions, etc. that cannot be generally quantified. However, with the latest developments in natural language processing and artificial intelligence, textual data can be used to extract meaningful insights from them.
Both quantitative and qualitative data are important are used to get a holistic view of how well the customers are satisfied.
Why is customer satisfaction so important?
When you are in a situation when you have to pick and choose from numerous options, you need to create a niche for yourself. 
Customer satisfaction can be a differentiator when you have to compete with other similar products. If someone has used your products or services and had a positive experience, they will choose your products or services over your competitors.
Customers are what your business survives on. Hence, it is essential they are happy. Also, it is equally important they continue to be satisfied. They must be requested for their feedback regularly to learn more about their customer journey.
The customer satisfaction survey helps you find out what are the areas that they like about your products and services, but more importantly, what they would want to improve. But you can derive the right insights from your survey only if the questions are phrased correctly.
Below are some of the excellent customer satisfaction survey examples that we found are great to get inspired.
Free customer satisfaction survey templates
Groundbreaking customer satisfaction survey examples
Nike

Nike is considered to be one of the companies that give great importance to its customers' feedback. Their customer satisfaction survey aims to know more about the experience of their store visitors. However, there can be many things about the store that can affect a visitor's decision to buy a product.
Some of the factors that can affect the satisfaction level of Nike customers who shop at the store are
Product placement

Arrangement of products

Range of products

Staff behavior

Staff service

Staff greeting

Store location

Store facilities

Store ambiance
Nike understands that because there are so many factors that influence customer behavior and their decisions, there should be specific questions for each of them.
In the below example of a customer satisfaction survey, Nike asks targeted questions on how staff greetings affect their purchase decision. The respondents can rate their experience on a scale ranging from not influencing at all to very strong influence. They can explain the reason behind their selection in the comment box as well as leave other comments. Such textual responses can be used for text analytics like sentiment analysis, word cloud, and other text analysis reports.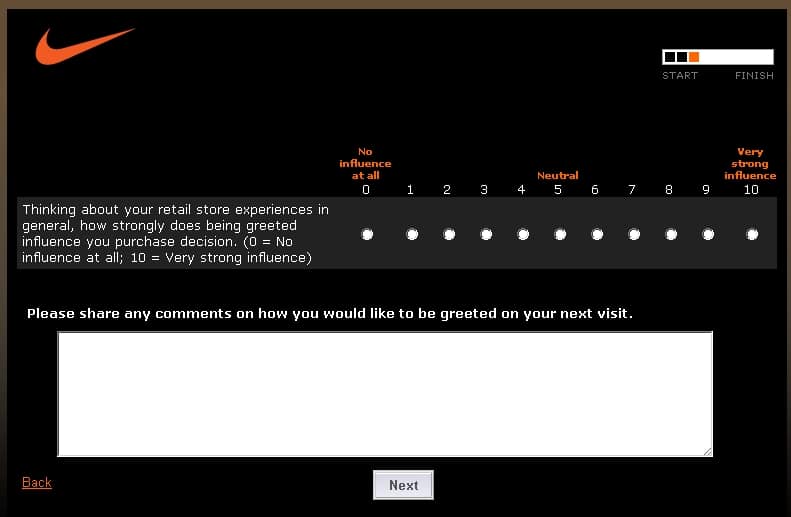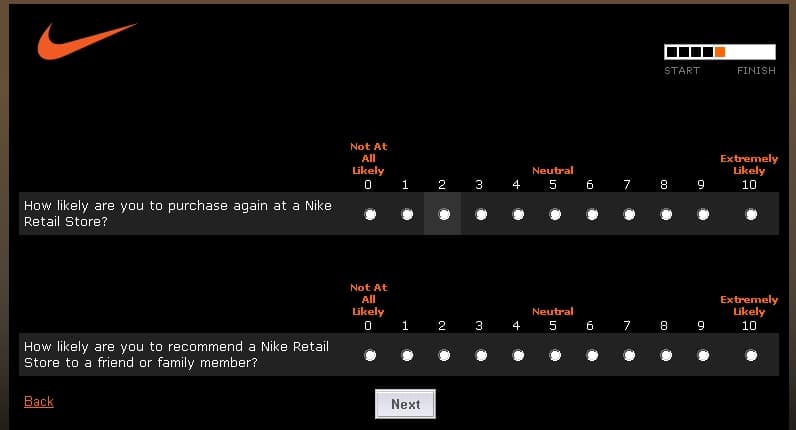 Key characteristics
Helps segregate the feedback: As there are questions for different influencing factors, it's easy to find out what feedback is for which factor. It makes generating reports easy and clear. You can easily find the data that matters to you and thus save time in understanding the reports.
Highlights specific improvement areas: In the below customer satisfaction survey example, say, if the customer selected 8 or 9, which is close to the very strong influence, Nike would have asked its staff to continue greeting customers in the same way. It implies that the staff greeting is a significant factor in generating sales and can be applied in stores at other locations too.
Easy to find out which factor needs to be improved by how much: As the below survey uses a numerical scale, the company can easily quantify how much does a particular area needs improvement. Also, it helps in comparing results with historical feedback. So, if there is an improvement of 4 points from say, 4 to 8, the company can be sure that customer experience has improved.
Custom look and feel: This is another striking feature of the above questionnaire to match their brand style. Businesses like Nike should create branded surveys as they are touchpoints with customers. And just like their retail stores and website, they should convey their brand voice through customer satisfaction surveys too.
Progress bar: Progress bar gives a visual representation of the survey completion percentage. It helps respondents to estimate how long it will take to complete the survey. This is a good example of customer-centricity, where the survey creator has designed the survey keeping its target users in mind. Such survey design enhances the overall experience of the respondents and helps achieve a higher completion rate.
2. SubWay

SubWay uses an advanced grid to collect customer feedback. You can choose an option from the dropdown list for a specific service and select a rating based on your experience. You can also select a reason for your rating from another dropdown list.
This customer satisfaction survey example is one of the most concise questionnaires. It makes the most out of the screen space and, at the same time, gathers a lot of meaningful responses from the respondents. Such surveys have higher response and completion rates. Market researchers and organizations should use such design to offer a great experience to their respondents.

Key characteristics
Short and crisp: The customer satisfaction surveys can get really long because generally, an organization needs feedback from their customers about so many points. So, it is an art to create a questionnaire that is not only useful for the businesses, but customers too would feel compelled to answer. Here, SubWay has nailed the art and come up with a survey that is precise, compact as well as aesthetically pleasing.
Does not repeat scale labels: SubWay has used the header space to specify how do they interpret respondents' answers. Here, they have mentioned that 10 stands for very satisfied and 0 stands for not at all satisfying experience. 

As you can see, there are many questions that use a multi-point matrix scale with a scale of 0-10. Instead of repeating scale labels for all of them, they have specified it only at the top.

Customized questions: To make the question relevant to each customer, SubWay has text piping in the question text. Many survey tools offer this feature, which substitutes a text in place of a variable in the run time. So, when the respondents answer the question, they feel as if the questionnaire has been customized for them.
Relevant answer options: The dropdown list has answer options that can be quite possible scenarios or reasons behind their feedback. Both the questions and answers are well-phrased and are specific to their industry. This helps them make better decisions and gather actionable intelligence from the results.
3. Delta Airlines

Delta Airlines is another business for whom customer experience and customer satisfaction matters a lot. They ask a series of questions that help them measure these parameters so that they can offer better services. Like Nike, there are many factors that affect the satisfaction of Delta Airlines customers too. Some of the most influencing factors are
Behavior of flight attendants

Baggage allowed and its care

Comfort of seats

In-flight entertainment

Meals

Flight experience
Out of these, the behavior of flight attendants can be a differentiator when it comes to the passengers' in-flight experience. So, Delta Airlines created a short yet detailed onboard service survey for its passengers.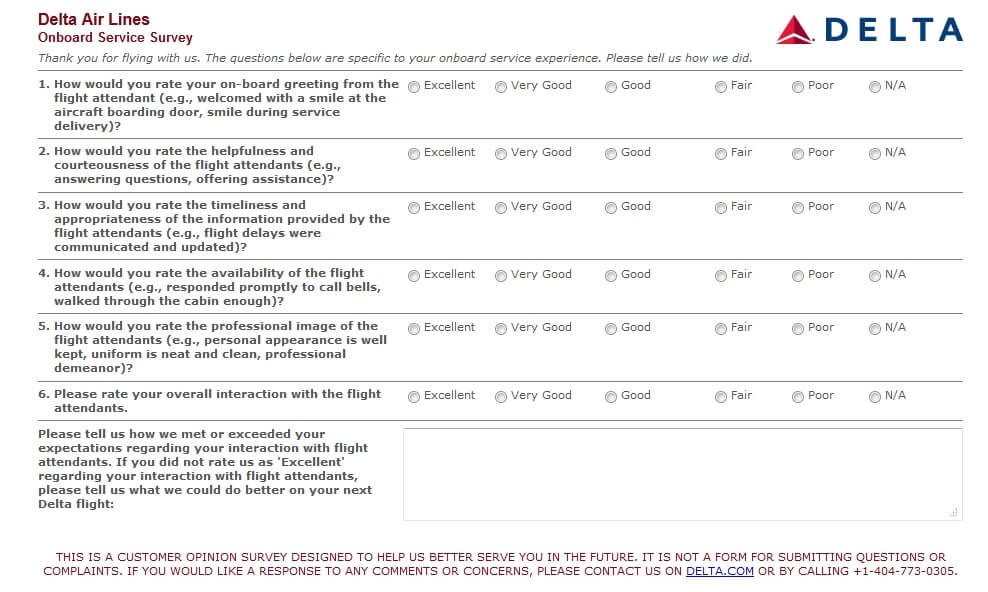 Key characteristics
Examples in the question text: To make it easier for passengers to answer questions, Delta has given examples in the question text. It helps passengers decide the option and have a clear understanding of the question.
Aiming for the best: In the last question, instead of asking a generic question saying, "Do you have any other comments or suggestions for us?", Delta has asked a very specific question on whether they have met or exceeded the expectations of their passengers. It sends across a message that customer satisfaction is important for them. They aim to make themselves the best airline and so ask for specific feedback and suggestions that would make them the best.
N/A option: The survey creator understands that the question might not be applicable to the passenger and so to consider this scenario, he/she has added an N/A option as one of the answer choices.
4. McDonald's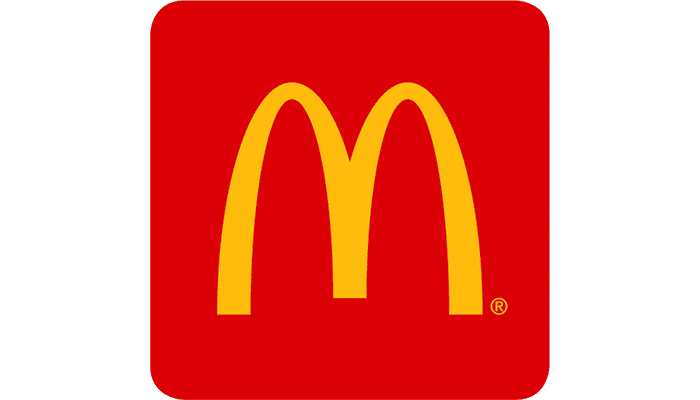 McDonald's is a brand that spans across continents and serves a huge number of customers on an everyday basis. Service is a key component of their business and massive success. McDVoice, their online portal, lets customers enter the survey code from their receipts. This is convenient for customers to take surveys and shows to their customers that their feedback matters. It is important to note that customers can still provide feedback, even if a survey code is missing.
What's even more noteworthy is that they show the respondents where they will locate the details they need to fill in the survey. These details can further help them filter responses and have a more detailed view of the data.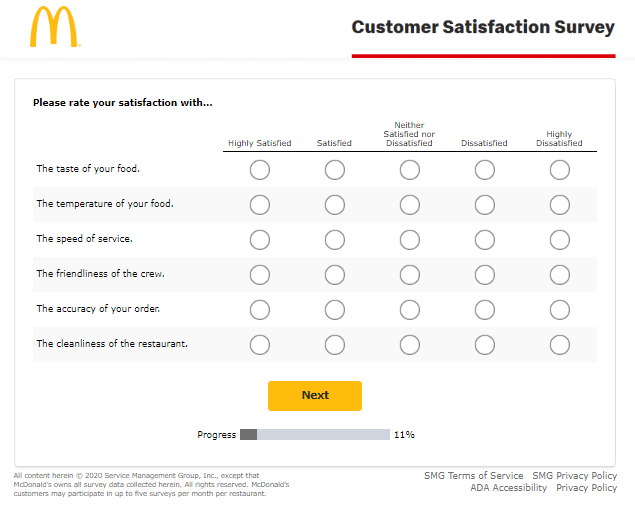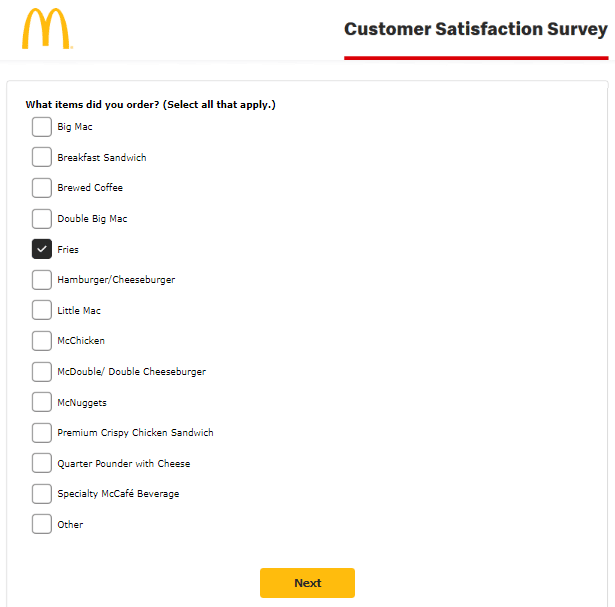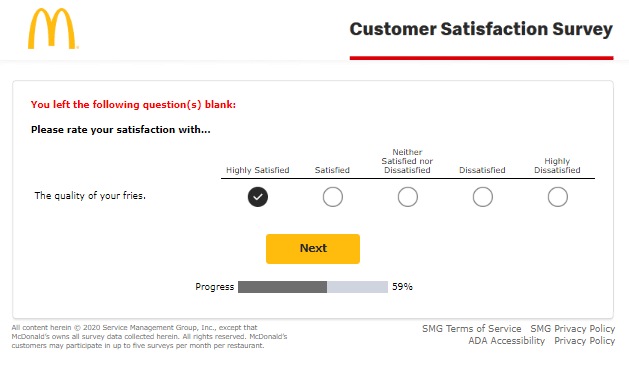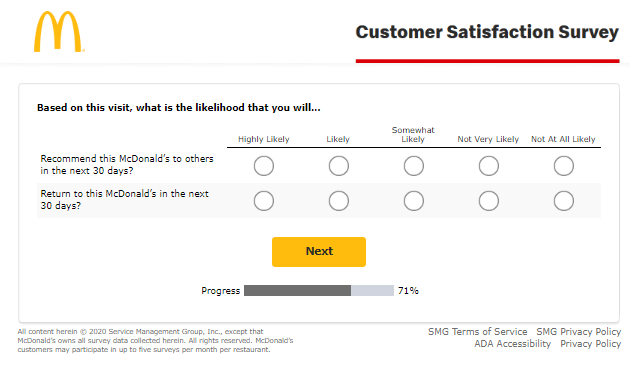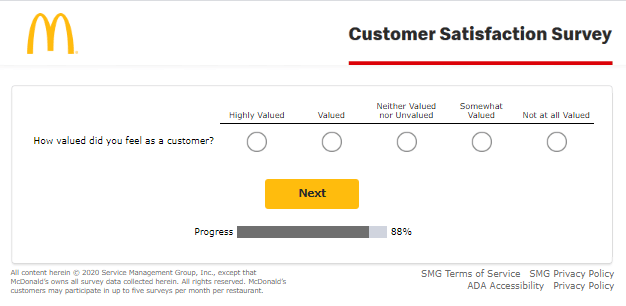 Key characteristics
Brand themes: The survey template bears their logo and also follows their brand colors and themes. This not only lends authenticity and credibility to the survey template but also improves the survey response rate.
Simple select options: The survey has checkboxes as answer options that customers can easily select from. This is not cumbersome to the respondents and does not take long to fill out the survey. Having this saves on time, and then you can add an open-ended question in the end for more information.
Shows progress: Almost all brands conduct customer satisfaction surveys. It is crucial to know what your customers are thinking and feel about your brand. The frequency of these surveys depends on organizations and their study focus. The customers, however, receive many surveys every day. Ensure your surveys are concise, numbered, and with a progress bar is crucial to reducing your survey dropouts. Having a progress bar lets the respondents know how many questions are left and improves your survey completion rates.
5. FedEx

To continually improve their services, FedEx conducts customer satisfaction surveys with all its customers. Their survey gets all basic details from the initial questions such as type of service availed, date, and time of the visit, transaction number, etc. The respondents get to rate on a scale of 0-10, with 10 being extremely satisfied and 0 being extremely dissatisfied. They make sure to include a Net Promoter Score (NPS) question to see how likely their customer are to refer FedEx to their colleagues, friends, and family. This helps them in calculating their NPS score and bucketing customers as promoters, detractors, or passives.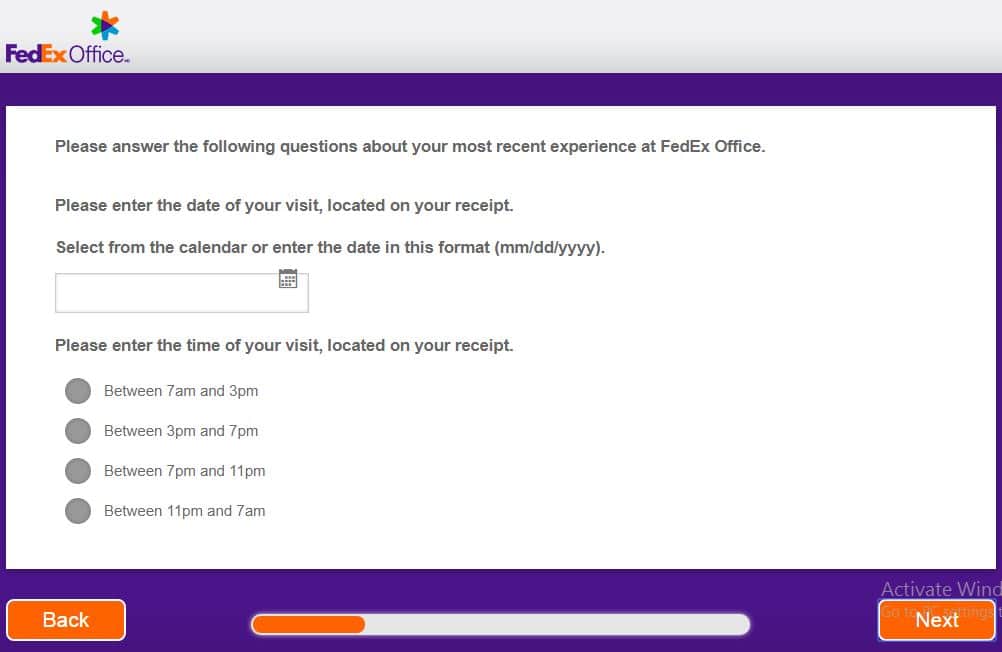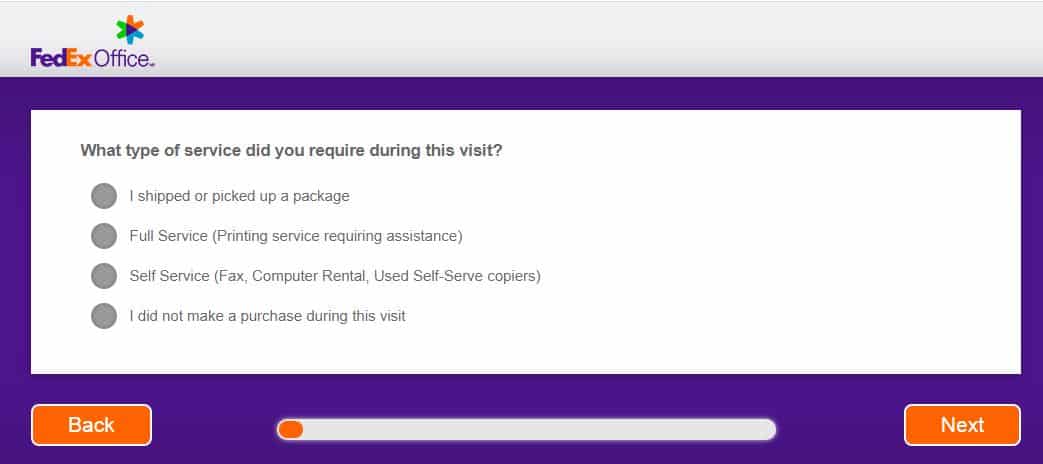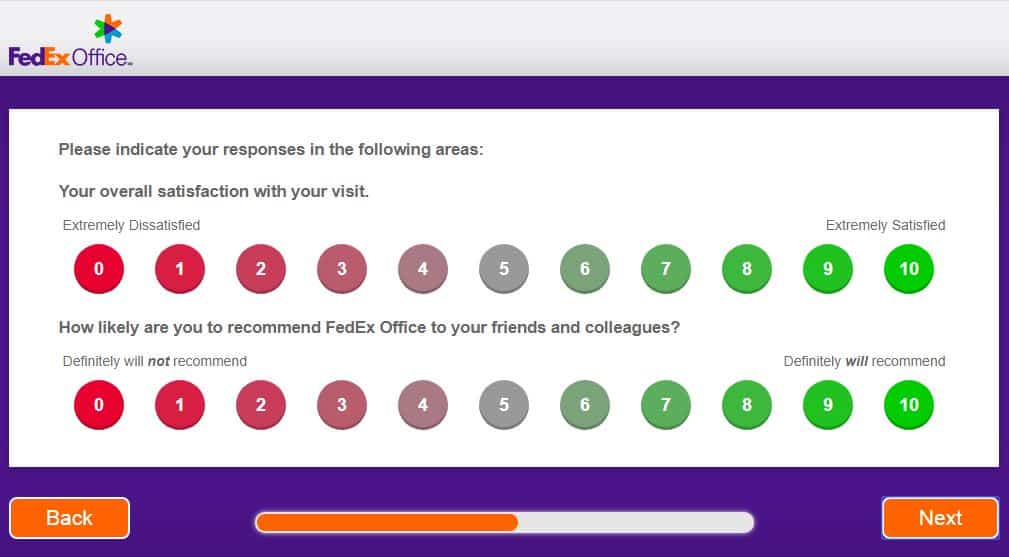 Key characteristics
Get all information: Conducting customer surveys is not enough; you need to add on the customer feedback and concerns too. By taking all vital information in the beginning, FedEx ensures that they can easily reach out to customers, get details, and address any concerns. It also comes in handy to know what worked well for certain customers and replicating that for other customers.
Rating scales: The rating scales used by FedEx help customers select appropriate feedback. Using that information, FedEx can clearly see how satisfied or dissatisfied their customers are with their service.
Journey bar: The customer survey indicates the survey's progress, letting the respondents know what percentage of questions are left. This helps ensure you do not lose respondents midway through and improves survey completion rates.
6. Walmart

Walmart has operations in many regions, which means they have customers who speak various languages. With Walmart's customer surveys, the customers get to select the language they wish to answer the survey in. This certainly helps in improving survey completion rates and getting honest responses. Using multi-lingual surveys makes people comfortable and is definitely a great way to gather customer feedback.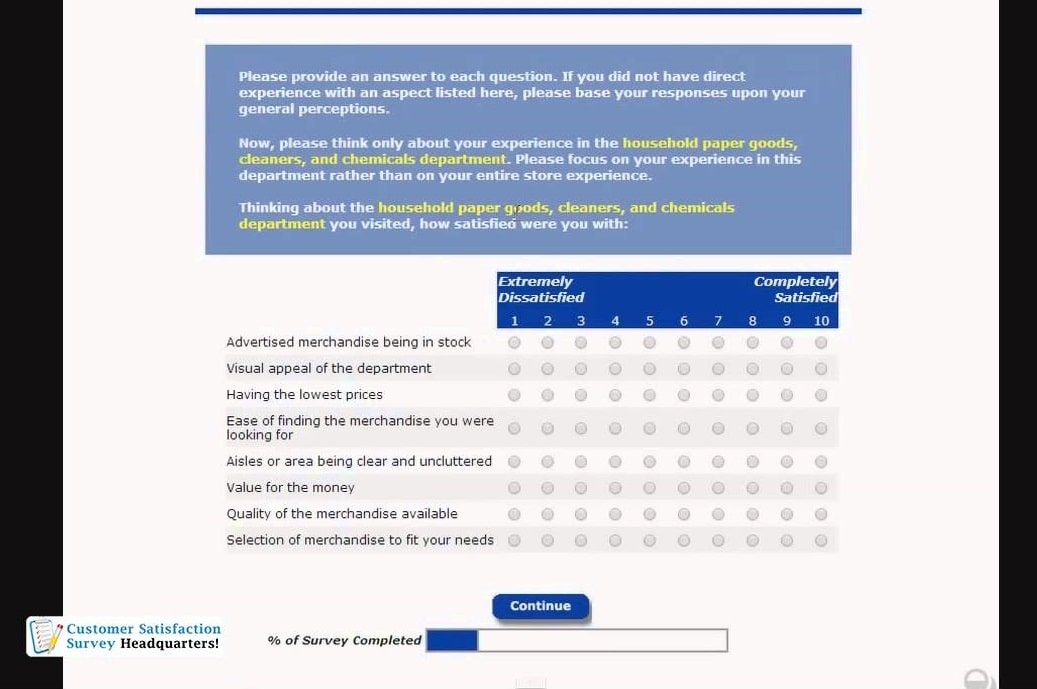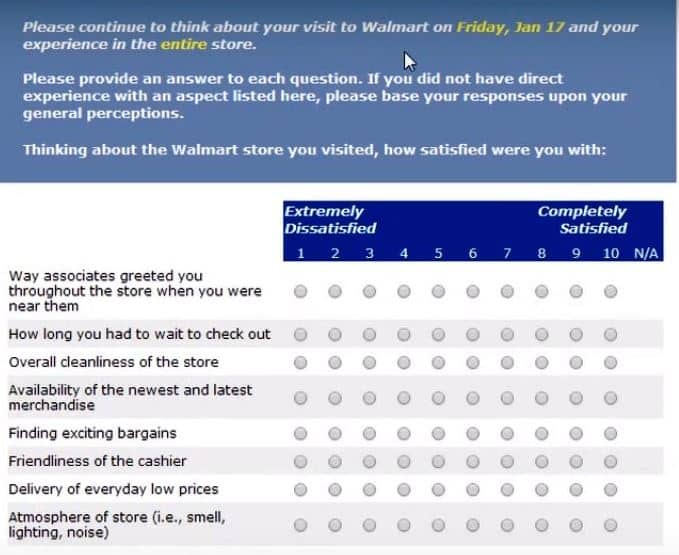 Key characteristics
Multi-lingual surveys: Walmart supports various languages for its customer satisfaction surveys. This is important to make your customers feel comfortable and to let them know that their opinions and feedback are immensely valued.

Inspires honest feedback: Their surveys have language options, bears their logo, are easy to answer, and have a very good structural flow. All these factors inspire confidence among the respondents encouraging them to leave honest and candid feedback. This helps in gathering important and valuable information to refine its customer operations further.
7. Apple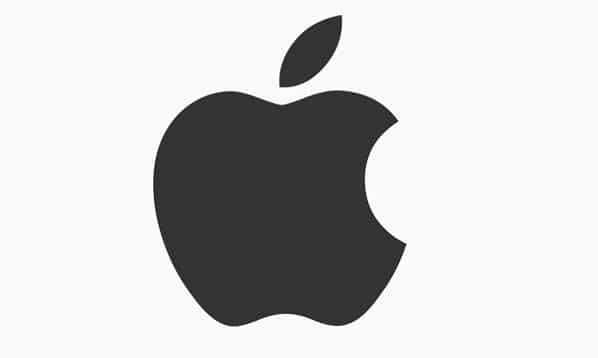 Apple is famous for customer-centricity, and it reflects in their products and services. They have some of the most loyal customers globally. Apple views customer experience with a different lens, and it shows in their marketing and customer service initiatives, echoing what Steve Jobs famously said, "You've got to start with the customer experience and work back toward the technology, not the other way around."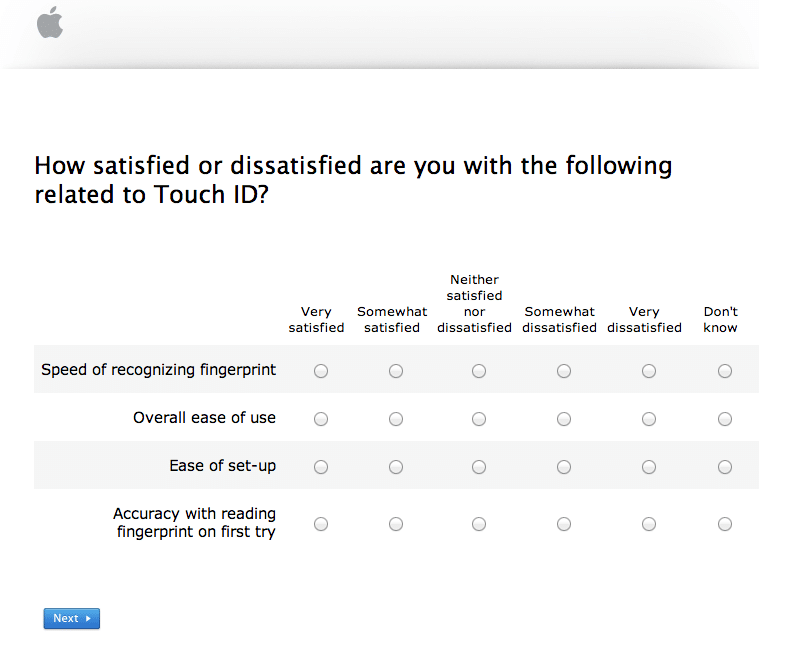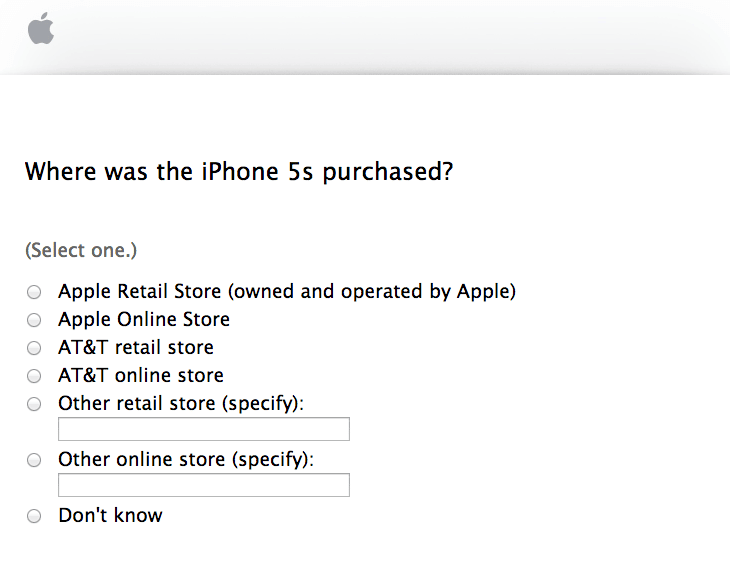 Key characteristics
Get to the bottom: As you can see in the survey template, they have provided a multitude of options to the respondents. This helps Apple pin-point reasons and get to the bottom of reasons for customers' actions. This data can come in handy in product development, marketing campaigns, customer churn initiatives, etc.

Rating scales: They use rating scales to understand customer satisfaction and various other aspects which are easy for the respondents to fill in. They also provide open-ended questions to get to the root of issues. Respondents can choose to provide that extra information if they wish. These comments are crucial to zero-in on specific customer issues and address them.

Simplicity is key: Apple's survey design and template are quite simple, avoiding any distractions whatsoever. This helps in keeping the respondents focussed on the survey and achieving good survey completion results. Templates that use a lot of colors and themes tend to be distracting and off-putting.
How to create good customer satisfaction surveys?
Creating good customer satisfaction surveys that yield desired results depends on the below factors.
1. Designing a survey
Write short and clear questions: Use a mix of simple multiple-choice questions and advanced question types like NPS, advanced grid, budget scale, etc. The survey completion rate will drop if respondents see length text or too many questions in the survey. A good survey question asks for just one piece of data and doesn't have questions nested within it. Avoid using 'and' and 'or' in the text as the data might turn out to be inconclusive. Avoid bias, double negatives, complex language, hypothetical questions, and difficult concepts. 
Customize the look and feel: The way your survey looks can affect your response rate. A shabby looking survey not neatly designed will repel respondents from answering the questions. It also spoils the brand image, and hence you can lose business. Thus, your customer satisfaction survey can act as your business card, and so all efforts must be made to reflect your brand voice and style. Customize logo, fonts color, theme, header, footer, and add a logo to your customer satisfaction survey to look professional.
Add survey logic and programming: Let your respondents see only questions that are relevant to them. Redirect them to the right questions using skip logic, branching, show/hide questions and answer options, and randomize the order of both questions and answers to avoid any kind of bias.
Use ready-made templates: If you are not sure of what questions to include in your survey, use ready-made survey templates. These templates are prepared by experts and can be customized as per your needs. They save time and are ready to use.
2. Distribute a survey
Choose the right platform: Survey tools offer you many distribution mediums like email, mobile app, website, social media, and QR code. Depending on where your audience is likely to answer, you can choose one of them. You can also keep the responses anonymous so that your customers can give you honest feedback.
Choose the right target audience: Targeting the right audience is crucial for the success of any survey. Select the right sample size such that it represents the target audience in appropriate proportion in terms of demographics.
3. Analyze the results
Generate reports: Once you receive enough responses, it's time to analyze data. Generate Customer Satisfaction Score (CSAT) from the responses received on a scale of "Not satisfied at all" to "Very satisfied." Filter results to get a detailed view of how different groups of customers have responded. It gives a glimpse of how was their experience and were there any common set of influencing factors. Create data filters based on demographics, question, device type, location, and more. 
Conduct customer satisfaction surveys regularly and create reports like Trend analysis, survey comparison, word cloud, and text analytics report. Compare results with the historical reports and see if there is any improvement. If so, it implies that the customer experience has enhanced, and hence their satisfaction too from your products and services has improved.
Integrate with third-party tools: To learn how your customer satisfaction survey results stand as compared to data from other sources, you can integrate your survey software with third-party applications like Salesforce, Microsoft Dynamics CRM, Marketo, Hubspot, Tableau, and more. Also, you can automate your marketing activities based on customer responses. For instance, if the analysis of results points to the fact that a set of customers didn't have enough knowledge of the product line, they can be sent targeted marketing emails automatically.
Export results: Export survey results in commonly used formats like .pdf, .doc, and .xls to share the results with the team and other stakeholders. You can also embed a link to your survey report on your website or share the URL on social media sites like Facebook and Twitter.
4. Take action
Close the feedback loop: The whole point of conducting a customer satisfaction survey is to know whether your customers are happy. If not, find out what are the areas you can improve their experience. You can get pointers from the survey and work on the improvement areas. According to a Gartner report, 95 percent of the businesses collect customer feedback, but only 10 percent really use it. Do not disappoint your customers by getting their feedback, but not acting on it. The best businesses make sure they take action and convey the same to their customers.