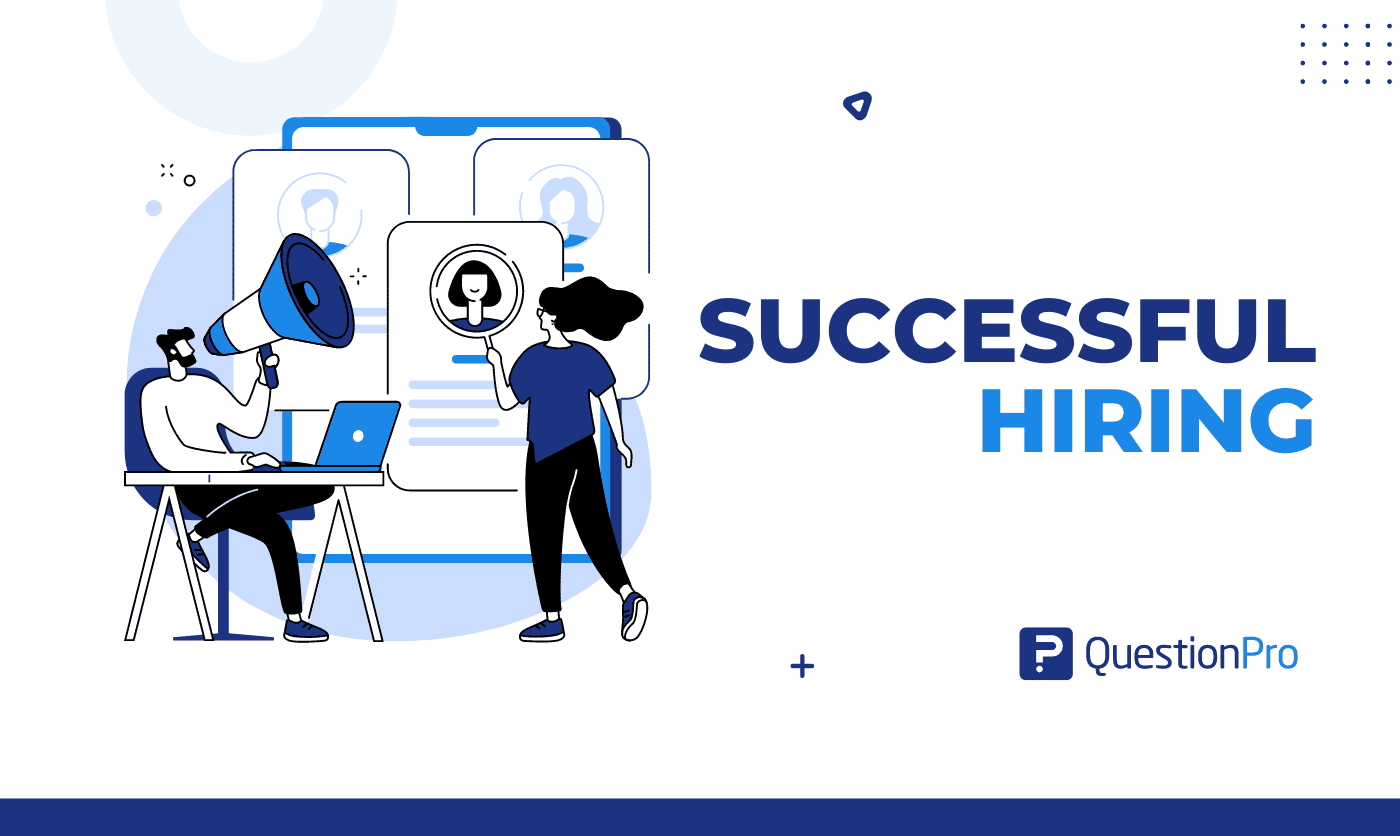 Successful companies understand the importance of attracting and maintaining top talent. However, it can be challenging to successful hiring and retain skilled workers, and it typically costs a few months' compensations to replace a salaried employee.
The HR team needs to develop an effective hiring process for the company and candidates. Both general intelligence and subject-matter tests have significant uses, including screening out persons with minimal talents. But in the end, it's usually up to the hiring manager's discretion or top executive.
Companies can reduce employee turnover and related costs by maintaining an effective recruitment survey process. Please read on to understand the importance of a successful hiring process and a step-by-step guide to implementing one.
LEARN ABOUT: Candidate Experience Survey
What Is successful hiring?
Successful hiring requires identifying applicants with the most relevant skills, experience, and personality. It entails collecting and assessing applicants, holding job interviews, and selecting and onboarding a new employee for employment.
The perfect hiring procedure must be adaptable enough to consider top executives' views. Top talent tends to congregate at companies where the CEO and HR director are in regular contact.
Importance of successful hiring
As a company owner, you want a workforce you can trust to do the task while concentrating on other things. Spend time developing a hiring procedure that actively seeks out candidates with the necessary talents and drive to work with you.
LEARN ABOUT: Employee Trust
Great employees are found through a successful hiring process, saving business time and money on hiring and training new employees. The importance of developing and implementing an effective hiring process can include the following:
To reduce employment expenses
Your company's bottom line and productivity will thank you if you're proactive in your hiring practices. That's why you need an effective and successful hiring process for employment.
You can aid your organization financially by lowering your cost-per-hire, and you can assist your departments by giving them the resources and staff they need to carry out their duties.
For more efficient candidate hiring
High-quality applicants are more likely to stay interested if their applications are prioritized. If the procedure takes too long, they may become dissatisfied and look elsewhere. After the final interview, a job offer should be made within a week to finish the hiring process.
To increase employee motivation and productivity
Having more time to devote to employee development directly results from a well-executed employee recruitment strategy that brings in qualified candidates. Investing in your staff's education and growth may increase their motivation and productivity, leading to long-term success.
A step-by-step guide to the successful hiring
The stages in your hiring process should be specific according to your business, but the most successful hiring processes follow these step-by-step instructions.
1. Determine your needs
Make a list of your needs before posting a job. Determining the necessity for a new recruit when filling a vacant position caused by a departing employee is quite simple. However, this process becomes more complicated when creating a new post or increasing the responsibilities of an existing one.
2. Create the job description
Writing a proper job description is essential for the hiring process to be successful. You should identify the duties and responsibilities of the role and write them after you have determined your company's and department's demands.
Job descriptions assist in informing potential candidates of the requirements and expectations of the company. It's crucial to be as transparent as possible in the job description to draw individuals capable of meeting the position's requirements.
3. Make a plan for the recruitment and selection process
Make a plan for recruiting to save time and effort. Think of the best ways to get the word out about the open position. Decide who will be responsible for organizing interviews, analyzing resumes, and selecting the best applicant.
4. Advertise the job and start searching
Once you have a job description, post it online and start looking for candidates. Share it across various platforms, including your careers page, job boards, career fairs, and social media. Inspire your employees to advertise the opportunity among their contacts as well.
5. Review applications and consider only the best-fit candidates
Start examining applications as soon as they come in. Analyze the applications, then select the most qualified applicants. Make it simpler for recruiters and hiring managers to view an applicant's performance by filtering your applicants following recruiting requirements.
Maintain the integrity of your interview selection process by inviting only a few candidates. Upon reviewing a candidate's resume, go with your instinct. Don't interview too many candidates who look exciting but don't fit the requirements.
6. Keep internal candidates in mind
Internal candidates aren't ideal, but neither are external applicants with good resumes. And even if an inside candidate isn't hired, they won't feel taken for granted. It's possible to improve communication within your company by recruiting those currently working there.
7. Start with a phone or online interview for preliminary screening
When you've found a few candidates you're interested in, it's time to do some phone or online screening to narrow down the pool and determine whether or not they're worth meeting with in person. Start by preparing a list of excellent interview questions in advance.
The initial screening process takes around 15-30 minutes and can be done over the phone or online. Maintain as much consistency as possible. This interview gives you a feel of the candidate's personality and soft talents.
8. Conduct the final interview
With your initial screening, you should be able to narrow down the number of candidates. Now interview the remaining candidates in person for the last time. In-depth interviews help you choose excellent prospects.
Multiple people should interview candidates better to understand their fit into the organization and role. Allow enough time so that you can concentrate and offer applicants their full attention.
9. Ask to complete any necessary assessments
You need to ask job candidates to complete pertinent assessments depending on the position you're looking for. For instance, you can ask the applicant to complete a coding exercise if you're hiring for a programming position.
Although assessments aren't always required, It determines whether the candidate can carry out the position's duties. This evaluation might be conducted before, during, or after the formal interview.
10. Make a hiring decision
Make your final hiring decision based on your knowledge about your job candidates during the interviewing process. Make a better-informed choice by consulting all parties who interacted with each candidate.
The final decision should not be taken based on selection bias or discrimination but instead should take qualifications and cultural fit into account.
11. Recruit and onboard the new hire
This completes your successful hiring procedure. How well you onboard new employees into your organization will depend significantly on your onboarding procedure.
Send the candidate the relevant documents beforehand so they can sign them. E-signature capabilities in recruiting online will probably enable new hires to accept offers and finish onboarding documentation remotely.
Conclusion
A successful hiring process allows you to quickly and efficiently locate qualified candidates. The procedure requires strategic preparation and ongoing evaluation. By following these procedures and standards, you'll be on your way to selecting a quality candidate for your company and completing a successful hiring process.
Are you ready to create a work atmosphere where everyone can give their all? You can discover more about how to engage your employees to offer you regular feedback and start making a difference in your organization by using QuestionPro Workforce.
QuestionPro Workforce is a platform for employee surveys and analytics that helps both companies and their employees do well. The HR, admin, and consultants at the company can handle the QuestionPro Workforce.