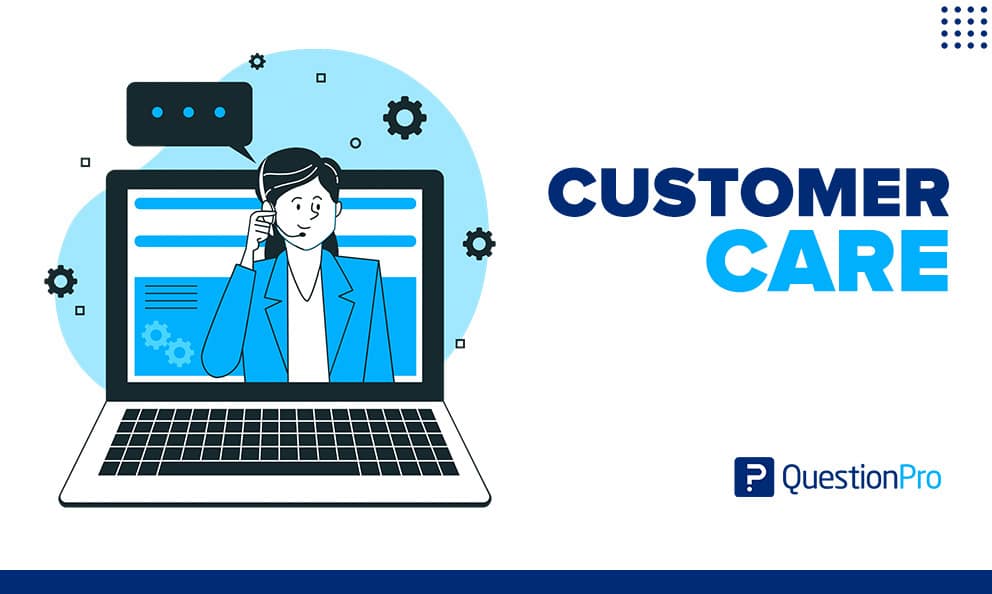 Customer experience is important to your business's success. While customer service is vital and can influence a company's performance, customer care is often more lasting.
Customers who receive good care become brand ambassadors for your company. They buy your products and services regularly, provide valuable feedback, and help you in your ups and downs.
So, first, let's define customer care and its importance in business. Then, throughout this post, we'll explain how to impress your customers with your exceptional level of care.
What is customer care?
Customer care is the effort made by individuals, teams, or companies to serve their customers better. It's a powerful solution for delivering customers the information, resources, and services at every customer touchpoint with a company.
Because it focuses on creating emotional relationships between brands and customers, customer care goes beyond outstanding customer service. The goal is to leave a positive impression on others. The way a company handles client contacts can set it apart from competitors.
Customer care is sometimes mixed up with terms like customer service and customer experience. Let's discuss the differences between Customer Care and Customer Service Process.
Differences between Customer Care and Customer Service
Customer care is another term for customer service. Both are not the same things. Customer service is an essential component in satisfying customers. It usually covers technical or product assistance as well as handling customer questions and concerns. The customer service team must respond to customer demands fast to provide the finest customer service.
Together, customer service and customer care contribute to a great customer experience. Both are necessary, although their implementation differs slightly.
Qualities of customer care professional
Listening:

Pay attention to what your customers want. Understand the conversation thoroughly and effectively. Never interrupt someone. Understand the conversation thoroughly and give the desired solution effectively.

Responsive:

Respond to customer inquiries and complaints as soon as possible. Delaying your services can compromise your company's reputation.

Communication channel:

Use multiple channels to communicate with customers and respond timely.

Solution Provider:

Always maintain a professional manner when dealing with consumer complaints. Even if it's a little technical issue, explain and fix it with passion.

Behavior:

Always be polite. Always maintain a positive, caring, and professional relationship with clients.

Explain the requirements:

Understand the products so that you can respond to questions. Explanation helps in the building of a clear picture of the situation, which allows you to provide better service.
LEARN ABOUT: Effective Customer Success Plan
The importance of customer care
Customer care is important to a company's success. Make sure you're doing everything you can to keep your clients informed, active, and satisfied.
There are a lot of competitors nowadays, and clients have several options. Excellent customer care means assisting customers in a timely and efficient manner that meets their expectations. Let's look at why customer care is so important to a company:
Customer Retention:

You can increase your chances of retaining clients by investing time and effort in your help desk. Customers who return to your business are much more likely to spend, which means your company can save money on operational expenses.

Competitive Advantage: Customer care may help you stand out from the crowd. If customer satisfaction is a priority, customers should be able to understand the value your company gives.
Brand Image and Reputation:

Superior firms are those that value client satisfaction and happiness. The way you respond to customers and how well you resolve problems says a lot about your company's values.

Conversion Rate:

Poor customer care can be a reason to fall for your company. The way you treat your customers has an impact on your overall conversion rate.

Customer Complaints: As a customer care professional, one of the best parts you can do is handle bad customer experience feedback or complaints. Responding effectively to such complaints and feedback is important to your company's success.
Customer care challenges
There will be challenges with whatever plan you try to follow in your business. Poor customer care is expensive, and this may result in lost information when someone reaches out. Here are some of the most common customer care challenges:
Not being able to answer a question:

Identify the customer queries and come up with a strategy for dealing with the problem. Most importantly, stick to your word and follow up when you say you will.

Fail to achieve customer expectations: To meet customer expectations, you need to understand your customers and their needs. It's important to collect their feedback or reviews directly from them. Make some changes and focus on the small things for improvement.
Emergency solution:

You never know when anything bad will happen. As a result, the smartest thing you can do is to stay ready. Make a plan about it and set up a standard operating procedure. Create tags and automation to assist agents in identifying and escalating tickets that require rapid attention.

Managing unhappy customers:

This is one of the major challenges that support team experience. The ideal solution is to listen to the complete story, apologize for whatever has upset them, and immediately resolve the issue.

Lacking necessary tools:

Lacking a proper communication channel with your customers causes frustration and the support process becomes slow. It's important to choose the right communication channel. Live chat and chatbots can help to improve customer support operations and overall experience.
LEARN ABOUT: Perfect Customer-First Strategy
Customer care types and how to identify them
There are many ways for businesses to provide customer care. This will give you an overview of the various choices available to you and how you may use them in your organization. Let's look at each one:
Phone-based customer care
Many businesses primarily provide customer support over the phone. It is the most popular way to serve customers. This works great for anyone doing business online. Customers dial a hotline number, and an agent answers the phone.
People leave their messaging app push alerts on. Customers want to communicate with companies about purchases, invitations, updates, and reviews, among other things. Messaging is another great way to connect with customers.
Email is still used to request and deliver a lot of client support. Email is the second most popular way for people to communicate with customer care representatives. An email is a fantastic way to communicate complicated concerns. People can communicate via email without having to interact face to face.
Many clients are now using self-service options to get the information they require without having to interact with anyone. Businesses create resource sections and explain how to use their products and services. In this way, customers get their service whenever they need it.
Live chat is a great way to solve customer issues fast. The biggest benefit of live chat is its immediate effect. Live chat widgets can be installed on company websites to provide instant support. It allows you to begin a conversation with your customer care agent right away.
Another option to contact customers is through social networks. Customers can get quick and simple answers to their questions on social media. A responsible person or a dedicated team can handle all social network inquiries.
Provide outstanding care to Customers
Nowadays, the client has that much control. As a result, it is up to customer care representatives to assist them towards success. Customer service is more than just being humble; it is a core part that will significantly impact an organization. Several companies have failed due to bad customer support.
It is simple to apply and provide quality service, which will keep your company in a demanding position. So, to improve your business's customer care, start applying the proper sorts of customer service based on your products or services.