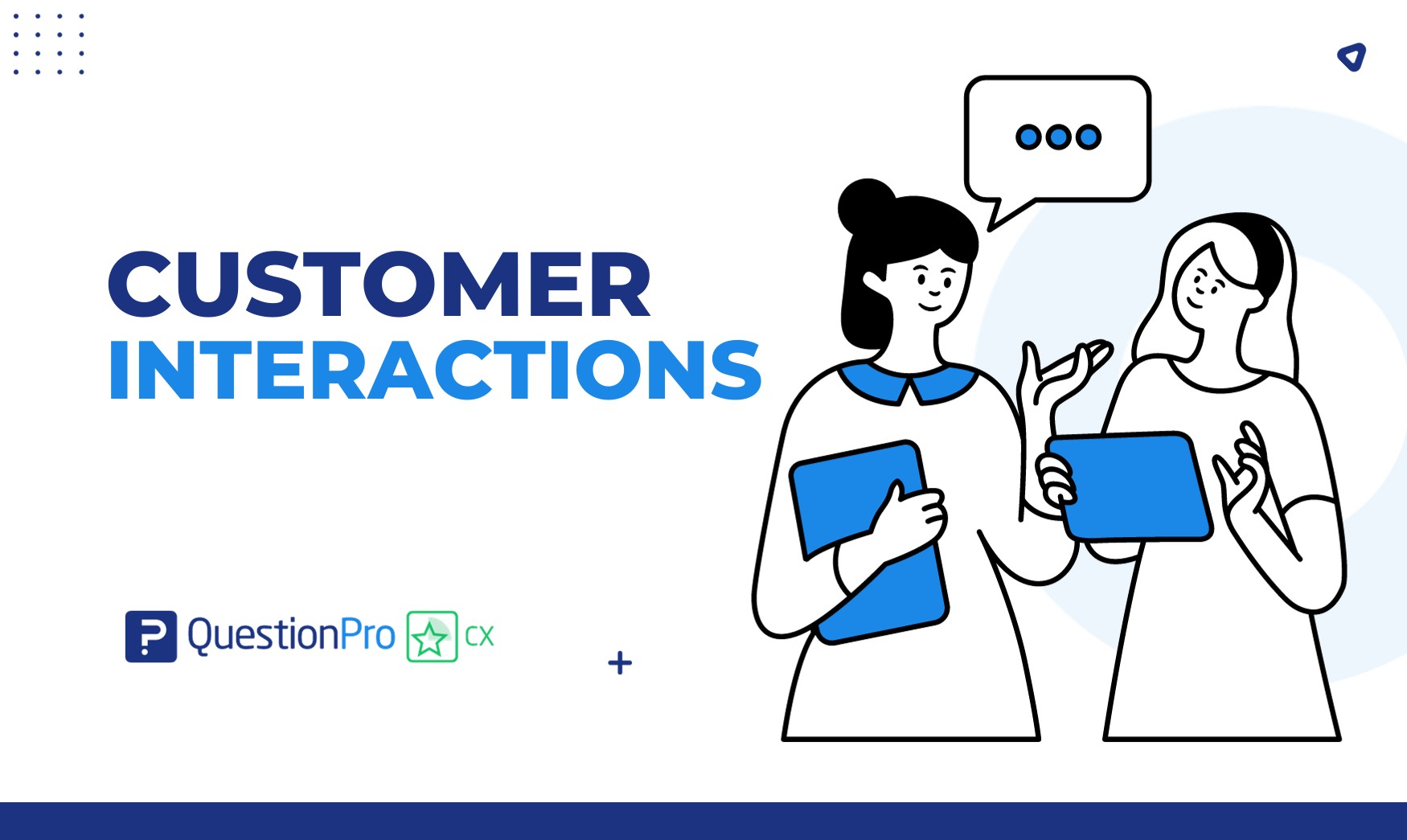 In the ever-evolving landscape of business, customer interactions play a pivotal role in shaping the success and reputation of a company. Whether a face-to-face conversation, a phone call, an email exchange, or an interaction on social media, every point of contact between a customer and a business leaves a lasting impression.
In this blog, we will explore why managing interactions is crucial, provide tips for effective interactions, and delve into the myriad benefits they bring to businesses.
What are Customer Interactions?
Customer interactions encompass all the touchpoints between a customer and a business. These touchpoints can occur at various customer journey stages, from initial awareness and consideration to the purchase and post-purchase stages.
Interactions can occur through multiple channels, including in-person, over the phone, via email, or via social media platforms. These interactions aim to create a positive and memorable experience for the customer, fostering a solid relationship beyond a one-time transaction.
Types of Customer Service Interactions
Different kinds of customer interactions require slightly different approaches. Customer service interactions come in various forms, reflecting how customers engage with a business. Each type of interaction presents unique challenges and opportunities, requiring different strategies and approaches.
Let's look for ways to build an interaction strategy. Here, we explore some common types of customer service interactions:
1. In-Person Interactions
Retail Environments: In brick-and-mortar stores, customers interact with employees directly. These interactions can involve product inquiries, assistance finding items, or addressing concerns at purchase.
Service Centers: For businesses providing services (e.g., banks and healthcare facilities), in-person interactions are crucial. Customers may seek information, schedule appointments, or resolve issues face-to-face.
2. Phone Interactions
Customer Inquiries: Customers call to inquire about products and services or resolve issues. Effective phone interactions require clear customer communication and problem-solving skills.
Order Support: Phone interactions often involve tracking orders, addressing shipping issues, or modifying purchases.
3. Email Correspondence
Product Inquiries: Customers use email to seek detailed information about products or services.
Issue Resolution: Email is often used for resolving problems, submitting complaints, or seeking assistance.
4. Live Chat
Real-Time Support: Live chat lets customers interact with a representative in real-time. It's commonly used for quick inquiries and immediate problem resolution.
Website Navigation: Customers may use live chat to get assistance with website navigation, finding specific information, or troubleshooting.
5. Social Media Interactions
Customer Feedback: Customers share positive or negative feedback on social media platforms. Responding promptly is crucial to managing a brand's online reputation.
Issue Resolution: Some customers prefer using social media to address problems publicly. Handling these interactions with care is essential for maintaining a positive image.
6. Self-Service Interactions
FAQs and Knowledge Bases: Customers often prefer finding solutions independently. Well-structured FAQs and knowledge bases enable customers to troubleshoot common issues without direct interaction.
Automated Systems: Interactive voice response (IVR) systems and chatbots provide automated assistance for routine inquiries.
7. Surveys and Feedback
Post-Purchase Surveys: Gathering feedback after a purchase helps businesses understand customer satisfaction and areas for improvement.
Feedback Requests: Customers may provide feedback on their overall experience, helping businesses make data-driven decisions.
8. Escalated Issues
Supervisor Involvement: When routine customer service representatives can't resolve an issue, it may be escalated to a supervisor or specialized team.
Complaint Resolution: Handling escalated issues requires a higher level of expertise and a focus on conflict resolution.
9. Community Forums
User-to-User Interaction: Some businesses facilitate customer-to-customer interactions through forums. Customers share tips, advice, and solutions.
Moderation and Support: Company representatives may participate in forums to provide official support and guidance.
10. Subscription and Membership Services:
Billing Inquiries: Customers may question subscriptions, billing cycles, or payment methods.
Account Management: Interactions can involve updating account information, changing subscription plans, or canceling services.
Importance of Customer Interactions
Why it is essential to manage customer interactions cannot be overstated in the contemporary business landscape. The customer interaction cycle can go beyond simple transactions. They are key to building and maintaining a loyal customer base.
Here are several reasons highlighting the significance of customer interactions:
Building Trust and Credibility
Trust is the foundation of any successful business relationship. Positive interactions contribute to building trust and credibility. When customers feel heard, understood, and valued, they are more likely to trust the business and become loyal customers.
Customer Satisfaction and Loyalty
Satisfying customer interactions is the cornerstone of customer satisfaction. Customers with positive experiences are likelier to become repeat customers and brand advocates. Loyal customers contribute to recurring revenue and act as ambassadors, promoting the brand through word-of-mouth.
Understanding Customer Needs
Effective interactions provide businesses with valuable insights into customer needs and preferences. By actively listening and engaging with customers, companies can gather feedback, identify pain points, and make informed decisions to enhance products or services.
Resolving Issues Promptly
Business is flawed, and issues are bound to arise. However, how these issues are handled can significantly impact customer perceptions. Quick and efficient resolution of problems during interactions can turn a negative experience into a positive one, strengthening the customer-business relationship.
Differentiation in a Competitive Market
Positive customer interactions become a key differentiator in a saturated market, where products and services can be similar. Businesses prioritizing customer experience stand out, attracting and retaining customers in a fiercely competitive environment.
Benefits of Effective Customer Interactions
Effective customer interaction management yields numerous benefits, influencing and improving customer satisfaction, loyalty, and overall success. Here are several key benefits of ensuring that you improve customer interactions that are consistently positive and impactful:
Increased Customer Retention
Positive interactions contribute to higher customer retention rates. Satisfied customers are more likely to remain loyal to a brand, reducing the need for costly customer acquisition efforts.
Positive Word-of-Mouth Marketing
Customers who interact positively will likely share their experiences with friends and family on social media. This organic word-of-mouth marketing can significantly enhance a brand's reputation and attract new customers.
Consistently positive interactions contribute to a positive brand image. Businesses known for good customer service are likelier to be perceived as trustworthy, reliable, and customer-centric.
Increased Customer Lifetime Value
Loyal customers who have positive interactions tend to spend more over their lifetime. By focusing on customer satisfaction and building strong relationships, businesses can maximize the lifetime value of each customer.
A reputation for outstanding customer interactions can serve as a competitive advantage. Customers are more likely to choose a business that prioritizes their experience over competitors that do not.
Valuable Customer Feedback
Customer interactions provide an opportunity to gather valuable feedback. This feedback can be used to make informed business decisions, improve products or services, and address areas of concern.
Tips for Effective Customer Interactions
Effective customer interactions are crucial for building strong relationships, fostering customer loyalty, and ensuring overall satisfaction. Here are some tips to enhance the effectiveness of your customer interactions:
1. Active Listening
One of the fundamental aspects of effective customer interactions is active listening. Ensure that your team listens attentively to customer queries and concerns, demonstrating a genuine interest in understanding their needs.
2. Empathy and Understanding
Empathy is a powerful tool for interacting with customers. Customers appreciate when they feel understood and valued. Train your team to put themselves in the customer's shoes, acknowledging their feelings and concerns.
3. Clear Communication
Effective communication is vital in avoiding misunderstandings and confusion. Encourage your team to communicate clearly, using simple language and avoiding jargon that might confuse customers.
4. Personalization
Customers appreciate a personalized experience. Use customer data to tailor interactions, addressing them by name and providing relevant information based on their preferences and previous interactions.
5. Prompt Response
In a fast-paced digital world, customers expect prompt responses. Whether answering emails, responding to social media inquiries, or handling phone calls, prioritize quick and efficient responses to show customers their time is valued.
6. Continuous Training
Invest in continuous training for your team. Equip them with the skills and knowledge needed to handle various customer scenarios, ensuring they are well-prepared to provide exceptional service.
7. Use Technology Wisely
Integrate technology to streamline customer interactions. Implement customer relationship management (CRM) tools, chatbots, and other technologies to enhance the efficiency of your customer service processes.
Conclusion
Customer interactions are the lifeblood of successful businesses. They are not just transactions but opportunities to build relationships, foster trust, and create memorable experiences.
By understanding the importance of customer interactions and implementing effective strategies, businesses can meet and exceed customer expectations, creating a loyal customer base that forms the foundation of long-term success.
In a competitive marketplace, businesses prioritizing positive customer interactions are surviving and thriving, setting themselves apart as leaders in customer-centricity.
Effective customer interactions are pivotal for business growth. QuestionPro streamlines the process, offering innovative solutions to gather feedback, understand preferences, and foster meaningful connections. Elevate your customer engagement with QuestionPro's tools and drive success through enhanced understanding and responsiveness.