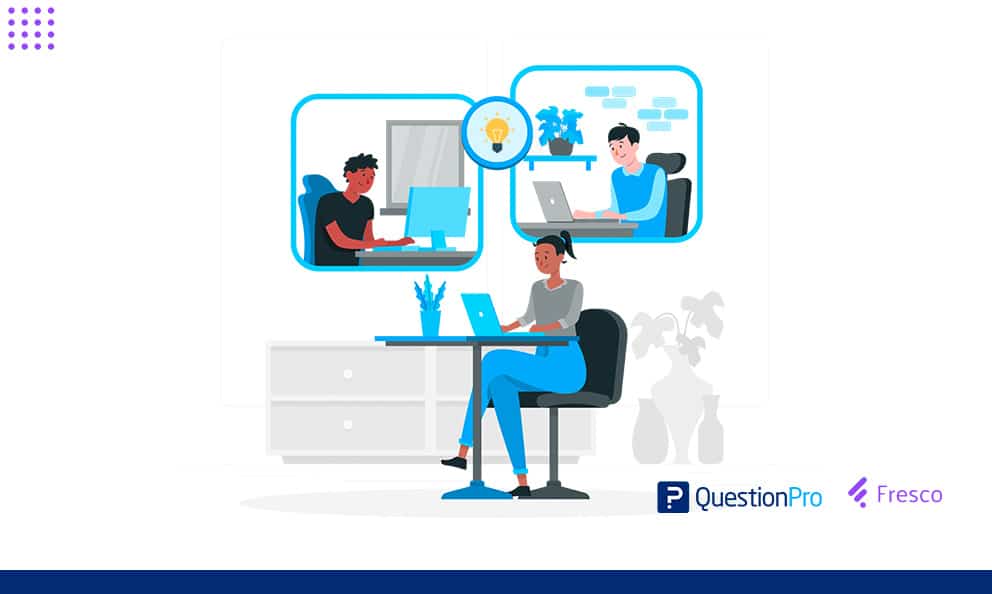 When you think about online meeting tools, most people jump straight to Zoom, Microsoft Teams, or Google meet. We're conditioned to group video calls with online meeting tools when the category of online meeting tools is actually much more expansive. This article will outline some of the best online meeting tools to collaborate with your team and detail how you should choose the right tool for you.
What Is an Online Meeting Tool?
Online meeting tools are any collaborative software that your team can use to connect, communicate, and work together. This could be meetings, task management, visual collaboration, or any combination of things. Especially when working in a hybrid or remote work environment, online meeting tools have become essential to maintaining an efficient workflow. Each team will have slightly different needs, so there are a couple of important categories to recognize when it comes to online meeting tools. They are listed below:
Communication & Meeting Tools

Task & Project Management Tools

Collaborative Tools
These three categories house the majority of important online meeting tools, but even within these buckets, there are tons of unique tools you can implement. Below, we've highlighted 15 of the most unique and impactful online meeting tools to collaborate with your team.
Collaborative Tools
Collaborative tools are an evolution of most online meeting tools, allowing your team to collaborate in real time to create more efficient outcomes. Often paired with video conferencing tools, these platforms create an engaging online environment that makes remote workspaces incredibly efficient.
QuestionPro LivePolls
LivePolls is the best audience engagement tool to use online and allows you to collaborate with real customers to collect real-time feedback. You can gamify virtual events to make them more interactive, gather feedback, measure engagement, and use quizzes and polls to understand your customers better. This unique online meeting tool allows you to integrate customers in a meaningful and interactive way, which is incredibly effective when doing market research or analyzing customer experience.
Fresco
Fresco is an online whiteboard solution that is innovating how we picture visual collaboration. Combining the capabilities of online whiteboards, task managers, and asynchronous collaboration tools, Fresco is creating a holistic collaboration experience for users everywhere. Where most visual collaboration tools only handle one of these items, Fresco creates a platform where all your workflows can coexist.
LucidChart
LucidChart is a popular collaboration tool among developers and roots its value in the ability to quickly and efficiently create UML diagrams and similar structures. Not only can you quickly create these diagrams online, but you can do so collaboratively, ensuring that everyone on your team is on the same page. This powerful diagram creation tool can be a great option for your workspace if you want something more geared toward software development. 
Google Docs
Google docs is an oldie but a goodie. It's the original real-time collaboration document editor and is just as effective as always. Paired with many other features on Google suite, Docs is more powerful than many people realize and can be a great option if you want something incredibly easy to jump on board with.
Figma
Figma offers collaborative options for people who need design capabilities from their online meeting tool. Figma is a leader in design software, allowing people to create mockups, high-fidelity design screens, presentations, and entire design systems all within the same tool. On top of this, you can access it collaboratively, making it one of the most powerful design tools around. It's no surprise that Figma is important, with Adobe having recently acquired it for a staggering $20 billion dollars.
Communication & Meeting Tools
Most people think of communication and meeting tools when referencing online meeting tools, and for a good reason. These tools have become staples in both physical and digital workspaces, and the biggest options have become household names.
Slack
Slack is one of the most popular messaging tools on the market, shown by its use by over 65% of the Fortune 100. It's a supremely efficient messaging tool that allows you to connect and collaborate with team members at any time. Slack also creates shared channels so teams can communicate in one shared place rather than relying on massive email chains. Replacing endless channels of inefficient communication, Slack is one of the most important tools for any online team.
Zoom
Zoom had a massive boom in 2020 but was rising before the pandemic ever hit. It moved into the market as the leader in simple, effective video calling and innovated the space by allowing you to use a repeatable individual meeting room. This simplified the landscape of video calling tools, which was slightly unnatural and unrefined before Zoom capitalized on these limitations. As we said at the beginning of the article, Zoom is easily one of the most recognizable tools for online teams worldwide.
SpatialChat
SpatialChat is a company that started coming up during the pandemic and has made impressive growth. They are one of the first companies to pioneer spatial audio and video for online meetings, recreating a physical workspace on your computer. By doing this, they became an extremely unique option for people looking to make their online meetings more interactive and unique, providing some diversity to the experience of remote life.
Butter
Butter is a leading collaboration tool, but it is also incredibly impressive as a communication and meeting tool. They specialize in workshops and presentations, making it incredibly easy to share information and present it to a group of people. On top of workshops, their value is based on making meetings more productive and creating a more engaging platform than any other meeting software available. This is a fantastic option if you're looking for an all-in-one meeting tool.
Notion
Notion is less of a meeting tool but is too good to miss out on this list. Notion is a fast-growing startup that created collaborative online documentation for teams and individuals to use when building a startup, completing a project, or onboarding team members. This tool can be seen as competition for Google docs because it focuses on collaborative document creation, but it goes further than that and enables real-time communication for its users. This is a great option if you're looking for an online meeting tool that's more grounded in documentation than real-time meetings.
Task & Project Management Tools
Task management and project management is an industry that digital tools really push forward, and most tech companies will use these tools to manage releases and workflows. They can be helpful elsewhere, even in your personal life, to help manage tasks and keep people on schedule.
Jira
Jira is one of the most popular project management tools and comes as a part of Atlassian's virtual suite. It is extremely powerful and simplifies project management, which is why many software development teams select it as their management tool. In their own words, it "Jira Software provides planning and roadmap tools so teams can manage stakeholders, budgets, and feature requirements from day one." 
Chisel
Chisel is a tool built by product managers for product managers. It integrates many important features into the product management cycle, including roadmapping, team alignment, and customer connection. Most product management tools don't include these unique features, making Chiselt the #1 choice for product managers hoping to keep track of the end-to-end process.
Asana
Asana is a tool similar to Jira, a simple project management software. It allows people to create projects and visually manage tasks, creating a visually digestible dashboard that anyone can manage. Asana is very helpful when working asynchronously, and claims that it can help increase the efficiency of teams while removing redundant meetings. Whereas Jira is more geared toward software project management, Asana is a more general tool, making it accessible to anyone.
Monday
Monday.com is a unique software platform that allows people to create their own applications and project management workflows and manage them on the cloud. This solution might not be the best for beginners, but it certainly provides a powerful alternative to someone looking to manage a unique process online.
ClickUp
Where Monday might miss beginners, ClickUp is geared to make task management as easy as possible for a novice. ClickUp is a tool that has the capacity to level up to manage larger teams but can also scale down to make task management incredibly simple for professional or personal life. With a friendly user interface and a simple onboarding process, ClickUp is a perfect place to start for anyone interested in task management.
How Do I Know What Online Meeting Tool to Use?
Deciding what online meeting tool to use can be difficult when you see the number of options. They all do slightly different things, so deciding which one will be best for you can be hard. Here are some factors to consider to help make your decision easier.
Consider Pricing
If you're onboarding a tool for just yourself or an entire team, consider how much it will cost over time. Especially if you're unsure about it, you won't want to jump into a high-priced plan. Check to see if tools have a free trial and how their pricing structure breaks down. This might be a good place to start when eliminating options and noting their features.
Prioritize Ease of Use
If you're onboarding a tool for an entire team, it will be much more effective if the tool is easy for everyone to use and understand. Prioritizing ease of use is incredibly important because, even if the software is super powerful, it won't be effective if it isn't usable. This might not be a big concern for tech-savvy teams, but for others, it can be the biggest priority.
Look for Multiple Features
When looking for an online meeting tool to onboard, you want to find something that meets all of your needs. Ideally, it would extend beyond your needs to provide additional value to your team. The key factor to consider here are the features it offers and if you can use it for multiple purposes. For example, some SEO tools also double as social media & marketing tools. This provides core value in more than one place to make it a valuable addition to a marketer's toolbox.
Think About Your Needs
While thinking about multiple features and levels of scope is important for online meeting tools, it can't distract from your core needs. The #1 priority should be "does this tool address our needs and improve our ability to meet our goals?" only after you've answered this question can you begin scanning for additional features and capabilities. 
Check for Integrations
If you're onboarding multiple solutions or need a tool that rests on other online meeting tools, it's important to consider how they might integrate to make the experience seamless across platforms. If you have two tools that don't integrate at any level, it might decrease your workflow efficiency even though you're adding a tool with the specific goal of increasing it. If you're working with an existing stack of tools, definitely look into how a new online meeting tool might integrate with your other platforms.
Conclusion
Online meeting tools have become nothing except essential in the modern workplace, and these 15 tools are some of the most unique options for any hybrid team. Learn more about QuestionPro's Livepolls and get started today!