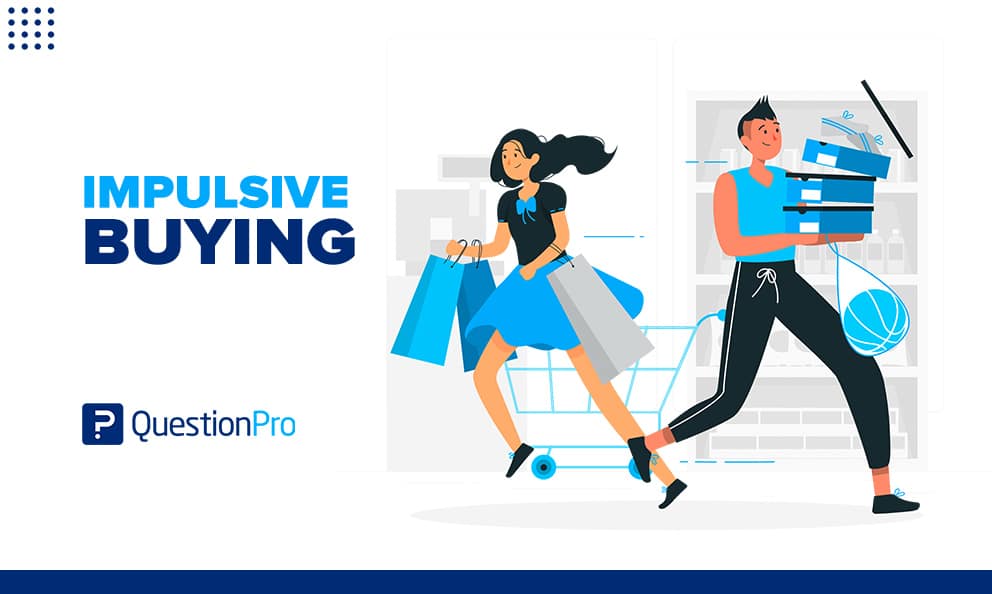 Who doesn't like a good sale? Some people could see shopping, hunting for a deal, and purchasing visually pleasant products as harmless "retail therapy." But for other people, shopping may become problematic. Let's discuss impulsive buying.
Impulsive buying cannot be classified as a single product category. Products like chocolates, clothing, mobile phones, and expensive stuff like jewelry, vehicles, and other big-ticket items, are all examples of impulsive buying.
Consumers visiting the hypermarket with no real intention of buying anything will likely leave with a purchase. By releasing goods that may be an accessory for their phones, such as fitness bands, watches, and other similar accessories, many mobile phone manufacturers prefer to take advantage of this feature in their consumers.
This blog will explain what impulse buying is and what effects it has on consumer behavior.
What is impulsive buying?
Impulse buying is when a customer buys something without thinking about it first. It happens when a product or message is well advertised or promoted. Impulse buyers buy things without planning to because they rely on feelings that make them feel the need to buy.
A consumer desires to make last-minute purchases of products and services. When a buyer makes impulsive purchases, sentiments and emotions often drive them.
These random purchases might sometimes be relatively harmless if they are within a person's spending limit. However, regrettably, impulsive buys may also lead to expensive shopping binges that might ruin their finances.
Indicators of Impulsive buying behavior
Most individuals engage in impulsive buying on occasion. Some indicators of impulsive buying include:
Spending lots of money than planned

Visiting businesses that often cause impulse purchases

Feelings of quick satisfaction following unplanned purchases

Frequently returning unplanned buying due to regret
Impulse buying effect on consumer behaviors
The tension between the immediate benefit and the potentially harmful effects of the purchase, which results from impulsive buying, leads to an emotional loss of control and may set off obsessive buying behaviors that can progress to chronic and pathological levels.
We must specifically describe the customers' "impulsive buying" as a spontaneous want to purchase something without any preparation or deliberation to identify this change in consumer behavior. The "trigger" or first response a buyer has to something they didn't previously want before coming into touch with that item is called impulsive buying.
Many things come into consideration whenever a customer has a buying impulse:
Consonant Factors:

This factor often refers to how stable and acceptable something is deemed to be. Consonant variables show that the impulsive purchase is consistent with your desires, financial situation, and feelings. Dissonant variables may sometimes cancel out this factor.

Dissonant Factors:

This element usually indicates a desire for resolution and disagreeableness. You strive to use self-control to resist the urge to acquire something because dissonant considerations make you believe that doing so may negatively affect you.
Before the Covid-19 pandemic, most shoppers probably didn't mind buying a snack or other wanted item on the spot since they felt they'd earned it at the end of a trip. It wouldn't have a significant impact on their budget as a whole. In other words, their consonant factors were easier to "agree" with.
Today, it shows that shoppers care more about things that don't go together than they do about the products themselves. People feel "less safe" when they buy something on a whim because they don't know how it will affect their mental or financial health later on. Who can blame them, considering how bad the pandemic has been for the economy as a whole?
How Can You Help?
Retailers may yet have some hope. The only thing businesses need to do is adapt to changing consumer behavior.
Earlier Impulse Trigger:
48% of impulsive purchases happen "before" the checkout queue. Some businesses advise customers to wait until the checkout is clear before adding items. Other shops suggest lanes to consumers to encourage traffic. Timing and curation changes prevent impulse buys. Before the front aisle, create a sizeable impulse-buy zone.
Simplify assignment:
According to a study, impulsivity is vital in the first 1/3 of the checkout line. To increase conversion, streamline your selection and concentrate on best-selling SKUs. Simplifying high-selling goods eases navigation and buyer stress, driving impulsivity.
Rethink packaging:
Shoppers don't trust front-end items. Immediate consumption product packaging must be rethought to reduce customer hesitance. Adding further safety measures, such as an IC multipack, might employ a transparent protective overwrap. This ensures product quality and consumer/retailer transparency.
Change the way you communicate:
Behavioral science suggests giving individuals a feeling of control, particularly during the epidemic. Connect with consumers, speak constructively, foster a sense of community, and acknowledge virus-prevention efforts. This shift in vocabulary might minimize their dissonance quickly.
LEARN ABOUT: Consumer Decision Journey
Conclusion
In conclusion, impulsive buying can significantly increase your customer base and revenue. This will make your business better and bigger. You can create a marketing plan that sells if the methods are used correctly. Your business will be better and more extensive.
But impulse buying has both positive and negative sides for businesses and consumers. But then again, it is essential and does affect business how a consumer feels and makes a purchase.
You can learn more about your consumers using the customer experience management platform QuestionPro CX.
One of the leading providers of customer experience products is QuestionPro. Utilize QuestionPro CX now to get important details about clients' thoughts and emotions.