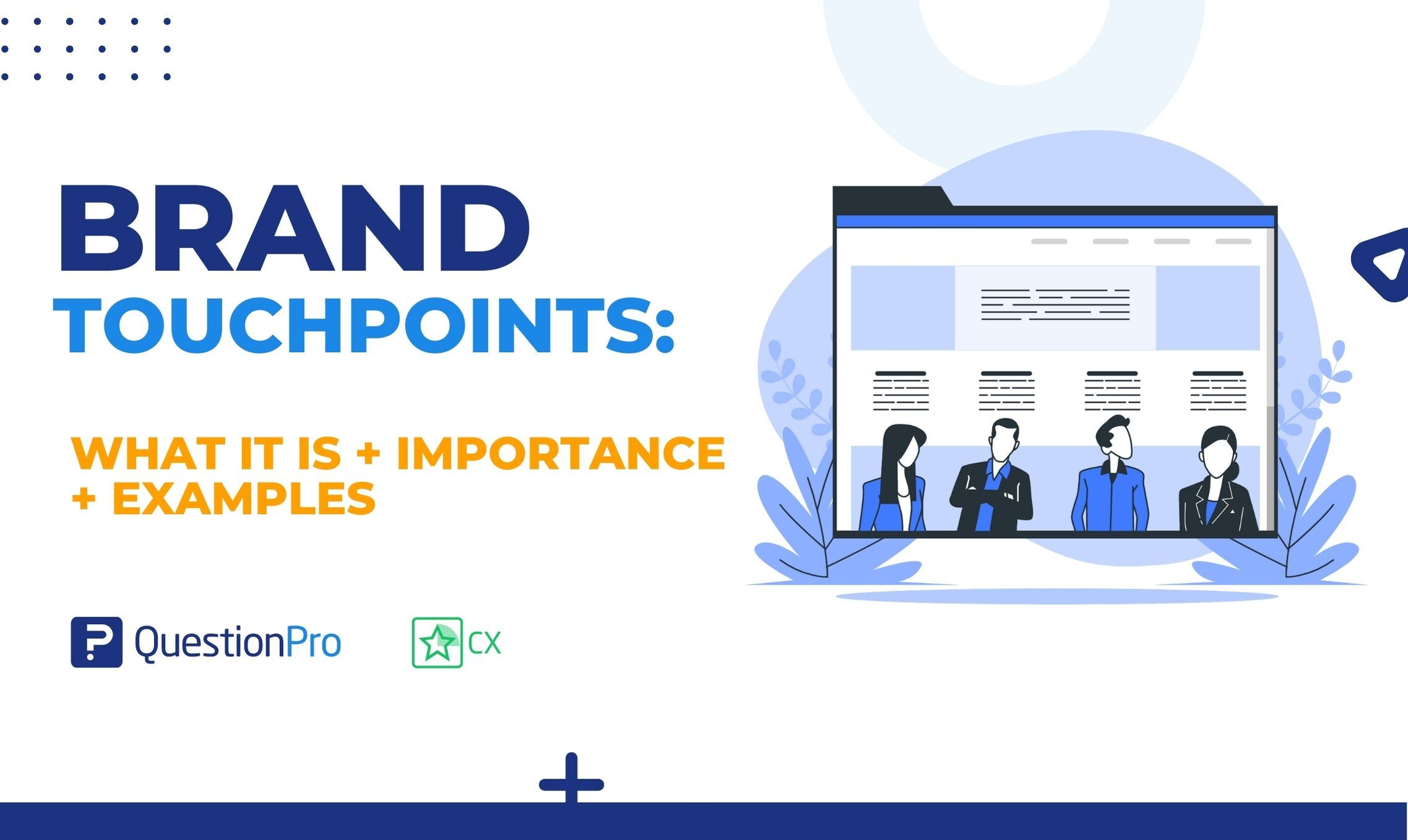 Brand touchpoints are likely to be something you are already familiar with daily. They are each time a customer interacts with the brand. As a brand, your interactions with customers are important, and it does not happen simultaneously.
Most companies have more than 100 different customer touchpoints people can interact with their brand.
They can be physical, like a postcard or business card sent by direct mail. They can also happen in person, such as at a live event or by giving excellent customer service in stores.
This blog will discuss brand touchpoints and their importance to your business. So let's get started.
What are the brand touchpoints?
Brand touchpoints are any engagement or communication between a company and its customers.
The brand usually makes brand touchpoints for engaging customers and giving them the best brand experience they can have. For example, consider this when you make a reservation at an expensive restaurant. You come into contact with the brand in some of the following ways:
Their social media review
Their website to book a table
Restaurant entrance signage
Their menu when choosing your food
Their uniforms when giving your order
Their hospitality
Each of these components is considered a brand touchpoint. They should be designed in a way that fits with the rest of your brand.
Importance of brand touchpoints
Customer experience improves with good touchpoints. Your company touchpoints define the experience of your target audience with your brand. Here we will explore some key importance of brand touchpoints that help your business:
Businesses need their touchpoints to make a good impression on customers at every step of the customer journey. Otherwise, a poor customer experience can harm a brand's reputation and performance at any touch point.
Positive brand touchpoints can result in increased customer loyalty and positive word-of-mouth, driving sales and revenue growth for the company.
A company can increase brand awareness and establish a solid corporate reputation by providing consistent and positive experiences at every brand touchpoint.
A business can collect data and customer feedback via touchpoints, which can then improve products, services, and the overall customer experience.
An effective brand touchpoint strategy can help a company stand out from its competitors and gain a competitive advantage.
You may also check out this guide to learn how to build your own Customer Journey Map.
Examples of brand touchpoints
Depending on the type of business and industry, there are various examples. There are three types of touchpoints of the brand. They are given below:
Pre-purchase touchpoints
Purchase touchpoints
Post-purchase touchpoints
Let's take a short glimpse at each type.
Pre-purchase touchpoints
Pre-purchase touchpoints are the different points of contact a customer may have with a brand before completing a purchase. Brands can use these touchpoints to raise awareness, spark interest and desire, and ultimately get customers to buy something. Some examples of touchpoints before a purchase are:
Advertising: Advertising is a common touchpoint for companies to get people interested in their products or services before they buy them. Tv ads, radio ads, and google search ads are examples of advertising.
Social media: Social media helps businesses to engage directly with customers and create relationships before a purchase. Facebook, Instagram, and Twitter are examples of pre-purchase touchpoints on social media.
Website and online presence: Websites can be excellent pre-purchase brand touchpoints because they provide thorough information about products and services and make them simple to purchase.
Word of mouth: It is informal communication about a product or service from one person to another. It can take many forms, including social media reviews, influencer marketing, and referral marketing.
Purchase touchpoints
Purchase touchpoints are the different points of contact a customer may have with a brand throughout the actual purchase process. Brands can facilitate purchases and improve customer experiences with these interactions. Some examples of purchase touchpoints are:
Packaging: Packaging is one of the key purchasing brand touchpoints since it can impact a customer's choice to purchase a product and generate a pleasant brand experience. Packaging as a purchase touchpoint includes branding, product information, unboxing experience, etc.
Welcome kit: Customers receive a welcome kit after making a purchase. It can include a product manual, a thank-you card, promotional materials, and brand samples.
Environment: It can refer to both the physical store or location where the purchase is made and the online environment or website where the purchase is completed.
Sales reps: A well-trained and skilled sales rep gives individualized service and helps consumers identify the perfect product or solution, which can boost customer satisfaction and loyalty.
Learn more about why understanding your Customer Journey transforms your CX program.
Post-purchase touchpoints
Post-purchase touchpoints refer to a customer's contacts and experiences with a brand after completing a purchase. These touchpoints can affect customer satisfaction and future purchases. Examples of post-purchase touchpoints are:
Loyalty programs: Loyalty programs are excellent post-purchase touchpoints for brands because they reward customers for their purchases. These touchpoints include exclusive offers and promotions, tiered membership, personalized communication, and so on.
Customer service: Customer service can help customers feel satisfied with their purchase and can help fix any problems they may have. Some examples of customer service touchpoints are phone or email support, live chat, social media support, etc.
Product experience: A positive product experience can lead to customer satisfaction, loyalty, and word-of-mouth recommendations, all of which are important brand touchpoints.
Follow-up outreach: Follow-up outreach is a key post-purchase touchpoint for a company because it allows the brand to stay in touch with customers and obtain feedback on their experience. Examples of follow-up outreach touchpoints are surveys, re-engagement campaigns, follow-up phone calls, and so on.
Contact QuestionPro to conduct any type of survey. QuestionPro is a complete survey software platform allowing you to conduct surveys with many excellent features.
How QuestionPro CX helps in identifying your brand touchpoints?
QuestionPro CX helps businesses find brand touchpoints by collecting customer feedback. Businesses can use QuestionPro CX to make and send out surveys, which can be used to find out how customers feel about the brand and how they interact with it. QuestionPro can identify brand touchpoints in several ways:
Customer feedback surveys: QuestionPro allows businesses to create surveys that ask customers about their brand experiences across multiple touchpoints, such as website design, in-store experience, product packaging, and customer service.
Customer segmentation: QuestionPro can help businesses identify which touchpoints are most important to different groups of customers by segmenting them based on demographics, behaviors, and preferences.
Data visualization: It offers advanced data visualization options that can help businesses quickly identify patterns and trends in customer feedback, making it easier to identify key touchpoints.
By using QuestionPro to get feedback and insights from customers, businesses can figure out which touchpoints are most important to their customers and where they can make improvements to create a better brand experience.
Conclusion
Brand touchpoints play a vital role in establishing and sustaining a positive and strong relationship between a brand and its customers. A brand can create a consistent and positive customer experience by managing and optimizing touchpoints, which can lead to increased customer loyalty and employee advocacy.
QuestionPro can be an effective tool for companies looking to gain insight into their brand touchpoints and improve their customer experience. Businesses can identify areas for improvement and make data-driven decisions to optimize their touchpoints by soliciting customer feedback.
Try out QuestionPro today!