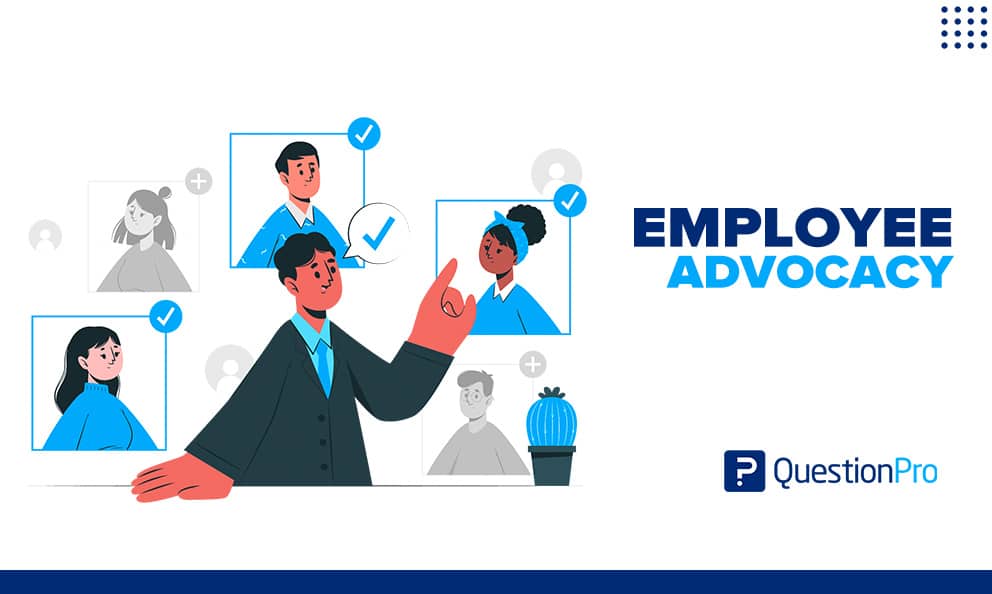 Find out what employee advocacy is and the advantages of developing an employee promotion program in your company.
Engaging your employees as advocates for your brand provides several benefits to your company. That is why today, we will learn what employee advocacy is, its benefits, and how to implement it in your organization.
Companies that care about their employees, like Google, go to great lengths to attract (and retain) their talent. Companies can truly invest in their employees and keep them engaged by offering top-notch services and benefits. But another way to keep them engaged is to have them participate in a structured employee advocacy program.
What is employee advocacy?
Employee advocacy or employee defense are awareness programs designed to mobilize and empower employees to defend their company and their brands on social media and, in fact, to be true brand ambassadors.
Employee promotion programs encourage them to participate in communication efforts and share valuable content from your company on their social networks.
Advantages of having an employee advocacy program
Involving employees in a promotion program shows that you have faith and trust in them to act as agents on behalf of your company.
Nothing builds employee loyalty more than allowing them to share information—both company-created content and quality third-party content—on their various social networks.
Those in charge of your company's social networks can be in in charge of the quality and content so that it is per the policies and values ​​of the organization.
Among the benefits of employee advocacy are:
Employees become promoters of your industry
By allowing your employees to champion your company on social media, you show that you are interested in building their brands.
Once again, this lets your employees know you trust them to promote the company to their networks.
If you don't believe in your company's overall vision and culture enough to allow your people to promote the company without feeling threatened, it's time to reevaluate your priorities.
Make the necessary changes to enable your employees to become your most valuable brand advocates.
Find out how to get brand advocacy and increase sales:
Provide customers and prospects with real and meaningful interaction
Another advantage of having an employee advocacy program is that friends and colleagues of employees on social networks know your employees on a personal and professional level.
More and more people consult social networks before buying a product or service; your networks are a valuable resource for them.
Consumers trust social media because they know they will not get answers or recommendations from some company-trained bot.
As individual networks of employees begin to see them as industry experts, the rest of the people can trust the recommendations and insights of the employees. This is good for your employees and for your company.
When employees post on social media, you get a different view than your company does
This is a great reason to harness the powers of your employee advocacy program. Employees don't have to play by the same rules as corporate social media accounts when interacting with personal social media.
Employees should indeed be careful about disclosure rules. Still, employee disclosure doesn't take anything away from a true employee advocate if they've built themselves as an industry thought leader among their peers.
Tips for creating an employee advocacy program
Here are four tips to encourage your employees to become brand ambassadors and talk about the company independently on social media.
Empower employees who are new to social media
Some employees do it very well and know the codes of the different social networks. But this is not the case for everyone. Some are newbies and need help. Offer them a guide for proper social channels, and help them correctly use LinkedIn or Twitter, for example, the two most professional social networks.
You can also help them optimize their profile by updating their bio and experiences and making them participate in shooting for a suitable profile photo.
Lead by example by sharing content on your social accounts to encourage employees to become brand ambassadors.
To be successful in your employee advocacy program, the company must, of course, create quality content. Otherwise, the employees will have nothing to share.
The content must be attractive to your employees. Otherwise, they will not want to share it. Make content that creates value for your audience but also for your employees. They should be proud to stream this content.
Also, think about curating external content by sharing it. Industry news, for example.
Conclusion
Allow your employees to become digital ambassadors of your brand. This has a positive impact on the image of the company.
Creating an employee advocacy program is indeed hard work, but remember to keep the benefits mentioned above in mind as you work on these advocacy efforts. In the end, everything will pay off.