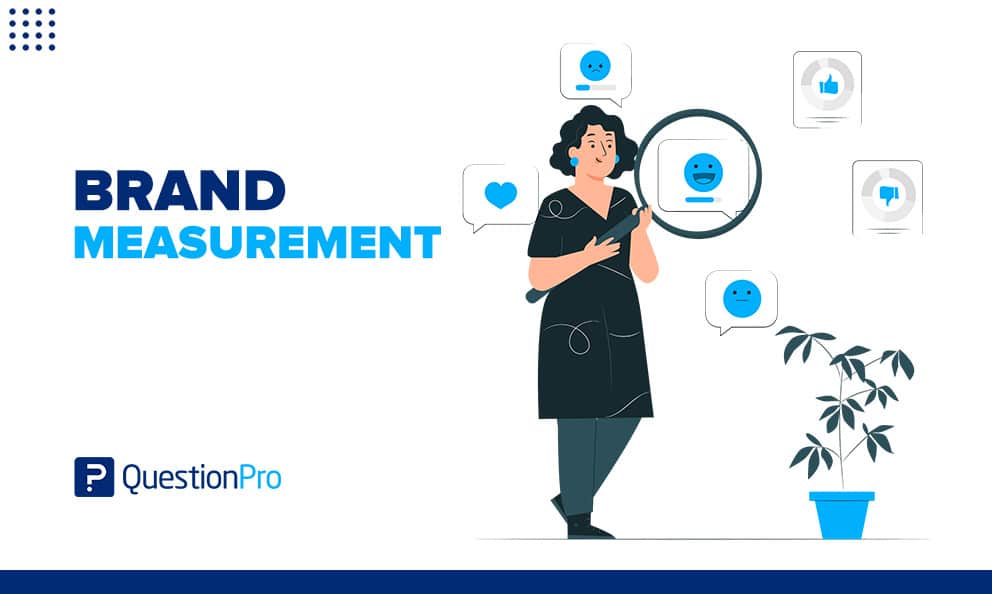 Want a clear vision of how consumers measure brand performance? There are uncountable different metrics and market reactions for brand measurement by which it will be easier to know. Like measure brand awareness, Penetration, Likability, Top of Mind, Retention or loyalty, Market Value, and so many more metrics to brand measurement. Let's get started with the details.
What is Brand Measurement?
Given the importance of brand awareness for every business, brand measurement becomes necessary to determine the brand's worth. Brand measurement is a condensed collection of Company, Product Type/ Category, brand preference, Product Name, Company and Product logo, Brand and product Customer Awareness, Brand and product Customer Recognition, Acceptance for the Change of Brand or Product, and many more.
Various metrics assist us in defining our brand measurement in order to determine the exact value of a brand strategy.
Importance of Brand Measurement
In market research and business, brand measurement is an indispensable tool for evaluating the effectiveness of your branding efforts. As we've explored in this article, it involves the systematic assessment of various metrics to gauge the impact and perception of your brand in the eyes of your target audience. By understanding the nuances of brand measurement methodology, you can follow up on your progress and make informed decisions to enhance your brand's visibility, reputation, and, ultimately, your bottom line.
To summarize, here are some key takeaways and tips for effective brand measurement:
Define Clear Objectives:
Establish specific targets and objectives for your brand measurement efforts. What do you want to achieve? Are you looking to increase brand awareness, customer loyalty, or market share? Setting clear objectives will guide your measurement marketing strategy.
Select Relevant Metrics:
Choose the metrics that align with your objectives. If you're focused on brand awareness, metrics like reach and impressions are crucial. If customer loyalty is your goal, consider metrics like Net Promoter Score (NPS) and customer satisfaction.
Use Technology and Tools:
Leverage the power of technology and brand measurement tools to collect and analyze data efficiently. There are numerous analytics platforms available that can help you track and interpret your brand metrics.
Monitor Regularly:
Brand measurement is an ongoing process. Regularly monitor your chosen metrics to detect trends and patterns. It allows you to make timely adjustments to your branding strategies.
Benchmark Against Competitors:
To gain a competitive edge, compare your brand metrics. This benchmarking can reveal opportunities for improvement and innovation of a brand perception.
Listen to Customer Feedback:
Remember to appreciate the value of direct feedback from your customers. Online reviews, brand awareness surveys, marketing campaigns, and social media comments can provide valuable insights into how your brand is perceived.
Adapt and Evolve:
Brand measurement is not static. As your business and market research conditions change, be prepared to adapt your measurement approach and marketing strategies accordingly.
Brand measurement is essential for any business seeking to thrive in a competitive market. By understanding the metrics, setting clear objectives, and regularly monitoring your brand's performance, you can make informed decisions that strengthen your brand's presence and impact. Remember that brand measurement is not a one-time task but an ongoing commitment to ensuring your brand is relevant and resonates with your target audience.
Brand Measurement Metrics
So now let's discuss the metrics by which a brand can be measured.
The first step for every brand or company is to raise brand awareness. Brand awareness refers to a consumer's familiarity with a certain product or service. And brand awareness is one of the most challenging marketing KPIs of brand measurement to evaluate, but measuring how customers are aware of and familiar with your brand is one of the first steps toward a successful business.
There are two ways to calculate brand awareness:
1. Quantitative: There are certain matrices that may be used to determine the number of people that are aware of a brand.

To begin, direct traffic is generated when individuals consciously type in your URL and engage with your content. Your direct traffic figure will tell you how much referral traffic is visiting your website as a result of your marketing efforts through search traffic. Web traffic is a crucial indicator since many customers nowadays learn about businesses through social media, marketing, or by putting in keywords relevant to your product or brand for referral traffic. When customers go back to the website, it shows they were already familiar with your brand.
The site organic traffic figure simply represents total site direct traffic, which indicates how much of the broader internet population is viewing your content and engaging with your brand. It didn't reveal exactly where people were coming from, but that's irrelevant because they're familiar enough with your brand to seek it out.
Followers, likes, retweets, comments, opinions, and shares are all examples of engagement. It reflects how often people are becoming aware of and interacting with your brand, and how effective your material is. For example, numerous websites may provide you with a social effect score.
2. Qualitative: This is when your "score" for brand awareness becomes a bit hazy. However, these methods can still assist you in determining yet how many individuals are aware of the product. Try these methods to assess quality:

You can keep up with how your company is being discussed online by simply Googling and setting up Google Alerts. It will notify you of any news or references in the press by third parties. Keep a watch on how your brand's digital real estate expands outside your website as it grows.

Monitoring social media monitoring tools for organically mentions and interaction is known as social listening. Who's tagging your brand in their posts, addressing it in conversations, or using your hashtag? These tools can assist you in figuring it out. And the more people talk about your brand online, the more they know about it.

Performing a brand awareness survey allows you to gain direct feedback from your consumers and audience, which can be quite useful in determining not only who is aware of the brand as well as what they think of it.
The brand measurement or popularity of a product or category is known as brand penetration. Brand penetration measures how much a brand or a certain product has or can reach target customers or consumers. It refers to the percentage of a brand's sales that are compared to the whole hypothetical marketplace for that brand.

Brand penetration is really a company's growth process by which a company takes many steps to expand its brand's market dominance in a certain target market sector. It's an attempt to go further into an already established market. As a result, brand penetration is a vital component of brand image and an assessment and forecast of how effective a company has been or will be versus the competition. Brand penetration entails using an assertive sales staff or supplementary marketing to infiltrate a consumer base deeply. Most of the time, the goal of employing "Brand Penetration" as a marketing technique is to increase market share. It is usually the initial step toward business expansion and is carried out by startups. Brand Penetration's Importance.

Penetration Rate and Penetration Share are two significant indicators to consider. Although Penetration Rate and Brand Penetration are identical, Penetration Share is not. The number of consumers for that brand's type in the connected market is compared to the number of clients for that brand's category.
We must determine how much or how many customers like the brand or product after raising consumer awareness and leaving an impression in their brains. This will indicate how well we are conveying our brand.

When customers think about your category, how likely is it that your brand will immediately come to mind? Brands should strive to market themselves in a way that keeps them at the top of consumers' minds when it comes to their product category. The significance of top-of-mind awareness, however, does not end there. This major benefit has several secondary advantages:
Advertising becomes more useful:
Your marketing efforts will be more remembered and impactful since the audience is already aware of the product. Furthermore, when competitors market their items, customers may recall yours.
PR is simple:
While your brand is well-known, it's simpler to get media attention.
Search rankings will shoot up:
If a lot of people are searching for your brand, the web browser will value your site and improve its position for connected terms.
Retention:
In Brand Measurement, customer retention refers to the process of persuading existing consumers to buy more of your company's products or services. The greater the number of repeat customers, the higher the demand.
Let's talk about how to enhance retention before we get into the specific calculations for the various indicators you may use to measure it for the target audience. Begin with these three aspects if you want to improve your brand's retention rates:
Calculate your client retention and migration rates to see how many customers return vs leave—but do you know why? Simply send feedback forms to departed customers and A/B testing your questions to enhance your response rate if the answer isn't obvious from your statistics.
Customer retention is greatly aided by a nice customer experience. Detailed consumer feedback should help you figure out what needs to be improved. If you don't already have any, start by encouraging brand loyalty.
We've said this already, and we'll say it again: today's customers want customized experiences and emotional connections with brands. A loyalty program is one of the finest methods to give that value. Loyalty programs let you maintain a long-term relationship with your consumers by rewarding them for making recurring purchases. This helps to maintain and even boost your client retention rate.


Brand recognition
Once we've finished all of the marketing, surveys, and other chores, we'll be able to see recognition, which will make measuring brand awareness simpler. When considering the value of a brand, it's vital to remember that a brand is an intangible asset that many people perceive to be part of a company's intellectual property.
Brand recall and recognition
Brand recall and recognition is a pivotal brand measurement metric that delves into the ability of consumers not only to remember but also instantly recognize your brand's distinctive elements. The more effortlessly consumers can recall and identify these elements, the more likely they are to connect with your brand, fostering a sense of familiarity and trust that can significantly influence their purchasing decisions and brand loyalty. It's a metric that underscores the importance of consistent and memorable branding and the potential for these brand elements to serve as powerful triggers for customer engagement and loyalty over time.
Want to be aware of the value of your brand? One of the most challenging and crucial indicators in brand measurement has to be market value. There are five factors that influence brand value:
Brand recognition. Customers' Perceptual Map of a brand.
Brand message and positioning The emotions and good experiences that your consumers have when they connect with you.
Customer devotion. The proportion of very happy consumers who would buy or use the product again.
Brand value. According to the customer's perceptions and experiences, this is how the company is valued.
Outstanding leadership. The value of a brand is determined by how its executives shape the organization.
Measuring Brand Awareness: The QuestionPro Process
The value of retaining an existing customer over acquiring a new one is significantly higher. Below are some of the methods to collect the voice of the customer.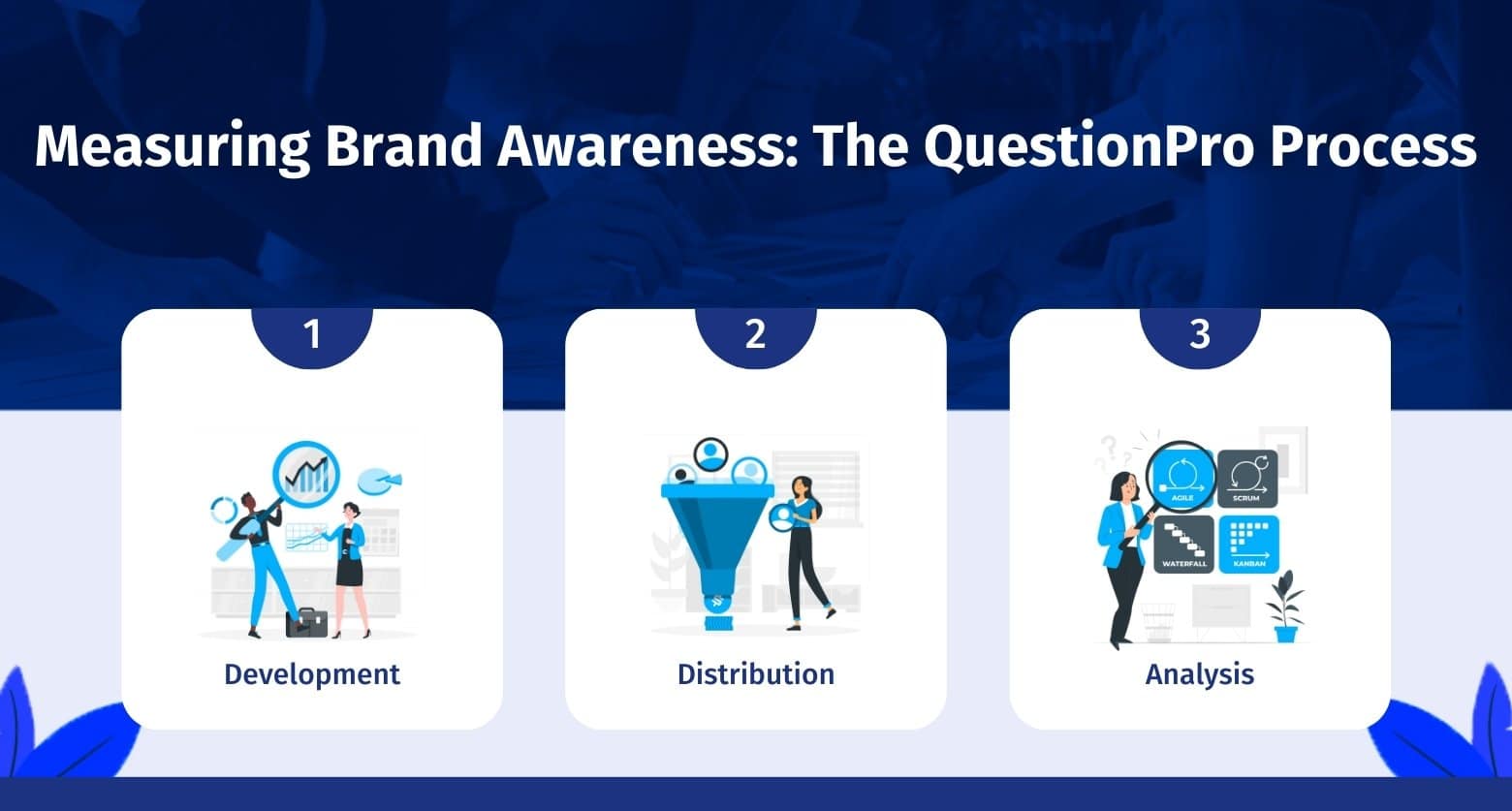 To begin making surveys, simply create your own free account with QuestionPro. When you log in, choose from three different ways to start. You can go into QuestionPro's template library and choose from over 100 different ready-made surveys. Or, you can use Microsoft Word to import an existing list of survey questions you've created. Last but not least, you can start your survey with a blank survey template, choosing from a question bank of over 30 question types.
Once you're done constructing your questionnaire, you have a multitude of different distribution methods. You can purchase a sample of targeted responses for your survey, requesting certain demographics such as age range and location. You can also easily embed your survey on your website or post to social media channels like Facebook or Twitter from within the interface. Import a list of email addresses and create customized lists of respondents.
When your survey is sent out, you can immediately begin to start collecting survey responses as well as analyze data. Easily filter data, create pivot tables, and perform trend or TURF analysis. With in-house data collection visualization tools, you can create professional word clouds and infographics with just a few clicks. Export your data to perform advanced analysis in programs like Excel or SPSS. Connect your account to Dropbox or Google Docs for cloud storage.
Conclusion
Brand measurement is the compass that guides businesses through the turbulent waters of the modern marketplace. It bridges intentions and results, offering a clear view of how a brand is perceived, its strengths, and areas that need improvement. Organizations can fine-tune their branding strategies by diligently brand tracking the right metrics and adhering to established objectives, aligning them with customer lifetime expectations and market trends. In an era where a brand's reputation can make or break its fortunes, brand measurement is not merely an option but an imperative. It empowers businesses to stay agile, responsive, and competitive in an ever-shifting landscape.
Furthermore, brand measurement is not a one-time exercise but an ongoing commitment to excellence. Embracing this practice ensures that a brand remains resilient and relevant, capable of weathering the challenges of today's globalized and digital marketplace. Pursuing effective brand measurement isn't just about numbers and statistics; it's about fostering meaningful connections with customers, building trust, and, ultimately, securing a lasting place in the hearts and minds of the target audience.