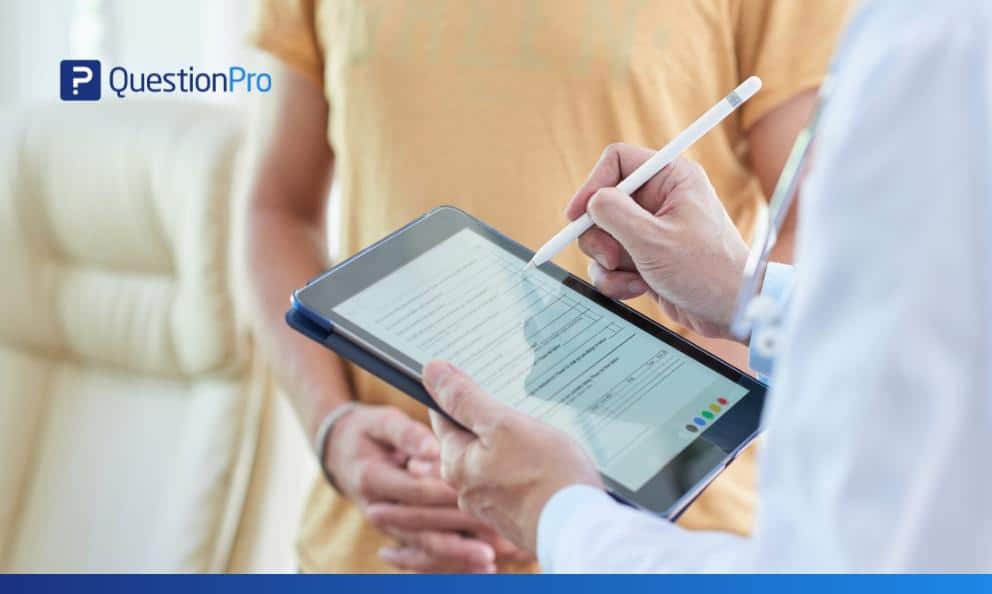 When you want honest, specific feedback from real people, online surveys offer an easy and affordable solution. A well-planned survey can reveal answers to research questions and offer action items that will help you build a successful strategy. Surveys are useful in practically any research situation, but not all situations benefit from the same questions. As a survey creator, you want to choose a template and write custom questions for your particular query and goals. 
To help you in this process, we describe the many types of surveys you might utilize and the best kinds of questions to include in this guide to survey questions for every occasion. Check out the templates available for each category to jumpstart your next research project. There are also some survey questions, you need to avoid.
LEARN ABOUT: User Interface Survey Questions & Powerful Survey Generator
The best way to learn what customers think is to ask them. Write clear, objective questions about the issues that concern customers the most. This will help you build a better business strategy and fine-tune your inventory or services to what they really want. We break these out into separate customer surveys that focus on satisfaction, evaluations of products and services, and the customer's voice. Build all of these insights into your customer acquisition and retention strategies for actionable results. 
Customer satisfaction (CSAT) surveys:

Take this opportunity to ask how customers rate their confidence in your team's product and industry knowledge, and discover what they think about each area of the customer experience. You might also include questions about your current or potential customer loyalty programs. Use this complete

CSAT survey template

as a guide.
Voice of customer surveys:

These surveys go beyond satisfaction and delve into the emotional and personal connection customers make with your brand. You might ask customers to rate statements about how your company fits into their lifestyle and how much trust and enthusiasm they have when it comes to promoting your brand to peers.

 
Product evaluation surveys:

Receive detailed feedback about new products and their relevance, quality, and function in the real world. Questions and templates vary by industry and can include general questions about frequency of use, competitor comparisons, and customer care after purchase.
Service evaluation surveys:

These surveys should include questions about customer satisfaction with how your company has delivered or supported their purchase. If your company is service-based, such as a consultancy, cleaning company, or marketing agency, this is an excellent opportunity to ask your clients what they think about support, service quality, and overall communication with your company.
Your whole company benefits when you pay close attention to job satisfaction, employee engagement and performance, and the training you offer to your team. Navigating HR-related questions and feedback can be tricky. You want employees to give open, objective feedback, and to feel secure when sharing areas that could use improvement. QuestionPro takes the guesswork out of writing human resources surveys for your organization. 
Employee evaluation surveys: Boost employee engagement and workplace culture with employee evaluation surveys. These focus on several topics, including company culture, diversity and inclusion, and staff self-assessments, and more. You'll learn what employees need to do their best work, how they view the company's HR policies, and other perspectives from multiple areas of the workflow.
Job satisfaction surveys:

You want to know how satisfied employees are with their jobs, including their responsibilities, working conditions, and relationships with their colleagues. A well-crafted

job satisfaction survey template

collects data that helps you understand how you can calibrate incentives and expectations to retain and motivate employees.
Training evaluation surveys:

When you implement training at work, check in with employees for feedback about the quality of instruction and facilities. Even great content needs to be delivered by a knowledgeable instructor with tools that work. Provide an opportunity for employees to make suggestions for improvement so your company gets the most out of these valuable resources.
When you launch a new offering or invest in high-spend marketing tactics, market research and marketing surveys help you identify what consumers think about your latest product or event. Launching a new or updated website? Find out exactly what people think about the look, feel, and user experience of your online endeavor. With the right survey questions, you'll gain immediate feedback to optimize your products and marketplace presence now and for future iterations. 
New product surveys: These surveys help you check the pulse on your upcoming offerings, lead generation strategies, and marketing concepts for new products. Test new concepts before and during development for useful event feedback from members of your target demographic. You'll learn which features consumers want most as well as the best ways to share your innovations with the public.
Conference feedback surveys:

Conferences can be a significant part of your lead generation. Whether you're organizing conferences, planning break-out events, or hosting a workshop, the feedback you get from participants is vital to repeated success and avoiding past mistakes. Learn about the expectations and takeaways that will help you plan future live or virtual events with a

conference evaluation survey template

.
Focus group surveys:

Focus groups provide immediate feedback about products, concepts, and marketing campaigns. Use a template or write custom questions that help you onboard focus group participants. These surveys tend to include demographic questions and queries about other factors that might affect how people evaluate your products.
Website feedback surveys:

Optimize every element in your customers' online experience with surveys focused on questions specific to e-commerce, online communication, visitor profiles, and more. So much of today's consumer journey takes place online. Do not miss an opportunity to gain their feedback.
Each industry offers unique customer and guest experiences. In addition to the general customer surveys listed above, consider leveraging surveys created specifically for the challenges and opportunities available in your market. Take a look at the types of questions you need to be asking: 
Hotels/restaurant surveys:

Success in hospitality is all about exceeding your guests' expectations. Discover precisely what your team is doing well and areas where participants think you could raise the bar. Learn why guests choose to dine or stay where they do and how to retain their patronage. You can even use your findings to develop signature offerings in a highly competitive industry.
B2B surveys:

When you offer B2B products and services, you are held to different standards than B2C counterparts. Find out what current and prospective clients think about your services, business model, and knowledge management practices. Survey templates include industry-specific examples to help you get ahead of your competitors. Try our

B2B demographics template

for detailed insights.
Retail surveys:

You know that retail provides more than products. Many consumers turn to retailers for product information, great service, and competitive prices. Calibrate your retail business with surveys that gather shopper personality data, ease of purchase, and feedback about customer service practices.
Travel surveys:

Airlines and tour companies offer unique services and experiences to guests. Travel-related questions will help you categorize reasons for travel and measure satisfaction with services, loyalty perks, and communication with your airline or tour company. Use these insights to make sure travelers are getting the most out of their investment.
Healthcare surveys:

Created for healthcare professionals, patients, and clients, this suite of surveys addresses the confidential and sometimes sensitive topics of medical practices, treatment evaluation, and healthcare policies. QuestionPro also offers survey templates to gather data for medical studies in various fields.
LEARN MORE ABOUT: Personality Survey
Community surveys generate insights that are useful for demographic research studies and marketing strategies. You can also use this data for marketing strategies, employee recruiting and retention, and specific current events and social issues. Because communities and their values vary significantly, we sort community surveys into three main categories: social surveys, demographic and psychographic surveys, safety surveys and personal surveys. See where your research queries fit in. 
Social surveys:

Social topics, such as association membership, disaster management, and quality of life, are varied. Deploy a survey with questions you create specifically for your community or use one of our curated templates.
Demographic and psychographic surveys:

Understand demographic data in your community or in communities of interest. Include survey questions that help you quantify cultural attitudes and behaviors associated with key demographics. Collect feedback about personalities and personal experiences with psychographic surveys templates, such as this

lifestyle survey template

.
Personal surveys: QuestionPro helps you navigate personal survey questions with user-friendly templates. We've included objective questions even while asking about romantic relationships, life goals, and holiday expectations. Use this data in counseling, marketing, eCommerce survey, and anywhere you need to quantify unique and sentiments-based data.
Everyone learns differently, and it's essential to evaluate feedback whenever you offer a learning experience — at work, in the classroom, or online. QuestionPro provides training surveys that help you gather feedback about the tools, setting, content, and instruction of skills training for your clients, students, or employees. Leverage school and university surveys to get feedback from students, instructors, and administration about everything from curriculum to teaching tools and student support services, and more! 
Training surveys:

In an academic setting, training surveys can take many forms. Include questions that gather seminar and learning event attendee feedback for students and faculty to improve attendance and learning results in future training. Graduations offer opportunities to deploy surveys about the academic experiences, resources and tools, and the training environment.
School surveys:

Invite teachers, students, community members, and parents and caretakers to take teacher and course evaluation surveys. QuestionPro offers general and subject-specific course evaluations to enable more focused feedback. You can also dig into research as academic administrators with surveys on school bullying, field trip evaluations, and more.
University surveys:

Our collection of university surveys cover questions about student satisfaction, professor evaluation, and faculty job satisfaction. You can also leverage templates with questions about student stress, college student retention, and campus safety. Are you building a recruiting strategy? A university

survey template for incoming high school students

will help you understand needs and expectations.
Non-profit fundraising professionals and administrators have several tactics in their toolbox for building relationships with donors, sponsors, and volunteers. Gauge your success and make the most out of your precious resources with donor surveys that help you evaluate every area of your organization. Questions in these templates help you fine-tune how you communicate your mission with donors and volunteers and evaluate practical fundraising tactics, among other relevant non-profit topics. 
Non-profit event surveys:

Compelling events play a pivotal role in prospecting for donors and inviting them to make small and major gifts. Ask donors how easy it was to register for events, and inquire about how well your events team communicates the organization's mission statement and practices to make giving easier and more attractive.
Non-profit organization surveys:

Collect feedback from people who have worked for your organization and understand its structure, processes, and goals. Fundraising professionals, administrators, and stakeholders will offer unique perspectives that you can collect to grow your organization from the inside out.
LEARN ABOUT: Lead Generation Survey
Add surveys to your next strategy
As you can see, there are countless survey types and even more survey questions you can ask to propel your research forward. QuestionPro has partnered with industry experts to create more than 350 survey templates that get right to the most relevant feedback to reach your goals. You can customize these templates with your own questions by getting started with our definitive guide to writing the best survey questions. Our expansive selection of survey question types makes it easy to ask precise questions and receive open, authentic responses. 
Once you've created a great survey, our suite of resources and services will help you get the most out of your survey data with professional analysis and reporting that drives your next action plan.