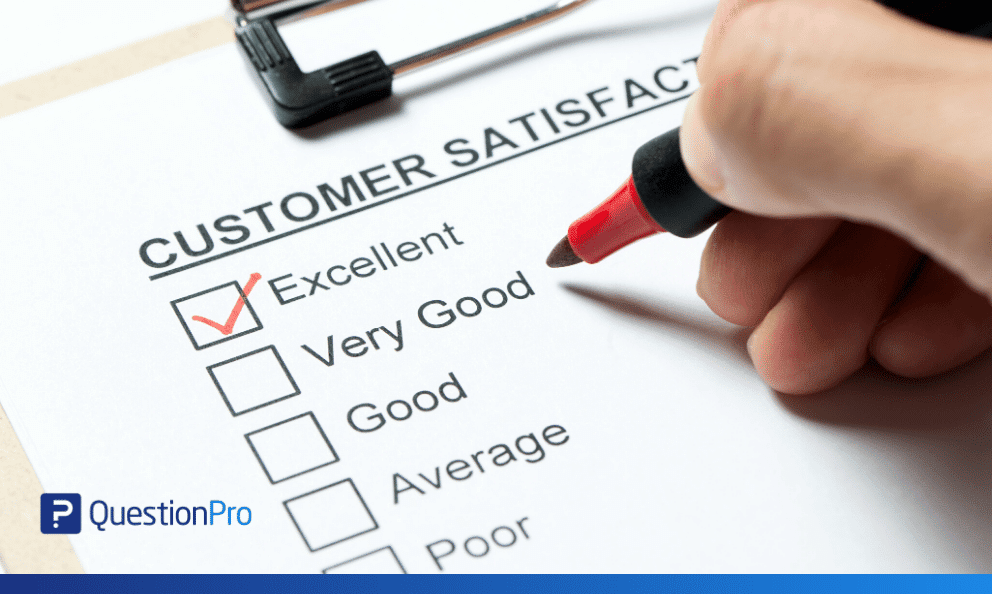 A well-written survey is one of the best tools for improving customer, client, and employee satisfaction. To get the most out of any survey platform, though, you need to know how to write survey questions that gather the right insights and how to avoid some survey questions.  
Writing survey questions that gather actionable feedback requires a strategy. You've probably already received some customer experience surveys, or perhaps your organization deploys surveys among employees to check the pulse of company culture. As a survey taker, you may notice some questions that don't address what you feel are the most critical issues, while others spark thoughtful responses. 
When you include carefully crafted questions, it's easy to turn feedback into positive change. Make every question count by using our guide to writing survey questions to build your next survey.
Four questions to ask before writing survey questions
Learning how to write survey questions is best accomplished by thinking ahead. This involves selecting your survey audience and having a plan to measure, learn, and follow up on the results. Before you start writing survey questions, take a moment to ask yourself a few strategic questions: 
1. Who is taking the survey?
This might seem like a simple question, but it's not. When you're writing survey questions, it helps to know as much as you can about the people who will be completing your survey. If your answer is "customers" or "prospective customers," take a moment to figure out who that demographic is and what makes them tick. The more you know about their shared interests, needs, and consumer habits, the more you can fine-tune your questions to unlock their authentic insights. The same can be said of clients, employees, partners, investors, and more.
Keep these variables in mind:
Their relationship to the organization – are they existing customers, employees, prospective clients, philanthropic donors, volunteers?

Common problems and pain points (related and unrelated to your business).

Income levels, spending behaviors, and occupations.

Social and cultural backgrounds, such as gender and ethnicity.

Shared interests and values.

Family structures (families with children, pets, no children, and so on).

How long they've been communicating with your organization.

What types of technology and media they consume – this can open opportunities to use innovative surveys, like a

 QR code survey

 or a

 survey with video

.
If you don't have all the answers to these questions about your key demographics, don't worry. Some preliminary market research can help – it's an excellent opportunity to learn more about the people you'll be addressing. Use the information you do have about your intended audience to set expectations for what you hope to learn from each survey. This brings us to the next question.
2. What are you hoping to learn?
You are not planning to distribute a survey just for the sake of having a survey. You want a clear takeaway, so define the kinds of information and insights you hope to gather from the results. Consider these examples of specific learnings as a guide to writing survey questions: 
What do your customers think would improve your e-commerce experience?

Do you want to know how employees are using new tools to do their work?

Have you recently launched a new product and want detailed reviews to develop future iterations?
What you hope to learn will be specific to your organization and the particular goals each survey supports. Make sure everyone assigned to this project is aligned on this intended outcome before writing survey questions, and you're one step closer to success.
3. How will you measure feedback?
Knowing what you want to get out of your survey is part of a solid survey strategy. Next, you need to determine how you are going to measure the feedback you get. The types of questions you use – multiple choice: select many or skip logic/branching survey questions, and so on – will affect how your data can be measured. 
Let's consider two types of feedback you will collect from your survey responses – quantitative and qualitative data – and how you can measure each.
Quantitative data
Some questions are formatted to be quantifiable, meaning the data can be measured in numbered outcomes. You can record this data as whole numbers, percents, and fractions of the total responses. For example, when looking at the responses to a constant sum question or slider scale question, you might learn that participants consider the online user experience a high priority compared to other factors when choosing where to spend their money. For the sake of clarity, many organizations seek only quantitative data while writing survey questions.
Qualitative data 
Qualitative data often reveals information that gets at the heart of human experiences and values, and it is not directly measurable numerically. For example, you could ask participants an open-ended question, such as "Why do you choose to support this company over its competitors?" You can expect a variety of nuanced answers from that type of question. Measuring these responses could include a sentiment rating system or individualized assessment, and the effort invested in measuring qualitative answers offers insightful and personalized feedback.
Although qualitative responses might seem harder to measure than quantitative responses, you can still create action plans from both kinds of data. QuestionPro makes it easy to measure both types of responses with user-friendly reports, offering you a more balanced perspective and ultimate freedom when writing survey questions.
4. Do you have a follow-up plan?
A thoughtful follow-up is part of a successful survey and impacts the questions you'll include. The words and tone you use when writing survey questions need to point toward a follow-up plan – the way you intend to communicate with consumers, employees, or partners after they complete the survey.
Will you present them with any immediate results so they can see who shares their perspectives? Do you plan to offer a timeline for when they can expect an action plan to roll out? Your survey follow-up should keep these best practices in mind:
Thank participants and let them know you value their time and input.

Provide promised incentives, such as a gift card or discount code.

Offer a timeline of when they can expect further communication or an action plan.

Ask for feedback on the survey experience.
However, you follow up with participants, craft your survey questions with future correspondence in mind. Writing survey questions is the start of a great conversation, after all.
How to write survey questions strategically
Now that you've laid the foundation for an insightful and effective survey, it's time to start writing survey questions that bring out your participants' honest opinions.
1. Write questions with answers in mind
We don't mean asking leading questions; baiting participants won't get you honest, authentic feedback. But as you're writing survey questions, try answering each one as if you were taking the survey yourself. This method gives you a better idea of whether your question is focused enough and could ladder up to some real action items.
Imagine you have a client who is launching a restaurant. They want to know the most common preferences for potential menu items. Think about how you would answer, "What is your favorite food?" as an open-ended question. You might be thinking of a dish that would be inappropriate for the restaurant's theme – and so could thousands of participants. 
Instead, offer choices that represent what your client would serve real-life guests once you identify the demand. Try: "Rank these dishes in order from 'I would eat this several times a week' to 'I have no interest in this dish,'" using a rank order question. You'll discern which dishes could be menu staples or weekly specials, as well as options that don't serve your target demographic.
2. Leverage survey question features
We've mentioned examples of various survey question answer types in action throughout this article. There are so many ways to ask a great survey question, and QuestionPro helps you keep your surveys engaging for participants. In addition to varying question types and knowing how to write survey questions, you can leverage features that make each survey experience unique:
Randomizer question
A randomizer question type can help your participants avoid order bias and make it harder to submit answers based on the input of others. This is especially useful for employee surveys and assessments where participants know each other and can compare feedback – you want to make sure all participants have the opportunity to speak for themselves and share their unbiased opinions.
Block randomizer
A block randomizer offers the same benefits as randomizing individual questions, but it allows you to group similar queries. Say your survey seeks to uncover what your organization's donors think about organizational leadership, fiscal transparency, events and engagement, and outcomes. You can ask several questions about each topic, and the block randomizer will deploy them together. As a result, each participant receives a cohesive but unique experience.
3. Use a consistent tone of voice
Your survey questions should follow your company's branding and speak to your participants, much like you would approach other marketing and communications assets. Keep in mind that surveys tend to be more formal than everyday correspondence, so think of this as your organization having a more focused conversation. Choose your words carefully. If your tone of voice is generally playful, go ahead and write your survey questions with a touch of humor, but be appropriate and concise (see tip 4).
If your brand is visually oriented and uses graphics or emojis, consider including smiley face survey questions. Rather than assigning text-only descriptions like "strongly agree" or "strongly disagree," smiley face questions involve a visual component. Participants select the face that best represents their reaction to the question, from a "very unsatisfied" frown to a "very satisfied" smile with variations in between.
 4. Be concise
 People don't tend to enjoy surveys that take up a lot of their valuable time – and as a survey collector, you might have a deadline for receiving feedback. Make the process as efficient as possible for everyone involved by writing concise questions that are clear and to the point. You can also ensure participants complete their surveys quickly by utilizing timed survey questions to spark a sense of urgency.
 5. Don't shy away from hard topics 
Writing survey questions is often one of your first steps toward identifying and solving a problem. Don't shy away from crafting queries that ask for open, honest feedback. Framing your questions correctly can reveal some difficult truths and identify opportunities for improvement. Participants may even have suggestions for action items to work into your business strategy. 
This brings us to the sixth and final piece of advice in our guide to writing survey questions. 
6. Stay positive 
While you're writing survey questions and assessing the feedback, stay positive. As noted in the previous section, you need to be open to negative answers. Write your questions in a manner that encourages actionable responses. When you do address a problem, don't just ask what participants don't like about an issue. Ask them what could be improved and what they would prefer to experience in its place. People are usually eager to offer a positive alternative if you take the time to ask and let them know that you take their feedback seriously. 
Putting it all together
Now that you know how to write survey questions, it's time to create an engaging and user-friendly experience for your participants. You know who they are and what you hope to gain from their feedback. Start writing survey questions with confidence and use QuestionPro as your resource for intuitive survey templates, an array of question types, and features that will drive your best action plan. 
From customized training to strategic planning, we make it easy for you to get started gathering useful insights. Looking to get more out of your QuestionPro experience? Leverage our account and project management services and 24/7 customer support to help your company succeed. Look over additional samples and tips and start writing survey questions today!