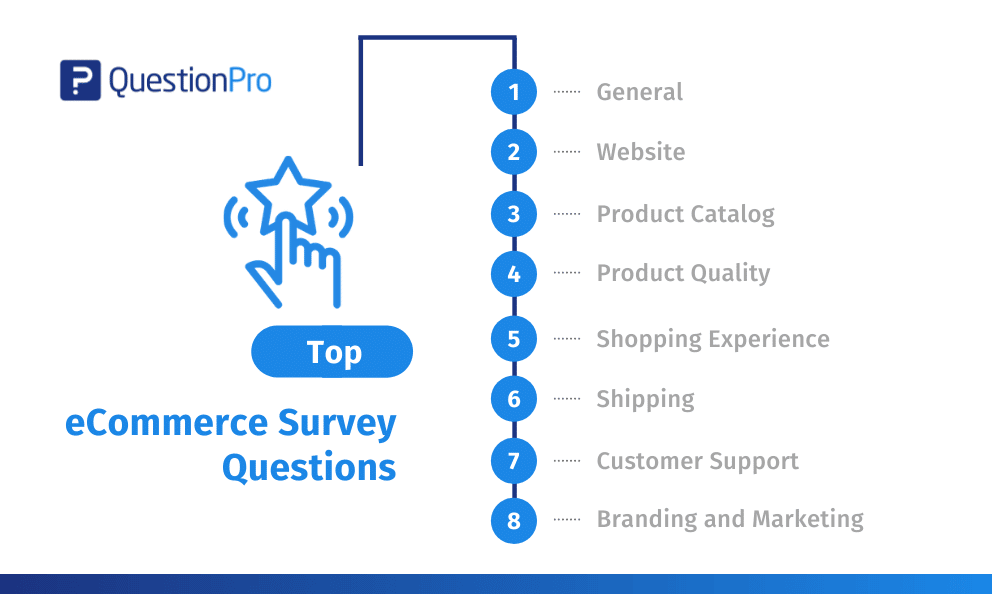 Having an eCommerce store limits your opportunities to interact with your customers too often. However, customer feedback and experience data can make a huge difference in taking your business to the next level. Know what your buyers feel and gain actionable insights with eCommerce survey questions to increase your sales.
The best way to boost the conversion rate is to ask your customers, 'How can we make it better?' Design their online shopping experience such that they feel driven to purchase again. Know from them what makes it an excellent experience for them and what irritates them.
Analyzing the data will help you decide if the product quality needs to be improved or website navigation. Collecting data through an eCommerce survey questionnaire enables you to make decisions based on the inputs from the people that matter most – customers.
LEARN ABOUT: Testimonial Questions
Top eCommerce survey questions to include in your website questionnaire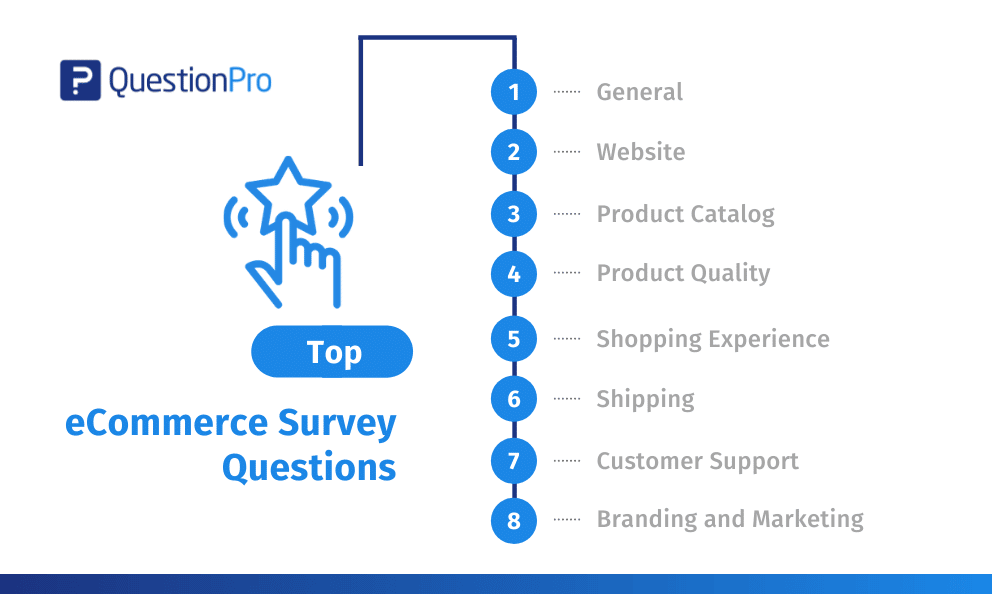 Several factors collectively contribute to the success of an online business. It is essential that these individuals parts are paid attention while working on the overall focus to drive sales.
To understand your strengths and weaknesses, ask your customers questions on various e-commerce processes. You can use these free survey questions for eCommerce or use a ready-made survey template to evaluate the potential of e-commerce services.
Free evaluation of the potential of e-commerce services survey template
Pre-Purchase eCommerce survey questions
Not all visitors buy products from your online store. Some of them just browse the store and leave. It is important to learn more about their expectations to offer them a better experience next time. It is also essential to understand if they are likely to visit again when they want to shop online again. Below are some of the pre-purchase eCommerce survey questions you can ask your visitors and get their feedback.
General
It is highly likely that many customers would not like to answer your eCommerce website survey. However, try to get minimum possible feedback even from such visitors. Ask a simple Net Promoter Score (NPS) question on how likely are they to recommend your website to others.
Considering your complete experience with our company, how likely would you be to recommend us to a friend or colleague?

Below are some of the general questions on the ecommerce website. They give you an idea of the overall experience of the visitors. You can also ask these questions in the beginning so that even if the respondent leaves the survey without completing it, you have some data in hand.
How satisfied did you feel based on your overall experience?

On a scale of 1-10, how likely are you to recommend us to your friend or colleague?

Please let us know how we can improve your experience.

Website
The website is an inevitable component of an online business. It is important to know what your visitors think about your e-commerce site. While you can always analyze the traffic data, feedback straight from the horse's mouth definitely helps.
How did you learn about our website?
TV

Newspaper

Social Media

Search Engine

Recommendation from a friend

Other

Who are your shopping for?
Friend

Parent

Boss

Colleague

Other
What were you looking for?

Did you get what you were looking for?

Are you going to return later?

What led you to visit our website?
Researching product information

Interested in buying products

Looking for contact information

Know more about the company

Other
Did you like the design?

How easy was it to navigate through the site?

Please rate the below parameters as compared to our competitors.
Website performance

Product catalog

Product information

Pricing

Shipping options

Payment experience

Online help

Overall
What other information would you like on this page?
Product reviews and ratings
Many customers make purchase decisions based on product ratings. See if your customers are satisfied with the number of reviews per product.
On a scale of 0-10, how much do you trust the product reviews?

How helpful do you find ratings while making a purchase decision?

On a scale of 0-10, how much does an overall product rating affect your purchase decision?

Product catalog and quality
An e-commerce website sells products and services online. Know if your visitors are happy with the range of products and their quality.
Did you find enough range of products?

Did you find enough product details?

Do you generally find various alternatives for the same product?

Post-Purchase eCommerce survey questions
Below are the sample eCommerce survey questions you can ask your visitors after they convert into the customers. Learn more about their experience at various touchpoints and find ways to boost your sales.
How satisfied are you with the quality of products?

How do you rate the quality of our products as compared to our competitors?

How satisfied are you with the availability of products?

If your preferred product is not available, do you get acknowledged when it is back in stock?

What other products would you like to see in our online store?

Online shopping survey questions
The purchase experience can be a game-changer for an e-commerce website. Know if your customers had a pleasant experience while buying products and services.
How safe did you feel while sharing your card details?

How was the checkout experience overall?

Did you experience a hassle-free payment experience?

On a scale of 0-10, how likely are you to buy from us again?

Shipping
An eCommerce store may have a great look and feel, a customer gets happy when they actually see their products in hand. Know if they have any concerns about the shipping process with the below questions.
Did you receive your product within the expected timeline?

Would you like to enroll in paid services to get products earlier?

Did you receive your product at the shipping address?

Did you receive your bill at the billing address?

How easily could you update your address details?

Please rate your experience with the delivery personnel.

Customer support
The customer support team can leave a long-lasting impression on your customers. Know if your staff was polite and friendly to them.
On a scale of 1-10, how was your experience with the customer support executive?

Did the customer executive solve your query?

How helpful was the customer support staff?

Branding and Marketing
Collect data from an e-commerce website survey and use it to offer the right products to your customers. It may be possible that they weren't able to find the right product on your website. However, marketing communication can educate them more about the product benefits and suggest the ones they need.
Please select the reason for purchasing this product. Select all that apply.
Preferred brand

Need

Locally owned, made or sourced

Sentimental value

Product quality

Adherence to laws

Transparency

Other

Would you like to share your contact details to learn more about our discounts and sale?

Would you like to know more about our membership benefits?

Would you like to enroll in a paid membership to avail priority services?
Feedback on vendors
Many online stores like Amazon, eBay, etc source products from different vendors and offer a platform to sell their products. Get feedback from your customers for your vendors and pass on the same to them. It will also help you decide if you should continue allowing the same vendors to sell on your website.
How satisfied are you with the vendor options we offer?

How satisfied are you with the quality of products from this vendor?

How helpful are the vendor details we offer?

What more information would you want about the vendor?
Asking too many questions to your customers might demotivate them from responding to your eCommerce survey. So, ask questions randomly to your sample audience. You can randomly display one or more questions within a block. You can also limit the number of questions by randomizing the blocks.
Keep a mix of different types of questions. The survey should have the right proportion of multiple-choice questions, open-ended questions, and closed-ended questions.
LEARN ABOUT: User Interface Survey Questions & Vendor Satisfaction Survey
How to distribute eCommerce survey questions?
Assume you have 200 customers who have agreed to answer eCommerce survey questions. Split your respondents into a group of 50 or 100. You can set quotas to divide the audience into groups and control the data quality. Then, say, let the 100 customers answer the website, product catalog, ratings, and customer support questions. The other 100 respondents will see questions related to purchasing experience, shipping, brand recognition, and vendor feedback.
Using a survey tool, you can distribute a survey through email, QR code, website, social media sites, or survey app. To send a online questionnaire through email, import all contacts into the application, and embed a link in the invitation email.
LEARN ABOUT: Consumer Survey
LEARN ABOUT: Social Communication Questionnaire
How to use data collected from eCommerce survey questions to increase your sales?
Customer segmentation: Use the data to segment your customers into various groups based on behavioral segmentation, demographic, and psychographic segmentations. Filter survey results on location, device,

custom variables

, question, distribution list, etc. to learn more about their buying behavior.

Marketing: Data collected from the survey questions for eCommerce can help you send tailored marketing communication to your customers. Send them offers on products that match their interest. You can up-sell and cross-sell to those who agree to receive marketing emails and calls. The survey data can also give you insights into the right target audience for your next promotional campaign.
Know your customer: Learn more about your customers' interests and the ever-changing consumer market. The times are so dynamic now that it requires one to be always aware of the statistics and make decisions backed by numbers.
Analyze website data: Know what your visitors like the most about your website, the most queried products, and the improvement areas. After all, a great user experience converts into a purchase.
Identify trends: Generate reports and perform

trend analysis of the survey data

. Find out if there is a consistent spike or drop in the demand for a specific product. Analyze if there are too many complaints about your eCommerce website's performance, design, products, vendors, or others. See if any customer service executive has received a lot of negative feedback from the customers. Dig into the details and work on resolving issues to improve the customer's journey. You can later conduct a customer satisfaction survey and measure the improvement in scores.
Forecast demand: Apply machine learning and artificial intelligence algorithms to forecast demand. It will help you better plan your inventory so that, the next time potential customers browse through an eCommerce store, they don't see a 'Not in stock' message.
LEARN ABOUT: Product Survey Questions