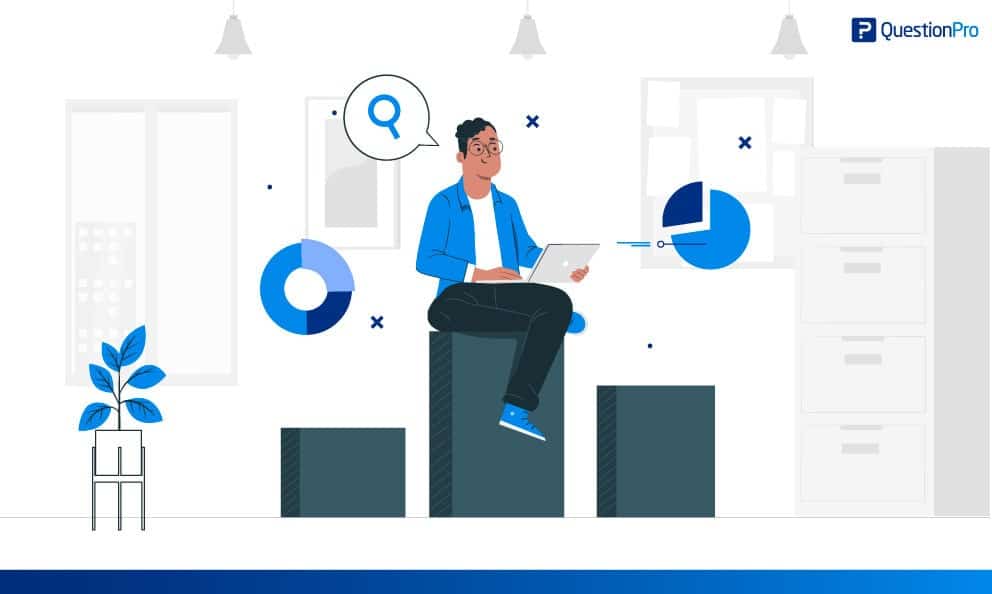 Behavioral segmentation is the process of grouping customers according to their behavior when making purchasing decisions.
Market researchers observe aspects such as readiness to buy, i.e., the knowledge they have about the product, level of loyalty, interactions with your brand or product usage experience, etc.
What is behavioral segmentation?
Behavioral segmentation is a marketing strategy that divides customers into groups based on how they act when they connect with a business or website.
Customers could be put into these groups by:
Their opinion of your product, business, or service; how they use it;
Their knowledge of your company and its products as a whole,
Their buying habits, like buying only on special days like birthdays or holidays, etc.
Marketing campaigns can be more successful when they go beyond standard demographic and geographic segmentation methods and use behavioral data.
At the very least, behavioral segmentation gives marketers and business owners a better understanding of their audience, which lets them tailor their goods or services to meet specific customer needs. Here are four more reasons why behavioral division is a good idea.
Importance of behavioral segmentation
Behavior segmentation is an important marketing strategy because it helps businesses understand and target their customers based on their unique behaviors, actions, and patterns. Here are a few reasons why it's important to divide people by their behaviors:
Businesses can target certain groups with comparable traits with their marketing initiatives by segmenting their consumer base depending on their actions. As a result, they may develop customized messaging and offers that appeal to the target market and boost conversion rates.
Behavioral segmentation enables companies to send their clients timely and pertinent messaging. Businesses can offer customized messages that speak to particular needs, interests, and preferences by knowing their customer behavior. Thus, there is a greater chance of engaging and attracting customers.
Improved customer satisfaction
Businesses may anticipate their wants and offer more individualized experiences when they comprehend the behaviors of their clients. Businesses may increase customer happiness and loyalty by providing goods, services, and offers that are in line with the customer journey, which includes tastes and behaviors.
Increased conversion rates
Businesses can identify customers who are more likely to buy something or do something they want by using behavioral segmentation. Businesses can optimize conversion rates and raise total marketing ROI by concentrating their efforts on certain target markets.
Enhanced product development
Understanding how customers behave can help businesses learn more about how customers use their products and what they prefer. Businesses can find chances for product innovation, enhancement, and customization to better match customer demands and desires by studying behavioral data.
Efficient resource allocation
Businesses can more effectively distribute their marketing budgets with the use of behavioral segmentation. Businesses can maximize their budget, time, and efforts by focusing on targeted consumer categories with the highest conversion potential, avoiding needless expenditure on wide and generic marketing initiatives.
Businesses can get a competitive edge through behavioral segmentation by better knowing their clients and providing individualized experiences. Businesses may stand out from rivals, draw in and keep customers, and improve their market position by offering focused and customized offers.
Objectives of behavioral segmentation
The main objectives of behavioral segmentation are:
Identify segments based on the behavior displayed by customers.
Determine how your product or service satisfies the needs of each segment.
Tailor the product or service to meet the needs of consumers.
Create marketing campaigns tailored to a specific segment and increase the probability of purchase.
Let organizations know the brands consumers purchase most frequently and identify the competition.
Characteristics of behavioral segmentation
Among the main characteristics of behavioral segmentation are the following:
Companies use this method to focus their efforts on the right audience depending on their buying behavior.
Enables decisions based on the use of resources such as time and budget to have a greater impact on consumers.
It is based on the attitudinal history of consumers in order to identify and influence future purchasing behavior decisions.
You can identify similar behaviors among consumers and focus marketing efforts on a specific group.
It can be adapted to the personality of each consumer group in order to achieve the established objectives.
It allows the creation of marketing strategies to obtain loyal customers for the brand.
Types of behavioral segmentation
Behavioral segmentation is responsible for grouping consumers as follows: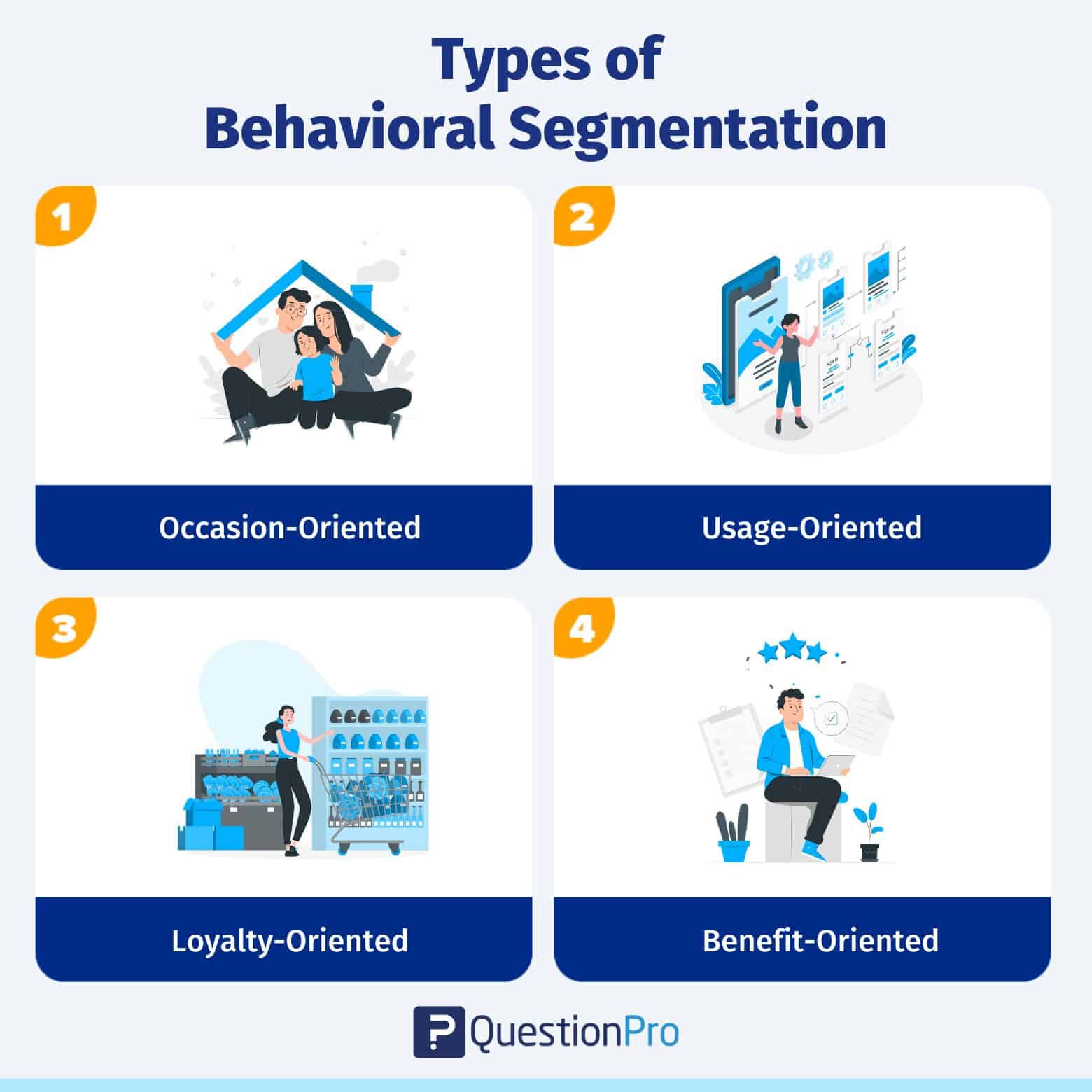 01. Occasion-oriented behavioral segmentation
It refers to when a product is purchased for a particular occasion. It may be something that is repeated or never happens again. This kind of grouping focuses on when a product is bought for a certain event. It takes into account whether the event happens again and again or is a one-time thing.
For example, customers may buy certain items for holidays, birthdays, weddings, or other special occasions. Understanding how people act based on the occasion helps companies tailor their marketing and product offerings to meet the needs and wants of customers based on the occasion.
02. Usage-oriented
This refers to the number of times the consumer uses the product. It can be heavy, moderate, or minor usage. With usage-oriented product segmentation, customers are put into groups based on how often and how much they use the product. Customers can be put into groups like "heavy users," "moderate users," or "light users" based on how often they use the product or service. 
This helps businesses find their most involved and valuable customers, create targeted messages and loyalty programs, and improve their product offerings to meet different levels of use.
03. Loyalty-oriented
This type of segmentation is focused on customer retention rates. When the brand has a high level of loyalty, it does not have to worry about acquiring new customers. Loyalty-based segmentation looks at how many customers stick with a brand and how loyal they are to that brand. It helps businesses find customers who are loyal, buy from them again and again, and are more likely to tell others about brand loyalty.
With loyalty-oriented customer loyalty behavioral segmentation, businesses can use loyalty programs, personalized deals, and great customer service, among other things, to keep and grow customer loyalty segmentation.
Recommended article: Customer Churn
04. Benefit-oriented
There are certain benefits that people look for when purchasing a product. They look for availability, different varieties, or prices that meet their needs. However, there are customers who are looking for the product to give them the maximum benefit. With benefit-oriented segmentation, customers are put into groups based on what benefits they want from a product or service. When it comes to what they want from a product, customers have different needs and wants.
Some of these benefits are availability, variety, price, ease of use, quality, performance, standing, health, and wellness, or caring for the environment and other people. Understanding how customers act based on the benefits they get from a product or service helps companies change their messaging, product features, and marketing strategy to focus on those specific benefits and meet customer needs.
Benefits of behavioral segmentation
Here are the benefits of behavioral segmentation presented as individual points:
Behavioral segmentation lets businesses target audience-specific groups of customers based on how they act. This makes campaigns more relevant and successful.
By knowing how people act, companies can make their marketing messages and offer more relevant and interesting to their customers.
When market efforts are tailored to how people act, the chances of conversion go up because messages and offers are more likely to hit home with targeted groups.
Behavioral segmentation helps make the most of marketing funds by focusing resources on the most promising segments and reducing wasted work on audiences that aren't interested.
Improved customer retention
By finding and understanding the behaviors that make customers loyal, companies can come up with plans to keep and strengthen relationships with their most valuable customers.
Enhanced consumer satisfaction
Personalized experiences based on behavioral segmentation make people feel like they are understood and valued, which leads to better consumer satisfaction levels.
By using behavioral segmentation, companies can learn more about their customers, which helps them stay ahead of competitors and meet changing market demands.
Product and service innovation
By looking at how customers act, businesses can find ways to make new products, improve old ones, and come up with new ideas to meet specific customer wants and preferences.
Customer lifetime value optimization
Behavior segmentation helps businesses find their most valuable customers and develop focused strategies to maximize their lifetime value, which leads to long-term profits.
Market expansion opportunities
It can show unexplored market segments and new groups of possible customers, which can help a business grow and expand.
By using behavioral segmentation, companies can improve their marketing strategies, increase customer satisfaction, drive growth, and gain a competitive edge in the market.
Advantages and disadvantages of behavioral segmentation
Advantages
Among the main advantages of behavioral segmentation are the following:
It allows organizations to find customers with similar buying habits and behaviors.
It enables organizations to understand consumer needs.
Organizations can build brand loyalty in the most like-minded customers.
Disadvantages
Behavioral segmentation has some disadvantages:
Consumer behavior is changeable and cannot always be predicted correctly.
It can only provide a frame of reference based on personality and behavior.
Because it uses qualitative data, it relies on certain assumptions for forecasting, budgeting, spending, etc.
Conclusion
Behavioral segmentation aims to group people who exhibit the same behaviors and behavioral targeting all marketing efforts to a single group.
With this method, companies can promote and market their products effectively, meeting the needs of customers.
The main objective of behavioral segmentation is to understand the needs and desires of customers by offering something unique based on their behavior when purchasing a product or service. It also allows companies to market customized products specifically to potential consumers.
Find your niche market segmentation with the help of online surveys. At QuestionPro, we can help you find the right audience for your products and services. Use our online chat to connect with our support representative and learn how to create online surveys in under 5 mins!