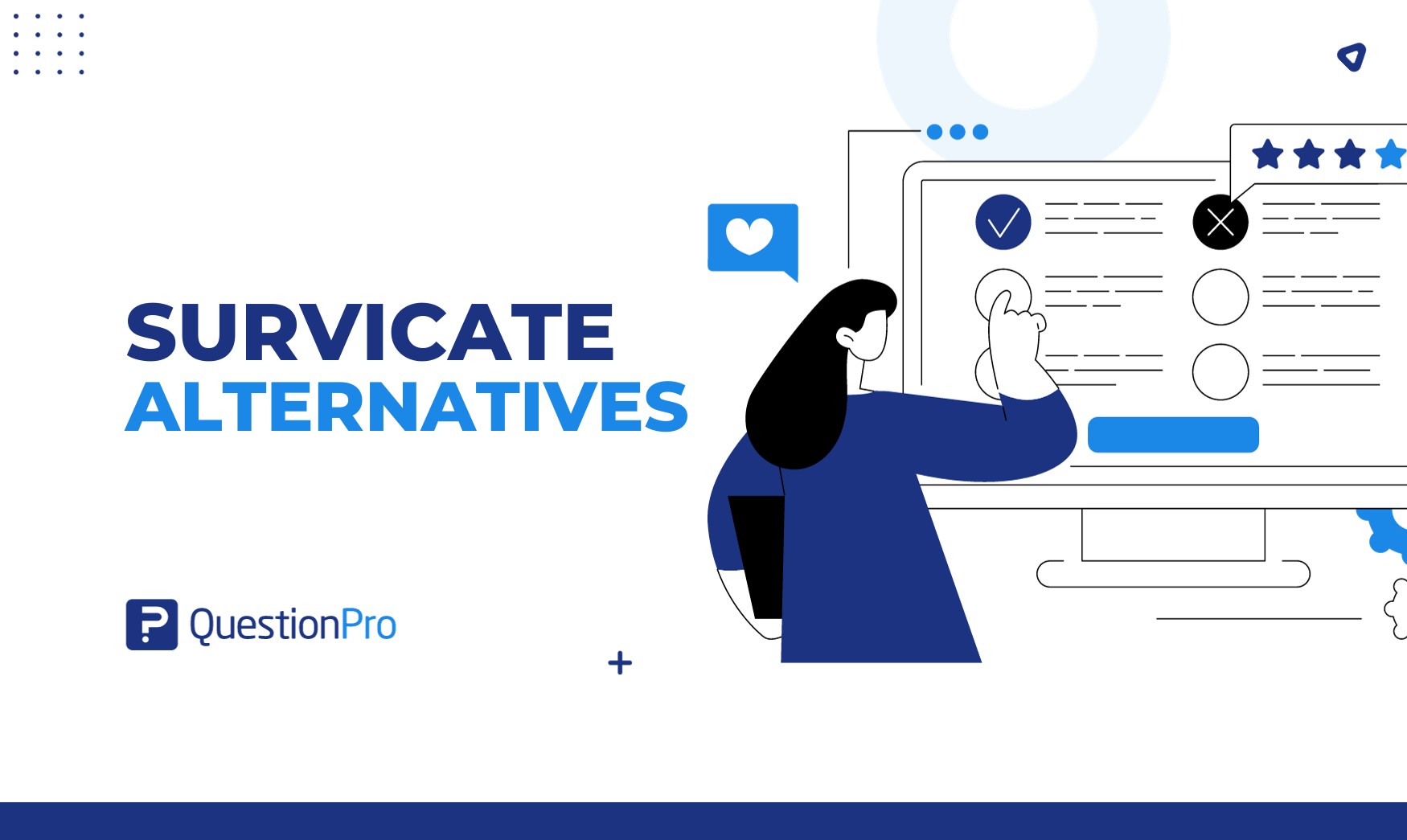 Are you looking for Survicate alternatives? Survicate has been a trusted customer feedback survey tool for businesses of various sizes. However, like any software, it may not suit everyone's specific needs.
If you find that Survicate doesn't align with your requirements or if you simply want to explore Survicate alternatives, you're in the right place. In this blog, we'll introduce you to 10 leading Survicate alternatives for customer feedback in 2023.
Why look for Survicate alternatives?
Survicate is undoubtedly a valuable tool for collecting customer feedback, but it's essential to consider your unique business needs. Some factors that might lead you to explore alternatives include:
Cost: Survicate's pricing may not fit your budget, especially for small to midsize businesses, or you might find it lacking in features for larger enterprises.
Industry-specific needs: Certain industries, like SaaS, may require specialized feedback solutions that Survicate doesn't fully cater to.
Customization: If you need extensive customization, branding, or advanced survey features, you might need an alternative with more flexibility.
Data privacy and security: For businesses concerned about data privacy and security, alternative solutions may offer stronger protection and compliance options.
Let's dive into the top 10 Survicate alternatives for gathering customer feedback.
10 Leading Survicate alternatives
Here, we'll introduce you to ten leading Survicate alternatives, providing a brief description, highlighting their best features, and outlining the pros and cons of each.
01. QuestionPro
QuestionPro is a versatile and comprehensive survey software solution designed to help businesses collect data, create surveys, measure customer satisfaction, and track Net Promoter Score.
It offers a diverse audience, rapid survey deployment with InstantAnswers, robust analytics, and extensive customization options to meet your specific customer feedback needs.
Best Features:
Access to millions of segmented survey respondents
InstantAnswers for rapid survey responses
Comprehensive analytics and reporting tools
Pros:
QuestionPro offers diverse audience access, ensuring you can reach a wide range of respondents for your surveys.
The platform provides robust analytics tools that empower data-driven decision-making based on the insights gathered from online surveys.
Places a strong emphasis on data security and compliance, ensuring the confidentiality and privacy of your survey data.
Cons:
Pricing varies based on features and usage
02. Qualtrics
Qualtrics is an enterprise-level customer feedback platform that offers an array of survey and research solutions. It's known for its robust survey capabilities, advanced analysis techniques, real-time insights, and detailed customer interaction tracking.
Best Features:
Robust survey capabilities
Advanced analysis techniques
Real-time actionable insights
Detailed customer interaction tracking
Pros:
Offers enterprise-grade features, making it suitable for large organizations with advanced survey needs.
The platform provides extensive customization options, allowing you to tailor your surveys to align with your organization's unique branding and objectives.
Cons:
It may have a steeper learning curve
03. Jotform
Jotform is a survey tool and form builder. It creates online surveys as well as web forms. It is a versatile online survey tool suitable for businesses of all sizes. It provides an easy-to-use platform for creating customized customer feedback surveys, forms, and questionnaires.
Best Features:
Hundreds of survey templates
Drag-and-drop survey builder
Offline data collection
Powerful data analysis with Jotform Tables
Pros:
The platform provides extensive customization options, allowing users to tailor surveys to match their branding and specific requirements.
Ensures mobile-friendliness, ensuring that surveys are accessible and usable on various devices.
Cons:
Some advanced features require paid plans
04. Qualaroo
Qualaroo focuses on user research and customer feedback. It enables you to survey customers directly on your website or within your software product, making it ideal for real-time feedback collection.
Best Features:
Advanced targeting options
AI-powered analytics
Multiple language translations
Pros:
The platform provides real-time insights, giving users access to immediate feedback and data to inform their decision-making.
Qualaroo offers comprehensive targeting capabilities, allowing businesses to pinpoint specific demographics and target the audience (target audience) for their surveys, ensuring a more relevant and valuable response.
Cons:
Limited free trial period
05. SurveyMonkey
SurveyMonkey offers a user-friendly survey software solution. It allows businesses to collect customer feedback and survey data and offers integration with sample panels for targeted responses.
Best Features:
Data collection app
Integration with sample panels
User-friendly interface
Market research solutions
Pros:
SurveyMonkey boasts a strong user community, offering a supportive network for users to share experiences and best practices in survey creation and analysis.
Users of SurveyMonkey have access to paid, high-quality responses, ensuring reliable and valuable feedback for their customer surveys.
Cons:
Limited customization in the free plan
06. GetFeedback
GetFeedback offers a customer experience platform designed for enterprise organizations. It provides an intuitive survey creator, multiple survey templates, and advanced sentiment analysis tools.
Best Features:
Intuitive survey creator
Multiple survey templates
Advanced sentiment analysis
Multi-channel survey distribution
Pros:
It is ideal for enterprise-level feedback collection, catering to larger organizations' specific needs and scale.
Users of GetFeedback gain access to detailed insights from survey responses, enabling in-depth analysis and informed decision-making.
Cons:
Pricing not publicly disclosed
07. KwikSurveys
KwikSurveys is a free online survey tool that allows you to conduct surveys quickly. It's a straightforward option for businesses with basic survey needs.
Best Features:
Free survey creation
Simple survey builder
Basic reporting and analysis
Quick survey distribution
Pros:
KwikSurveys offers no cost for basic surveys, making it an attractive option for users with budget constraints.
With KwikSurveys, users can deploy surveys rapidly, ensuring efficient data collection and feedback gathering.
Cons:
May not meet complex survey requirements
08. LimeSurvey
LimeSurvey is an open-source survey software and one of the alternatives to Survicate that can be hosted on your own server. It's known for its simplicity, multilingual support, and customization options.
Best Features:
Open-source and self-hosted
Multilingual survey support
Branding and design customization
Sensitive data control
Pros:
LimeSurvey offers users full control over data privacy and security, ensuring the protection of sensitive information in their surveys.
LimeSurvey provides affordable pricing options, making it a cost-effective choice for organizations with budget considerations.
Cons:
Limited advanced features
09. Typeform
Typeform is known for its visually pleasing and user-friendly surveys. It offers mobile-friendly templates and the ability to embed surveys on websites or send them via email.
Best Features:
Visually appealing survey design
Mobile-friendly templates
Embed surveys as website chatbots
Real-time responses
Pros:
Typeform offers an engaging survey experience for respondents, making the feedback collection process more interactive and enjoyable.
Typeform is ideal for creative surveys, allowing users to design visually appealing and innovative questionnaires to gather valuable insights.
Cons:
Limited features in the free plan
10. ProProfs Survey Maker
ProProfs Survey Maker is one of the best survey tools for creating surveys, polls, and quizzes. It offers numerous templates, question types, and advanced reporting and analysis features.
Best Features:
Diverse survey templates
Advanced reporting and analysis
Branding and design customization
Easy distribution options
Pros:
ProProfs Survey Maker is suitable for various survey types, making it a versatile tool for gathering respondent feedback and insights.
ProProfs Survey Maker offers visual reports for data analysis, allowing users to easily interpret survey results and make informed decisions based on the data.
Cons:
QuestionPro as the best Survicate alternatives
As Survicate users, it's essential to explore alternatives that align with your specific feedback collection needs. Whether you're looking for more customization, better pricing, or advanced features, these 10 Survicate alternatives provide robust solutions to help you gather valuable customer feedback. Each platform has its unique strengths, so carefully evaluate them to find the best fit for your business.
If you're seeking an alternative that offers diverse audience access, customer feedback, instant answers, comprehensive analytics, customization, security, and a powerful survey platform, QuestionPro could be the ideal choice for you.
It offers a range of features to ensure your surveys meet your objectives, backed by a team of professionals ready to assist you in adopting new technologies and making the most of their tool.
Don't hesitate to explore these alternatives and select the one that best suits your customer feedback-gathering goals. Your quest for the perfect Survicate alternative begins here!