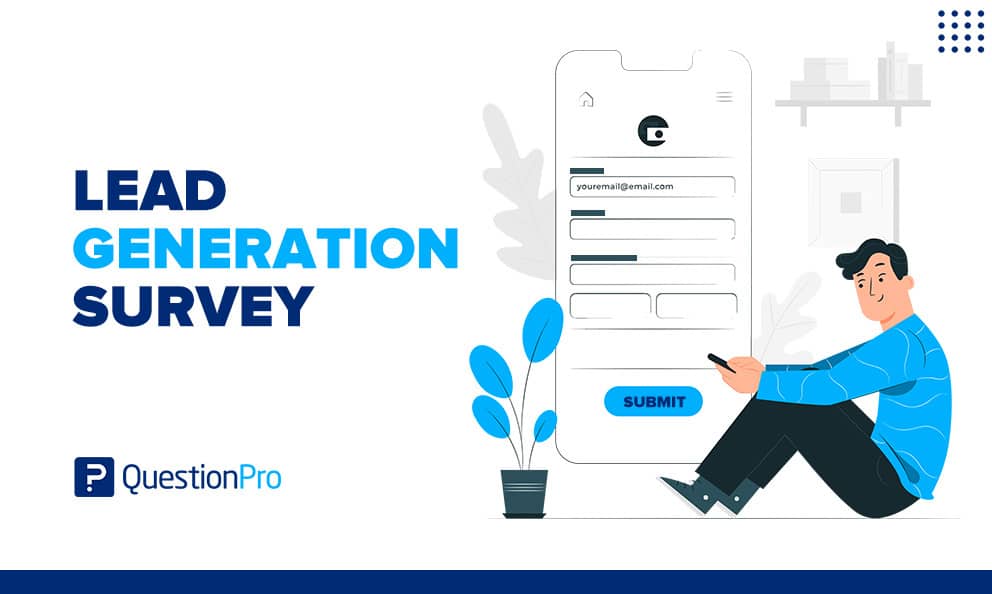 Please get to know your prospects and what they want from your company with a lead generation survey. This is an essential step in the lead acquisition process and often overlooked. Think about it, you spend lots of time and money driving leads to your website, and you need to capture all the info you can from them when they come to your site.
While getting their name, email address and phone are standard, it's important to get some other key information from them when you have their attention. It will also make lead qualification and assignment easier as well.
Today we will tell you everything about this incredible tool and all you need to know to start implementing it as part of your business strategy.
What is a Lead Generation Survey?
A Lead Generation Survey is a tool used to collect data from a specific audience. It is usually a form with a few questions to collect data from real people with the possibility of acquiring one of the solutions offered.
In addition to allowing the capture of leads, this type of survey allows gathering more information that can be useful to find areas of interest or improvement, allowing these leads not only to represent a potential client and be a very reliable source of data.
The Perfect Lead Generation Survey Elements
Creating a personalized survey represents a significant advantage in this type of tool since it provides confidence by producing familiarity, which also increases brand awareness.
The questions that make up a lead generation survey are one of the most critical elements. Thanks to them, you can define the type of information you want to obtain from your potential prospects. They can be basic questions such as a contact data question but also go further by adding questions that give you a clearer idea of ​​your target audiences, such as satisfaction questions or how they found out about your product or service.
Many survey softwares offer the ability to customize completion options. One of the most common is redirecting them to another page to perform some action or even giving them prizes to encourage their participation.
You can implement questions that allow you to segment the various audiences that you can capture and perform demographic sampling or based on their specific responses, which is especially useful for implementing lead nurturing campaigns or conducting a lead qualification.
3 Tips for effective lead generation surveys
The response rate of lead generation surveys can be affected by various factors, here, we share some tips to get the most out of these tools.
1. Short and Sweet – It's essential to collect all the info you can in a lead generation survey, but you don't want the survey to be too long. You'll get more insightful responses with a short 2 – 5 minute survey which translates to about 5 – 10 questions max. This will give you more than enough information about the lead and their needs.
2. Ask Good Questions – If you want better data and answers to questions, you need to ask better questions. Simple. But in practice, it could be more difficult. However, some practical tips are to make sure all your questions aren't closed-ended questions in the lead generation survey.
You want the lead to open up and tell you more about their needs. But if you do have closed-ended questions, be sure to dig deeper with follow-up questions. This is an important step that can get you great insights.
3. Make It Fun – Finally, make it fun for the lead that's completing the lead generation survey. Ask some fun questions and include some engaging, interactive question types that compel the lead to complete the survey. Time is limited along with attention spans but if you can make the survey fun and engage, you'll get more responses and, perhaps more importantly make a great first impression with the lead.
Implement these 3 tips into your lead generation survey, and you will see a huge improvement in not only the information you initially have about the leads but also in the engagement level of the lead.
When you're ready to get them on the call, you'll be armed with all the necessary information and will be further along in the sales process.
So remember, for great lead generation surveys, keep the survey short and sweet, ask good questions, and make it a fun experience for the new lead.
How to do a lead generation survey?
To do a lead generation survey, you can rely on online platforms. QuestionPro is one of the best options on the market, both for its intuitive interface and for its various licenses ideal for any budget.
You can do your survey in seconds, you just have to create a new survey and click on "Add question", now you just have to choose the contact data question and that's it! You are ready to start capturing data from your target audience.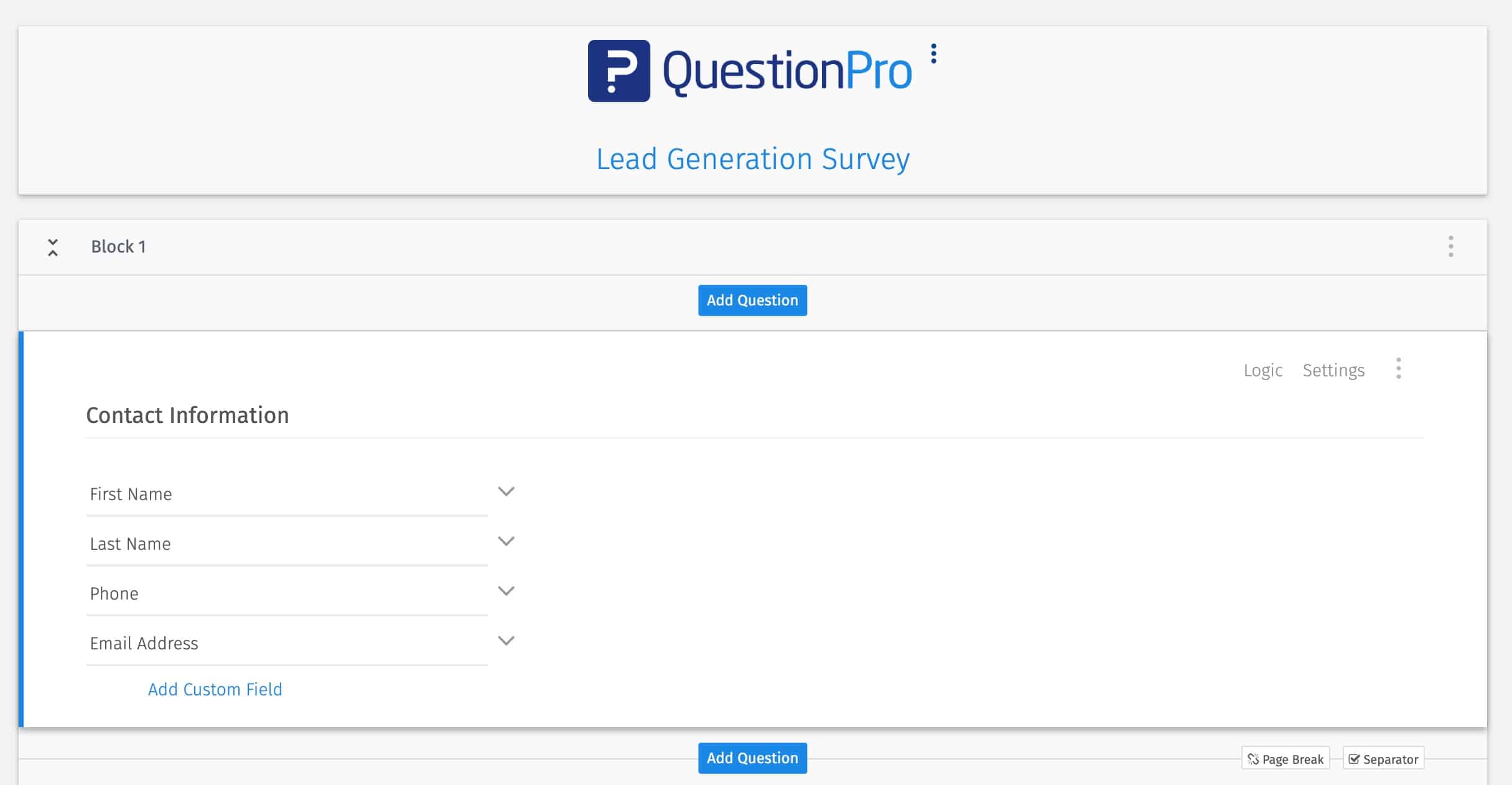 You can also add more questions for additional information or customize your survey by adding your logo and changing the header and footer. You will also be able to experiment with the survey completion options to keep your audience in continuous interaction with your brand.
If you are interested in using a survey template, we recommend: Lead Qualification Survey
Other advantages of using QuestionPro
Once you have created your survey, you can take advantage of the various features that our tool offers you to get the most out of this type of tool. Below we share some of the benefits and advantages that you can obtain when doing them with QuestionPro.
Automatic alerts: Automatically notify your sales team when someone fills out your questionnaire.
Integrations with CRMs: QuestionPro has various native integrations that will allow you to take advantage of the collected data to integrate it with your favorite CRMs, such as Salesforce or Hubspot.
Advanced data analysis: With QuestionPro, you will have access to a potent data analysis suite that will allow you to obtain insights that will enable you to make smarter decisions backed by data.
Distribution through various channels: With QuestionPro, you can distribute your survey through multiple channels to start capturing leads. You have options such as email, website, offline app, or even QR codes.
Are you ready to start using Lead Generation Surveys?
You can create a free account and collect your first leads, or if you want to experience our more advanced features fully, you can take advantage of our free trial. You don't have to enter a credit card!