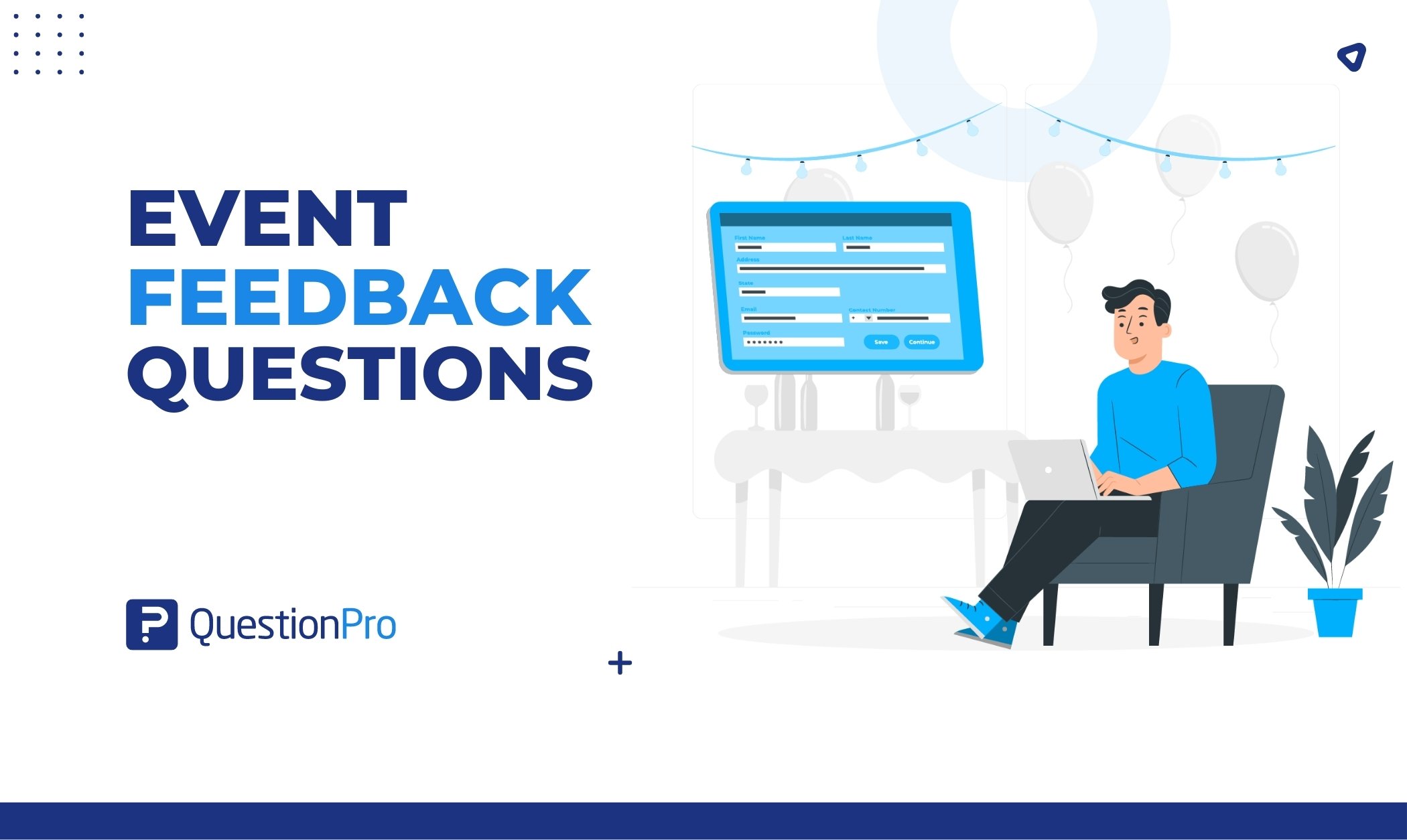 One of the best ways to find out what people liked and didn't like about your event is to ask them in a survey. Feedback helps you figure out how well your event went. It lets you know how happy the attendees are and gives you ideas for making future events better. By asking the right event feedback questions, you'll find out what your attendees thought of the event, how you could make it better, and what they'd like to see in the future. Pre-event survey questions are a valuable tool for gauging attendee expectations and preferences before the event takes place.
Understanding your attendees' happiness will help you improve your event marketing and focus on what works. According to data from 2020, 87% of event marketers see participant happiness as a possible key to success. 55% of event organizers of all kinds (seminars, workshops, exhibitions, trade shows, etc.) use live polling after the event to find out how happy the attendees were.
Undoubtedly, something as simple as a survey after-event success greatly affects how well it went. And the best way to get the information you need is to ask different kinds of questions.
LEARN ABOUT: Testimonial Questions
What are event feedback questions?
Event feedback questions are survey questions asked after an event has concluded to help the attendees understand their opinions about the event. Every attendee has a unique experience, so it is essential to understand every individual's opinion.
These event feedback survey questions can be asked for public events, training courses, conferences, conclaves, exhibitions, and webinars. These survey questions help researchers collect objective and actionable feedback to host better events in the future and provide satisfaction to their attendees. Positive feedback can help in a lot of things.
LEARN ABOUT: Event Surveys
For example, a training institute has carried out a training session for software professionals. The organizers believed that it could have been better in certain aspects, such as the facilities and material provided to the attendees.
LEARN ABOUT: Speaker evaluation form

However, the data suggested that the attendees appreciated the event. There were many signups for the next training sessions. It also shed light on other things that needed improvements, such as the registration process and the audio system. The organizers can use surveys such as event evaluation survey, event planning survey, or conference evaluation survey to understand the attendees' expectations and work on improvement areas.
FREE EVENT FEEDBACK SURVEY TEMPLATE
Types of event survey questions
You might want to ask different types of questions depending on the type of event and the people you want to reach. There is a right time and place to ask each kind of question based on the kind of feedback you want.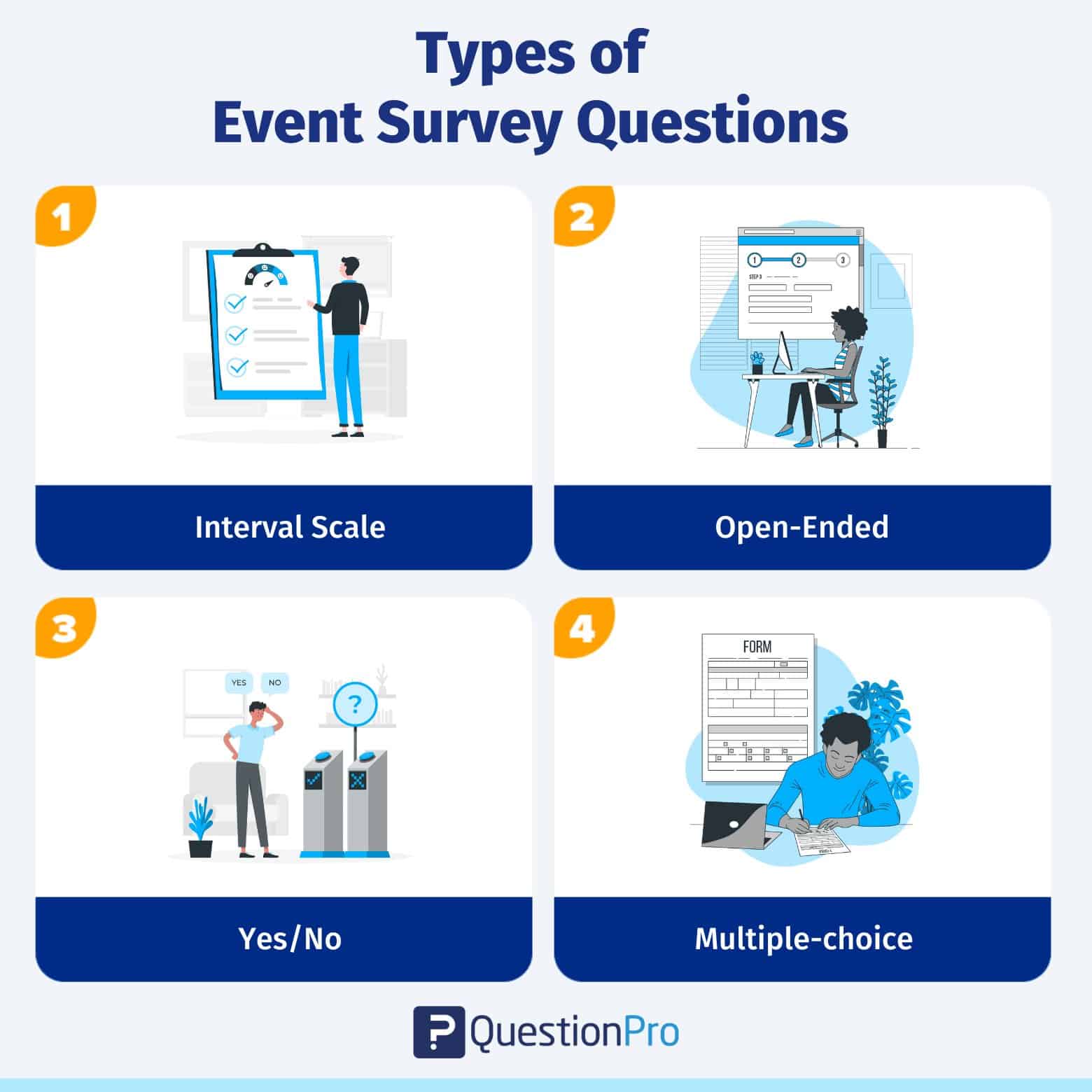 Interval scale questions
With the help of these questions, participants can score various parts of the event on a scale from one to 10 or on any other scale that makes sense for their business.
Open-ended questions
Open-ended questions let your guests say more about their reviews and freely share their thoughts. Make sure there is enough room in the form field for your guests to grow if the event is done online.
Yes/No Questions
Questions like "Did you attend a particular part of the event" or "Did you receive all of the information" are appropriate here.
Multiple-choice questions
There are plenty of options in this selection! Give participants the option of picking from a predetermined list of choices.
How to conduct an event feedback survey
Finding out what worked well and what needs to be changed for events in the future can be done by using a post-event survey to get participant input. To create a post-event feedback survey that is successful, follow the instructions below:
Step 1: Set objectives
Before making your survey, you should decide what information you want to get from your attendees. Do you want to know if they had a good time at the event? Do they care about what you tell them? Knowing your goals can help you order your questions and find the right information. The poll should be as short as possible. Some people may find it hard to answer questions with no right answer. You can make it easy for people to fill out your survey by giving them choices.
Step 2: Sign into QuestionPro
Choose a platform like QuestionPro that is easy to use and lets you change the survey to fit your needs. Start making your questions after an event with QuestionPro now!
Step 3: Create a survey
Create questions that will help you gather the information you need while keeping in mind the goals you set in step one. Make sure your questions are easy to understand and have choices for answers that cover every possible situation.
Step 4: Test the survey
Before sending the survey to users, you should test it to make sure it works as it should and that all the questions are easy to understand.
Step 5: Send the survey to participants
Once you're happy with your survey, it's time to send it to the people who are going to fill it out. You can email it, share it on social media, or put a link to it on the website for your event.
Step 6: Analyze the data
After getting feedback, spend some time looking at the numbers to see if there are any places that could be better for future corporate events. Use the notes to make changes and improve the experience of participants at future events.
Tips for conducting an effective event feedback survey
Once the event sponsors have concluded, the organization should not wait for a long time. As soon as the function is over, ask the attendees how they felt, as the experience is still fresh for them. You can send the event feedback surveys over a thank you email or even ask them to answer on their way out of the event to collect data that would be most accurate. A comprehensive data asset management strategy fosters trust, minimizes risks, and empowers businesses to harness the full potential of their customer data.
Online surveys can be exhaustive, especially after attending an event. Most attendees would rather leave than sit and answer multiple questions. Hence, keeping the study small and adding attractive images would give you a good survey response rate from your audience.
Evaluate the speakers/instructors
After the event, attendees might remember only those speakers they liked. Hence if you evaluate all the speakers, the attendees can suggest which speaker they liked and why. You can choose the future event speakers as per the audience's interest to get a large footfall for the event.
Post an event, and attendees generally tend to leave immediately. It can be challenging to get the audience to answer your survey quickly. So, the surveys should be mobile-optimized. Answering questions on mobile gives flexibility to the attendees. They are more likely to complete the survey.
The survey design chosen for your post-event feedback survey must be appealing. Keep brand consistency in mind while designing your event feedback questionnaire. Brand your survey design such that it creates a lasting impression.
Having a thank you page at the end of your survey is vital, as the respondent has made an effort to spare some time for you. Furthermore, to keep the event fresh in their minds and create a lasting impression, you can add links to interesting articles by the speakers or add photographs taken at the event.
An event feedback survey can also act as a promotional asset. You can mention your upcoming event in these questions and get an approximate idea of how many people will attend the next event and what they expect from it.
Top 16 event feedback survey questions for a post-event survey questionnaire
An event feedback questions survey will enable the organizers to understand if they could deliver an event that met the expectations of its audience. Carrying out such a study will also help the host learn improvement areas.
Use below event feedback simple survey questions to evaluate an event's success.
Considering your complete experience at the event, how likely are you to recommend our future events to your friends or colleagues?
On a scale of 1 to 7, 7 being the highest, how would you rate the event?
What are the three things that you liked the most?
What are the three things that you disliked the most?
How would you rate the organization?

Very good
Good
Acceptable
Poor
Very poor

How helpful was the event staff?

Extremely helpful
Very helpful
Somewhat helpful
Not so helpful
Not at all helpful
How much pre-event information was provided to you to help you better understand the event?

All of the information
Most of the information
Some of the information
A little of the information
None of the information

Please state your level of agreement with the statement: The duration of the event was just right. (Not too long or not too short)

Strongly disagree
Disagree
Neutral
Agree
Strongly agree

Have you attended any of our events before?

Yes
No

What was the reason you chose to participate in our event, and what were your expectations from the event?
Did the event meet your expectations?

Yes
No

Overall, how satisfied were you with the event?

Very dissatisfied
Dissatisfied
Neutral
Satisfied
Very satisfied

Would you say the event was interactive?

No, the communication was one way
Yes, it was very interactive

Did the event help you with new learnings or knowledge?

Yes
No

Would you say the speakers or presenters were knowledgeable?

Yes
No

Do you have any other comments/suggestions that would help us make future events better?
Post-event survey: how to send it?
Depending on your general goals and the type of event, you could send your post-event surveys to attendees in a number of ways. Check out the ideas below for how to follow up on surveys after an event. Don't forget that you can pick more than one post-event survey questions to reach the most people!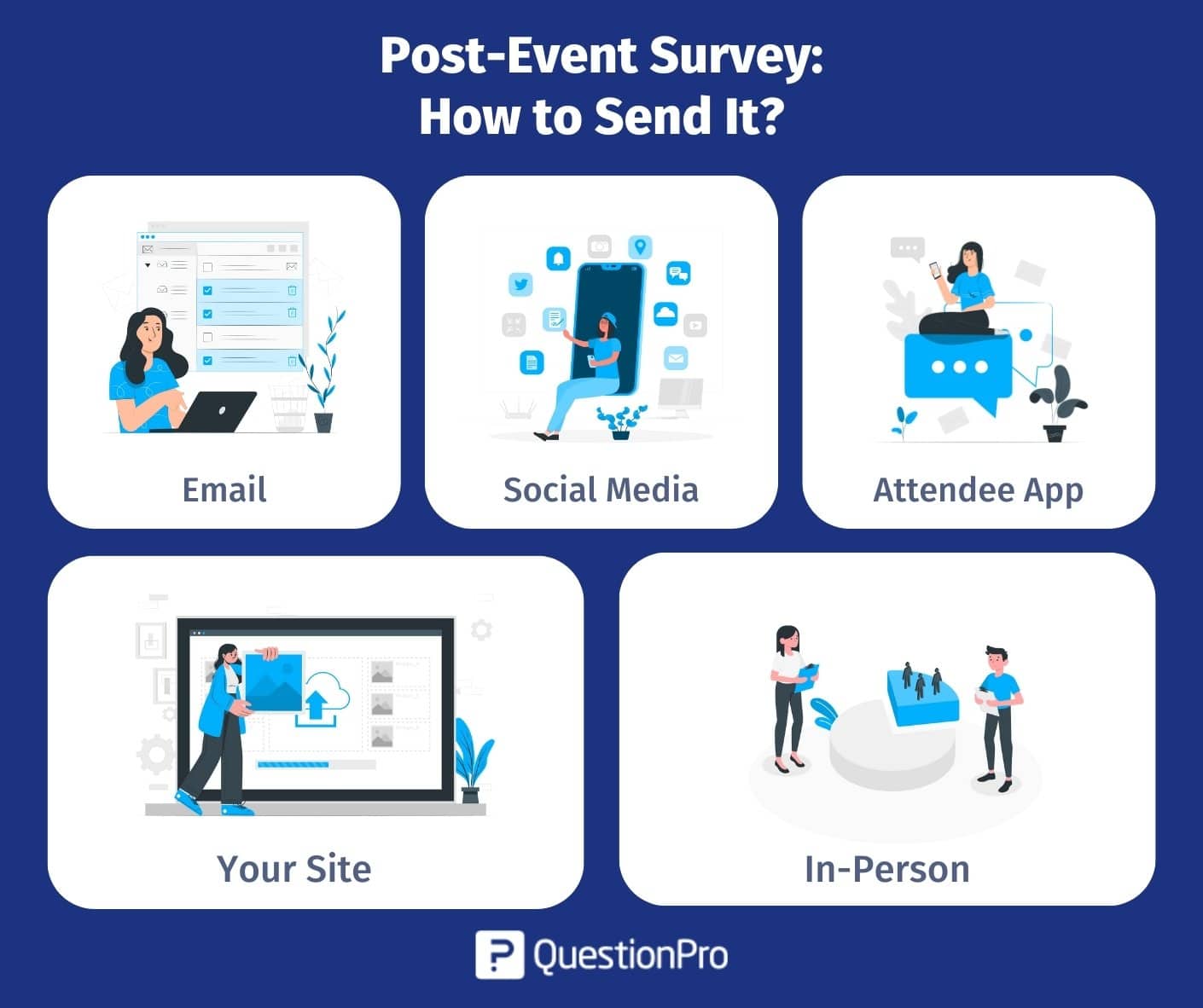 This is one of the best ways to get a form to people at an event. Why? Almost everyone has an email address, and getting feedback is easy if you do it right. You should only think about using email feedback if you know your email lists are clean and you'll be able to reach everyone at the event.
This choice is great for people who are very active on social media or whose event has a big social component. If your event had a closed Facebook or LinkedIn group for communication or a hashtag for live-tweeting, post the link to those groups so people can comment.
If you're holding a virtual event, you'll want to make sure that the software you're using makes everything go smoothly. With the right software, you'll also be able to talk to your crowd during and after the event.
You might have a landing page for the event or an integration with your event software. In this case, your website would be the best place to host the comments after the event.
If your event is in person, it's important to share your link for follow-up after the event while your audience is still paying attention. Even though it will be harder to put together and remember later, some events may get more responses if they are given in person.
LEARN ABOUT: Travel Survey Questionnaire And Survey Template
Advantages and disadvantages of event feedback questions
Advantages of post-event surveys:
Feedback collection for organizers
Identifying improvement opportunities
Engaging attendees in the event evaluation process
Disadvantages of post-event surveys:
Low response rates
Potential bias in responses
Limited depth of feedback
Time-consuming for both organizers and attendees.
Conclusion
Event feedback questions are important for event leaders to get useful information and gathering feedback from event attendees. These questions can be used to determine how happy people are in general, their skills and weaknesses, and how to plan for future events. By using well-designed feedback forms, event planners can learn more about what attendee satisfaction is, how effective different parts of the event are, and how they could be made better.
QuestionPro is an online survey platform that makes creating and sending feedback surveys for events easy. QuestionPro makes it easy for organizers to make customized feedback surveys thanks to its easy-to-use interface, customizable question types, and advanced features like branching logic and data analysis tools. The platform has many features that make it easy for event planners to collect and examine valuable feedback data, finding trends, patterns, and insights they can use.
QuestionPro's reporting and visualization tools make it easy to look at constructive feedback data in depth and show it in a clear way. It can be used as one of the event survey tools. This makes it easier to find key areas that need improvement and make smart choices about improving future events. By using QuestionPro, event leaders can use the power of feedback to keep getting better, give their attendees great experiences, and meet their ever-changing needs.
Frequently Asked Questions(FAQ)
Why is event feedback important?
Event feedback is important because it gives organizers useful information and helps them understand how people felt about the event, how satisfied they were, and what could be done better.
How can event feedback help improve future events?
Event feedback helps the people in charge figure out what went well and what didn't, so they can make smart decisions and changes that will improve future events.
How can I effectively communicate the changes made based on event feedback?
Share a summary of the feedback results with the attendees made because of what they said. Email, social media, or a message after the event to inform people about these changes.
What types of questions should be included in an event feedback survey?
Event surveys should have a mix of open-ended and closed-ended questions, like rating scales. Closed-ended questions give numbers, while open-ended questions let people give more detailed comments.