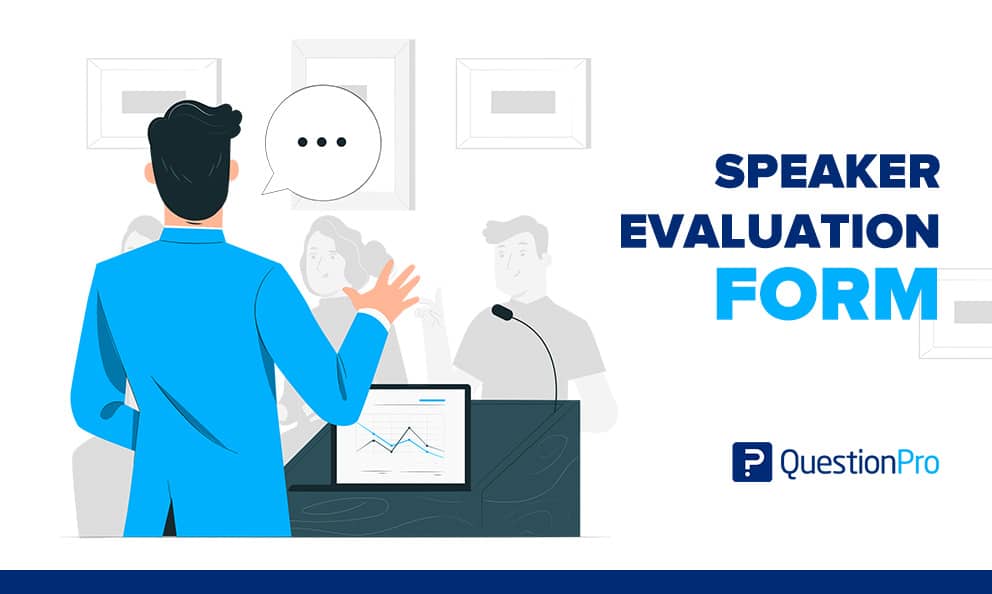 Whether they're in person, hybrid, or fully online, conferences, forums, and seminars are —still!— all the rage in the business world. However, most of them —if not all— have a big problem. Some speakers are simply not up to the task, or at least not tuned into the conference's main theme.
Some of them reuse and recycle their presentations or can't handle a breakout room; audiences don't respond well to that. But, hear us out: they might not actually know that they bombed a talk—because nobody measured their effectiveness! Read on to see how a speaker evaluation form can be a game-changer and a quick solution to improve your events and make the audience engaged effectively.
LEARN ABOUT: course evaluation survey examples
What is a speaker evaluation form?
A speaker evaluation form is a questionnaire or survey used to collect data on how well a speaker delivered a speech and its effectiveness for the audience. This feedback can be essential both for the speaker and for the talk organizers to have quality, inspiring and enjoyable content for the attendees.
LEARN ABOUT: Event Surveys
Organizations also use a speaker evaluation form to allow attendees to provide feedback on the event. This feedback will help the organization to build a better plan to ensure its success and improve its events based on accurate data and not individual opinions.
Why is it important to have a speaker evaluation form? 
A good speaker evaluation form can be an essential tool to measure the effectiveness of an event. In addition, it can be used to measure the contribution it makes to the objectives of an organization, whether these are educational evaluation, branding, lead generation, or anything else. Finally, it's essential to measure that the efforts being made are correctly reaching the audience.
What to include in a speaker evaluation form?
A speaker evaluation form should always contain the following questions. All questions should have a Likert-scale rating, except for the open-ended questions.
Speaker's name and/or session's name
This will allow attendees to know which session or speaker they're evaluating. It's always a good idea to make this part as clear as possible, so attendees know right away who they're evaluating and to avoid confusion among the audience.

Example:
Session name "How to write for writers"
Speaker's name "Maria Parra".
Let the audience know that this section is meant to help improve the quality of future presentations. Here, your audience will have to rate the speaker's knowledge about the topic and his presentation skills.

It's important always to add the question: "Did this presentation meet your expectations?" and leave an open-ended question for those who didn't like it.
Example:
"Did this presentation meet your expectations?" [Likert scale rating] If it didn't, please let us know why [start of open-ended question]
Having an Overall event rating will help you to know the satisfaction measure of all attendees with a single insight.

Example:
"Overall evaluation of this presentation" [Likert scale rating] 
If you need more question ideas, in these templates, you can find some to create your own evaluation:
Or visit our survey template library to access over +300 templates created by experts from various industries.
What do we do when we get the answers? 
Once the forms are collected, event organizers should gather the results into a report that summarizes them to measure how effectively the event met the audience's needs and what can be done in the future to improve it. The top 4 questions that this report should answer are: 
What did we do well?

What could have been done differently?

What is something we cannot do for future events?

What can we improve for future events?
Summarizing results is an excellent way to report to the event planners and come up with actions based on the insights gathered from the survey. 
Need a tool to create a speaker evaluation form?
QuestionPro is here to help! We have a long list of features that can help you improve your events and get feedback from your attendees.
Get started today and design your perfect survey. Add multiple question types for event evaluation, logic, and personalized branding. Deploy in seconds and analyze your data in real time. You can access over 88 features and customizable templates.
---
Authors:  Guille Santana & Satoshi Komatsuzaki