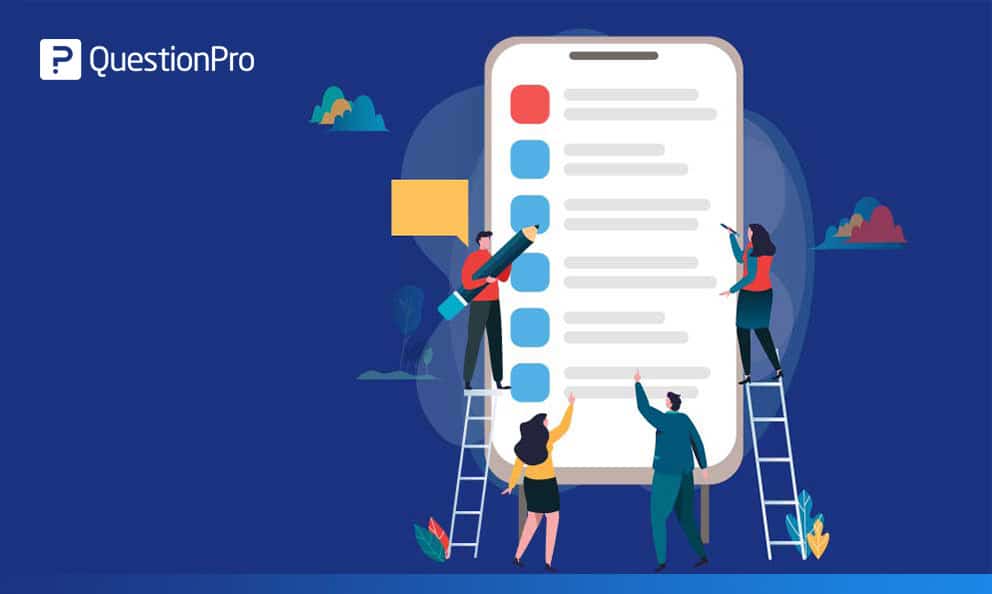 What is a custom survey?
What would you do if you received an email with a survey invitation from an unknown brand? You'd probably delete the email without much thought.
For example, you receive an email with a survey invitation to rate one of your recent purchases. You're not sure which purchase the survey wants you to rate because you don't see any store branding on the survey. A custom survey removes this confusion by adding brand elements, like a logo, into the survey design.
Custom surveys help make it clear that a survey comes from your company. Instead of a blank or bland survey design, your custom survey features a footprint of your brand attributes in the online survey. You can customize and brand online surveys to fit the look and feel of your business. Make the design and overall survey experience resonate with your brand image using your logo, custom colors, and fonts that match your brand guidelines.
LEARN ABOUT: Survey Mistakes And How to Avoid
Custom surveys help your business
Still on the fence about custom surveys for your business? Surveys help your business collect important information about customers. Use a customer satisfaction survey, for example, to gain useful insights into how well your staff, products, and services are performing.
Surveys can do more than just show you helpful data on the way your customers think. They can also create a sense of involvement and importance in customers. You want your customers to know their opinions matter.
Take a look at the top reasons you should be using surveys to capture customer data:
Show respect to customers:

Asking for a customer's opinion shows that you respect what they have to say. They'll feel more comfortable knowing that you want their input — not just their money. A customer that feels respected is likely to continue using your business.

Measure customer loyalty:

A

branding survey

helps determine customer loyalty. You can use the data to see what audiences are loyal to your brand and where you can improve. For example, you may have a product that has a set following of loyal customers. The other customers may consider themselves neutral about the product. You can use survey data to target the neutral audience and encourage their loyalty.

Identify problems with products or services:

Customer satisfaction surveys are one of the easiest ways to expose problems within your business. A restaurant owner who surveys diners might find that poor customer service is hurting the business. Steps can then be taken to fix the underlying issues.

Identify new opportunities:

Just as you can find problems in your business, customer surveys can help you find new opportunities. Customers might regularly mention a problem they have. Your business can create a product or service to take care of this problem for your customers.

Learn more about your customers:

This is one of the best reasons to give your customers

customized surveys

. By asking about their wants, needs, and personal feelings, you get direct insight into how they think and feel. Knowing your customer gives you the data you need to best serve their needs.
Promoting your brand with customized surveys
A customized survey takes a regular customer or employee experience survey and transforms it into a piece of your brand. By branding a survey, you help your customers associate your business with respect. Customers will begin to see your brand as a business that cares about their opinions and wants to involve them in the product or service development process.
Types of surveys to customize
You can customize almost any type of survey to make it reflect your business personality and values. However, some surveys work better as a custom survey than others. Types of surveys you may want to customize include:
Top 4 reasons to create a custom online survey
A custom survey helps your customers associate your business with the questions you're asking. These customized surveys can be a powerful tool for both making a good impression and also gaining important insights into customer feelings.
An uncustomized survey may lead to lower responses or less authentic responses. This happens because customers don't recognize the survey software program and don't assume that the survey is coming directly from your brand. Those who do fill out the survey may not think answers are being returned to decision-makers. This means that their answers may be unreliable for analyzing data.
Custom surveys, on the other hand, tell your customers right away that your business is behind the survey and that it is the company itself who wants their opinion. There are four main benefits of creating a custom survey:
Increase response rate, leading to more complete and relevant data 

Strengthen your brand authority in the mind of the customer

Boost overall brand awareness

Respond to and control customer perception
You can see how each advantage of a customized survey can ultimately help your business adapt to changes and maintain its long-term stability.
Increase response rate
A professional-looking survey is always more appealing than a generic survey. When your customer opens the email survey, SMS, or website survey with your branding, they'll immediately know who sent the survey. Opening mail or messages from a known sender is always safer than an unknown sender, so customers are more likely to open the survey. This instant brand recognition helps ease a customer's mind that the survey isn't a phishing attempt or scam.
When a customer feels confident that a survey is safe and professional, they're more likely to complete the survey. Your custom logo and color scheme also encourages customers to put thought into their survey answers, as they feel certain that they are speaking directly to the company. That means that not only response rates increase with a custom-made survey, but the completeness and quality of responses increase as well.
Strengthen your brand
A survey built to you brand reminds your customers and target audience of your business. For example, a customer may have visited your commerce website several months ago and made a purchase. You hope to encourage more visits, and more sales from this customer. You choose to send a branding survey asking about their experience with the purchased product. This customer will be reminded of your business and may visit your shop again.
Reiterating your brand name further reminds survey respondents of your business throughout the survey process. As respondents complete the survey, they're unlikely to forget your business name, logo, and feel. This will help you stand out in a sea of competitors.
Boost brand awareness
Surveying existing customers with a custom online survey helps you boost your brand awareness. A custom survey is a great way to emphasize and communicate your brand to customers. Survey participants are exposed to your logo, colors, and other brand elements throughout the survey. When they finish the questionnaire, they'll recognize your brand as they encounter it on the web, the street, and in marketing materials.
Existing customers aren't the only ones who will recognize your brand, however. As existing customers point out your brand to family, friends, and acquaintances, your overall brand awareness grows. This serves as continuous, direct marketing of your business to both previous and potential customers.
Control of brand perception
Brand awareness is only as good as the perception of the brand. Let's say a brand has a lot of awareness, but it's for a negative reason. This certainly doesn't help to grow the business, and may in fact lead to losing your current business. Responding to negative issues promptly and controlling the perception of a brand's audience is as important as growing awareness.
You can customize surveys in a way that lets you learn about your audience and give you insight about the way people perceive your brand. Configure a target audience and survey questions that creates a good impression of your brand as well as help you learn how to encourage positive reactions to your brand. You can even choose a theme and distribution method, such as email or SMS, to reach the right audience for that particular survey.
Reasons to not use survey branding
Customizing your surveys gives you a lot of power over the quality of responses and brand recognition. However, there are times when a custom survey may not be the right choice for your business.
Branding our surveys has a lot of advantages, but it also comes with some disadvantages, including:
Increased response bias from customers with strong feelings towards your brand, both positive and negative.

It takes more time to create a custom survey than using a generic template.

Respondents will have a difficult time comparing your products directly to competitors if the survey comes from your brand, resulting in skewed competitive analysis data.
Bottom line: Survey branding helps your business
There are few times when a generic survey is more effective than a custom survey. If you're looking for honest analysis between your brand and competitors, a custom survey may not be the best choice.
However, if you need accurate data on the performance and perception of your business, a custom survey can help you get quality responses from participants. You can even cut down the time it takes to create a customized survey by using survey software like QuestionPro. We offer innovative tools to create professional surveys in minutes.
Best of all? You don't need advanced survey creation knowledge to customize your surveys. 
Three easy steps to create custom surveys
QuestionPro makes it simple to create beautiful customized surveys from our expansive list of themes and survey templates. Create a custom survey in minutes. Survey distribution is easy as well. Simply select your targeted respondents and send the survey in your preferred method.
The three steps to create a customized survey include:
Choose a standard theme to start.

Customize the theme using your logo and colors.

Launch your custom survey straight to your target audience.
Choose a standard theme
We provide a wide variety of generic survey themes to begin your survey customization and brand online surveys. These generic themes come with the option to apply the complete look and feel of a custom survey with only a few steps.
For organizations short on time, one of our generic theme survey templates is a great way to start. You can build your custom survey in minutes with just a few options. You'll get the benefits of a custom survey with the ease of a generic template. This method saves you time so you have more time to focus on analyzing survey responses.
Standard themes can also be further customized to fit your brand. If you have the time to customize a standard template, you can create a truly unique survey for your respondents.
Customize theme
You can choose to provide quick customization to your chosen theme, or set almost every aspect of your survey using advanced techniques. Use your brand's colors, logo, and font family to make the survey more appealing to targeted respondents.
Select the color of the content area, buttons, and progress bar to suit your brand. Then customize the logo, title of the survey, and introduce your fonts to further customize the look and feel. For advanced users, you can take customization to a granular level. Use custom CSS for complete control over the look of your surveys.
Launch your custom surveys
Your survey captures the exact feel and perception you want for your brand. Now you can launch the survey by sending it to your targeted respondents. Use the QuestionPro software to target the right audience on the right platforms.
Surveys can be distributed through online channels, including social media, email, your website, and SMS messaging. You can also collect survey data offline through an offline mobile app. Multiple distribution channels help you reach your target audience, no matter where they hang out.
How to create a c

ustom survey

?
Select a standard theme: This is a generic theme and applies to all surveys. You can either continue with this theme or customize it as per your needs.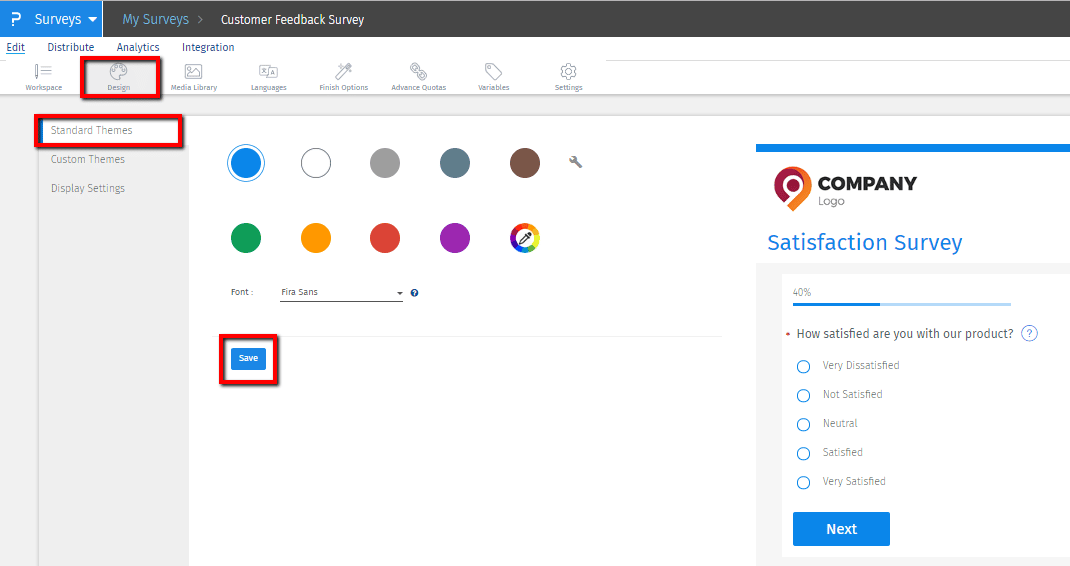 To apply the default theme to all surveys, click on the "Manage Themes" icon and set the default theme.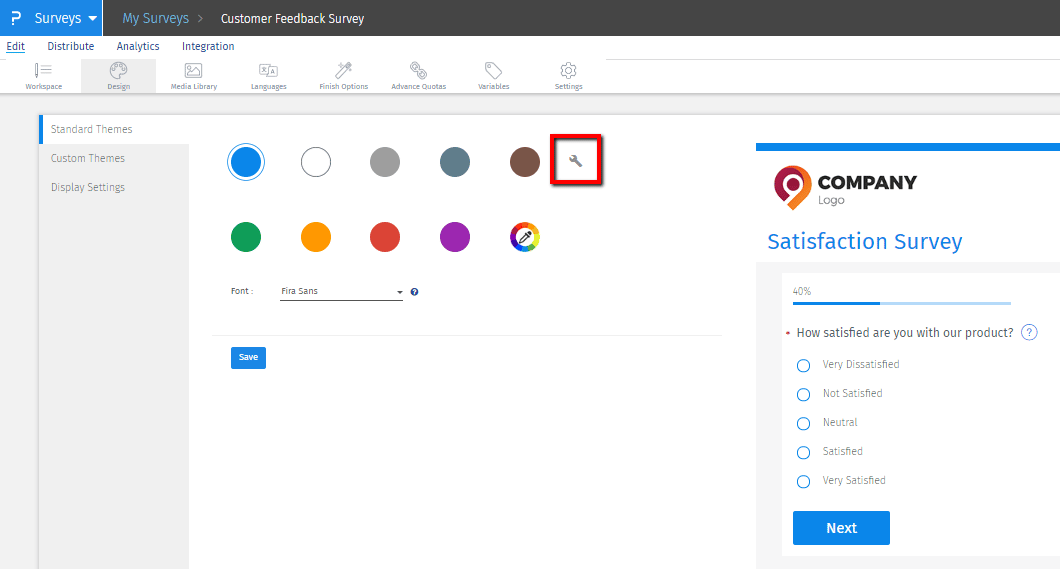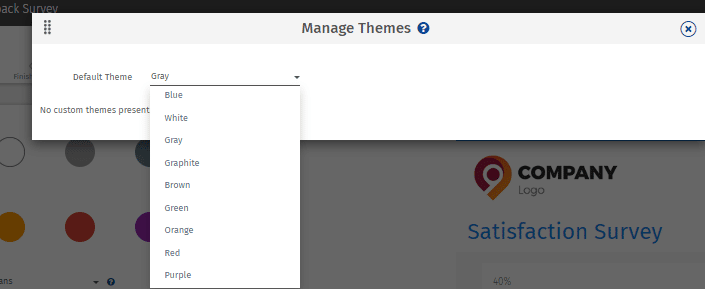 The default theme will be applied to all the new surveys created.
Setup custom URL: Include your business name in the URL and create a customized survey.


Add a logo to the survey: Add your company logo to make your online survey branding look more professional.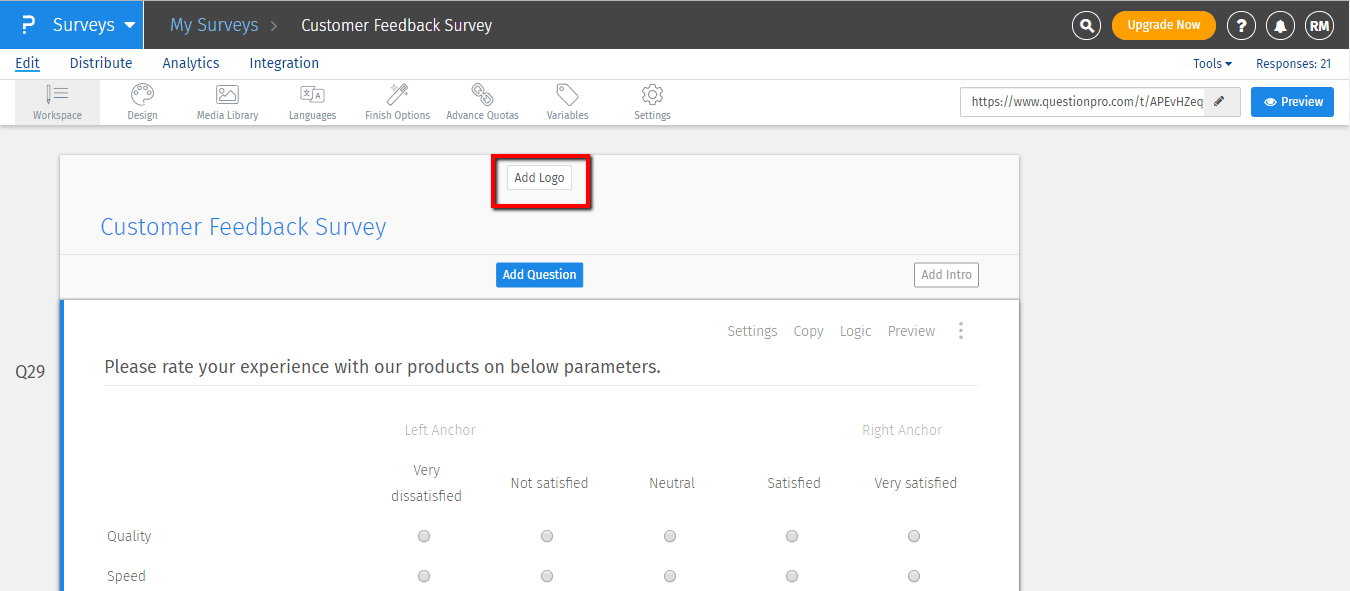 Customize the look and feel of the survey: Select from a wide variety of colors and fonts to give a unique experience to your survey takers. You can also use custom CSS to have control at a finer level.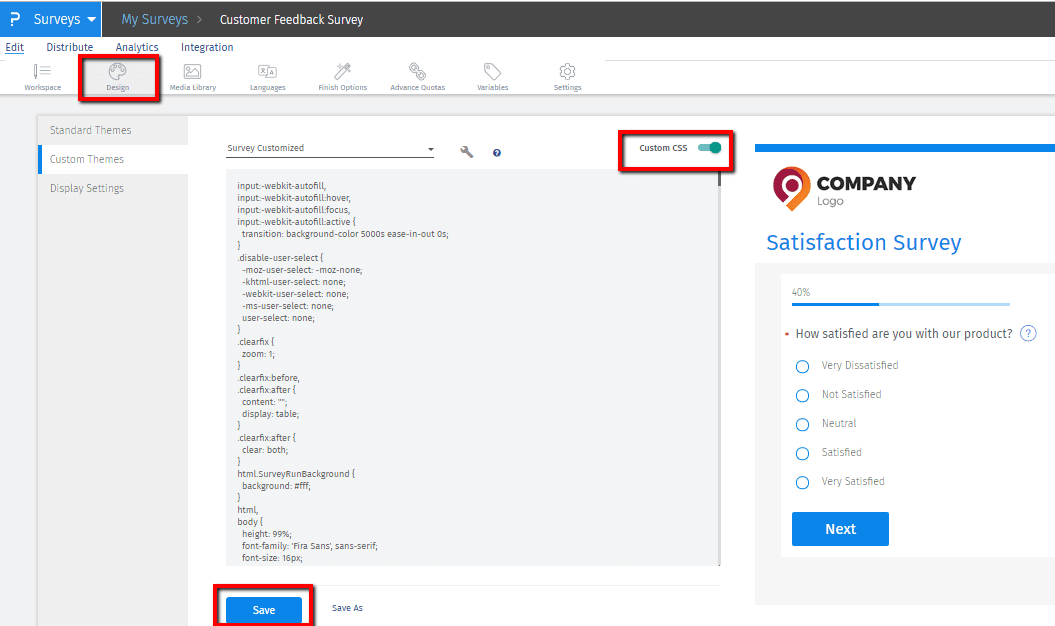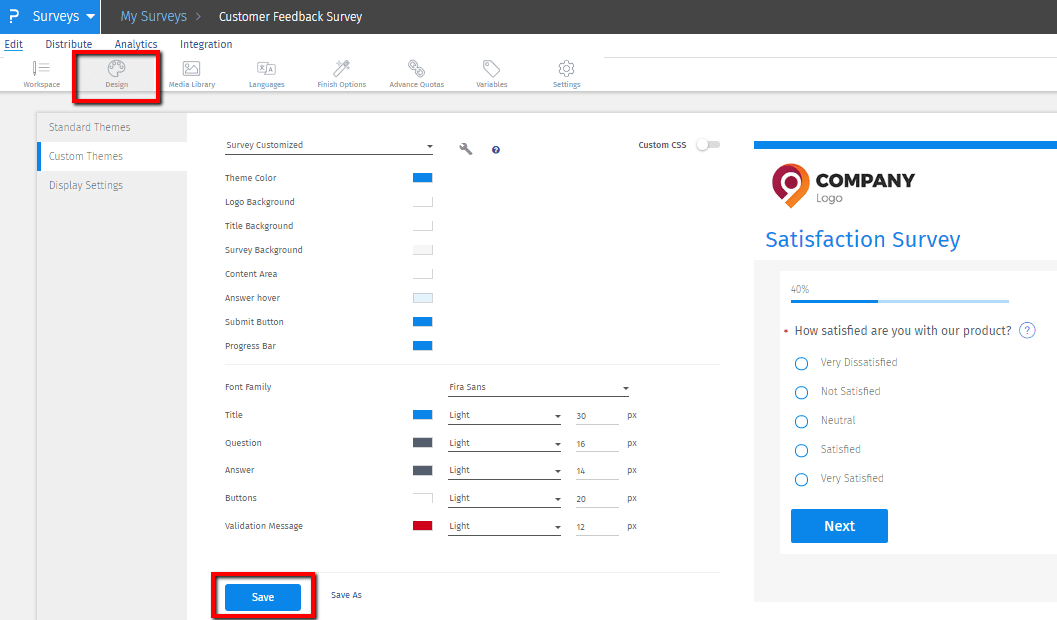 Set header and footer: Open the rich content editor and set the header.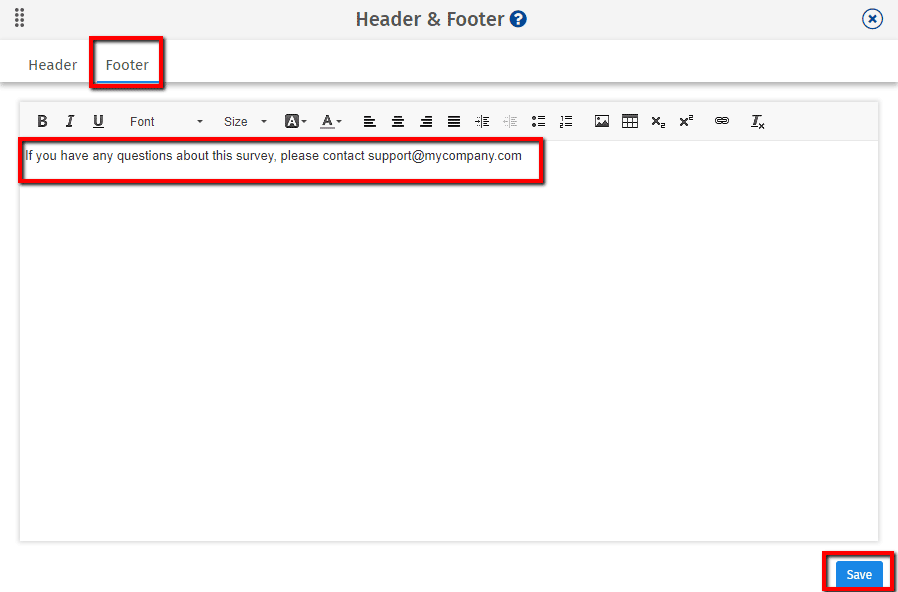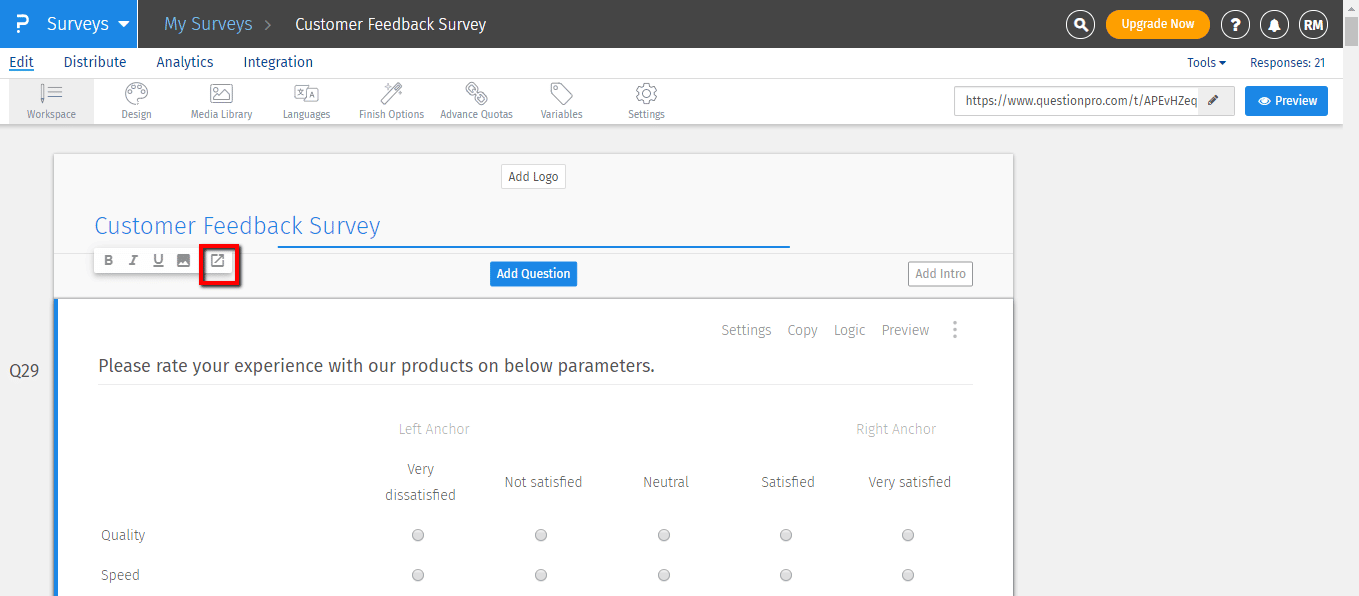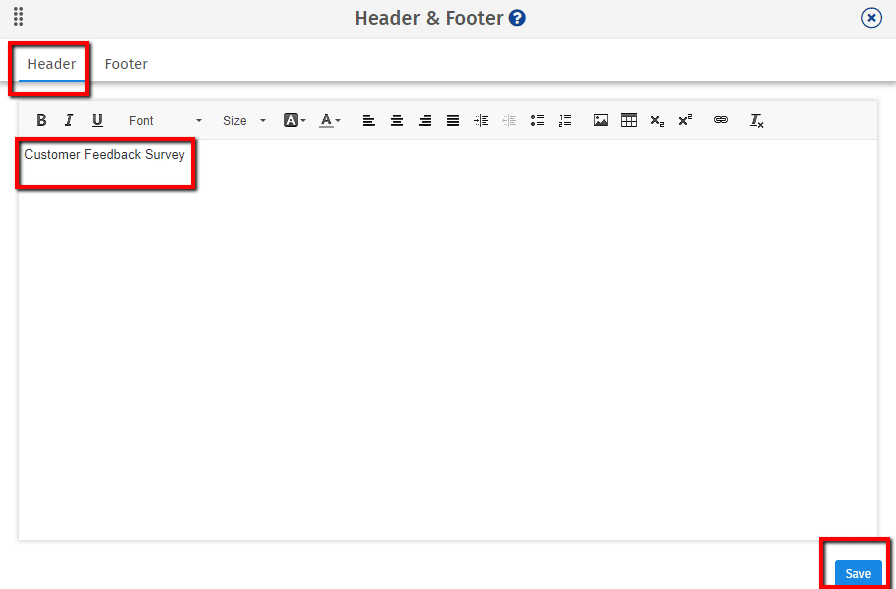 Add a global header and footer: If you have QuestionPro multi-user license, you can set up the default theme, header, and footer for your organization. All new surveys created under your organization will use the global theme, header, and footer.