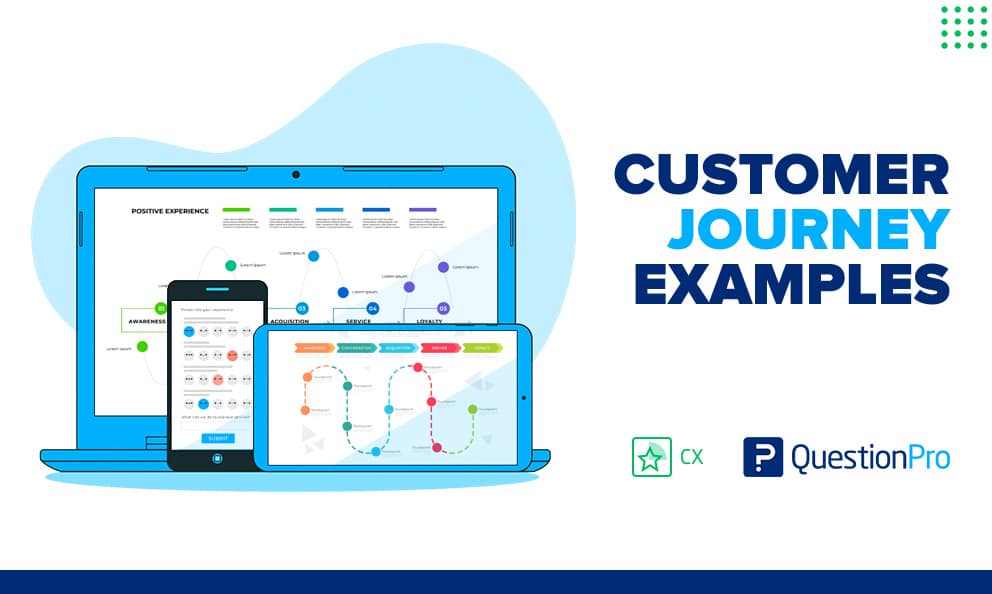 Carrying out your first Customer Journey is very difficult, even though you know the steps to follow to define it and capture it graphically. However, starting from a reference can make this process much easier.
This is why this time we want to share some customer journey examples to help you in your process of evaluating your customers' experience.
The customer journey is a methodology used by many companies to understand the process that their customers go through when interacting with their brands.
Representing it graphically and using the correct canvas allows each touchpoint to be evaluated and areas for improvement to be found to improve the experience offered.
In this article, we have compiled the best customer journey examples to help you define your own. You will find some that are more creative and others that are functional. Surely one of them will be able to inspire you in this process.
What is it and why should I use a Customer Journey Map?
A customer journey map (CJM) is a visual representation of all the steps and interactions that a potential consumer goes through during the purchase process. It can have different shapes. and canvas according to the needs of each company.
Mapping a customer journey allows you to represent all touchpoints not only to show them visually to all team members but also to take action on them.
The most common way is by evaluating each one of them. Today, most customer experience management platforms allow you to use these maps as a guide to launch evaluations and identify strong and weak areas in your business.
If you like reading about customer journey examples, you might find it interesting learning about Customer Journey vs Customer Experience.
Most common mistakes when drawing the customer journey
Not defining a clear objective. The first question you should ask yourself is why do I want to draw the customer journey? What goals do I intend to achieve and how am I going to quantify them?
Not having your customer persona well defined. You must go beyond traditional segmentation and fully understand what the motivations of customers and expectations are at all times.
Draw the customer journey according to your perception. It is very common for the owner of the process or responsible area, as the most knowledgeable about it, to help you with the customer journey. But that is a common mistake because the first thing to keep in mind is that the customer's perception must be counted on at all times.
Create a customer journey for each area. Precisely, the client perceives his journey as unique and does not have to know if one phase depends on one department and the next on another.
LEARN ABOUT: Client Management
Make it too complex. It should be avoided, especially at the beginning, making the drawing of the customer journey too complex. It must be easy to understand by all areas and employees involved.
If you are on you're way to start building your customer journey, you might find it useful to review the 10 best customer journey mapping tools.
Customer Journey Map Examples
Customer Journey maps take a wide variety of forms. Here are seven examples that we have selected for you.
Example 1: Digital Experiences Journey
This CJM example adopts a simple structure that only includes the crucial moments when marketing can exert its influence. The map outline portrays the key touch points of a fictional hot chocolate shop in a digital customer journey.
The map highlights the importance of identifying opportunities but also examining potential risks. It makes it easy to spot a customer's ultimate marketing goal and how different marketing technologies affect buying behavior and purchase decisions.
If you like reading about digital experiences journey, you might find it interesting to learn about User Journey Map.
Example 2: Health Insurance Customer Journey
The example of the customer journey map brings us closer to the CX strategy. The scheme forces even the world's largest banks to focus on each customer.
The finance, insurance and banking sectors are crowded. Many companies compete for customers. Leveraging customer experience insights could set them apart from the competition. Improving the CX strategy and being customer-centric keeps them loyal.
Example 3: LEGO's wheel of experience
It is a wheel of experiences created in a simple and exciting way to show the analysis of a flight to New York. The central part of the image mentions the characteristics of the person. The next circle has three experience levels before, during, and after the flight. Each step is also marked with an emotion that reflects positive, neutral, or negative shopping experiences.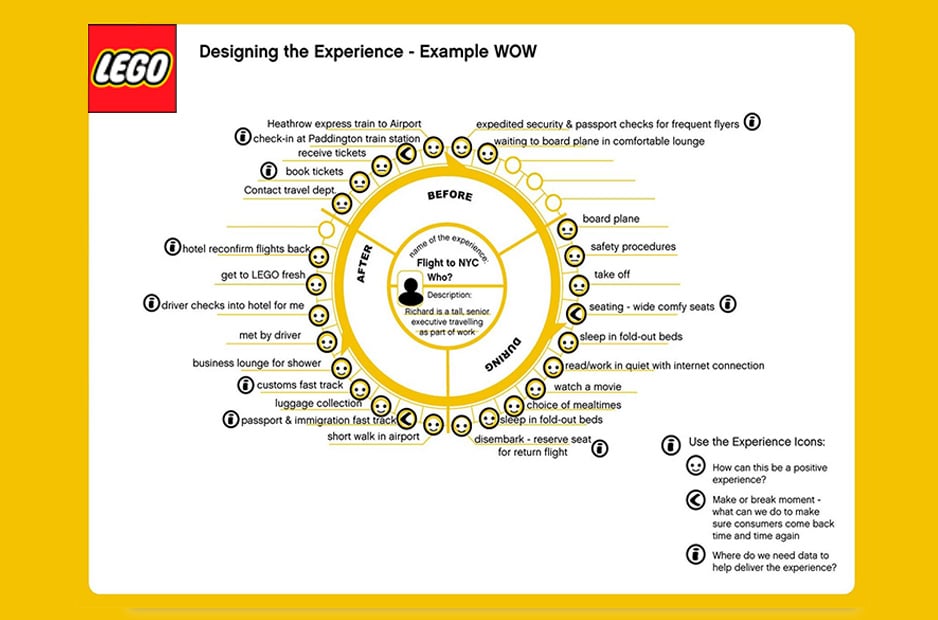 This form of a map is a great approach to looking at the company's product or service from the customer's perspective.
Example 4: Car Buyer Journey
The map breaks down the methods customers use to find out when buying a vehicle and what factors are beneficial.
The car buyer journey goes from the initial stage of research, to engagement, then experience (i.e, test drive), the purchase, and ending with the customer advocacy towards your vehicle brand.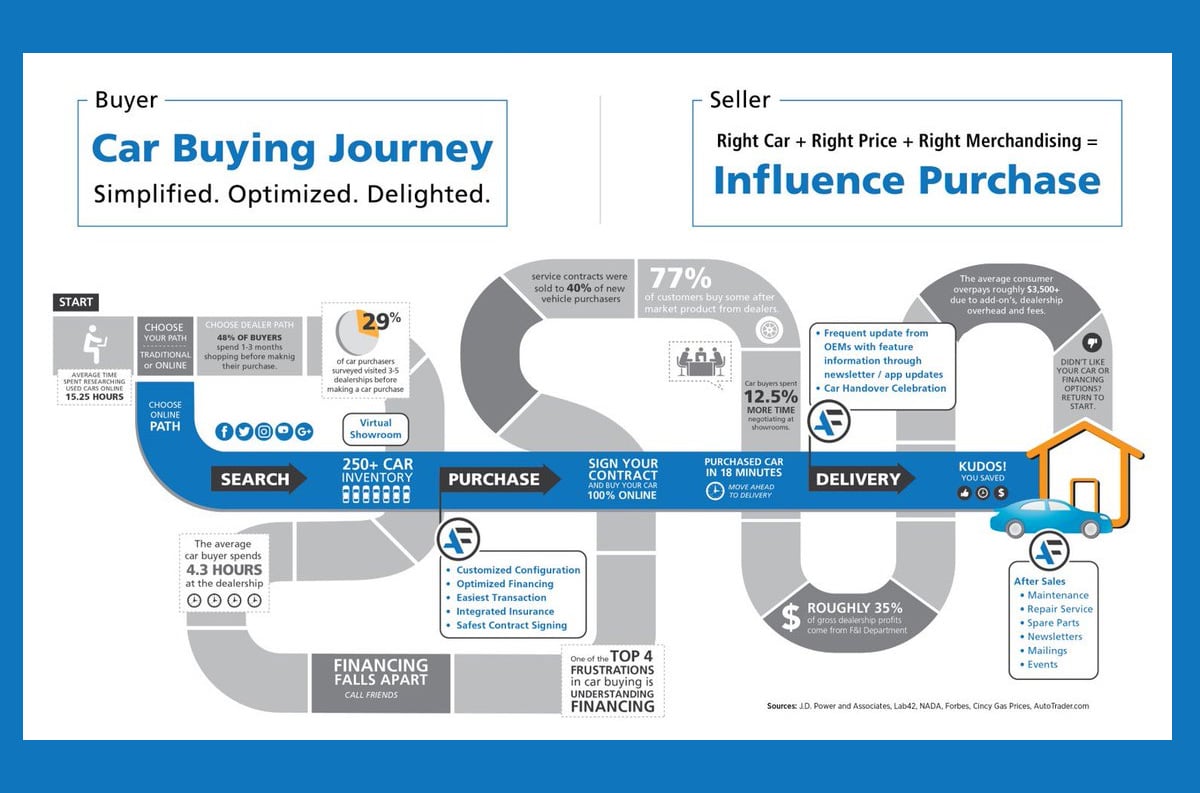 It provides companies with great insights into the avenues customers use to find out about the solutions they offer. It even makes it easy to find the most popular with them.
Free Customer Journey Map Template
At QuestionPro, we know that all this information can be overwhelming and starting to create your Customer Journey without help can be intimidating.
That is why we have created a Customer Journey Map Template that we hope can help you start sketching the stages, UX and overall satisfaction of your customers with your brand.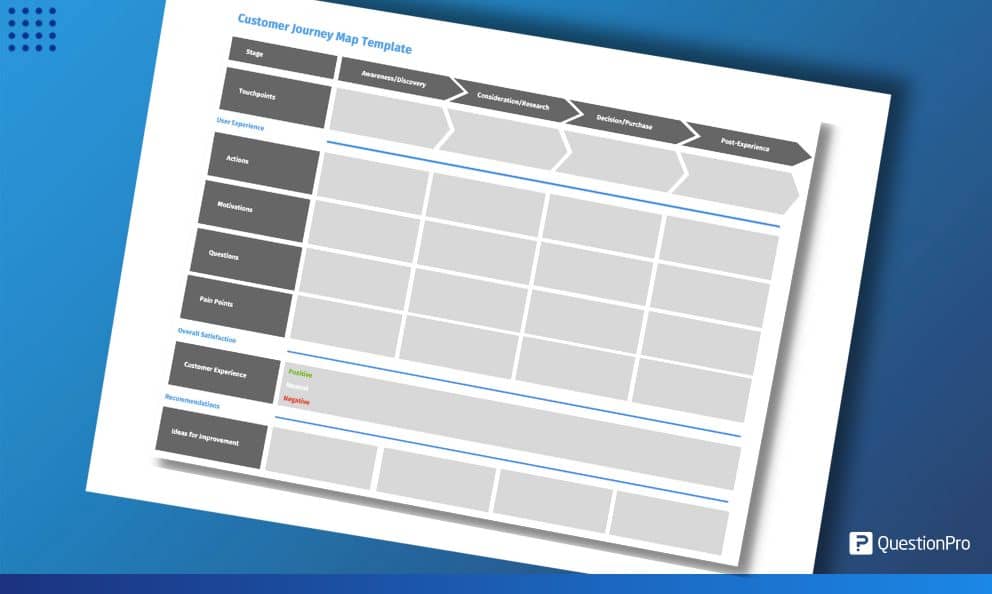 DOWNLOAD CUSTOMER JOURNEY MAP TEMPLATE
Example 5: Customer Journey Product Plan
This map takes a more visual approach. The outline makes the map as widely seen in the organization as possible, as it is understandable and rewarding to look at.
When a customer journey map is made more visual, the intended information can be conveyed with a creative twist. It is a way of making the information more interesting.
Example 6: Starbucks' Customer Journey
This Starbucks customer journey map follows a timeline style that outlines the various touchpoints and a foundation that distinguishes the enriched experience.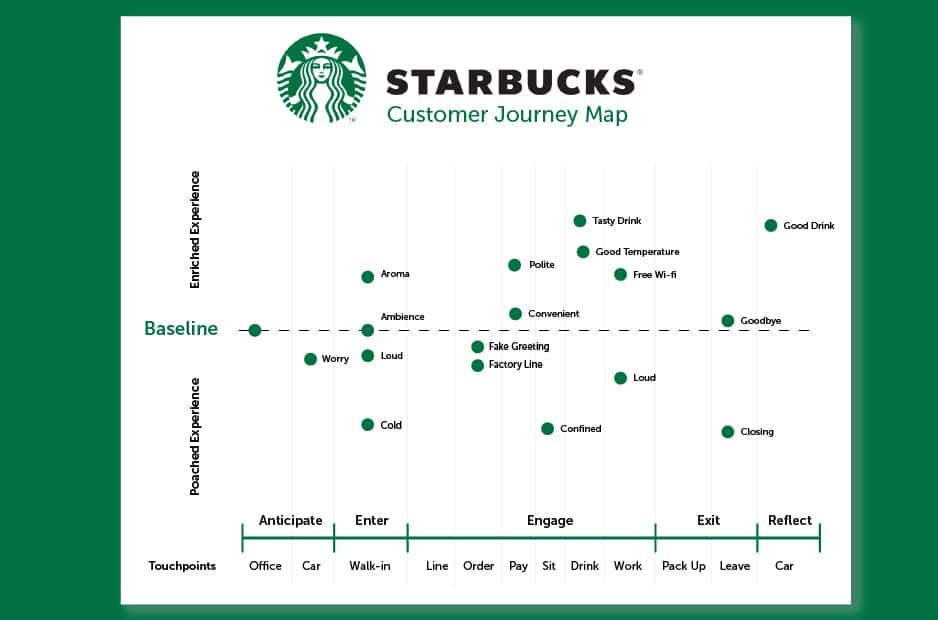 Although the map is unlikely to work for e-commerce, it inspiringly shows the possible areas and the emotions a customer might feel at each stage.
If you are thinking of building your own customer journey map, you might find it interesting to learn about how to create a customer journey map.
Example 7: B2B Customer Journey Map
This B2B customer journey map example is structured to break down the journey stage by stage and align each step with the customer's goals.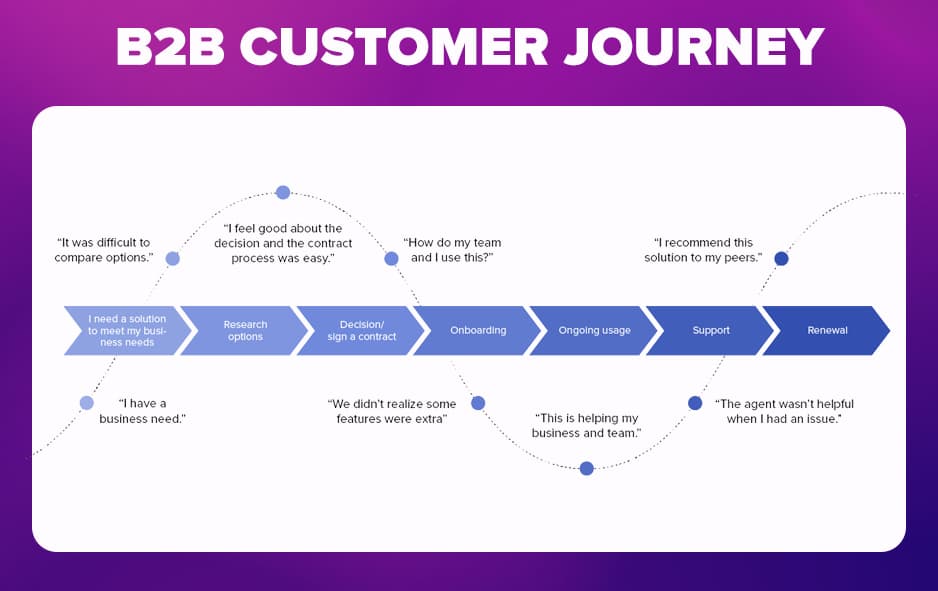 The scheme makes it feel like walking a mile in the client's shoes.
It's important to understand how customers engage with your business and learn what you need to improve from a customer perspective and experience. This customer journey map visualizes you in a B2B environment.
Do you want a head start on building your customer journey? Here you will find a completely free template:
How to get the most out of your Customer Journey Maps with QuestionPro CX
To build your own you could take inspiration from an existing customer journey template. At the end of the day, remember to pick and adapt the customer journey map that best illustrates your customer touchpoints.
This way your team can focus on what needs to be improved to enhance your customer experience and boost customer loyalty with the CJM style that best fits and represents your brand.
LEARN ABOUT: Consumer Decision Journey
However, choosing the best customer journey map for your company is just the start. If you really want to make the best use out of it, you need to evaluate the level of satisfaction and how your brand makes your customer feel.
Tools such as closed-loop feedback, NPS+, sentiment analysis, and promoter amplification provided by the QuestionPro CX customer experience management platform can help your team evaluate each of the touchpoints with actionable insights to offer the best experience to your customers.
If you would like to learn more about this tool, we invite you to request a free demo or create a free account to take advantage of everything QuestionPro CX has for you.