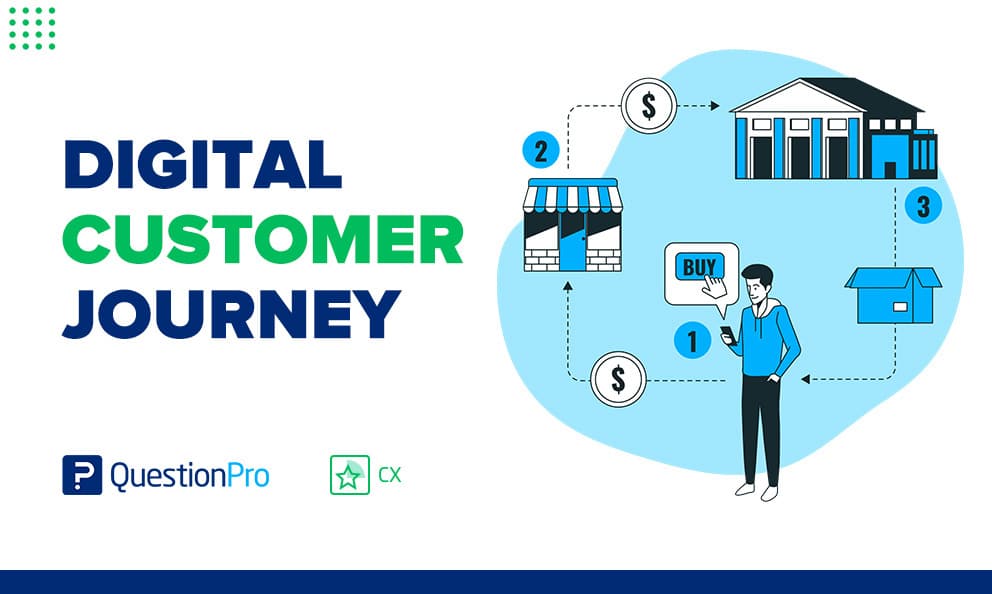 Defining the digital customer journey (DCJ) our customers follow is critical to offering a good user experience. This process that finally leads to the purchase must be optimized if we want good results.
That is why more and more companies recommend products or services that might interest you. Even streaming services such as Hulu or Netflix suggest movies or series that you might like, personalizing user experience. The most exciting thing about this is that these strategies are not coincidental. There are many efforts behind it, such as building a great customer experience strategy through the use of tools like the customer journey.
LEARN ABOUT: Perfect Customer-First Strategy
One of the greatest challenges for companies is learning what their customers want. How do you live up to their expectations? What are the exact moments and places that most influence their buying decisions?
LEARN ABOUT: Time to Value
If you want to learn more about what is digital customer journey, its five stages and read some examples, this is the right article for you.
What is Digital Customer Journey?
The Digital Customer Journey (DCJ) is the process carried out by a user. It goes from the moment the user identifies they have a need, to the moment they acquire a product or service to satisfy or solve it.
This process or journey comprises five different phases: awareness, consideration, purchase, retention and customer advocacy. The user will decide on either buying or discarding your product/service, depending on how every interaction with your brand within those 5 phases makes them feel. And remember, the best way to attain a good visualization of user interactions, touchpoints and all stages is through a user journey map.
In each phase there are different touchpoints. This term refers to the contact points where the user and the company meet. The DCJ is built to identify these points of contact. Of course, this journey is not the same for all users. Depending on the type of consumer, their trip will be different; thus, their relationship with these customer points of contact will vary.
The DCJ is not only a descriptive tool of a process but also a practical one. It is the first step in an optimization process that leads to better sales opportunities and more satisfied customers.
Learn how to create your customer journey canvas and download our template.
Why optimizing your Digital Customer Journey is a good idea?
The focus on customer experience has surpassed the price and the product as a brand differentiator. The strategy's success is based on the communication of different areas within an organization. But, mainly, on understanding the importance of their role in digital customer experience.
Today, the main trends that stand out in the management of relationships between companies and clients are: a more informed, hyper-connected, self-sufficient, demanding and much more emotional consumer. Similarly, the transformation of the opening of multiple channels and their correct integration to the contact, self-service and customer experience channels regarding a product or service.
Here lies the importance of the Digital Customer Journey. While the purpose of any marketing strategy is to execute a purchase, the process the customer goes through is now as relevant as the purchase itself. In other words, if the customer does not have a pleasant, frictionless experience during their purchase journey, they will most likely not reach their destination.
If you like reading about what is the digital customer journey, you might find interesting learning about customer journey vs customer experience: the difference.
The five stages of the Digital Customer Journey
Let's look at the different phases in the case of the online customer journey.
Awareness (pre-sale)
The customer awareness or discovery phase is where the user realizes they have a need. Keep in mind that "the need" is a broad concept in the customer journey.
A need may be, for example, that you want to try the new flavor of a brand of candies. You didn't know that flavor existed, and suddenly, you discover it. Or, for example, you feel like getting a massage based on a post you saw on your Instagram feed.
Discovery can be offline, for example, in a conversation with friends, in a shop window, or in a TV commercial, before going online. In general, the entire customer journey can start offline and go digital.
LEARN ABOUT: Customer Journey Mapping Tools
If you like reading about customer journey, you might find valuble to learn how to build your own Customer Journey Map.
In this case, where we're talking about a 100% digital process, the most common way to get to the awareness phase is through advertising, whether on social networks, websites, or search engines or even through sponsored articles in the media.
It is also possible to discover it through recommendations on social networks, where influencer marketing strategies come into play.
Be that as it may, this first stage is passive for the user, requiring no effort from the user's standpoint. They discover they have a need based on observing Ads or by listening to a friend talk about a specific brand, for instance. If they decide to investigate further, we move on to the next phase.
2. Consideration (pre-sale)
Digital consideration is the second phase of the digital customer journey. At this point, the user begins to think about what they have discovered and consider if and where to buy it.
Here it begins the search process. The brand can reach the user through SEO and SEM content strategy by sending out email campaigns, reviews on third-party websites or sponsored articles, etc…
Consideration is perhaps the stage where most companies invest more money since it is where everything is at stake. The business needs to attract the user with various digital marketing strategies in order to compete and win the first spot in the mind of the consumer.
At this point is when the potential client has to understand what you offer that the competition does not give. And as we have already mentioned, it is not only an informative process but also an emotional one.
At the consideration stage, it is crucial to differentiate from the competition and offer the added value of your brand. It is not only about solving the need once but about truly understanding the user persona that is targeted so that later down the line, they become loyal customers.
3. Purchase (post-sale)
Finally, it's time to buy. We cannot express enough how the shopping experience in a digital customer journey is crucial. For instance, if the website usability is poor, you leave. In case there are too many steps or you can't pay with your preferred payment method, you also leave.
Cart abandonment is a crucial problem in many e-commerce. Within the company's digitization strategy, optimizing the sales process is essential to not lose all previous work.
Your potential client is lost because they instead go to an alternative where the process is more accessible. For this, it is necessary to make the purchase as easy and frictionless as possible for the customer. If they feel that it is becoming a hassle to purchase something at your online commerce, they turn around to your competition.
You can make the purchase process easier by offering alternatives such as data autofill, having different transaction payment methods or providing competitive shipping options, for instance. These actions are essential, so the purchase is not lost at the last moment.
4. Retention (post-sale)
Once the purchase is over, we move on to retention. If your experience in customer service has been positive, it will be much easier to convince your customers to stay.
How do you do that? It could be a telephone after-sales service, reaching out to the customer through a digital channel and touching base with them to offer extra support with their purchase. Responding promptly to the customer will aid to get a better impression of your business and, most importantly, increase the customer's lifetime cycle rate.
There are different strategies your marketing and customer success team can implement to build longstanding customer relationships. That could be sending out additional resources to add more value to the purchase, creating a customer online community, and keeping the CX experts following up with online surveys to learn more about their current experience with the brand, to name a few.
In the Retention phase, the key is to make the client feel that they're important to the business.
5. Advocacy (this is where every business wants customers on)
Lastly, we need these satisfied customers to recommend us to other potential customers. In this sense, the voice of the customer (VOC) must be listened to. As we explained in our article on what VOC means, this methodology puts the customer and their impressions at the center.
If you find it interesting reading about the voice of the customer, you might want to review these VOC survey questions and templates.
We can know what our NPS is and what we need to change to achieve these recommendations through customer satisfaction surveys. Considering that retaining a customer is much more profitable than getting a new one, profitability will most likely skyrocket if our retained customers recommend us.
Example of Digital Customer Journey: Purchasing a guitar online
Now that every stage of the digital customer journey is explained let's go over all of the phases in a simple example.
Let's say you want to purchase a guitar. In the awareness phase, you discover you'd like to learn to play a musical instrument. Maybe the mobile phone "heard you" speak with your friends about your interest to learn to play the guitar, and now your social media and every website you visit are bursting with Ads of companies wanting to sell you the "best guitar in the market." The awareness or discovery stage doesn't require any effort from the user other than reading the Ads that show up on your digital channels.
The next stage, consideration, is when you start to notice you might ponder on the idea of purchasing a guitar. Now the search process has begun, and you're actively looking for the best guitar that fits you. In this stage, you could be doing things like watching YouTube reviews, reading a blog post about "the top 10 best guitar alternatives for beginners," and even comparing prices from different e-commerces such as Amazon, Best Buy, or an official musical instruments online store.
Once it's decided where you want to purchase your product, you go to their website to order it. But then you get a couple of unpleasant surprises. The website user experience is terrible because the pages take a lot of time to load. Even when you manage to overcome such inconvenience with a lot of patience, the site marks an error whenever you're trying to do the transaction with your card. Given your e-shopping experience got stuck, now you go to your second online shop website of preference. This time you can navigate through the website quite faster, and the payment transaction with your card gets through with ease.
The second option you had to go for instead of the first one continues bringing in a great customer experience. What happens in the retention stage? Well, they said the approximate delivery date was going to be in a week, but you got your guitar within 3 days! Plus, it comes in a nice box with a personalized note from the business thanking you for the purchase and offering flexible return policies. Besides, you've also received downloadable resources and provided customer access to an online community portal where you can connect with other users and get support from the company's Customer Success team. All of these actions may seem like a bonus, but they aim to make the client feel special, so the next time you need to purchase any other instrument or an extra set of new strings, you buy with them.
Finally, if you're happy with the guitar and the service they continually provide post-sale, you might start recommending them to other people, be it in person or by writing a review on their website.
This may take some time to get here, so the sum of what the business does in all the previous stages (especially retention) is critical.
This is the part where you, as their customer, are so happy with the product and their service that you start genuinely advocating for them.
LEARN ABOUT: Consumer Decision Journey
In conclusion…
The Digital Customer journey is the process carried out by a user when interacting with your brand to satisfy a need with your product or service.

There are 5 stages the user goes through Discovery, consideration, purchase, retention, and advocacy.

Touchpoints are a critical part of a DCJ because they are your company's points of customer contact, end to end.

The success of your company relies on the optimization of your DCJ. Remember, the customer's process is as relevant as the purchase itself.

Great customer experiences can be obtained through the use of a powerful

customer experience management platform.
If you'd like to boost customer loyalty at your company, QuestionPro CX can help you achieve it with our extensive toolbox set of features, including the creation and deployment of CX surveys, NPS flexible dashboards, sentiment analysis, customer churn prediction, closed-loop feedback system to address customer issues better, and more!
Do you have a CX program and don't know where to start or how to incorporate a CEM? Share what's your current business challenge, and we will offer you different proposals tailored to your needs.
Try QuestionPro CX today if you want to boost customer loyalty by efficiently processing large amounts of data in real-time and turning them into fact-driven action support.